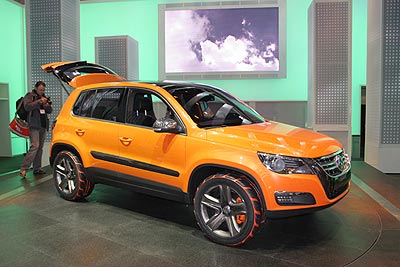 Volkswagen Tiguan Concept – Preview: Relatively small, sporty crossovers – that's the market Volkswagen is targeting with the all-new Tiguan. What we see here is officially a concept, though the company has announced a production version for the UK in early 2008. Look for its arrival on these shores after that, when it will battle models like the Acura RDX for the attention of buyers looking for a blend of utility, comfort, performance, and efficiency. Based on what we've seen of this "baby Touareg" and considering the sporting nature VW is capable of infusing into its vehicles, shoppers just might have an impressive new alternative when a production Tiguan makes its debut.
Why it matters
The crossover market is booming with new models and buyers who want them. Nearly every manufacturer is in the game or working hard to get there, and the result is availability of models like the Acura RDX, the Mazda CX-7, the BMW X3, the Chevrolet Equinox, the Ford Edge, and countless others. Volkswagen's larger Touareg SUV doesn't really fit the bill, so a smaller, sportier vehicle like the Tiguan is a must if the brand wants to compete in this potentially exploding segment.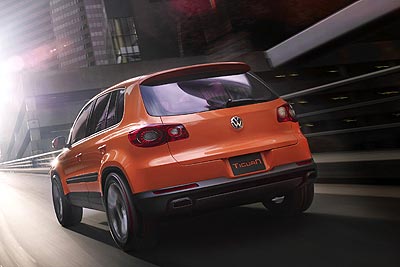 What's under the hood
By now, you might've heard of Bluetec diesel technology – it has drawn some press from use in various Mercedes-Benz and Jeep products, and is now being showcased in the Volkswagen Tiguan Concept. Bluetec represents a new generation of diesel engines, units that have been designed to cut nitrogen oxide emissions by 90 percent versus current diesels, and thus meet tough U.S. emissions standards. Diesels have long been recognized for returning much better fuel economy than their gasoline counterparts, not to mention outstanding low-end torque. Volkswagen hasn't announced what engine would power a production Tiguan, but this Bluetec powerplant hints at what is likely just around the corner.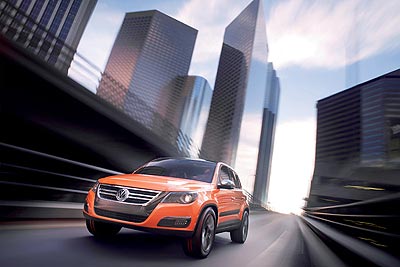 What it looks like
We can say one thing with almost 100-percent certainty – the black and orange tires on the Concept will not be making it to production. However, word is that what you're looking at is close to production level, and those 19-inch alloys may live past the concept stage. The Volkswagen Tiguan's body looks much like a downsized Touareg, marked by a raked back windshield, muscular side haunches sitting just below a gradually rising beltline, and a tall tail featuring a short overhang. Up front is a signature VW grille (dressed in dark anodized metallic tone for this application) set off by stylized, swept back xenon headlights.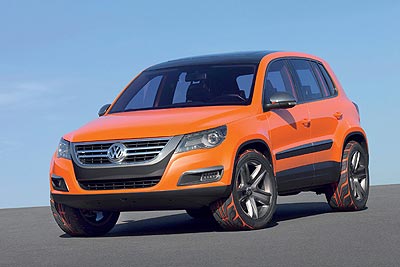 What's inside
Designed to accommodate up to five passengers, the Volkswagen Tiguan Concept's interior has been generously appointed with black leather accented by color-coordinated orange stitching. The rear seat can be adjusted back and forth, or folded down to extend the cargo area. Thickly bolstered bucket seats and a beefy leather-wrapped steering wheel suggest a Tiguan with some sporting capabilities, and logically placed primary controls allow for quick and easy access to the features drivers use most. Overhead, there's an expansive panoramic sunroof for letting in the light of the day or the sparkle of the night stars.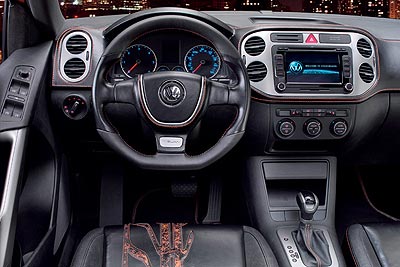 When you can buy it
Volkswagen is officially calling this the Tiguan Concept, but at the same time the company has dropped more than a few not-so-subtle hints that this rig is coming stateside, and relatively soon. Specifically, we've been told to keep our ears open in early 2007 for concrete details, and have already been informed that UK car buyers will be getting their hands on a Tiguan for 2008. Plus, with few exceptions, this so-called Concept looks about as close to production as you can get, so if you're thinking about buying a small crossover in the 2008 model year, you might want to consider adding the Volkswagen Tiguan to your test-drive list.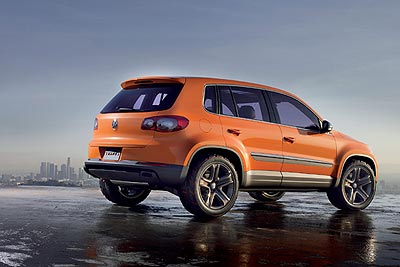 What we think
Small and midsize crossovers like the Acura RDX and Ford Edge make a lot of sense. They transport five passengers in comfort (sometimes six or seven in a pinch), offer enough utility for a wide range of buyers, provide a commanding view of the road, and depending on which model you're talking about, possibly an entertaining driving experience. All that, plus they're usually fairly efficient and often reasonably priced. If it's like other VW products, the Tiguan would distinguish itself from the pack with its high quality feel, sporting nature, and if the Concept is any indication, possibly one of the segment's first diesel powertrains.
Photos courtesy of Ron Perry and Volkswagen