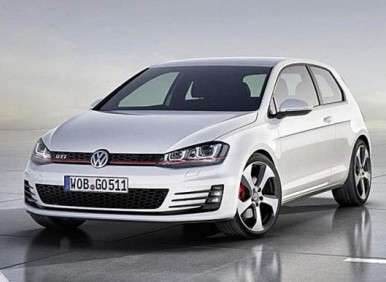 Kleiner GTI will welcome a fairly large power boost for the new model year, as Volkswagen attempts to reclaim the hot-hatch crown from a growing number of challengers. That's the word from the Geneva International Motor Show, where the company recently introduced the 2014 Volkswagen GTI to the public with an upgraded I4 turbo engine that isn't just more powerful, but more efficient, too.
Now, keeping in mind that these initial specs refer to the European edition of the car, the 2014 VW GTI will provide a robust 220 hp and 258 lb.-ft. of torque right out of the box—representing increases of 10 percent and 25 percent that pack an outsized punch, since the GTI also loses about 50 lbs. of curb weight. Then, drivers will be able to score an additional 10 hp from the GTI's first factory-installed performance package, which also brings bigger brakes and a torque-sensing limited-slip differential. Backed by these improvements, drivers will enjoy a top speed of 155 mph and a 0-60 time of under 6.4 seconds.
Yet 2014 VW GTI also will deliver a similarly impressive increase in fuel economy, and that's with or without the available performance enhancement. In either case, Volkswagen is calling for an 18 percent increase in fuel-efficiency ratings for manually transmissioned models, and if we stick to that number, and skip trying to translate European ratings into their U.S. equivalents, we would end up at roughly 25 mpg city/37 mpg highway/29.5 mpg.
The 2014 VW GTI is slated to launch in Germany in May, with Volkswagen to provide more details about the U.S.-bound cars in the near future.
2014 VW GTI: Hot-Hatch Heaven
When the 2014 VW GTI does arrive on these shores, it will be part of a new wave of hot hatchbacks that has flooded the market with high-quality choices. At that stage, buyers will be able to choose from:
Chevy Sonic RS—138 hp/148 lb.-ft. of torque and an MSRP of $20,185
FIAT 500 Abarth—160 hp/170 lb.-ft. of torque and an MSRP of $22,000
Ford Fiesta ST—197 hp/214 lb.-ft. of torque and an MSRP of $21,400
Hyundai Veloster Turbo—201 hp/195 lb.-ft. of torque and an MSRP of $22,100
MINI Cooper JCW GP—218 hp/207 lb.-ft. of torque and an MSRP of $39,950
VW GTI—230 hp/258 lb.-ft. of torque and an MSRP that's TBD
Ford Focus ST—252 hp/270 lb.-ft. of torque and an MSRP of $23,700
Mazda MAZDASPEED3—263 hp/280 lb.-ft of torque and an MSRP of $24,200
Subaru WRX STi—305 hp/290 lb.-ft. of torque and an MSRP of $36,295