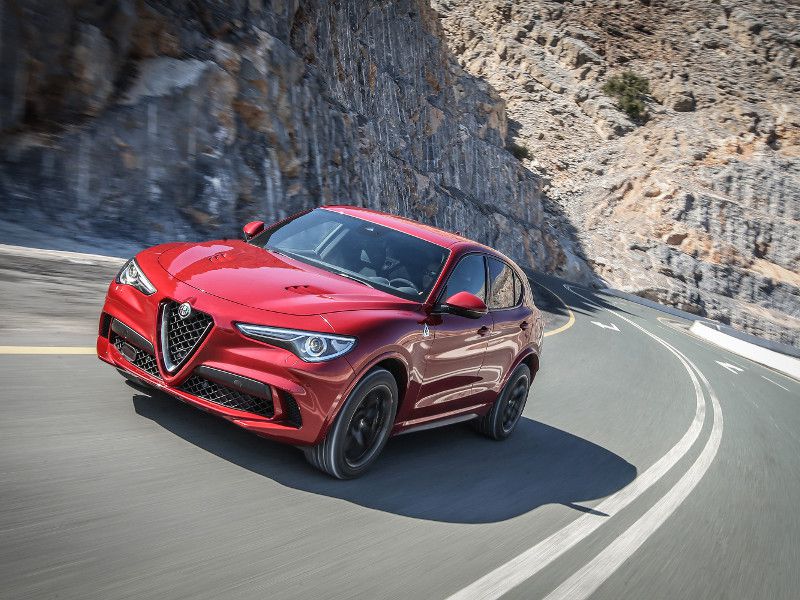 2019 Alfa Romeo Stelvio Quadrifoglio red drivng ・ Photo by Newspress USA
Beauty is in the eye of the beholder. You have certainly heard that one before. But it has never been more true than in today's auto market where the crossover SUV is the hottest ticket in town. In a classic car sense, crossovers are not typically regarded as the most attractive vehicles on the road, but the current generation of crossovers turns that notion on its head. Today's car market is filled with good-looking crossovers from the subcompact ranks to mammoth three-row vehicles from luxury brands.
Most of the lists we assemble for you are based on extensive research into quality, reliability, dependability, and drivability, but the only "ability" we are looking at here is the ability to turn heads. Every one of the vehicles on this list has it, and often the interiors are just as alluring as the exteriors. We combed through more than 200 crossover models, trims, and configurations to identify these vehicles — the 10 most stylish crossovers on the U.S. market. Feast your eyes.
2020 BMW X6
First, we have to tell you that some of us think a few of BMW's crossover vehicles are lacking in visual appeal. But that certainly isn't the case with the BMW X6. Its designers decided to go full-fastback with its exterior completely sacrificing utility in search of style. And style is what they found. In fact, one could use the overworked term of the decade — "four-door coupe" — to describe this crossover.
The X6 is clearly an effort by BMW to maintain its performance/handling reputation even in the face of the tsunami of crossovers vying for attention in the luxury space. Its powertrains are potent: a 335-horsepower turbocharged 3.0-liter six-cylinder in the 40i and a rollicking 523-horsepower twin-turbocharged 4.4-liter V8 in the 50i. With rear- or all-wheel drive, this is a stylish crossover that goes as well as it looks. It has a base price of around $65,000.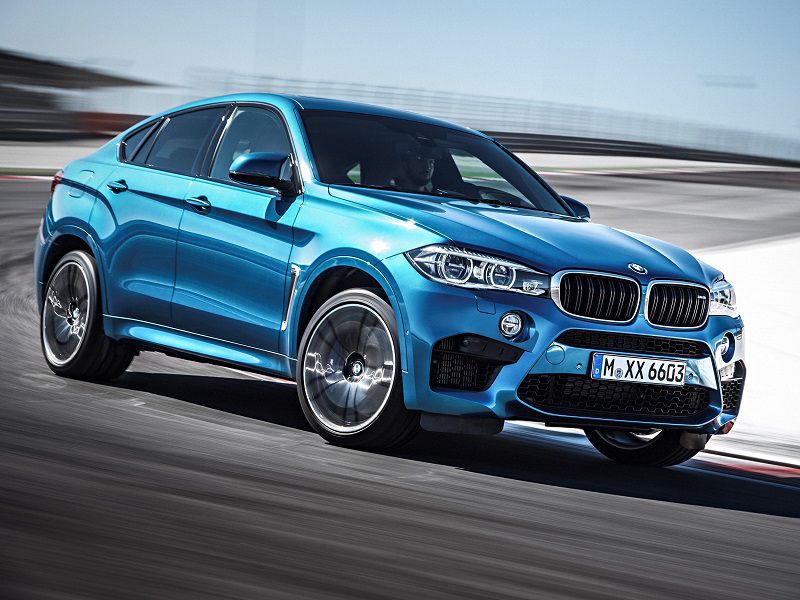 Photo by BMW
2020 Kia Telluride
Though Kia styling has been on an upward trajectory for several years now, many didn't see this coming. The all-new Kia Telluride is one very stylish three-row SUV. It shares its platform with the stately Hyundai Palisade, an attractive vehicle in its own right, but the Telluride has a youthful zest that the Palisade doesn't try for. You can't say this about many crossovers, but the Telluride is very attractive from virtually every angle.
And we must add that we like the Telluride's inviting interior as much as we like its exterior. Kia is building its mid-size crossover to a price point, but you wouldn't know it from the luxury touches inside the vehicle. Behind the Telluride's impressive grille is a 291-horsepower naturally aspirated 3.8-liter V6 engine driving the front wheels or all four wheels via an eight-speed automatic transmission. The Telluride has a base price of around $32,000.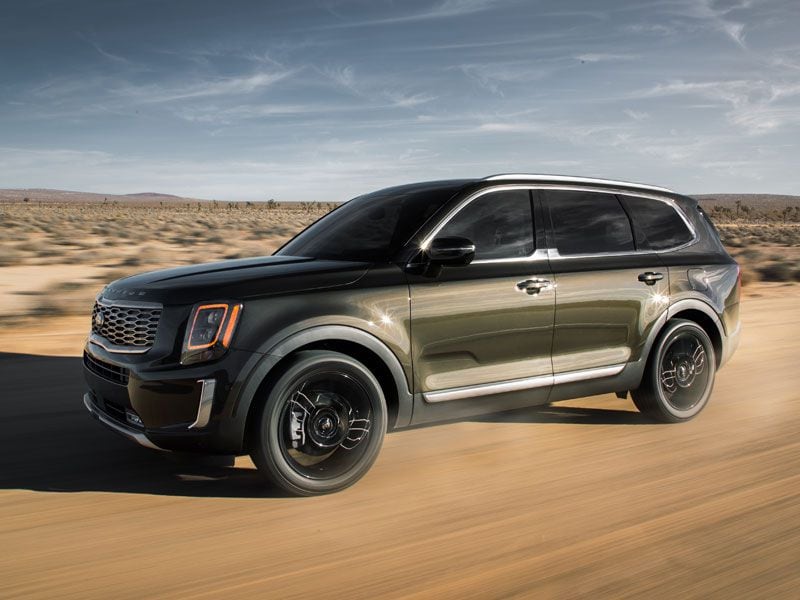 Photo by Kia
2020 Audi e-tron
The Audi e-tron is glass-and-metal proof that Tesla has the fight of its life on its hands. That's because the e-tron is a "looker" in a way that the Tesla Model X certainly is not. The e-tron is trim, well-tailored, and understated, essentially the opposite of the Model X. Maybe some car buyers want their EVs to look like spaceships or freeform sculpture, but we think the vast majority of luxury crossover buyers will appreciate the e-tron's suave, sophisticated exterior and its equally attractive interior that channels a contemporary living room. And then there are this crossover's spot-on ergonomics that put other vehicles in its class to shame.
The e-tron features a 95-kWh battery pack, giving it 204 miles of range on a full charge. It offers 355 horsepower in normal mode, but in the video game-like "Boost Mode" it will provide 402 horsepower to its four wheels, enough to do the zero-to-60-mph sprint in 5.5 seconds. Its starting price is about $75,000.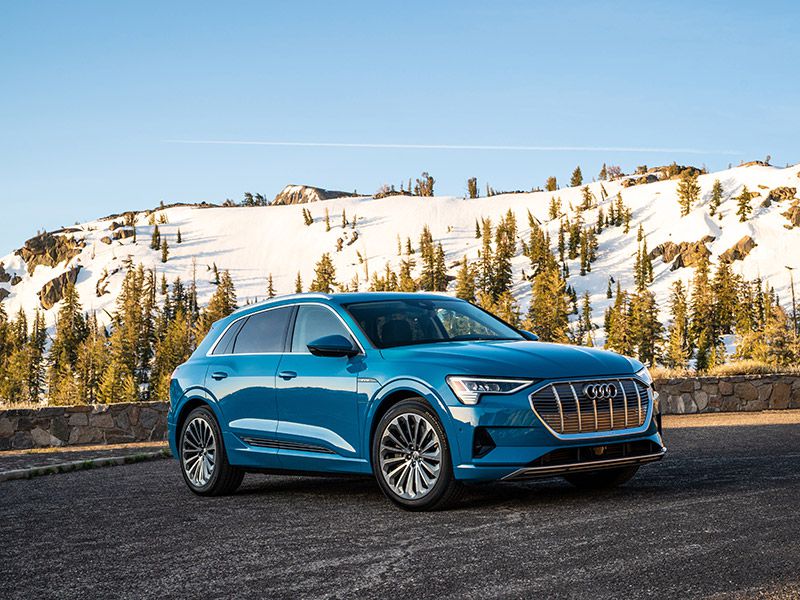 Photo by Audi
2020 Chevrolet Blazer
The original Chevrolet Blazer was a truck-based short-wheelbase two-door SUV. It was as stylish as a flannel shirt and as functional as a ball-peen hammer. The new Blazer takes the name in a completely different direction. The two-row, five-seat mid-size crossover is all about style, and we think its exterior shape, though admittedly busy, is also very attractive. The interior gets a similar style treatment, and we like the results. Passenger space for five is good, and the controls are legible and logical.
The Blazer can be equipped with either of two powerplants: the base 193-horsepower four-cylinder engine or an available 308-horsepower 3.6-liter V6, both with nine-speed automatic transmission. As you would expect, adding more than 100 horsepower changes the demeanor of the car, and it becomes much more enjoyable. The Blazer has a base price of less than $29,000.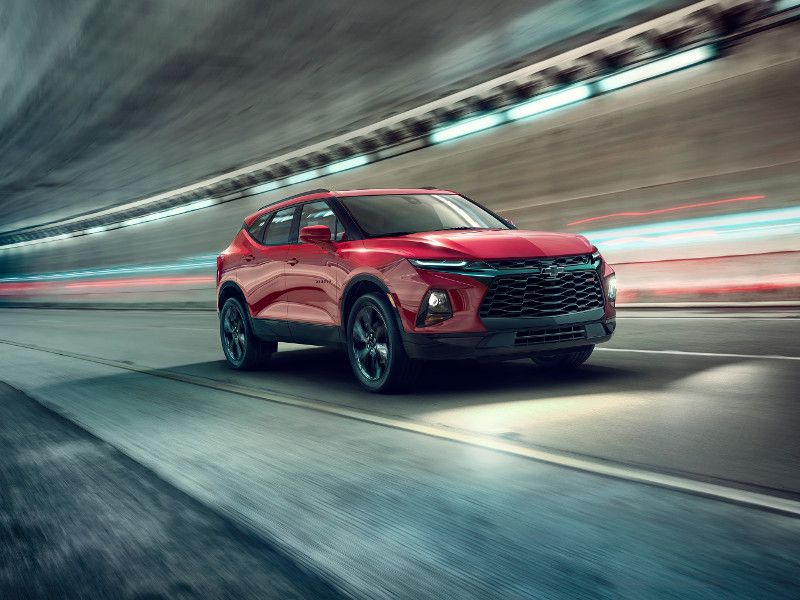 Photo by Chevrolet
2020 Fiat 500X
The 2020 FIAT 500X small crossover is filled with classic "Cinquecento" styling nods, which gives it boost versus the competitive Honda HR-V, Nissan Kicks, and Toyota CH-R. The vehicle's front end is the aspect of the vehicle most reminiscent of the original Fiat 500, with its looks adapted for the taller, bulkier crossover.
The 2020 500X sports 17- or 18-inch wheels, and the 500X's dual-pane sunroof is available on all trim levels. The power-sliding panoramic roof has glass side panels that match the body-side sheetmetal to lend a spacious effect. The 500X has one of the best overall interiors in the segment, completely functional with echoes of the Cinquecento's past. One example of the classic interior styling is the large expanse of body-colored material that extends across the dashboard. A trio of round instrument displays are easily visible behind a steering wheel emblazoned with the fabled Fiat logo. The vehicle's Trekking trim level adds more rugged styling to give an adventurous look. The 500X has a base price slightly less than $25,000.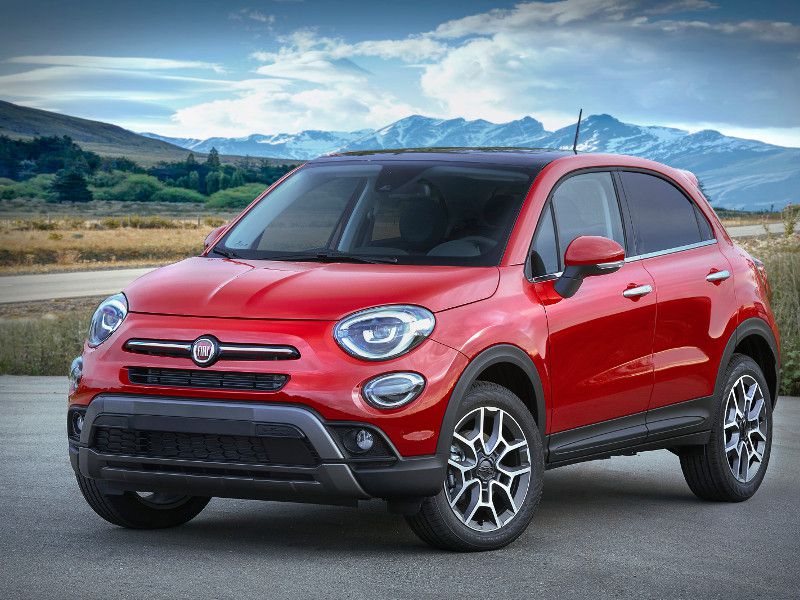 Photo by FIAT
2020 Jaguar I-Pace
Some have called the Jaguar I-PACE "the world's most desirable electric vehicle," and while that might be hyperbole, there is no doubt it is a good-looking vehicle that doesn't have to rely on the strength of its all-electric powertrain to win fans.
Though the I-Pace is a crossover utility, its designers have somehow managed to integrate contemporary racecar looks into its front end and profile. In an era when many grilles are overwrought, the I-Pace's grille is nicely subdued (although one could wonder why an electric vehicle needs any grille at all). In profile, the crossover has a high-and-rising beltline that gives emphasis to the car's voluptuous "hips." Inside, the Jaguar ambiance is not overwhelmed with showy tech. The I-Pace offers 394 horsepower from its electric drivetrain, and that power is channeled to all four wheels. Range on a full charge is about 240 miles, so be judicious on road trips. It has a base price starting at $70,000.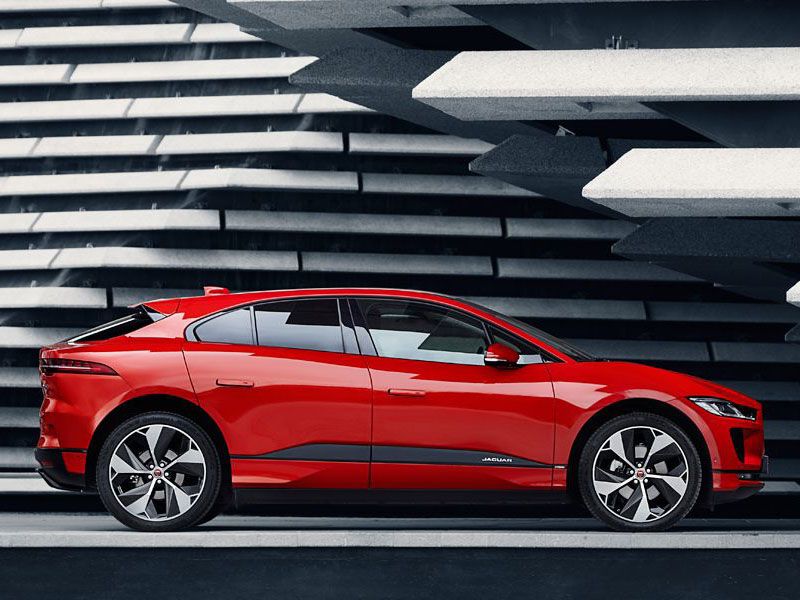 Photo by Jaguar Land Rover
2020 Hyundai Kona
No, you don't have to spend big bank to get a stylish crossover, and the Hyundai Kona five-seat subcompact is proof of that. The vehicle has a base price right around $20,000, yet its intrinsic style allows it to hold its head up in very elite, much pricier company.
There are a couple of aspects of the Kona's design we particularly like. The first is its simplicity. In an era in which added lines, scoops, and swishes seem to clutter most vehicles, the Kona is characterized by an attractive minimalism from all angles. We also appreciate its wedge shape in profile, accentuated by the rising of its beltline and the diminishing size of its side windows from front to rear. Inside, the Hyundai has an attractive design with good control placement and a prominent infotainment screen. In standard form, it is powered by a 147-horsepower 2.0-liter four-cylinder, with a turbo or an electric powertrain also available. The Kona might not get you the premier parking spot at the trendy restaurant, but it is a good-looking crossover.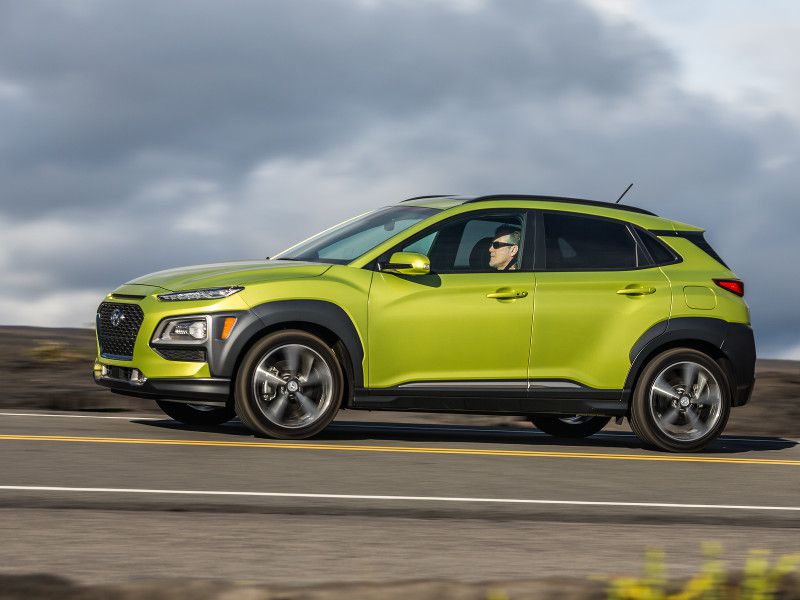 Photo by Hyundai
2020 Alfa Romeo Stelvio
If you value exclusivity and sports-car-oriented performance to go with a heavy dose of Italian style, the Alfa Romeo Stelvio could be the crossover to put in your garage. The first thing you notice about the Stelvio is that it doesn't resemble all the other luxury crossovers on the road today. Its distinctive triangular grille presents a bold face to the world, while its "fast" rear roofline flaunts the word "utility" in sport utility.
But sport is certainly not forgotten. The Stelvio delivers that via standard all-wheel drive and a 280-horsepower 2.0-liter turbocharged four-cylinder engine. And then there's the Italian Modern interior that delivers a masculine ambiance accompanied by amenities like a 7-inch instrument display, 6.5-inch infotainment screen, and compatibility with Apple CarPlay and Android Auto. The Alfa Romeo Stelvio is an irresistible recipe that tastes great to drive. It has a base price of around $41,000.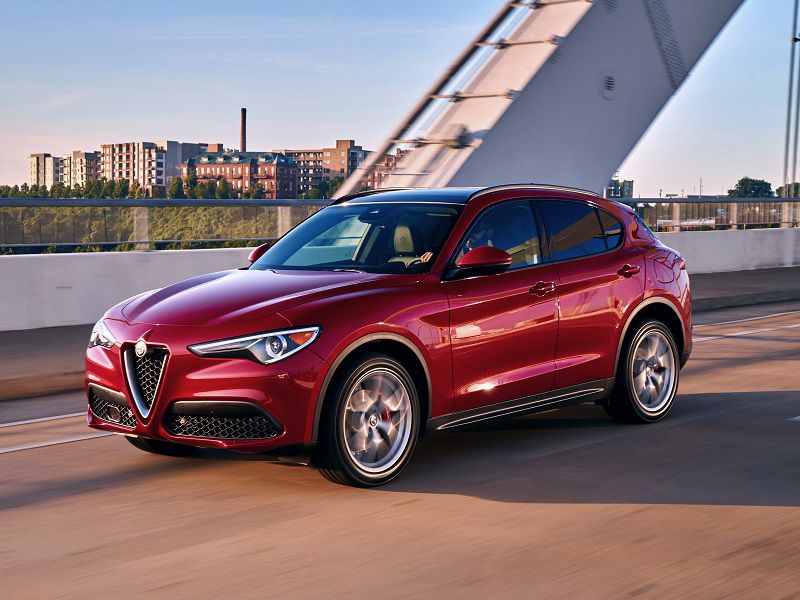 Photo by Alfa Romeo
2020 Lincoln Aviator
It isn't easy to make a three-row crossover as stylish as one with just two rows, and the simplest reason for that is the passengers in the third row have heads. That means designers must accommodate their heads (and other body parts) by extending the roofline, rather than tapering it toward the rear bumper in the manner of the BMW X6.
But the designers of the Lincoln Aviator, which shares its mechanical underpinnings with the Ford Explorer, have pulled it off. The Aviator is very handsome and somewhat imposing from all angles, and it doesn't borrow too heavily from the also-attractive Explorer. A well-integrated grille and large wheels give the Aviator a proper gravitas. And inside, the crossover is the automotive version of a Ritz-Carlton hotel. In its pinnacle trim, the Aviator boasts a twin-turbocharged 3.0-liter V6 plus a 75-kilowatt electric motor for a total system output of 494 horsepower and 630 pounds-feet of torque. The 2020 Lincoln Aviator has a base price just over $51,000.
Photo by Lincoln
2020 Volvo XC40
Even in this elite and undoubtedly stylish group of crossovers there is a degree of sameness to their designs. And then there's the Volvo XC40, a compact luxury suv that has the cheekiness to go its own way. Among its departures from the norm are patterned cloth seat upholstery and a version that features bright yellow accents and seat belts to (almost) match.
The base engine is a 187-horsepower 2.0-liter four-cylinder, while the T5 versions are turbocharged to reach 248 horsepower. So the XC40 can be as fun to drive as it is fun to look at. And, of course, Volvo puts special emphasis on safety. Inside, the XC40 is as chic and surprising as it is on the outside with its minimalist Scandinavian design highlighted by a sizable center-mounted infotainment touchscreen. The XC40 has a base price of right around $34,000.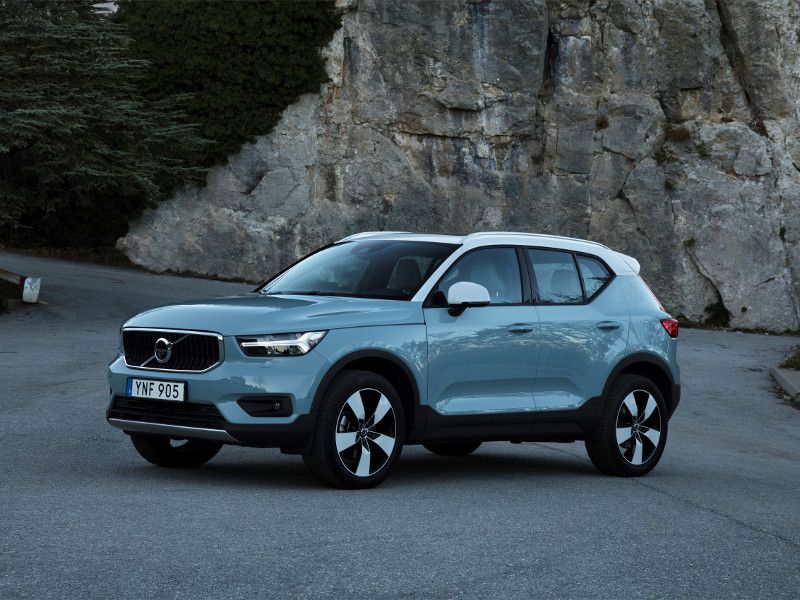 Photo by Volvo