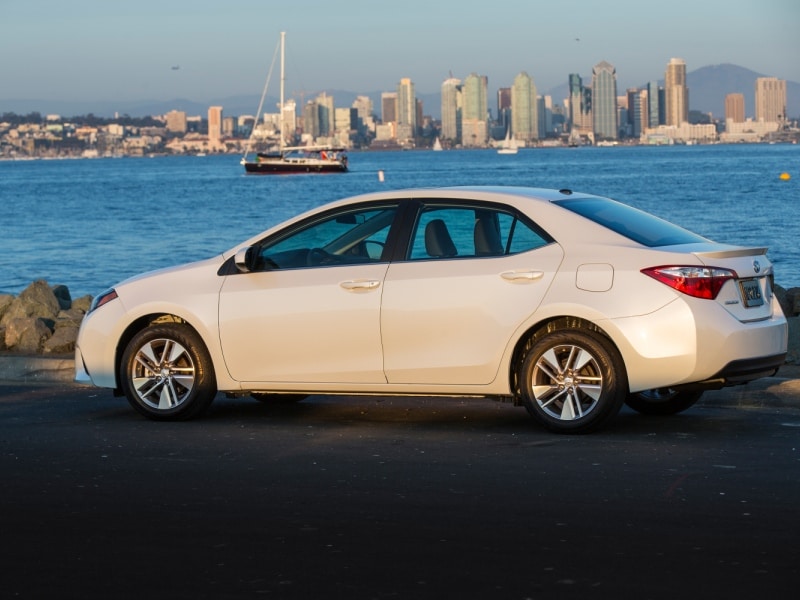 2015 toyota corolla
Compact sedans are often the very first new car purchases for a wide range of Americans.  With their combination of affordable pricing, generally impressive fuel mileage, and respectable practicality, these small four-door cars form the backbone of any automakers lineup, with even luxury brands now getting on board the compact train.  The best compact sedans are those that offer either a little something extra for the money,  or which best exemplify the efficiency, style, or reliability that buyers often expect in this segment of the market. 
Let's take a quick look at the top 10 compact sedans available in 2015.
1. 2015 Subaru Impreza
The 2015 Subaru Impreza remains the only compact sedan available in America that makes all-wheel drive available as standard equipment.  This is more than a 'nice to have' feature for those living in northern parts of the country, as in some cases all-wheel drive is the one thing getting you to work / school / basketball practice after a seasonal snow storm.  The Subaru Impreza manages to remain frugal at the fuel pump despite its all-wheel drive setup, too, as when its 148 horsepower, 2.0-liter four-cylinder engine is paired with its optional continuously-variable automatic transmission it returns 28-mpg in city diving and 37-mpg on the highway.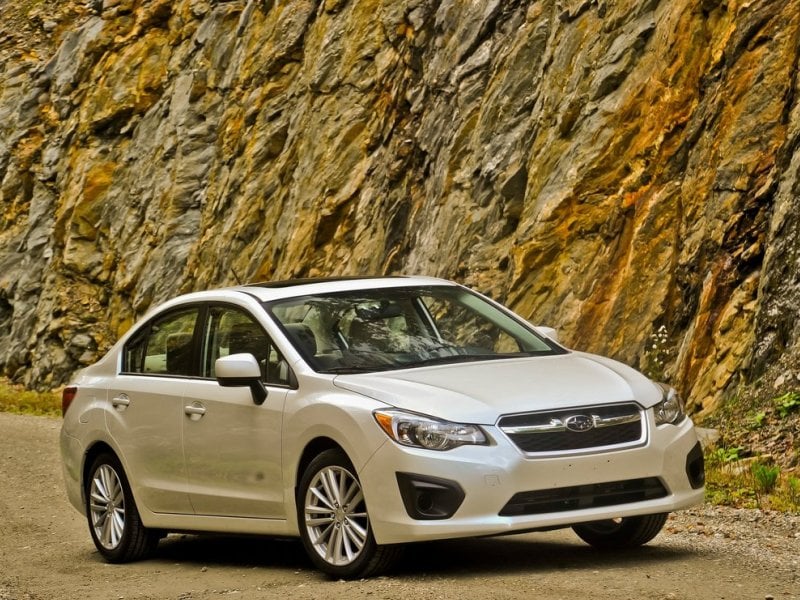 2. 2015 Ford Focus
The 2015 Ford Focus is notable for its ability to inject a little fun into the daily commute via its smooth handling and responsive steering.  Even the base Ford Focus delivers a well-tuned suspension system that is unusual at its price point, and you can also benefit from a range of safety and entertainment technologies in the Focus that aren't offered by other models.  Most versions of the Ford sedan are motivated by a 2.0-liter, four-cylinder engine that's good for 160 horsepower, but there's also a 1.0-liter, three-cylinder turbocharged motor that produces 123 horses while posting 30-mpg in city driving and 42-mpg on the highway (paired with a five-speed manual gearbox).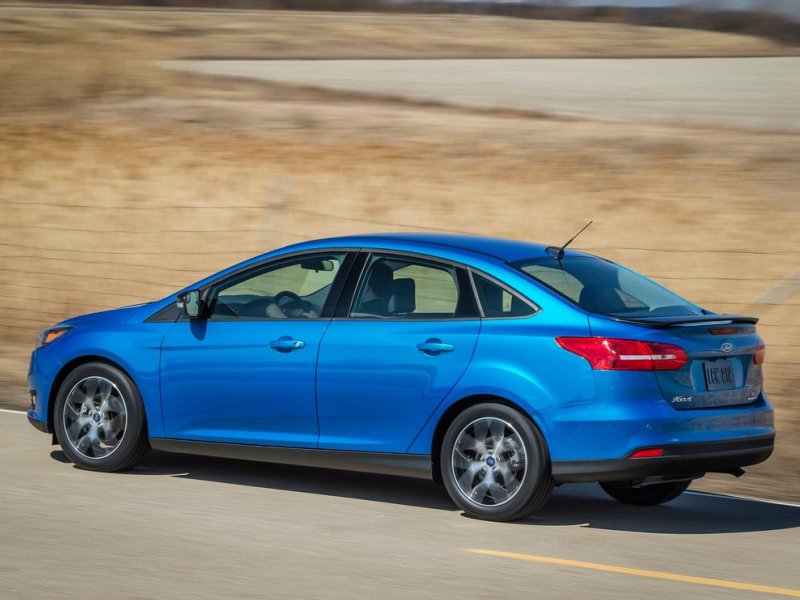 3. 2015 Honda Civic
The 2015 Honda Civic is a stalwart on the compact sedan scene, and although many of its competitors have caught up to it in terms of fuel economy and power, its reputation for reliability remains strong.  In addition to both hybrid and sporty (Si) editions, the bread-and-butter version of the Honda Civic is powered by a 1.8-liter four-cylinder engine that can be counted on to produce 143 horses.  As with the Impreza, a continuously-variable automatic transmission is required if you want to touch the limits of the Civic's efficiency rating, which stands at 30-mpg in stop and go driving and 39-mpg on the highway.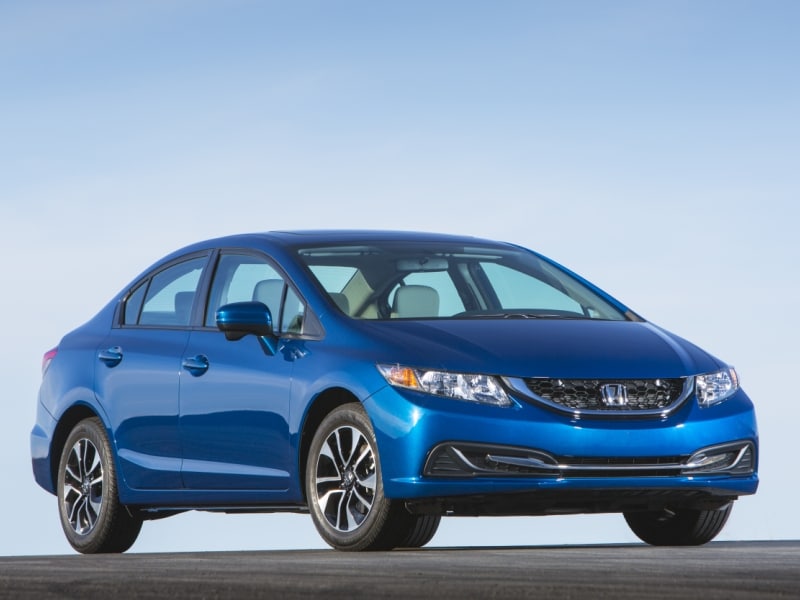 4. 2015 Hyundai Elantra
The 2015 Hyundai Elantra proves that affordable compact sedans don't have to slip under the radar in terms of style.  The Hyundai Elantra also makes a strong value proposition, often slipping in more standard equipment for each respective trim level than would be found when shopping a similarly-priced rival.  There's a choice of motors available in the Hyundai, starting out with a 1.8-liter, 145 horsepower four-cylinder and moving up to a 2.0-liter, 173 horsepower four-cylinder found in the Elantra Sport.  Of the two, the entry-level model with a six-speed automatic transmission shows as the most efficient, posting 28-mpg city and 38-mpg highway.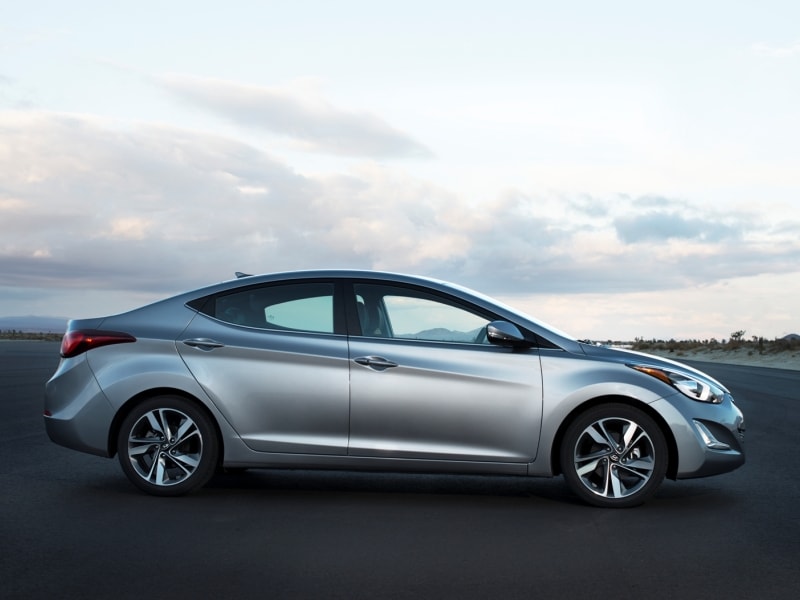 5. 2015 Chevrolet Cruze
The 2015 Chevrolet Cruze is another compact sedan where efficiency is a watchword.  In addition to its optional 1.4-liter, turbocharged four-cylinder engine that delivers 138 horsepower and 38-mpg on the highway, the Chevrolet Cruze can also be had in a turbodiesel edition that squeezes out 46 highway miles per gallon alongside 151 horsepower and 264 lb-ft of torque from a 2.0-liter mill.  The base Cruze delivers 138 horses as well from a 1.8-liter four-cylinder that's not quite as efficient as its smaller cousin, and transmission choices for the sedan include a mix of six-speed manuals and automatics.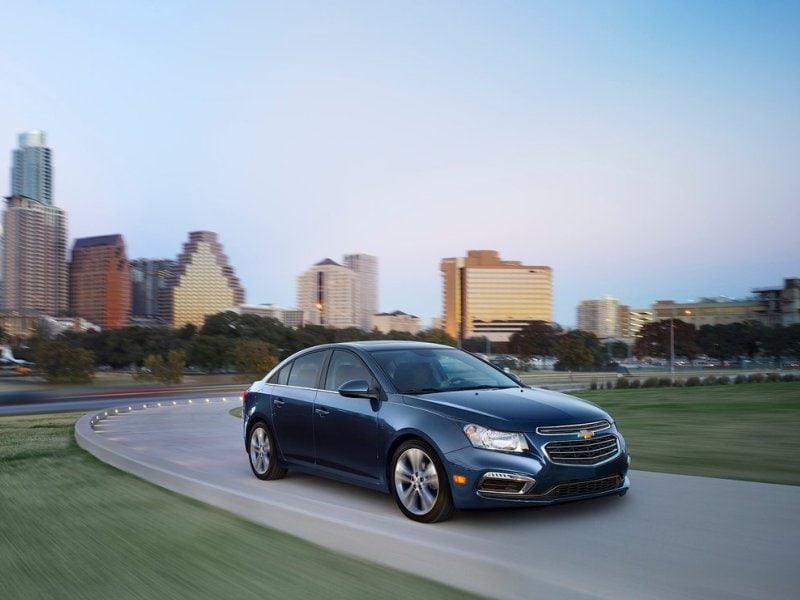 6. 2015 Mazda Mazda3
The 2015 Mazda Mazda3, like the Focus, is concentrated on providing a handling experience that few other cars at its price point can match.  The Mazda Mazda3 continues the automaker's tradition of blessing even its most affordable cars with divine chassis tuning, and Mazda also leverages its new and fuel efficient Skyactiv engine technology across the Mazda3 lineup.  This means a 155 horsepower, 2.0-liter four-cylinder base motor that's good for 30-mpg city and 41-mpg city when paired with its optional six-speed automatic transmission, along with a 184 horsepower, 2.5-liter four-cylinder that's only slightly less stingy in each respective measure.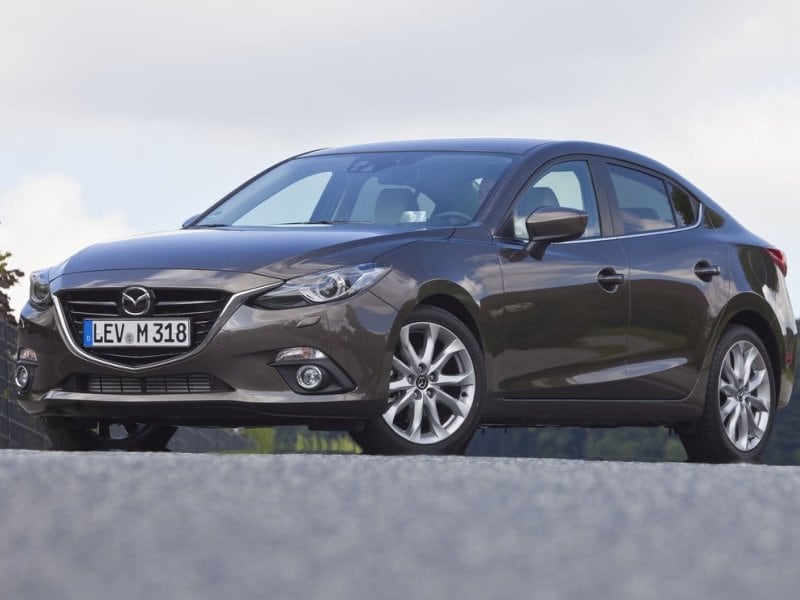 Photo by Mazda
7. 2015 Kia Forte
The 2015 Kia Forte goes further down the style than its cousin, the Elantra, delivering a more aggressive character matched with an interior that seems lifted from a much more expensive car.  The Kia Forte compact sedan can also be had in SX trim, which installs a stiffer suspension system as well as a 1.6-liter, turbocharged four-cylinder motor capable of 201 horsepower.  If you're looking to maximize miles per gallon, however, you'll want to stick with the entry-level 1.8-liter, four-cylinder engine and its 145 horsepower and 26-mpg city / 39-mpg rating (in six-speed automatic form).  There's also a 2.0-liter, naturally-aspirated four-cylinder middle child that's good for 173 horses.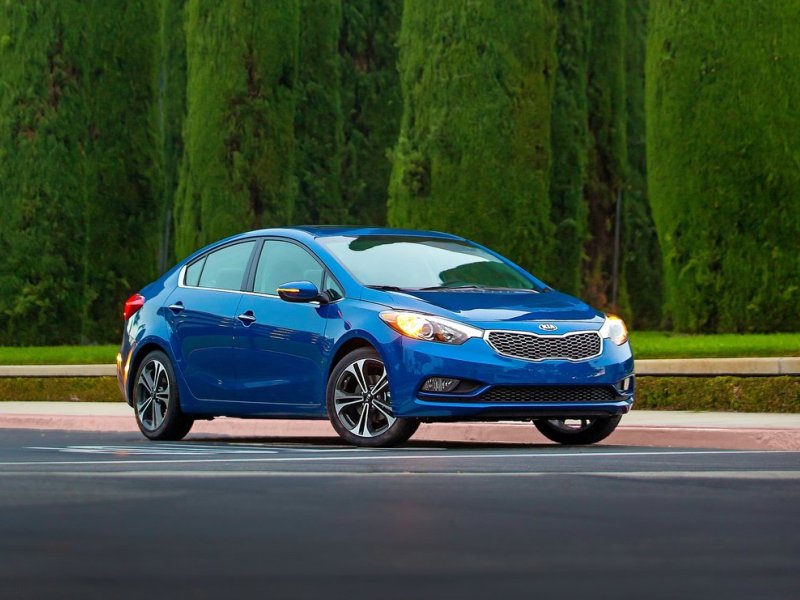 8. 2015 Volkswagen Jetta
The 2015 Volkswagen Jetta is one of the largest compact sedans on this top 10 list, especially if you're going by interior room.  The spacious Volkswagen Jetta is also the only other model to offer the option of a turbodiesel engine, in this case a 2.0-liter, four-cylinder unit that generates 150 horsepower and 236 lb-ft of torque while turning in 31-mpg city and 46-mpg highway (when paired with a six-speed manual transmission).  There's also a 115 horsepower, 2.0-liter four-cylinder for base model shoppers, a 170 horsepower, 1.8-liter turbocharged four-cylinder as the next step up, as well as hybrid and high performance (GLI) editions of the sedan aimed at more niche-focused customers.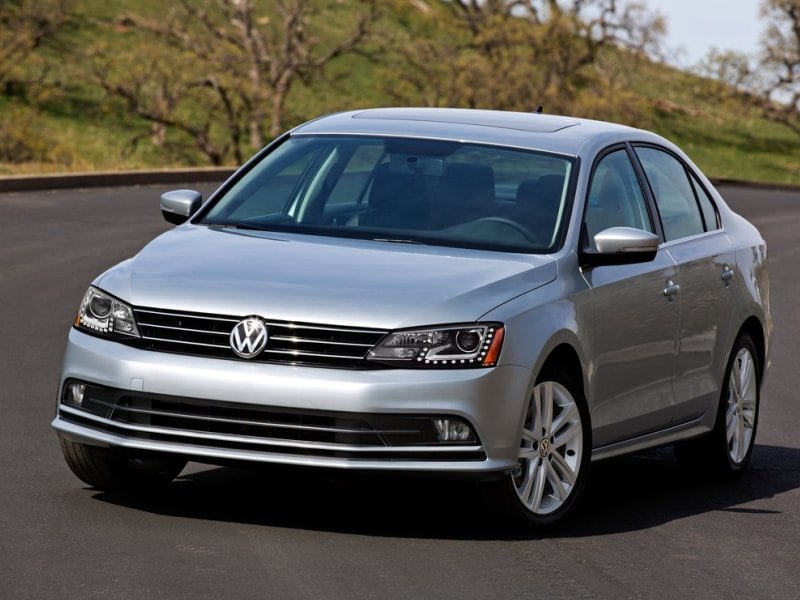 9. 2015 Buick Verano
The 2015 Buick Verano brings a touch of luxury to the compact sedan segment, but it does so at a price point that's still reasonably affordable.  Also remarkable is the Buick Verano's quiet interior, which has been given extra insulation to keep out road noise and the bustle of traffic.  While the Verano's standard 2.4-liter, four-cylinder motor provides a stout 180 horsepower and a respectable 21-mpg around town and 32-mpg on the highway, opting for the Verano Turbo significantly ups performance by way of a 2.0-liter, turbocharged four-cylinder engine that pours out 250 horses and introduces the option of a six-speed manual transmission.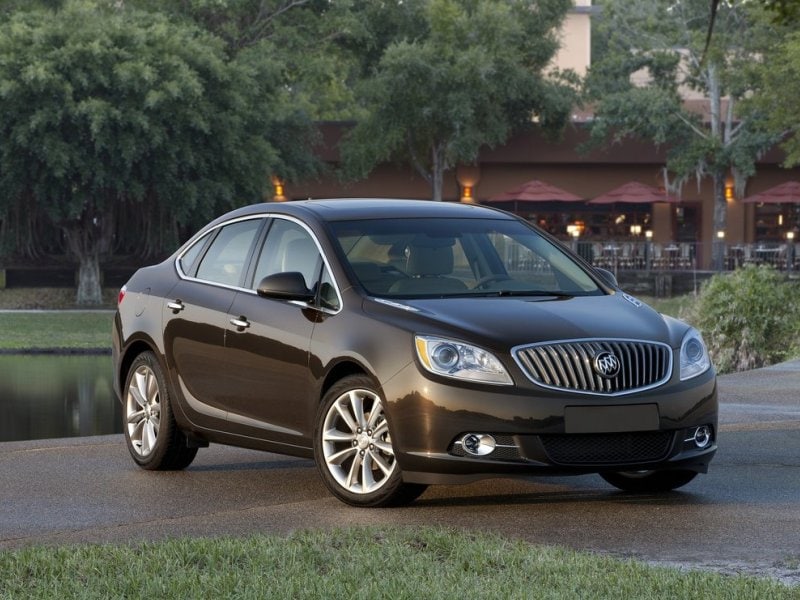 Photo by General Motors
10. 2015 Toyota Corolla
The 2015 Toyota Corolla has been completely redesigned for the current model year, and it leaves behind its previously dowdy styling in order to infuse some new excitement into its sheet metal.  The Toyota Corolla happens to be nicer inside as well, and introduces a few more high tech options than were previously available with the car.  Under the hood things are fairly status quo for the Corolla, which features a 1.8-liter, 132 horsepower four-cylinder engine as its base motor.  On LE Eco trims, however, a 140 horsepower edition of this same engine has been tuned not just for extra power but also better efficiency, and it pairs with a continuously-variable automatic transmission to deliver 30-mpg in stop and go driving and 42-mpg on the highway.