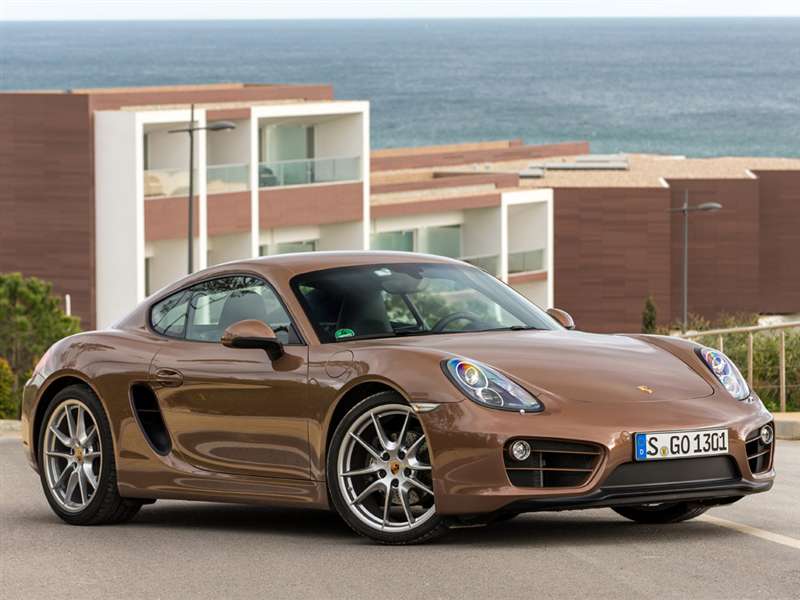 Considered by many enthusiasts the holy grail of powertrain configurations, the industry's top mid-engine sports cars for 2016 employ the layout to distinct advantage. Concentrating the majority of a car's weight inside the wheelbase engenders outstanding agility. While there are two ways to effect a mid-engine placement, the method with which most people are familiar finds the engine placed behind the driver and passenger—in front of the rear wheels. However, the engine can also be placed in front of the driver and passenger, as long as the majority of its mass is located behind the front wheels. This is referred to as a front mid-engine layout. Thus, this list of the 10 best mid-engine sports cars for 2016 includes a number of models you may be surprised to learn are considered mid-engine sports cars.
Alfa Romeo 4C
Alfa's raucous little 4C is so close to a racing car you'll come away from every drive feeling as if you've just done 30 laps at Road America. Constructed primarily of carbon fiber, with aluminum for the suspension pieces, roof structure, and crash support, every effort is made to keep the Alfa as light as possible. To this end, you'll find minimal carpeting, very little sound insulation, few creature comforts, and next to no storage—or cargo capacity. In exchange, you'll get outstanding acceleration, a brilliant engine note, mind-boggling road holding, and exotic car good looks. Power comes from a 1750cc (1.8-liter) turbocharged inline four with 237 horsepower and 258 ft-lbs of torque. One of the top mid-engine sports cars for 2016, the feisty Alfa 4C's rear wheels are driven by a six-speed automated manual transmission. Pricing starts at $53,900 for the coupe, and $63,900 for the convertible.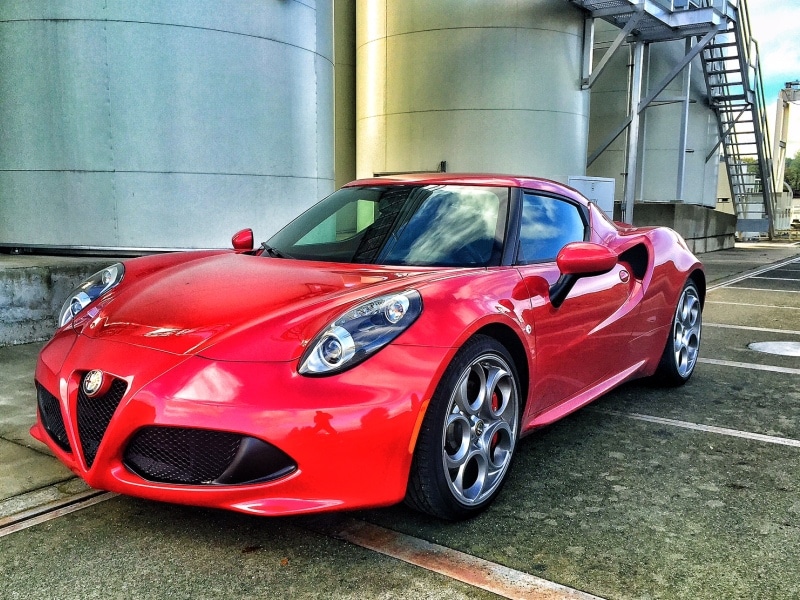 Audi R8
Of the top mid-engine sports cars for 2016. The celebrated Audi R8 is smooth, powerful and extraordinarily comfortable. Despite its exotic car good looks, the R8 drives so much like every other model in Audi's lineup, you may be tempted to think it somewhat neutered. Here's the thing, all of Audi's cars feel at ease at high speed, handle with outstanding capability, and their interiors are designed to support long distance travel. The second-generation of the Audi R8 is bowing for the 2016 model year with more power and less weight. The V8 has been eschewed, but the new V10 is good for 540 horsepower—while the V10 Plus offers 610 horsepower. All-wheel drive and a seven-speed automated manual transmission complete the powertrain. Pricing has yet to be announced.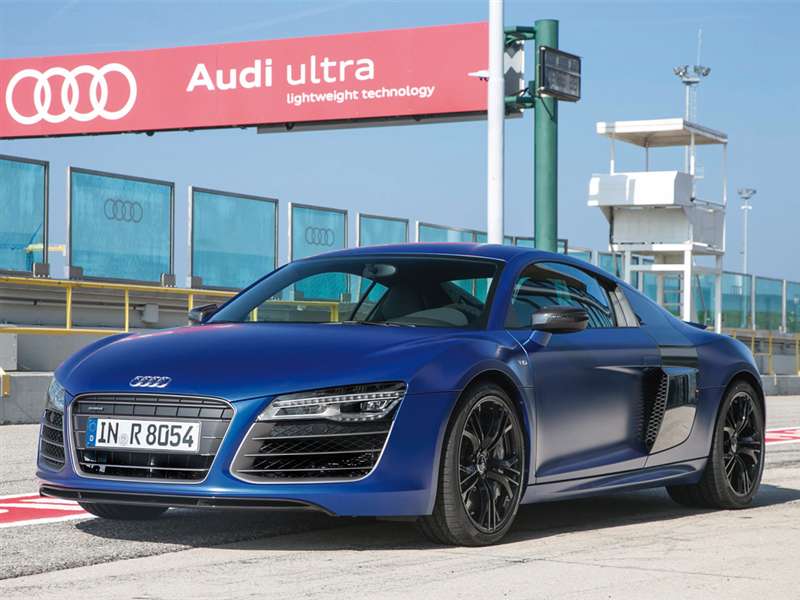 Ferrari 488 GTB
The next logical step in the pantheon of mid-engine V8-powered Ferrari models, the striking visual similarity between the 458 Italia and the new 488 GTB is of course owing to the evolutionary styling approach Ferrari has taken with its latest entry to the top mid-engine sports cars list. If you're familiar with Ferrari's nomenclature, you know the model designation usually reflects engine displacement and cylinder count; therefore the 458 used a 4.5-liter V8. However, the 488 runs a turbocharged 3.9-liter V8—with 488 cubic centimeters per cylinder. The result is 661 horsepower and 561 ft-lbs of torque. These numbers eclipse those of the most powerful 458 Italia by 64 horsepower and an amazing 163 ft-lbs of torque. Pricing starts at $242,737.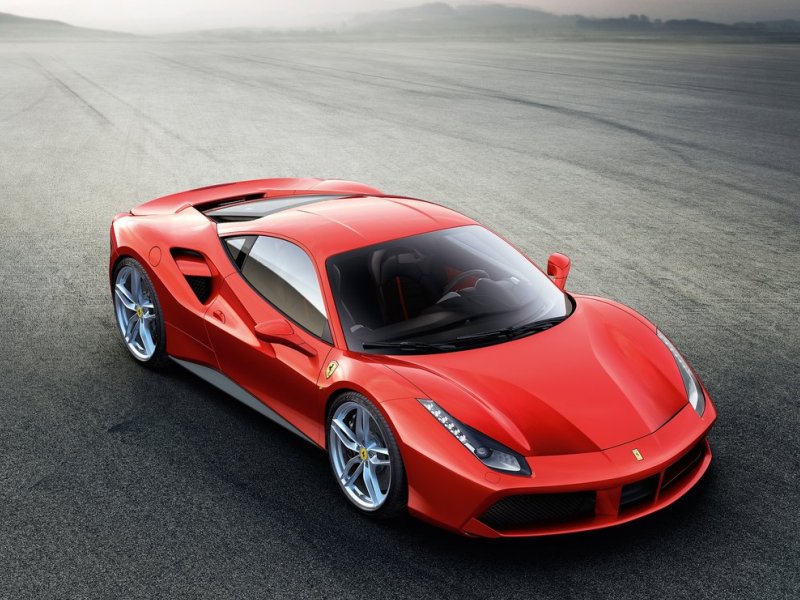 Ferrari California T
At first glance, you'll probably think of the lovely little entry-level Ferrari roadster as a front-engine coupe. The first front-engine V8 Ferrari model to employ a folding hardtop, the California T is also the first front-engine Ferrari model to employ turbocharging. We used the term front-engine a number of times in the preceding phrases, however the California T's engine is actually mounted behind the front wheels, giving it a front mid-engine layout, in addition to outstanding agility. Power comes from a turbocharged 3.9-liter V8 with 553 horsepower and 557 ft-lbs of torque. A seven-speed dual-clutch automated manual transmission drives the rear wheels. For the 2015 model year, the suspension system was modified to improve handling and steering response was sharpened as well. Pricing starts at $202,723.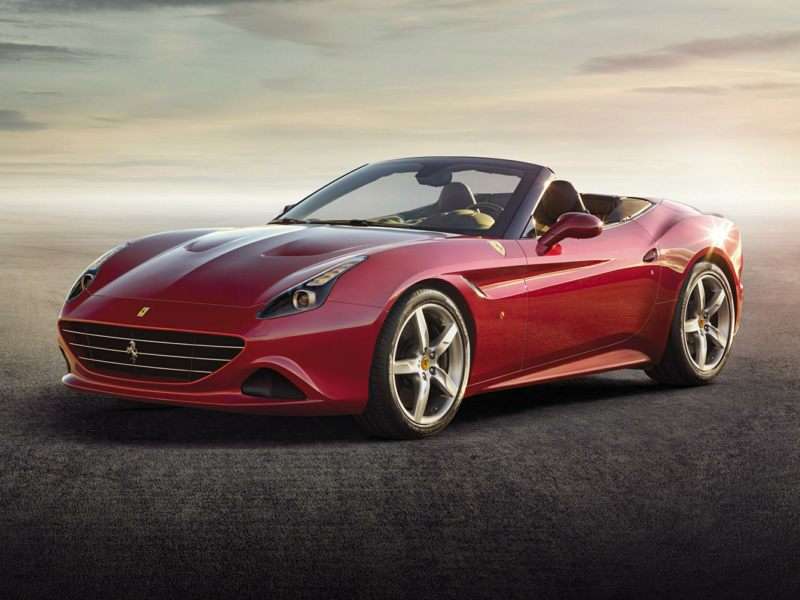 Photo by Ferrari
Lamborghini Aventador SV
The V12-powered 2016 Lamborghini Aventador SV (for superveloce—which is Italian for super fast) storms onto the market with 740 horsepower and 509 ft-lbs of torque. The Lamborghini's zero to 60 is estimated at 2.9 seconds, while its top speed is a claimed 217 miles per hour. The interior is a veritable orgy of suede and carbon fiber, and the exterior picks up aerodynamic aids to keep the big Lambo on the ground when it's doing its thing at full chat. Word on the street is this version of the Aventador is more track-day hero car, than street stalking superstar. Pricing comes in at $493,095, which includes $3,700 for gas-guzzler taxes, as well as $3,495 for destination and delivery.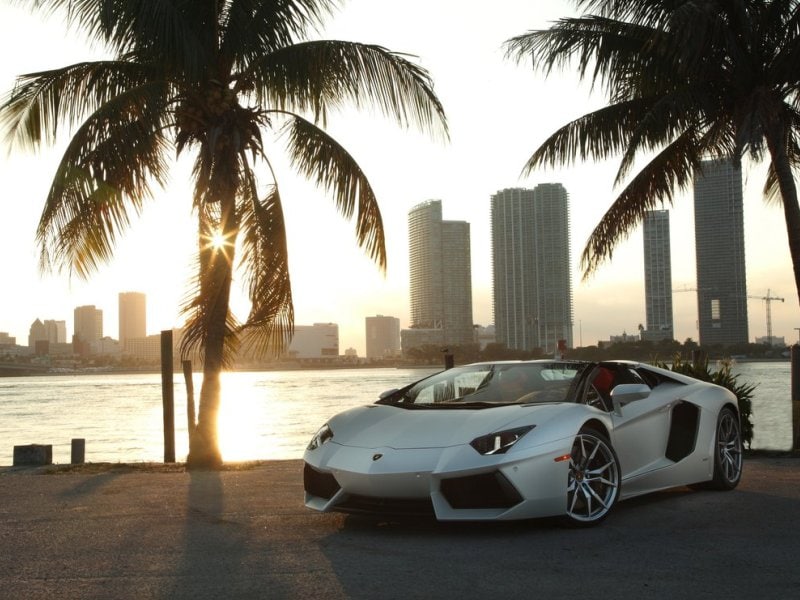 Lamborghini Huracan LP610-4
Though closely related to the new 2016 Audi R8, the feel of the Lamborghini Huracan is completely different. The Lamborghini is considerably more demonstrative of overt ferocity in contrast to the Audi's polished sophistication. Taking over where the Gallardo left off—as the entry-level Lamborghini sports car—the Huracan claims its spot on the top mid-engine sports cars list with an aluminum space frame supporting its lightweight carbon fiber skin. The 5.2-liter V10 makes 602 horsepower and 413 ft-lbs of torque, which is routed to all four wheels through a seven-speed automated manual gearbox. The LP610-4 designation refers to the longitudinal positioning of the V10 engine and the Lamborghini's all-wheel drive powertrain. Pricing starts at $254,345.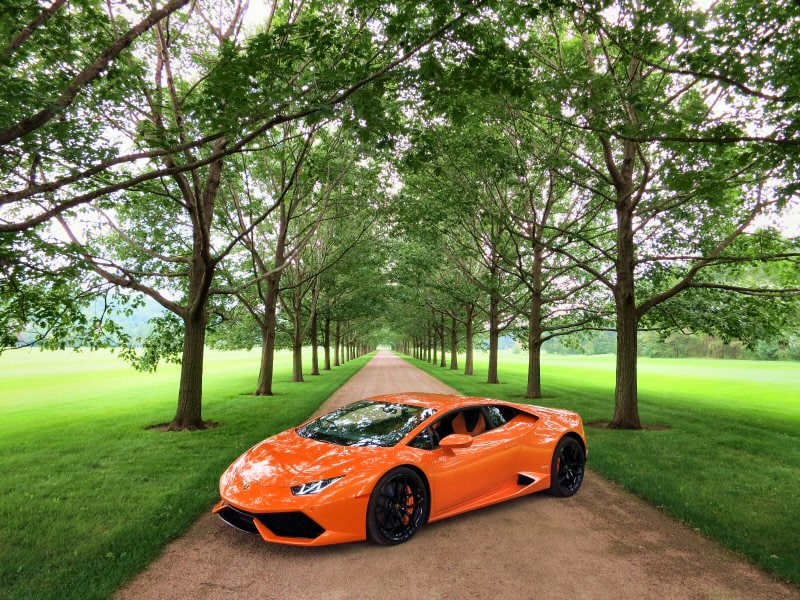 Photo by Benjamin Hunting
Mazda MX-5 Miata
The all-new redesigned 2016 Mazda MX-5 Miata convertible, while typically thought of as a front-engine rear drive two-seat sports car is, in fact, a front mid-engine rear drive two-seat sports car. In a countermove to almost every other new car launched these days, the 2016 MX-5 is some 200 pounds lighter than the 2015 Miata it replaces. This results in a faster and better handling sports car from the people who use the phrase "Zoom-Zoom" as their guiding philosophy. A 155-horsepower 2.0-liter four-cylinder engine with 148 ft-lbs of torque generates power, which is fed to the rear wheels through a six-speed manual transmission—or a six-speed automatic with paddle shifters as an option. Pricing starts at $25,735.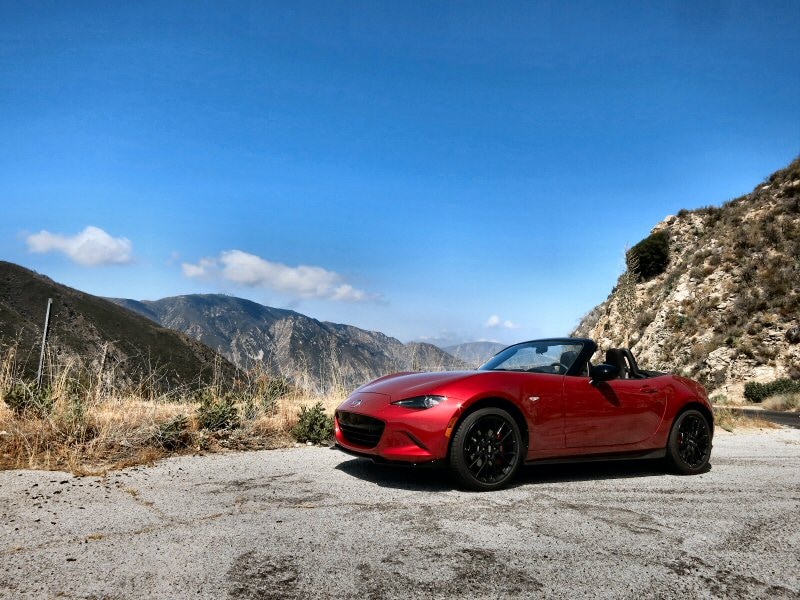 Photo by Benjamin Hunting
McLaren 650S
The McLaren 650S comes across as a bit more subtle than its competitors from Ferrari and Lamborghini, but don't let that lull you into thinking the British mid-engine supercar is less capable. Easily ranked among the top mid-engine sports cars for 2016, both the coupe and convertible versions of the lovely McLaren 650S are exceptionally extraordinary automobiles. Insanely powerful, thanks to the 3.8-liter twin-turbocharged V8 mounted right behind the passenger compartment, the McLaren serves up 641 horsepower and 500 ft-lbs of torque. Employing "butterfly" doors hinged at the "A" pillars, the McLaren is showstopper when sitting still as well. The rear drive two-seater uses a dual-clutch seven speed automated transmission. Pricing starts at $281,690.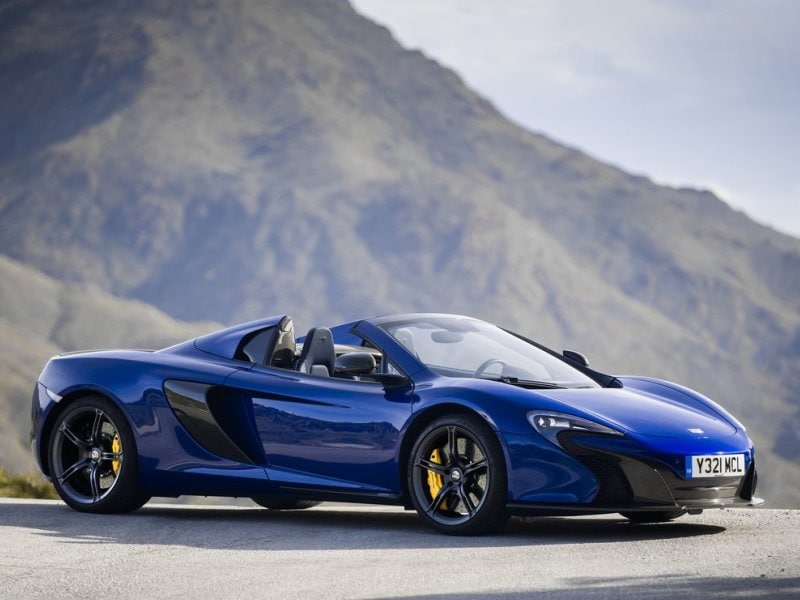 Mercedes-AMG GT
The follow-up to the wildly flamboyant Mercedes-Benz SLS AMG, the Mercedes-AMG GT is smaller and exhibits more refinement than the gullwinged super car; it also costs less. Further, the AMG GT is more predictable at the limit, which makes it somewhat more rewarding when driven with serious intent. Many are claiming this makes the AMG GT more fulfilling as a daily driver, and one of the top mid-engine sports cars for 2016. An outstanding example of the front mid-engine sports car, the 2016 Mercedes-AMG GT is made primarily of aluminum to reduce weight. Power comes from a twin-turbocharged 4.0-liter V8 with 503 horsepower and 479 ft-lbs of torque. A seven-speed automated transmission feeds the rear wheels. Pricing starts at $129,900 (nearly $100,000 less than the 2015 SLS AMG).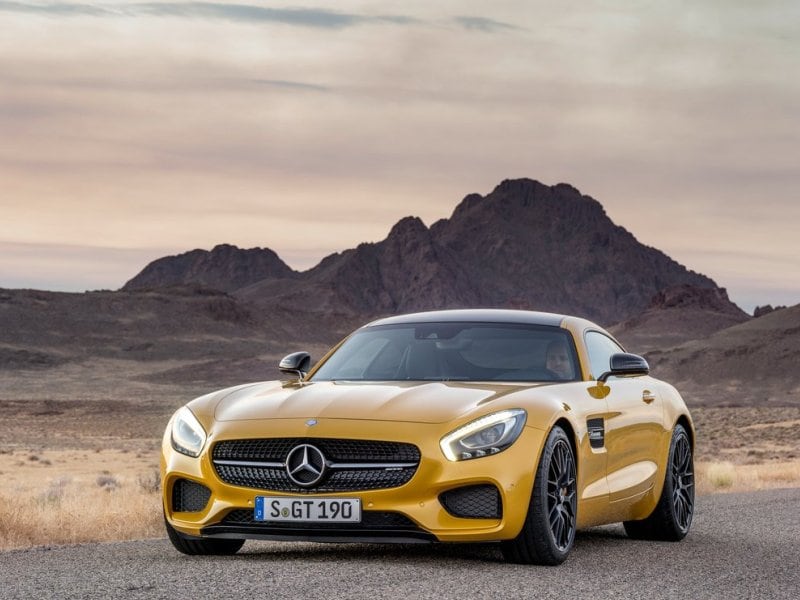 Photo by Mercedes-Benz
Nissan 370Z
And now, here's a little something a bit more down to earth. The current iteration of the 370Z coupe and convertible have been with us since 2009, so yes, a change is gonna come—and soon. For now, the Z goes into the 2016 model year with Bose audio as standard on all except the most basic models. Further, Active Noise Control, and an Active Sound Enhancer have been added to make the Z a bit more sonorous when it's in operation. Otherwise, the hardware of the front mid-engine two-seat sports car remains the same. A 3.7-liter V6 making 332 horsepower and 270 ft-lbs of torque feeds the rear wheels through a six-speed manual transmission as standard equipment. A seven-speed automatic with manual capability and rev matching is optional. Pricing starts at $29,990.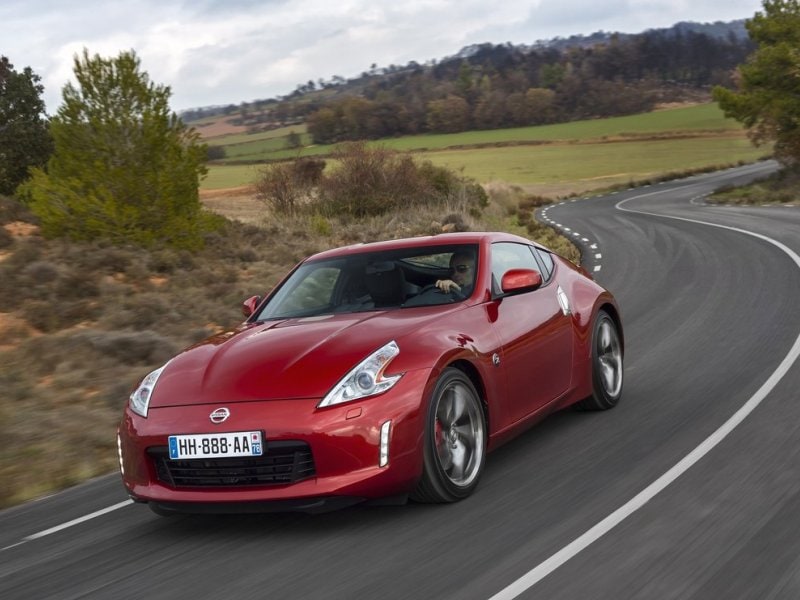 Photo by Nissan USA