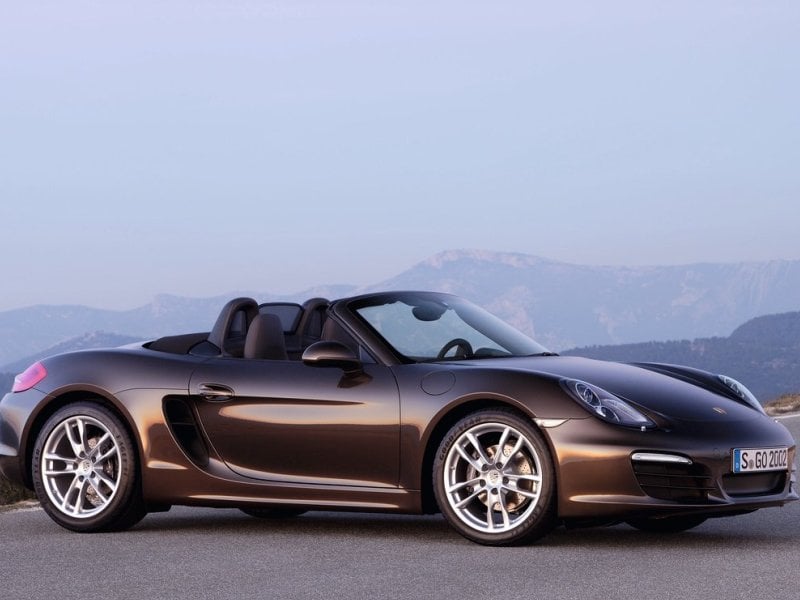 Yes, the exotic Bugatti, Ferrari, Lamborghini, Maserati, McLaren, and Pagani convertible sports cars are absolutely marvelous. Further, an enthusiast would love to number any (or all) of them among the models in their collection. So let's just go ahead and acknowledge all of them would fit within the top 10 convertible sports cars for 2016 category right off the top. Of course, when money's no object, it's pretty easy to do a top-flight roadster—right? But what about when price is an issue? This list of the top convertible sports cars for 2016 celebrates what can happen when a dedicated team of engineers is given the task of summoning greatness—with a price cap to consider. As you'll see, sometimes, the best ideas arise from such constraints among the top ten convertible sports cars for 2016.
Alfa Romeo 4C Spider
New for the 2016 model year, the Alfa 4C Spider was introduced late in 2015 as a companion to the highly regarded Alfa Romeo 4C Coupe. Essentially a thinly-disguised racing car for the street, the Alfa 4C Spider is about as elemental as you can get and still be street legal. Built like an exotic (because truthfully, it is one), the Alfa uses a carbon fiber tub, aluminum suspension pieces, and a high-output turbocharged mid-mounted engine. Further, sound deadening materials, carpeting, and other creature comforts are kept to a minimum to ensure the Alfa's curb weight comes in under 2,500 pounds (this includes the omission of power steering). Power comes from a 1750 cc (1.75-liter) turbocharged inline four good for 237 horsepower and 258 ft-lbs of torque. A six-speed dual-clutch automated manual transmission feeds the rear wheels. Pricing starts at $63,900.
Photo by FCA Media
Audi R8 V10 Spyder
If you've ever wondered why so many European sports cars are called "spiders" it's owing to an amalgamation of the phrase "speed air", which when spoken quickly sounds like spee-dair, which got spelled spyder. Audi's "speed air" is one of the most civilized mid-engine exotic sports cars ever offered for sale. Luxurious, comfortable, head turning, and exceptionally fast, the Audi R8 V10 Spyder is everything you'd expect from the Audi brand, with a dose of Italian flair for good measure. The second-generation of the Audi R8 is bowing for the 2016 model year with more power and less weight. The V8 engine option has been eschewed, but the new V10 is good for 540 horsepower, while the V10 Plus offers 610 horsepower. All-wheel drive and a seven-speed automated manual transmission complete the powertrain. Pricing has yet to be announced.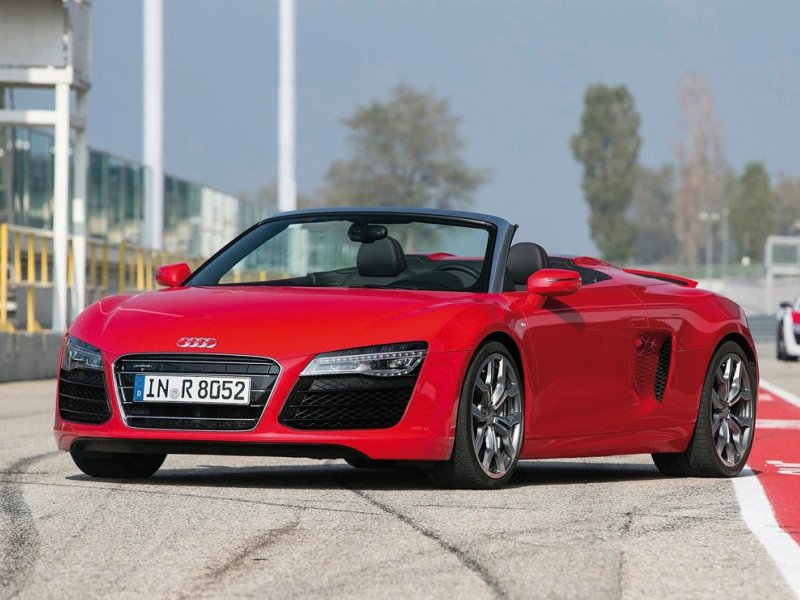 Photo by Audi Media Services
BMW Z4
Among the top ten convertible sports cars for 2016, the BMW Z4 is one of only two offering the flexibility of a folding hardtop. This gives the Z4 the ability to be a coupe when you need it to be, and a convertible when you want it to be. Thus, you get the security of a hardtop with the thrills of a roadster—a very compelling proposition. The archetypal long hood, short deck proportions of the Z4 give it a classic appearance, while the mechanicals and creature comforts are very 21st century. Engine output ranges from 240 horsepower and 260 ft-lbs of torque, to 335 horsepower and 332 ft-lbs of torque. BMW offers but one transmission, a seven-speed automated manual dual-clutch gearbox feeds the rear wheels. Pricing starts at $49,250.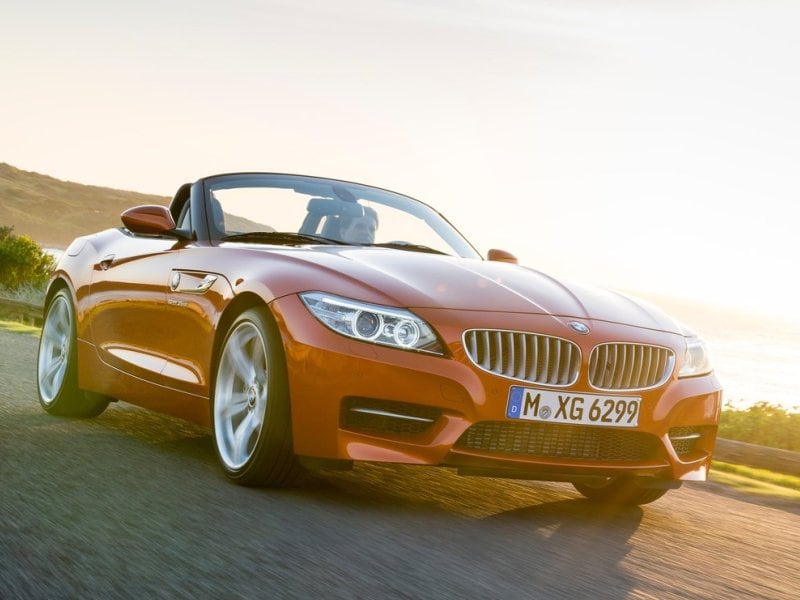 Chevrolet Corvette Z06 Convertible
Over the years, Corvettes have seemingly always been praised for their outstanding dynamics. On the other hand, Corvette has consistently struggled with questionable build quality and substandard interior treatments. Happily, those problems have been addressed; making this current iteration of America's only true convertible sports car the best Corvette ever. It's also the first time a Corvette Z06 has qualified for the top ten convertible sports cars—because this is the first time Chevrolet has offered a convertible Z06. Practically unlimited power flows effortlessly from the 650-horsepower, 6.2-liter supercharged V8 engine, along with 650 ft-lbs of torque. A seven-speed manual transmission with a downshift rev-match feature is standard, an eight-speed automatic, (which also marks the first time the Z06 has been offered with an automatic transmission) is optional. Pricing for the rear-drive Chevrolet Corvette Z06 Convertible starts at $83,995.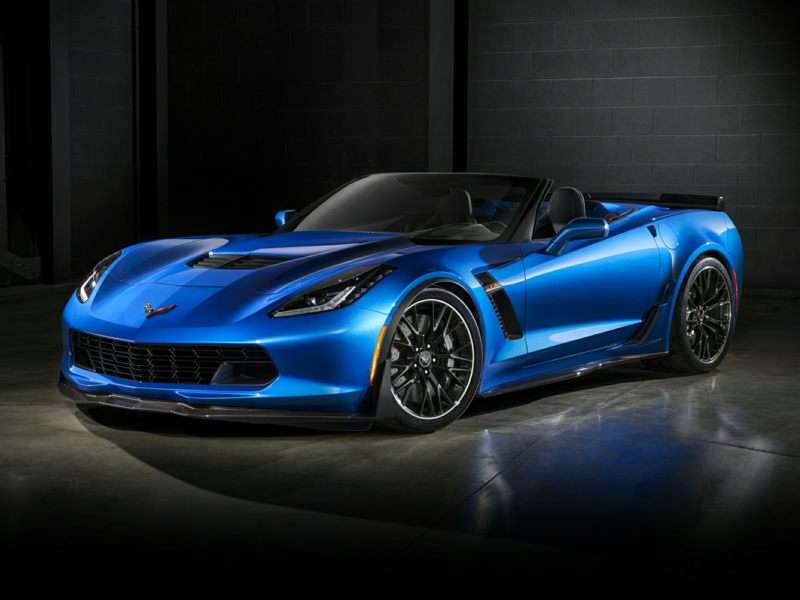 Jaguar F-Type
As one of the top ten convertible sports cars for 2016, the open version of Jaguar's F-Type delivers huge on the elegance, grace, and pace we've come to expect from the storied marque. Wonderfully balanced, the convertible F-Type Jaguar also brings outstanding handling to the fore. Deliciously outfitted, the baby Jag's interior is as businesslike as it is sumptuously attired. Standard features include automatic headlights and wipers, LED running lights, heated mirrors, an automatic tail spoiler, automatic climate control, an eight-inch touchscreen, navigation, and a 10-speaker audio system. Available with rear- or all-wheel drive, Jaguar's F-Type Convertible engines range in power from 340 horsepower to 550. Depending upon engine choice, the F-Type comes with a six-speed manual or an eight-speed automatic transmission. Pricing starts at $68,100.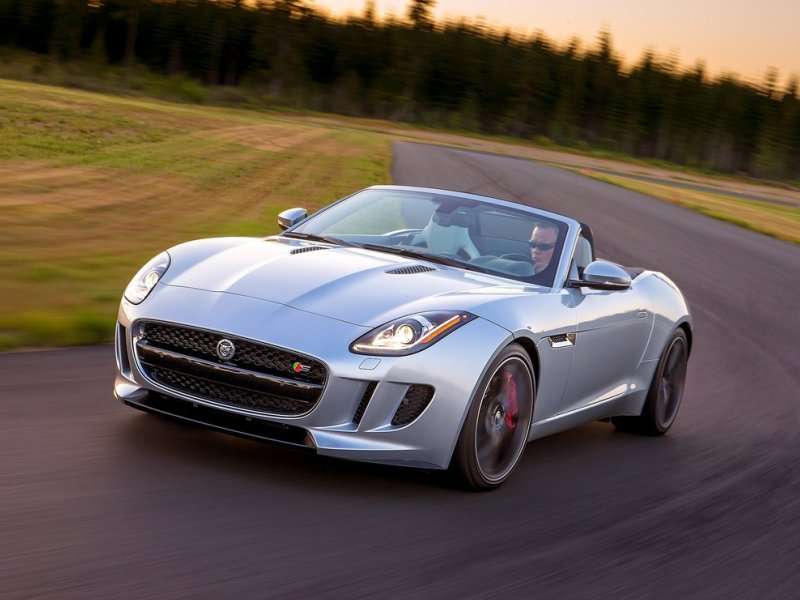 Mazda MX-5 Miata
The all-new redesigned 2016 Mazda MX-5 Miata comes to market as the latest incarnation of the world's favorite two-seat roadster. Like every version of the Miata before it, this one too is one of the top ten convertible sports cars. In a countermove to almost every other new car launched these days, the 2016 MX-5 is some 200 pounds lighter than the 2015 Miata it replaces. This results in a faster and better handling sports car from the people who use the phrase "Zoom-Zoom" as their guiding philosophy. Meanwhile, the Mazda also offers a complete array of contemporary comfort, convenience, and safety features. A 155-horsepower 2.0-liter four-cylinder engine with 148 ft-lbs of torque generates power. This is fed to the rear wheels through either a six-speed manual transmission, or a six-speed automatic with paddle shifters as an option. Pricing starts at $25,735.
Photo by Benjamin Hunting
Mercedes-Benz SLK Roadster
So strong is the familial resemblance, it's quite easy (at a glance) to mistake the Mercedes-Benz SLK for its more costly SL sibling. Thanks to its folding hardtop's glass roof panel, the SLK is truly one of a kind in the world of sports cars – no other model offers the combination. Power for the luxuriously outfitted SLK models comes from engine choices ranging in output from 201 horsepower and 229 ft-lbs of torque, up to 415 horsepower and 398 ft-lbs. A six-speed manual transmission is standard for the base model, while a seven-speed automatic is offered as an option. (The seven-speed is standard with all other models). Power goes to the rear wheels and pricing starts at $47,000.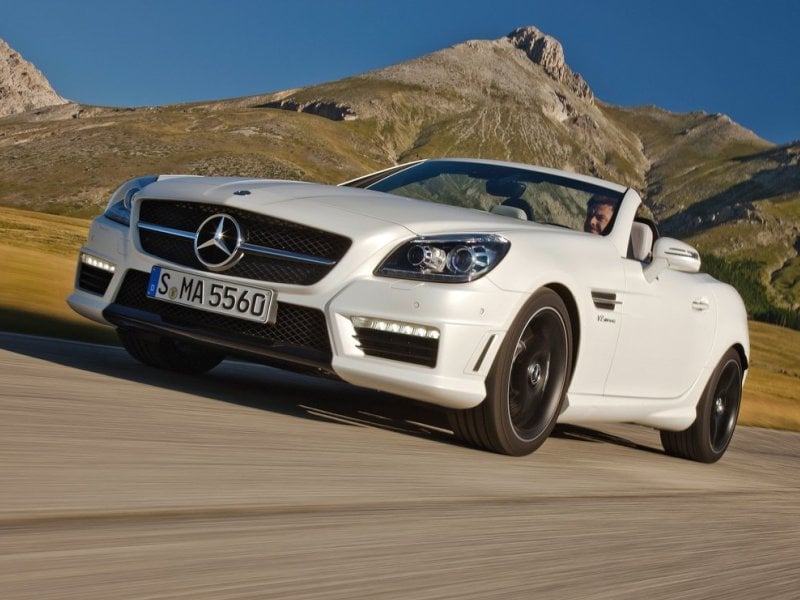 Nissan 370Z Roadster
As the current iteration of the 370Z Coupe and Roadster have been with us since 2009, we're expecting a new model pretty soon. Until then, the Z goes into the 2016 model year with Bose audio as standard on all except the most basic models. Further, Active Noise Control, and an Active Sound Enhancer have been added to make the Z a bit more sonorous when it's in operation. A regular on annual top ten convertible sports car lists, the 370Z Roadster uses a 3.7-liter V6 making 332 horsepower and 270 ft-lbs of torque to feed the rear wheels through a rev-matching six-speed manual transmission. A seven-speed automatic with manual capability and rev matching is optional. Pricing starts at $41,820.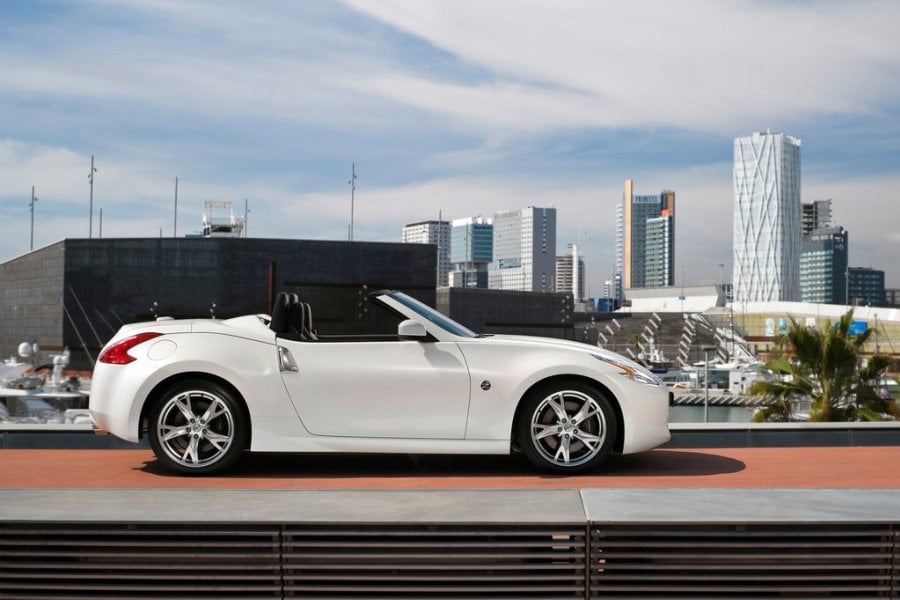 Porsche 911 Cabriolet/911 Targa
Porsche offers the 911 in 11 different open versions. Engines range in output from 350 horsepower and 287 ft-lbs of torque from a 3.4-liter horizontally opposed six, to 560-horsepower and 516 ft-lbs from a turbocharged 3.8-liter flat six. All convertible 911 models can be had with either rear-wheel drive or all-wheel drive. While specific transmission choices vary according to powertrain, seven-speed manual and seven-speed dual-clutch automated manual transmissions are the two choices. In addition to folding canvas roofs, convertible 911 models also come with retractable roofs with a fixed rear window and a roll bar (911 Targa). Every physicist on earth will tell you the way the rear-engined Porsche 911 handles is in defiance of a number of the laws their profession takes for granted. Brilliant to drive and finished to a very high standard, Porsche 911 convertible pricing starts at $96,200.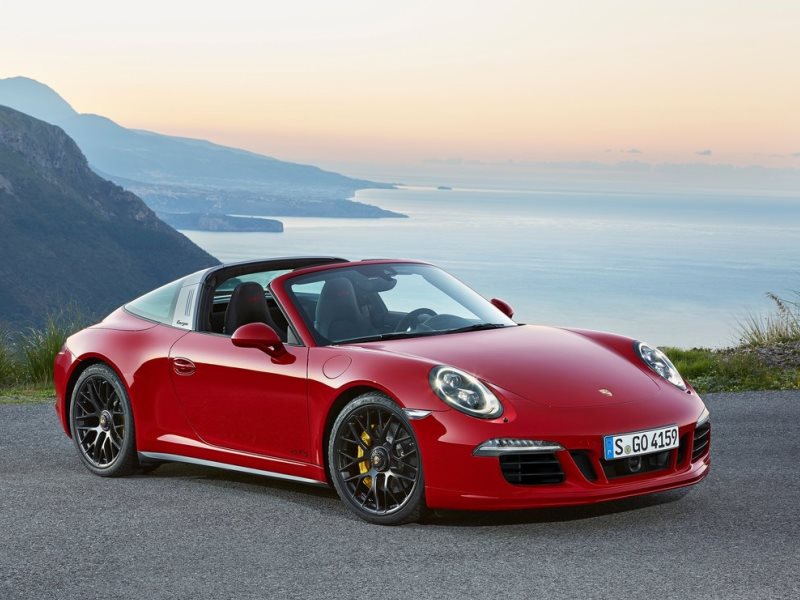 Porsche Boxster
Roundly praised for its flexible engine, amazing handling, richly appointed interior, and handsome styling, the mid-engine rear drive Porsche Boxster is considered by many critics to be the best sports car ever offered. So of course you'll find it represented here on this list of the top ten convertible sports cars for 2016. Offered in three states of tune, power for the base model of the Boxster comes from a 2.7-liter horizontally opposed six-cylinder engine capable of generating 265 horsepower and 207 ft-lbs of torque. Boxster S increases displacement to 3.4-liters, which raises output to 315 horsepower and 266 ft-lbs. Boxster GTS delivers 330 horsepower and 273 ft-lbs of torque—from a slightly modified version of the 3.4. A six-speed manual transmission is standard equipment, while a seven-speed automated manual is offered as an option. Pricing starts at $52,100.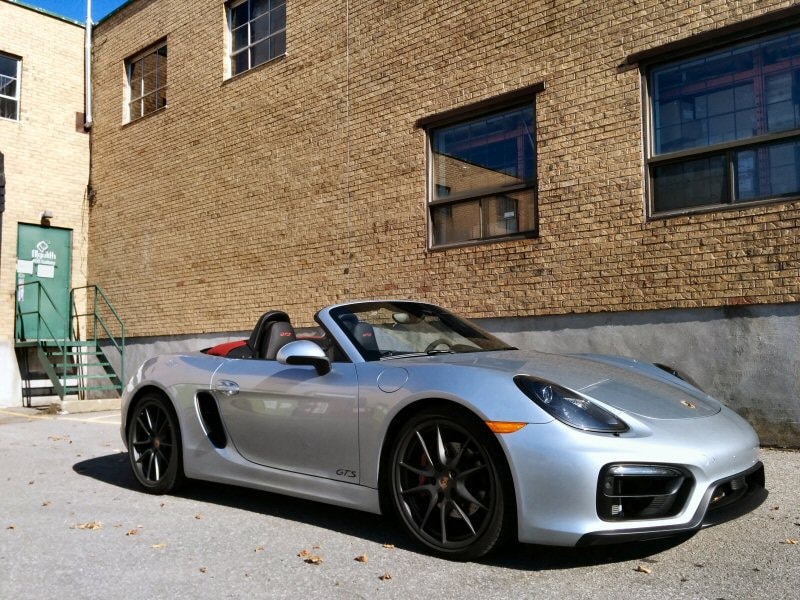 Photo by Benjamin Hunting