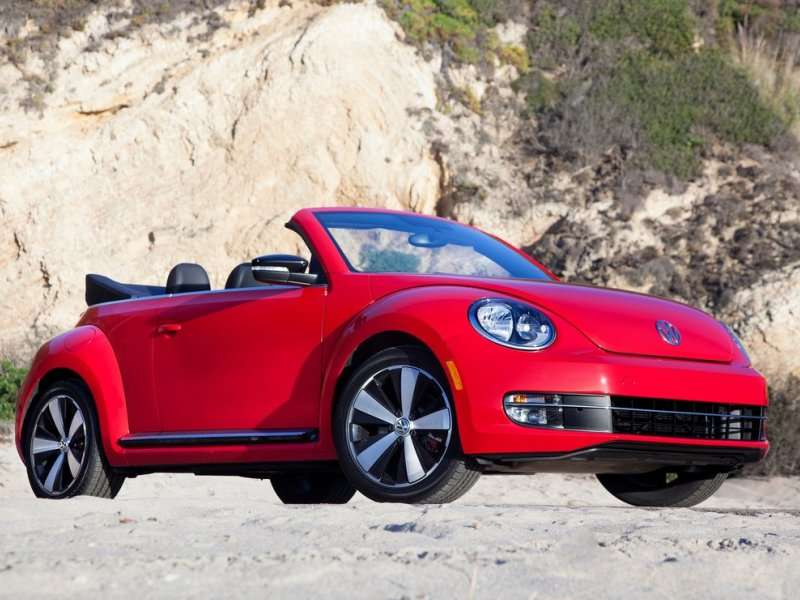 To paraphrase the words of Glen Frey, the heat is about to be back on. After a year of record-breaking snowfalls and frigid temperatures, winter is finally releasing its grip. Temperate days are about to be on the menu. This means it's a good time to consider a list of the 10 most affordable 2014 convertibles.
Now typically, the convertible version of a model goes for considerably more than the closed version of the same car. So, when we're talking the 10 most affordable convertibles, the word "affordable" is a relative term. In this case, we set the cut-off at $45,000—given the average new car transaction price these days is hovering around $32,000.
So, if you're wondering why the BMW 4 Series convertible, or the Infiniti Q60 convertible is missing, it's simple—they cost too much to be here. Also, if you're looking for your favorite convertible sports cars, they're on a completely separate list. You'll find those on our list of the 10 Best Roadsters for 2014; thus there is no Miata, BMW Z4, or 370Z to be found here either.
What we do have (with the exception of one model) are four-seater convertibles, with a base price of less than $45,000.
The Ten Most Affordable 2014 Convertibles: Audi A5 Cabriolet
Squeaking in just under the wire to make our list with a starting price of $44,500, the Audi A5 convertible is an absolutely lovely automobile. Graced with an exquisite interior treatment, a nice array of tech-oriented kit, and a significant amount of presence, the Audi A5 Convertible is a wonderful choice.
Power comes from a very efficient 2.0-liter turbocharged inline four-cylinder engine producing 220 horsepower and 258 ft-lbs of torque. Its front-wheel drive powertrain is paired with a continuously variable transmission. If you'd like, you can get the convertible with all-wheel drive and an eight-speed automatic transmission as well (though doing so pushes the price of entry above our $45,000 cutoff).
Capable of retracting or deploying in 17 seconds, the A5's roof stows beneath a hard tonneau when it is lowered. Fully functional at speeds of up to 31 miles per hour, you don't even have to stop the car operate the roof. The roof's multilayer construction seals out most wind noise and all of the elements.
What's more the roof is finished so nicely inside, when the Audi A5 Cabriolet is closed, you don't even know it's a convertible. Even better, the roof's storage well intrudes only minimally into the trunk space. The A5 Cabriolet offers 10.2 cubic feet of cargo capacity, which is but two cubic feet less than the coupe.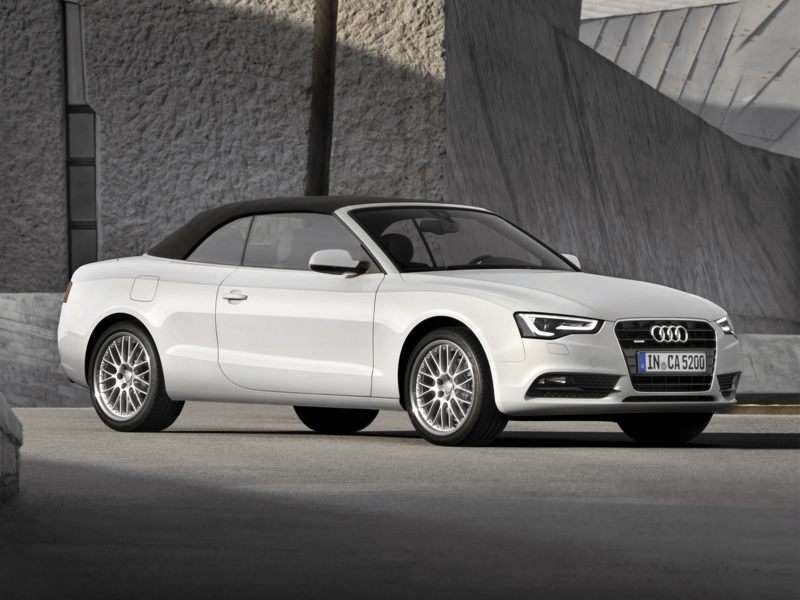 The Ten Most Affordable 2014 Convertibles: Chevrolet Camaro Convertible
Featuring updated styling elements for the 2014 model year, the Chevrolet Camaro Convertible remains one of the best bargains you can find in a sporty car with a folding roof. The updates include a new headlight treatment. The grille has been reworked too, as has been the taillights.
The really good news is the Camaro is so reasonably priced, you can choose between V6 power and V8 power to create the summertime ride of your dreams. If you go V6, you'll get a 323-horsepower 3.6-liter V6 with 278 ft-lbs of torque. A six-speed manual comes with the V6 as standard, but you can put a six-speed automatic with it as well.
To get all the beans, opt for the 6.2-liter V8 and you'll find yourself sitting behind 426 horsepower, with 420 ft-lbs of torque at your disposal. Again, a six-speed manual transmission is the standard offering, although a six-speed automatic can be paired with the V8 as well.
A droptop rear-drive sporty coupe with bucketloads of power, a convertible Camaro is an outstanding way to drive through the warm weather season. Given its relatively low price, the Camaro does ask you to do a few things for yourself, like snap the tonneau cover into place once the top is retracted, but the roof Z folds and sits below the shoulder line of the car, so you can get away without it as well.
Pricing starts at $31,055.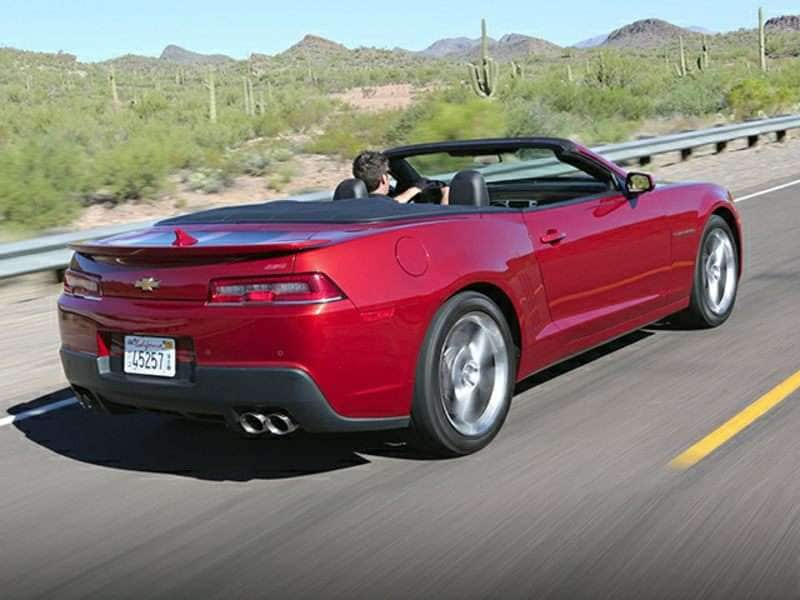 The Ten Most Affordable 2014 Convertibles: Chrysler 200 Convertible
Let's say you're on vacation, you need to seat four people and you decide you'd love to tool around in a convertible. The car you will most likely wind up with is the Chrysler 200 Convertible.
Afterwards, you might well find yourself remembering the Chrysler wistfully and considering the purchase of one. And, that's not necessarily a bad thing, because as values go, you won't find a hardtop convertible capable of seating four people as comfortably as the Chrysler 200 does—for less money.
We threw the vacation scenario out there because by and large the most likely place you'll ever come into contact with the 200 Convertible is as a rental. These cars pretty much went into rental fleets straight off of the assembly line. Which is too bad, because the 200 Convertible is actually a pretty nice car. Offering a choice between a conventional soft top and a folding hardtop, the 200 Convertible is also rather versatile.
Power comes from either Chrysler's 173-horsepower 2.4-liter four-cylinder engine with 166 ft-lbs of torque, or the company's 283-horsepower 3.6-liter V6 with 260 ft-lbs. A six-speed automatic transmission is the only choice available to complete the front-drive powertrain.
This is, in all probability the last year for this version of the 200 Convertible, as Chrysler just introduced an all-new 200 sedan earlier this year. No word yet on whether there will be a convertible based on the new model, but the smart money is betting there will, as Chrysler has nearly always fielded a convertible in this segment in recent years.
Pricing starts at $27,950.
The Ten Most Affordable 2014 Convertibles: Fiat 500c
Cute is as cute does, and the FIAT 500 does cute pretty darn well. The happy little Italian runabout with a mustachioed face looks like it's having so much fun, you figure it's still giggling about its day long after you've parked it and gone to bed. The fun factor of the 500 is magnified to an even greater degree when you order one fitted with a convertible roof.
The Fiat takes a rather distinctive approach to letting the sun shine it. Rather than folding, the cloth section of the roof actually slides open along parallel roof rails and stacks up into four nice neat folds on the rear shelf. Be forewarned, this configuration means your rear view is partially blocked when the top is retracted.
Still though, this is absolutely the least expensive way to get a convertible roof and four seats—although those rear seats should probably be used for things more than friends. Make all your summer plans in the Fiat around you and one other person and you'll be just fine.
Power comes from a choice of three engines. The base powerplant is a 1.4-liter four-cylinder mill, churning out 101 horsepower and 98 ft-lbs of torque.  A turbocharged version of that engine is available as well, which makes 135 horsepower and 150 ft-lbs of torque. The high protein edition of the Fiat 500, the Abarth gets 160 horsepower and 170 ft-lbs of torque from the turbocharged engine.
Pricing starts at $16,695.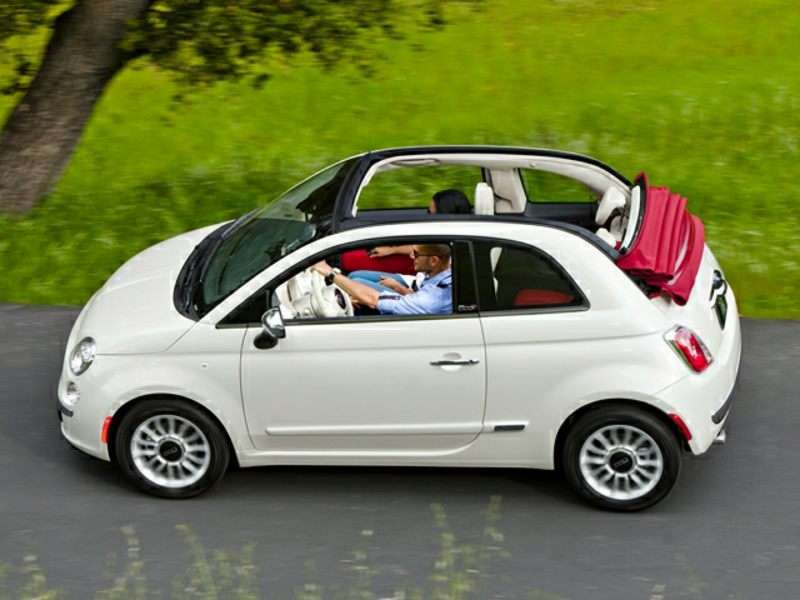 The Ten Most Affordable 2014 Convertibles: Ford Mustang Convertible
American pony car fans are largely divided into two camps. And yes, Ford's Mustang is the model favored by one of them. Celebrating its 50th anniversary this year, and in continuous production since it launched back in 1964, the Ford Mustang is a gen-u-wine American i-con—by God.
Seriously though, there is an almost religious fervor surrounding the esteem with which this car is held. And for good reason; pound for pound, dollar for dollar—even though its primary rival offers more horsepower, the Mustang is arguably the best value in an American sporty car. Further, the price of entry is so low you can have a choice of engines to power your convertible Mustang and still come in well under our $45,000 ceiling.
Ford's base engine offering for the hard galloping pony star is a 305-horsepower, 3.7-liter V6 generating 280 ft-lbs of torque. Of course, for most people a real Mustang is pumping a V8. Ain't no dinky little six-cylinder gittin' it done—even if it is crankin' out 300 horses.
For those people, Ford offers one of the sweetest-winding V8 engines you'll ever sit behind (or in front of for that matter). We're talking about Ford's 420-horsepower 5.0-liter V8 with its near 7000 rpm redline (6800 to be exact). This is unheard of from an American V8. These engines are typically known for making loads of low-end torque to create all sorts of grunt to make 'em run good in the quarter.
This V8 does all of that and winds like a European exotic too.
Pricing starts at $27,510.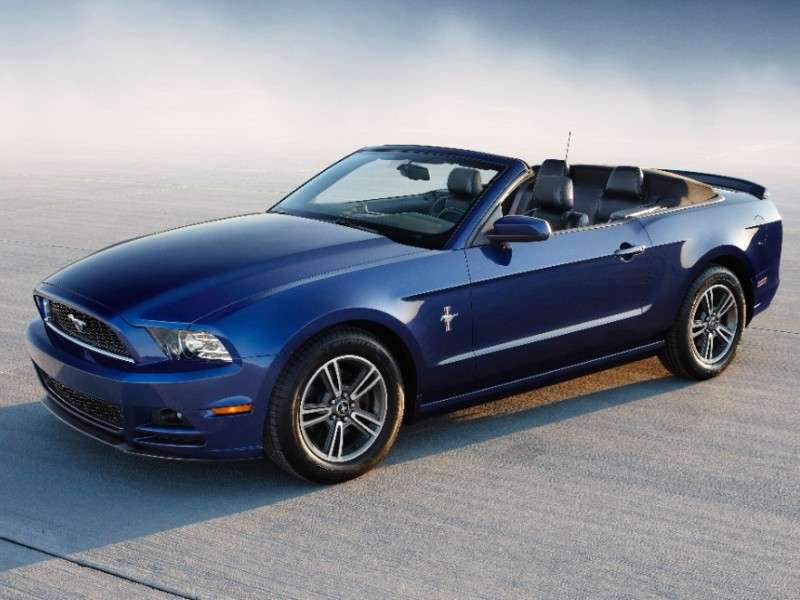 The Ten Most Affordable 2014 Convertibles: Lexus IS 250 C
You might be surprised to find a Lexus on this list. We certainly are surprised to be putting one here, but fact of the matter is, if you go with the smaller engine, and are rather judicious with the options list, you can get into a Lexus convertible for under $45,000.
In this case we're talking about the Lexus IS 250 C hardtop convertible.
If you've been in any affluent area lately, you've seen them smoothly tooling around, looking good, and quite frankly, being good. The attributes start with the folding hardtop, giving the Lexus true year around capability, it makes the car a coupe when you need it to be one, and a convertible when you want it to be one.
What's more there's that legendary Lexus reliability, fit and finish, and the smoothness that gives the brand one of the highest loyalty ratings out there. When people go Lexus, they usually stay Lexus.
Powering the IS 250 C is a 2.5-liter V6 with 204 horsepower and 185 ft-lbs of torque. Now we ain't gon' lie to you, that's meager at best, particularly given the boatload of equipment the Lexus is saddled with to make it meet its luxury quotient. The rear drive coupe uses a six-speed automatic transmission with a manual shift function.
If it's power you're looking for, you'll probably want to go back a couple of clicks and look at some of the earlier offerings on this list. But if you're looking for solid, smooth and quiet; and you don't care about speed…
Pricing starts at $42,860.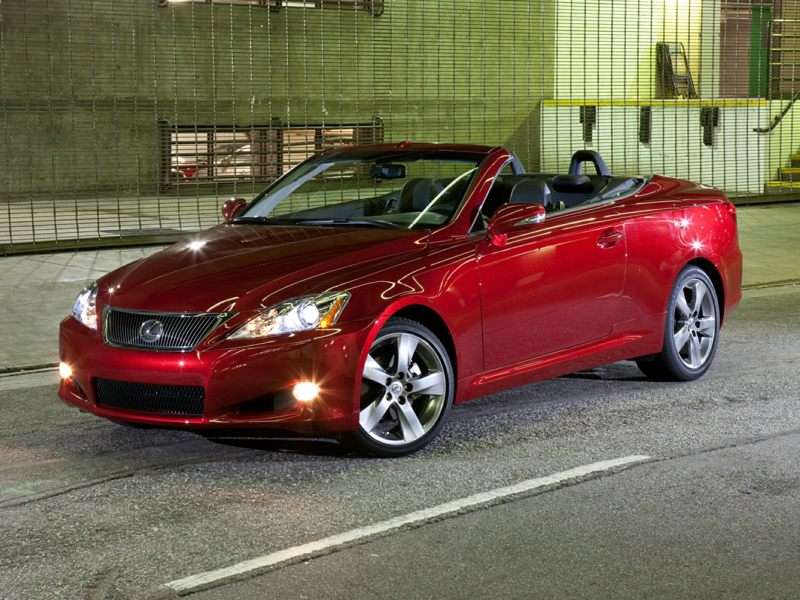 The Ten Most Affordable 2014 Convertibles: Mini Cooper Convertible
We were going back and forth over whether to include the MINI Cooper Convertible on this list. After all, an all-new one is waiting just off stage, now that the all-new 2014 Cooper Hardtop is soaking up wave after wave of adulating applause. Still though, good is good, even if good is just about to be replaced by better. In the end, we decided to go ahead and give the Cooper Convertible a green light.
And, it is a good car. Never has anything so small been so solid. Think we're kidding? Slam the door on a MINI, listen to the way it sounds. Ain't nothing flimsy about this piece yo. Factor in the fun to drive thang that comes as standard equipment with each and every MINI model and you're looking at a very worthy addition to the list.
Power for the standard Cooper Convertible comes from a 1.6-liter four-cylinder engine producing 121 horsepower and 114 ft-lbs of torque. If you opt for the even sportier Cooper S convertible, you'll get a turbocharged version of the 1.6 developing 181 horsepower and 177 ft-lbs of torque. Regardless of the engine choice, a six-speed manual is the standard transmission offering—a six-speed automatic is available as an option. All MINI Cooper convertibles use front-wheel drive.
Pricing starts at $25,150.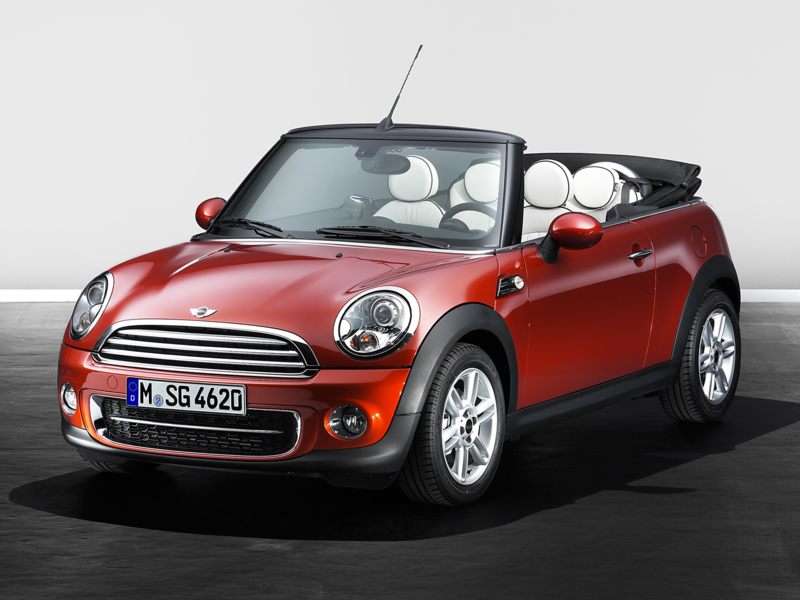 The Ten Most Affordable 2014 Convertibles: Smart ForTwo
Here, you have the lowest-priced convertible model available in the United States for the 2014 model year. The Smart For Two convertible, even though the luster has dulled a bit for US Smart fans, is nonetheless a very delightful looking little runabout with a wealth of attributes perfectly suited for city dwellers.
Let's start with its size; small on the outside and big on the inside, the Smart For Two convertible has more than adequate space for a pair of full-sized adults. In fact, after riding in the Smart For Two for a while, when you reach your destination and see just how small the car really is you'll be amazed. Claustrophobia and the Smart For Two have never met.
Here's another really cool thing, you can get an electric one for well under our cutoff price. In fact, it's the only electric car on the list. There is one other alternatively fueled-vehicle, and you'll get to it in one more click, but for now the Smart For Two conserves space, is inexpensive to own and can run pretty much tailpipe emissions free.
If you go with the internal combustion engine, you'll get a rear-mounted 1.0-liter with 70 horsepower and 68 ft-lbs of torque. The rear wheels are driven by a five-speed automated manual transmission. If you go electric you'll get a 55kW electric motor, and a 17.6 kWh battery pack. This gives the Smart For Two Electric Drive convertible 47 horsepower and 96 ft-lbs of torque. Yes, you read it right; the electric one is quicker than the gasoline version.
Pricing starts at $17,390.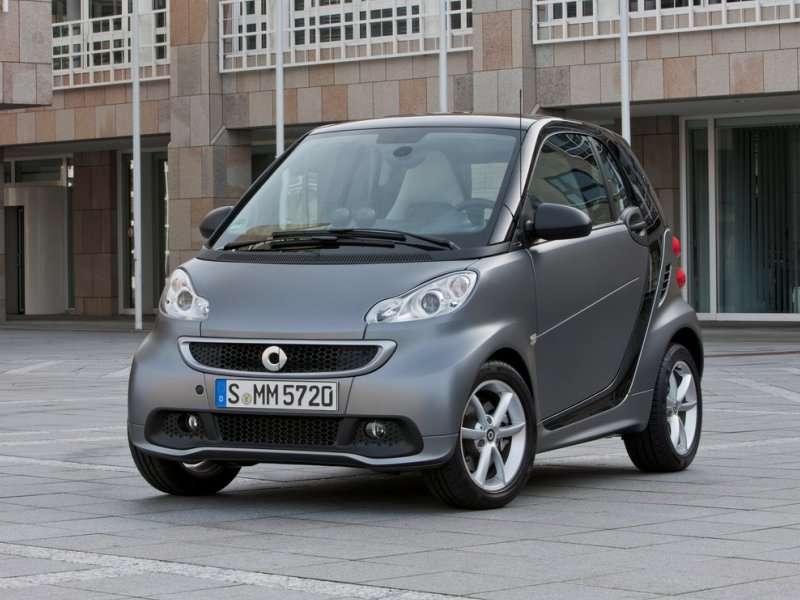 The Ten Most Affordable 2014 Convertibles: Volkswagen Beetle
Just like Christmas just ain't Christmas without the one you love; summertime just ain't summer time without VW Beetle Convertibles running around. Bringing smiles to warm weather motoring far longer than anyone reading this has had a driver's license, the Volkswagen Beetle is a worldwide phenomenon. There is no industrialized nation on this planet you can visit where they don't know what a Volkswagen Beetle is.
Gorgeous interior treatments, delightful exterior styling, and excellent road manners make the 2014 Volkswagen Beetle Convertible a superb choice. That it can be had with a wide variety of powerplants, one of which is a clean burning diesel, enhances that choice even more.
There is actually a choice of three engines available to the Beetle intender (well, technically, four). The base powerplant is a 2.5-liter, 170-horsepower five-cylinder engine capable of developing 177 ft-lbs of torque. The 2.5-liter engine is slated to be replaced during this model year with a 1.8-liter turbocharged four-cylinder engine producing 170 horsepower and 184 ft-lbs of torque. A six-speed automatic is the transmission offering with either.
The next engine in the range is a 2.0-liter turbocharged four producing 210 horsepower and 207 ft-lbs of torque. The diesel makes 140 horsepower and 236 ft-lbs of torque from a turbocharged 2.0-liter inline four. Either of these engines can be had with a choice of a six-speed manual, or a six-speed direct shift gearbox.
Pricing starts at $25,170.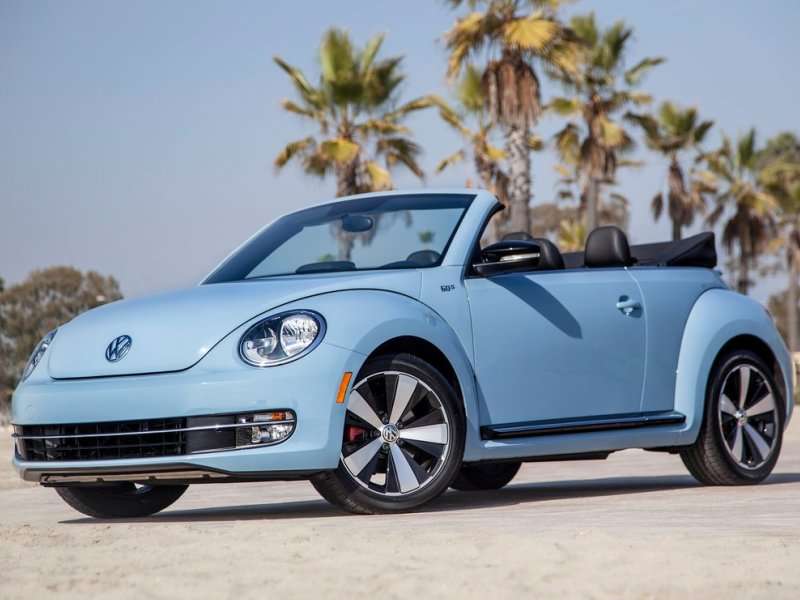 The Ten Most Affordable 2014 Convertibles: Volkswagen Eos
Volkswagen's Eos holds the distinction of being the only hardtop convertible on the market with a sunroof. Offering the very real benefit of all-year around open-ish motoring, the Eos is a singularly unique automobile.
 If you've ever wondered where Volkswagen came up with the name for the car, the Eos is named for the ancient Greek goddess of the dawn, who opened the gates of heaven so her brother Helios, the sun, could travel through the sky bringing forth daylight.
As nice as it is, Eos might as well be a limited production vehicle, so seldom does one see an Eos on the street. It's too bad though; because the car offers outstanding build quality, including a well-crafted interior and a very solid body structure.
The Eos is also one of but three affordable hardtop convertibles on the market. Further, there are considerably more expensive luxury cars out there built to less of a specification than Volkswagen's Eos.
Power comes from VW's 200-horsepower 2.0-liter turbocharged engine. Torque output is 207 ft-lbs. The front drive powertrain uses a six-speed direct shift gearbox to transmit the engine's output to the drive wheels.
Pricing starts at $35,595.