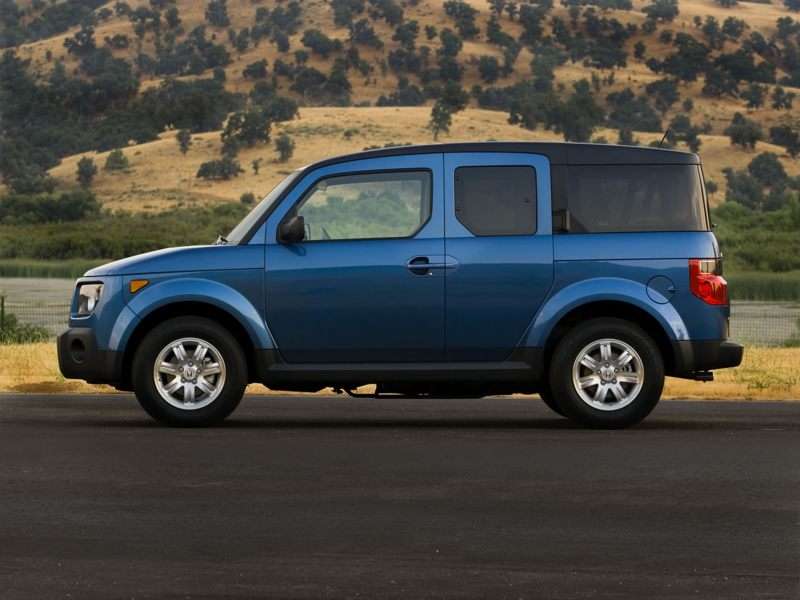 Choosing a used car for your teen can leave you filled with doubt. You want the very best for your teenage daughter or son, especially when it comes to safety. Yet most of us are financially constrained, and that means we can't afford to buy a brand-new vehicle loaded with safety technology. As with many things in life, we must find a compromise that gives our child the highest degree of protection for an expenditure we can afford.
Additionally, reliability, comfort, convenience, and low operating cost are desirable attributes. Certainly you don't want your child to be stranded at the side of the road, nor do you want to put them in a car that needs a series of costly repairs or is simply expensive to operate. With all these factors in mind, we took a long hard look at vehicles that are between five and seven years old. The fact that I have obtained cars for all three of my daughters also helped shape this list of the 10 best used cars for teens.
1. 2016 Kia Soul
Some might view the Kia Soul as a crossover SUV, but its ride, handling, and price land it at the top of our list of best cars for teens. A four-door hatchback, the Soul is a five-passenger vehicle that delivers very praiseworthy versatility. We chose the 2016 model year because very nice examples of the model can be purchased for less than $15,000.
A couple of powertrains are available for 2016 Souls. The base engine is a 130-horsepower 1.6-liter four-cylinder that offers a six-speed manual transmission or a six-speed automatic. For those seeking more go, a 164-horsepower 2.0-liter four-cylinder engine with a six-speed automatic transmission is also available, and that might be the better choice. Because the Soul was low-priced as a new car, many well-equipped versions of the 2016 (and similar vintage) are well-priced on the used market.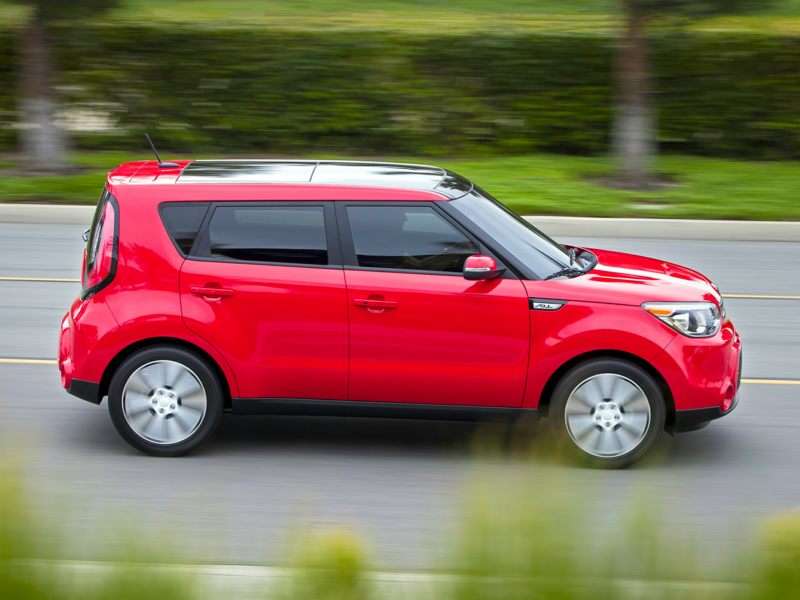 Photo by Kia
2. 2014 Honda Civic
The Honda Civic has gained a reputation for extreme quality and reliability. The compact car is incredibly durable if you perform the simple task of changing the oil regularly. Equally important for your teen, the Civic is fun to drive compared with its more appliance-like competitors.
Power comes from a 143-horsepower 1.8-liter four-cylinder engine, and fuel economy is around 33 mpg in mixed driving. 2014 was the model year in which a continuously variable transmission replaced the Civic's conventional automatic transmission. Though some aren't fans of CVTs, your teen will probably never notice, and the fuel economy will be better for the change. The 2014 Civic's standard amenities include air conditioning, a rearview camera, cruise control, Bluetooth, and an app-friendly infotainment system. Look for a good 2014 Civic in EX trim to cost around $14,000.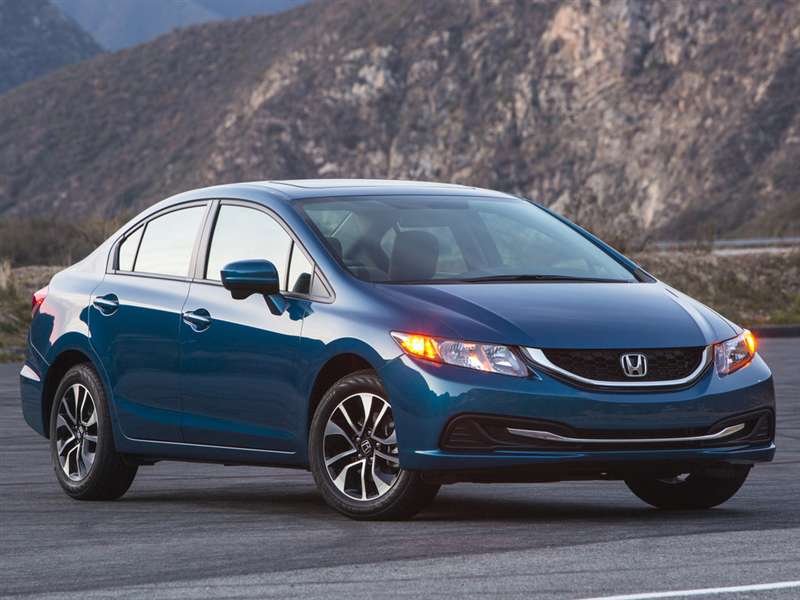 Photo by Honda
3. 2014 Toyota Corolla
If you and your teen settle on a Toyota Corolla, you will be acquiring one of the world's most popular cars. For the 2014 model year, the five-passenger compact sedan underwent a complete redesign that improved both its style and ergonomics. No improvement was needed in its reliability, because the Corolla has always been a candidate to exceed 100,000 miles and perhaps double that.
The front-drive 2014 Corolla is powered by a 132-horsepower 1.8-liter four-cylinder engine backed by one of two transmissions. Corollas equipped with the continuously variable transmissions offer fuel economy of 34 mpg in combined city/highway driving, while Corollas with conventional automatic transmissions slip to 32 mpg. Because of their high annual sales numbers, there are a lot of Corollas to choose from. Some have minimal equipment, but you can also find 2014 models with navigation, heated seats, and a power-operated moonroof.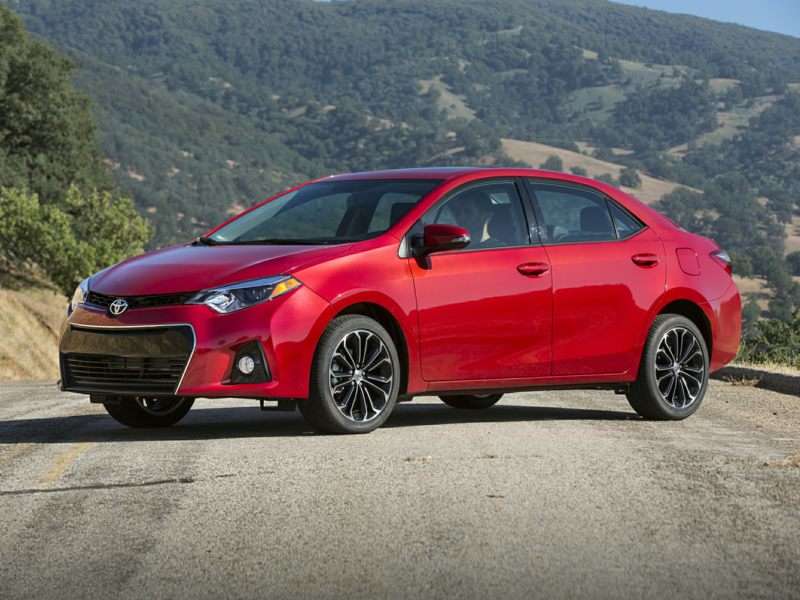 Photo by Toyota
4. 2014 Buick Verano
From a premium brand, the Buick Verano is a compact sedan with more than the usual level of comfort and convenience features. The car wasn't a huge sales success, but during its relatively short run, the Verano has been one of the most reliable cars in the U.S. market. A 2014 model combines relatively simple mechanical components with a quiet and comfortable luxury-style interior.
The Verano's 2014 list of standards includes a power sunroof, leather seats, a backup camera, remote start, and steering wheel-mounted controls. For both longevity and sanity's sake, we suggest you buy a Verano with the 180-horsepower 2.4-liter four-cylinder engine, good for 24 mpg combined. The optional 250-horsepower turbocharged 2.0-liter four might be too tempting to your teen while at the same time being more expensive to maintain. You can get a 2014 Verano in excellent condition for less than $15,000.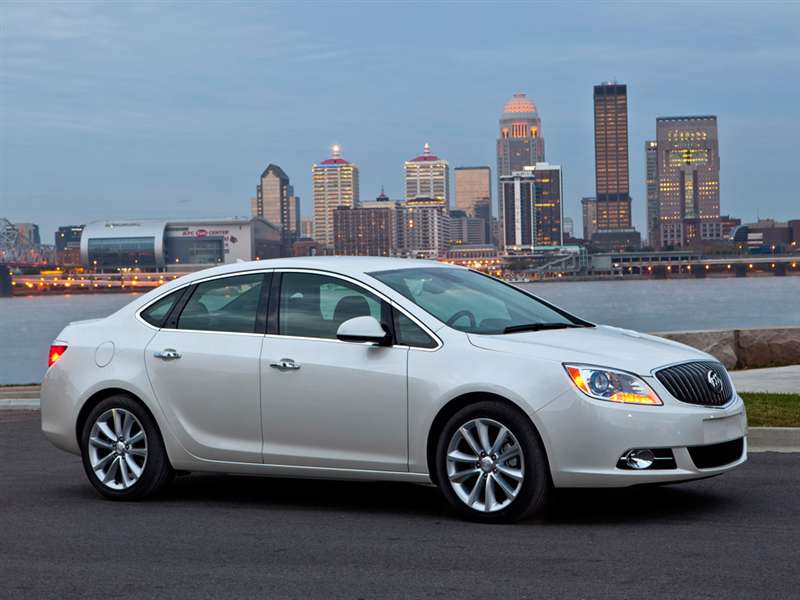 Photo by Buick
5. 2014 Honda Accord
The mid-size Honda Accord was completely redesigned for 2013, so the 2014 model year vehicles are well-positioned to offer modern amenities along with good build quality.
A 185-horsepower 2.4-liter four-cylinder engine is the base powerplant and probably a good choice for your teen. The uplevel engine is a 278-horsepower 3.5-liter V6, but we doubt your teen needs the extra 100 horsepower and the added expense. As to transmission choice, some Accords have a continuously variable automatic, some a conventional six-speed automatic, and a few have a six-speed manual. Some Accords were plain-jane, but you might find a 2014 model with luxuries like steering wheel-mounted controls, dual-zone automatic climate control, and a rearview camera. While the comparable Toyota Camry skews toward comfort, the Accord delivers a bit more driving fun.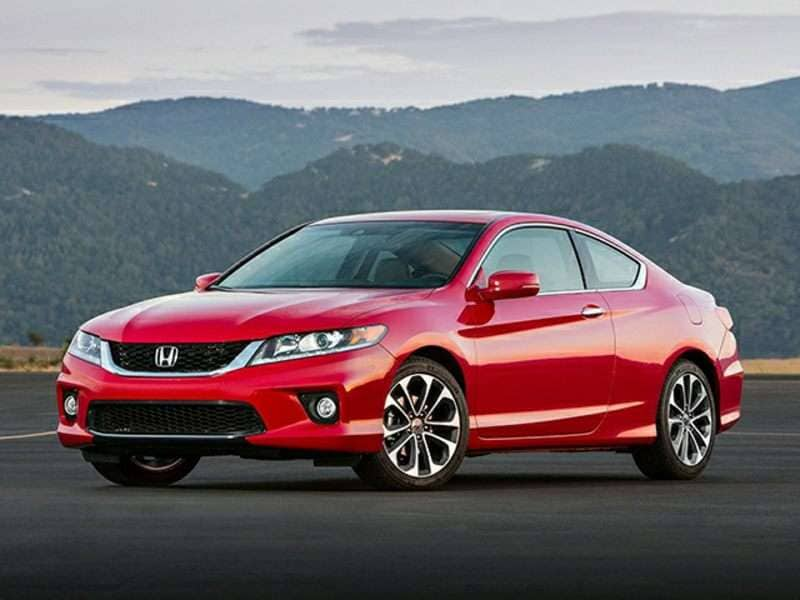 Photo by Ford and Honda
6. 2014 Toyota Camry
The Toyota Camry might not be the car of your teen's wildest dreams, but after a few weeks behind the wheel, we believe they will begin to appreciate its many virtues. A mid-size sedan that directly competes with the Honda Accord and about a dozen other models, the roomy five-passenger Camry offers a quiet, comfortable ride with an emphasis on dependability and safety.
The base 178-horsepower 2.5-liter four-cylinder engine delivers 28 mpg combined on the EPA cycle and is a better choice for your teen than the optional 268-horsepower 3.5-liter V6. As with Accord, a whole lot of Camrys were sold in the 2014 model year, so you can look for a car with optional niceties like heated seats and push-button start, along with safety equipment like a blind-spot monitor. You can purchase a nicely equipped 2014 Toyota Camry for well less than $15,000.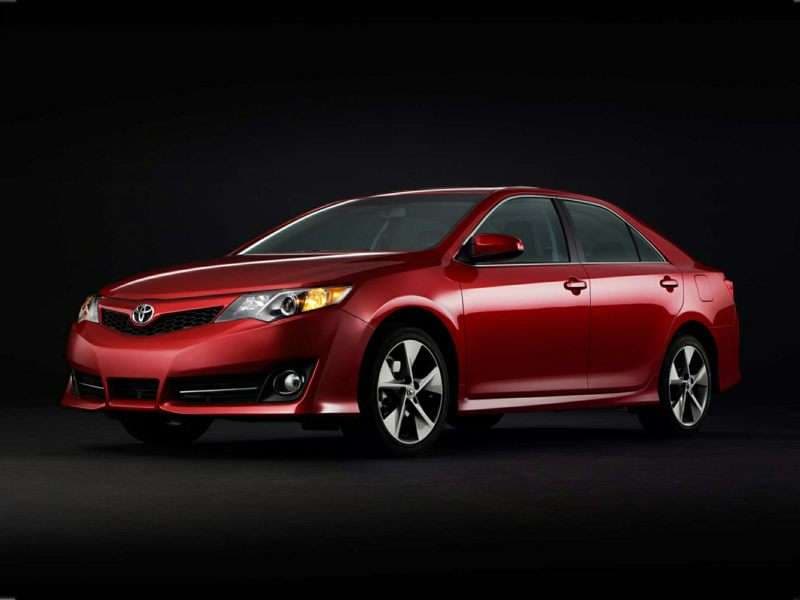 Photo by Toyota Media
7. 2014 Hyundai Sonata
You might not immediately think of the Hyundai Sonata as a car for your teen driver, but there is a great deal to be said about the idea. The mid-size five-passenger sedan has assumed a place among the most reliable and economical sedans available, and it is a solid candidate to turn in 100,000 trouble-free miles.
The front-drive sedan is feature-filled with amenities that include push-button start, heated front seats, automatic climate control, navigation, and a backup camera. The base 2.4-liter engine is tuned to produce about 190 horsepower, and an optional 2.0-liter turbocharged engine delivers 274 horsepower. For your teen, we suggest you avoid the turbocharged engine. The conventional four-cylinder Sonata offers 27 mpg combined fuel economy. A well-equipped 2014 Hyundai Sonata sedan will cost about $13,500.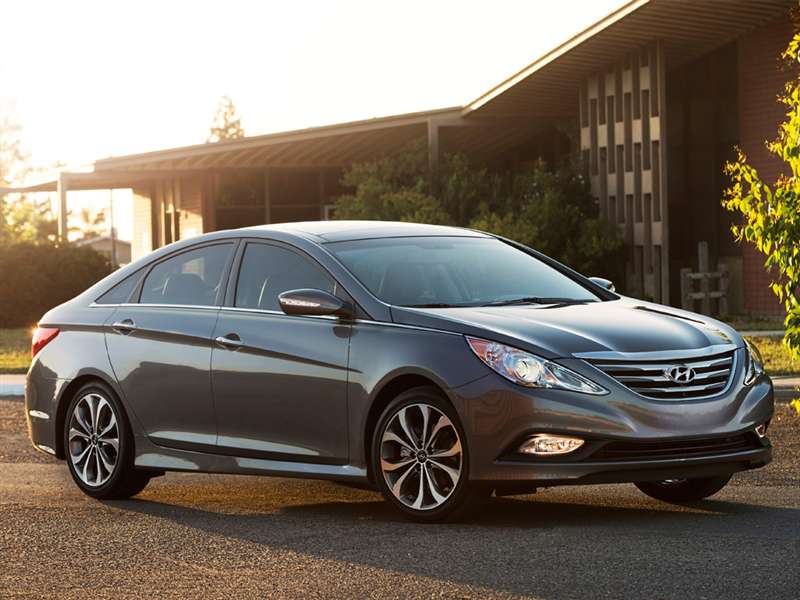 Photo by Hyundai
8. 2015 Toyota Prius
The Toyota Prius compact hatchback offers an EPA-estimated 51 mpg city/48 mpg highway/48 mpg combined fuel economy, which is a very nice feature to help you and your teenager stay on budget. In addition, the Prius has proven to deliver superior reliability and longevity.
Further, there is something reassuring about the Prius's overall demeanor and performance capabilities. Its 1.8-liter four-cylinder engine supplemented by an electric motor has only 98 horsepower, so acceleration is reasonable but no more than that. A 2015 Prius won't be exciting or extremely comfortable, but it will do the job for your teen.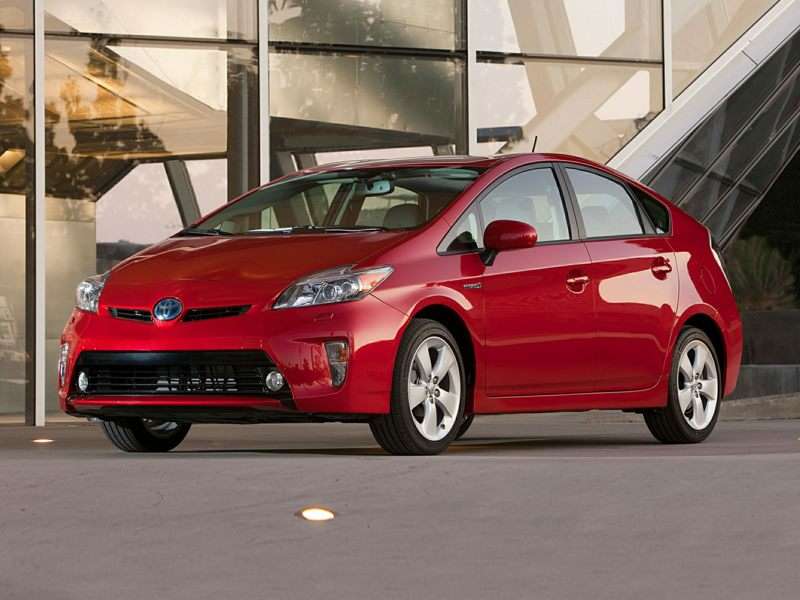 Photo by Toyota
9. 2015 Volkswagen Jetta
The Volkswagen Jetta compact sedan delivers European style, technological sophistication, and impressive safety. It starts with good looks both inside and out, and among its valuable features is its roomy back seat.
In the 2015 model year, the base engine is a 2.0-liter four-cylinder that produces 115 horsepower — not a bad choice for your teen. One step up the ladder is a 1.8-liter turbocharged four-cylinder that delivers 170 horsepower. Transmission choices are a five-speed manual and six-speed automatic. Automatic transmission versions of the base Jetta offer 25 mpg city / 34 mpg highway / 28 mpg combined EPA fuel economy. Jetta base models aren't as well equipped as the base models of the Asian brands, but the Jetta offers a variety of practical features in a design that has worn well.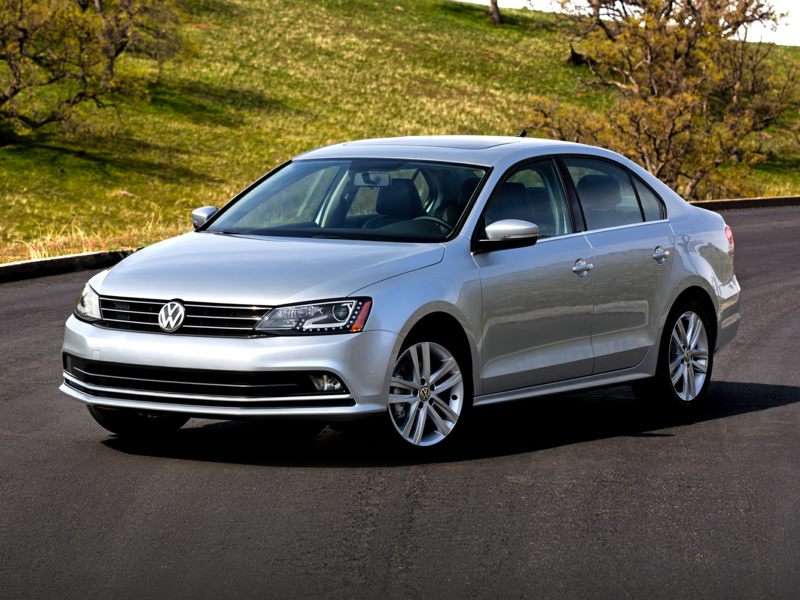 Photo by Volkswagen
10. 2015 Mazda Mazda3
After a complete redesign in 2014, the Mazda Mazda3 five-passenger compact sedan and hatchback was largely unchanged for the 2015 model year. That makes Mazda3 models of this vintage an excellent choice for teen drivers. The car combines style with superior handling, a reassuring level of safety equipment, and terrific fuel economy.
The base engine in the 2015 Mazda3 is a 155-horsepower 2.0-liter four-cylinder engine that offers 30 mpg city / 41 mpg highway / 33 mpg combined fuel economy. The uplevel powertrain choice is a 2.5-liter four-cylinder that is rated at 184 horsepower and it turns in mileage numbers of 28 mpg city / 39 mpg highway / 29 mpg. With an interior that mimics a European luxury car, the Mazda3 will enable your teen to drive in style, all while enjoying the security of five-star National Highway Traffic Safety Administration crash test ratings.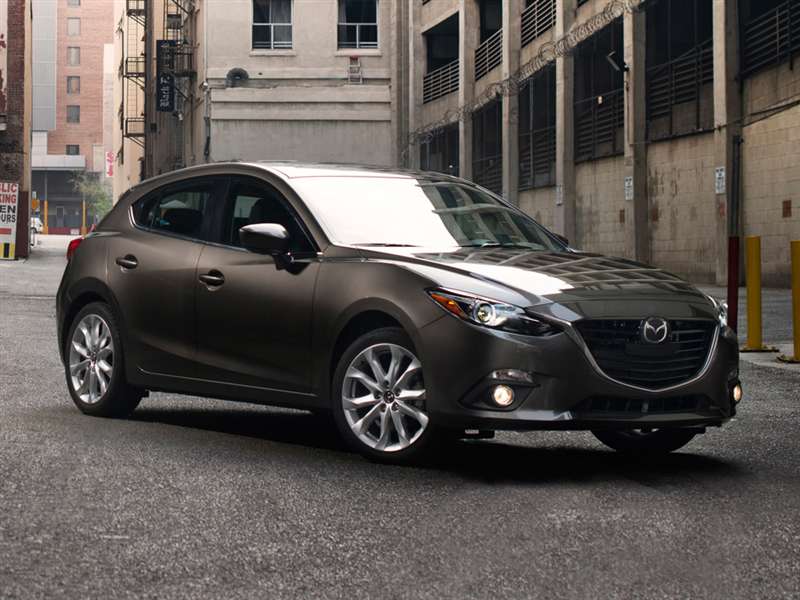 Photo by Mazda