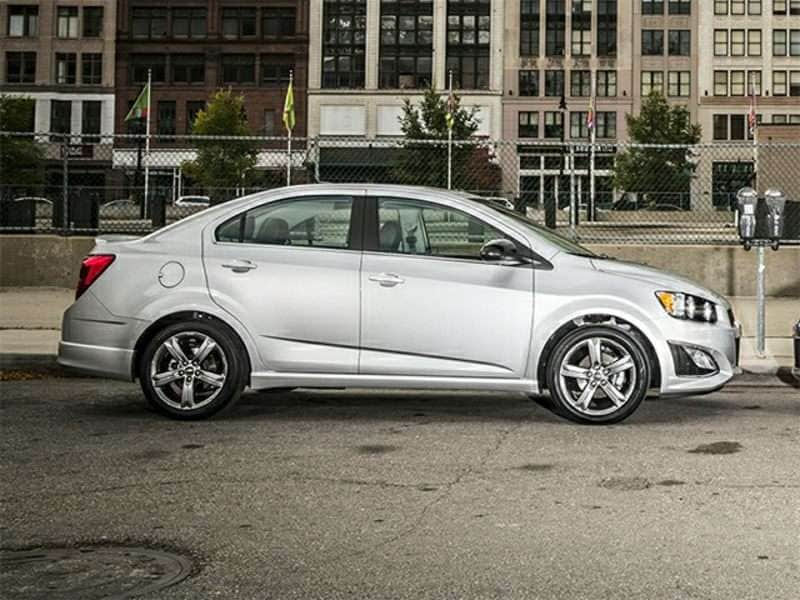 2016 Chevrolet Sonic
You quite rightly expect luxury cars and entry-level luxury cars to deliver a certain tech quotient these days. Smart cruise control, smartphone integration, and other advanced driver assistance functions are veritable mainstays of the cutting edge spendy models today. But since you expect it, how impressive is it really? What's truly impressive is when you can find these sorts of features in models priced in the $20,000 range or less. Yes, they're usually featured as options to be sure; but some truly affordable models are also offering features like these included within the base price. Here's a selection of some of the best cheap high-tech cars for 2016.
Chevrolet Malibu
An all-new Chevrolet Malibu is being introduced for the 2016 model year. Now here, we hasten to add when we say the new Chevy Malibu is one of the best cheap high tech cars for 2016, we mean cheap as in affordable. Among the tech offerings are a rear view camera and monitor, pedestrian warning, lane keep assist, blind spot and rear cross-traffic sensors, parking sensors, and smart cruise control. The 2016 Malibu also offers 4G LTE WiFi, and a Teen Driver system that gives parents the capability of setting a maximum speed, limiting the volume of the audio system, and locking out the safety system defeats. It also keeps track of distance and speed. The new Malibu also features a wireless charging pad for mobile devices and USB ports for rear passengers. Pricing starts at $22,500.
Photo by Chevrolet Media
Chevrolet Sonic
The younger buyers Chevy's trying to lure into the Sonic grew up with mobile devices, so the logic goes they're looking for a certain tech quotient in their cars too. To this end, Chevrolet has fitted the wholly inexpensive Sonic in a manner to ensure it is numbered among the best cheap high tech cars for 2016. Sonic's tech kit includes GM's MyLink touchscreen interface with voice activation. This package brings features such as Siri EyesFree for iPhone users, as well as navigation via the affordable BringGo app (though frankly, tech savvy Sonic buyers will likely rely upon the nav app in their phones and transmit instructions into the audio system over Bluetooth). MyLink also brings Pandora, TuneIn and Stitcher. WiFi is there too, using AT&T's 4G LTE. Pricing starts at $14,345.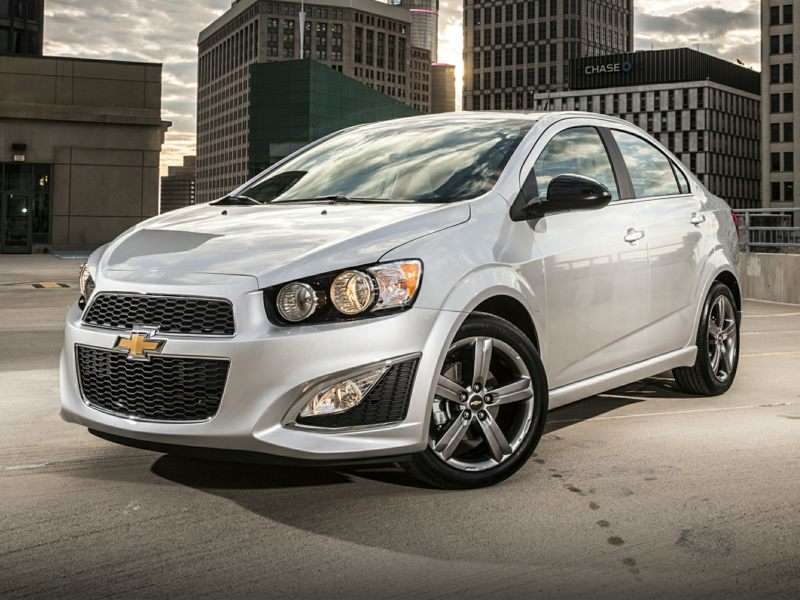 Chevrolet Spark
If you're feeling everything we just said about the Sonic, but you want a smaller ride, you're good — the Spark offers all the same stuff. Further, the Chevy Spark can even be had as an EV. Oh, and Apple CarPlay, as well as Android Auto comes with the Spark as well. Pricing starts at $12,270.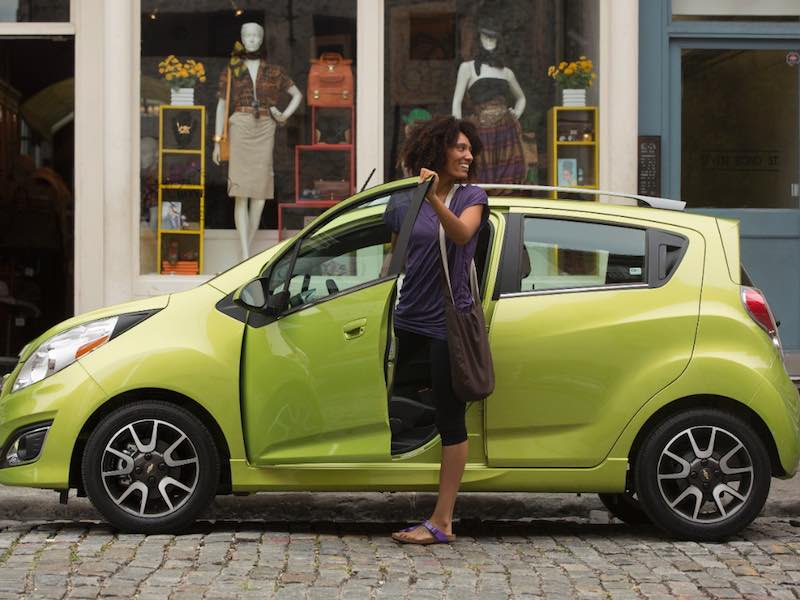 Photo by Chevrolet Media
Ford Fiesta
Ford's Fiesta is also aimed at younger buyers. But we're pretty sure Ford dealers won't turn you away if you show up and your hair's grey. For the money, the Ford Fiesta is one of the most tech-savvy cars out there. Thanks to the Sync telematics system Ford pioneered with Microsoft years ago, voice activation has been a component of the Fiesta for years. The MyFord Touch system has been supplanted by Sync 3 for the 2016 model year and simplifies the use of the Fiesta's multimedia infotainment system considerably. Other features include a rearview camera, rear parking sensors, as well as keyless entry and ignition. Pricing starts at $14,090.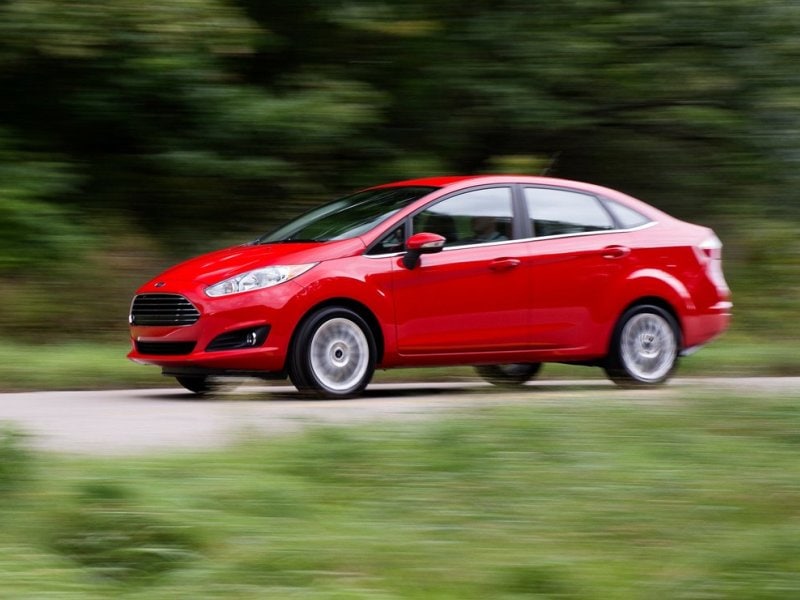 Ford Focus
The 2016 Ford Focus' eight-inch touchscreen hosts the Sync 3 telematics system, along with navigation, Sirius XM Traffic, and Travel Link services. It also recognizes Smartphone gestures like swipe and unpinch to zoom. Remote start, self-parking, rear cross traffic alert, lane departure alert, keyless entry and ignition, voice activation, and an EV version are also offered. Ford's My Key system lets owners set up geo-fencing to inform them if the car goes outside a pre-set radius, send an alert if a pre-selected top speed is exceeded, and establish other limiting parameters for the car's operation. Pricing starts at $17,225.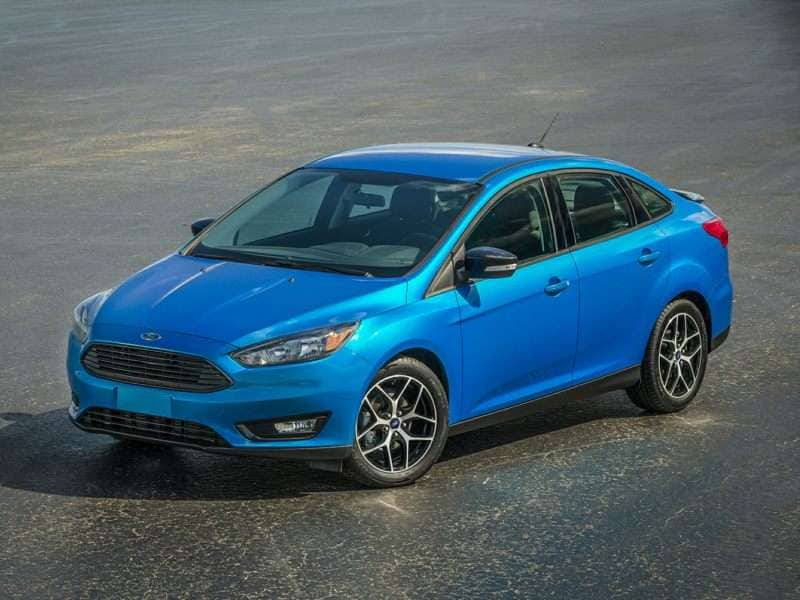 Photo by Ford
Honda CR-V
Fresh off of a redesign for the 2015 model year, the Honda CR-V is easily one of the best cheap high tech cars for 2016. The Honda LaneWatch blind spot monitoring system goes beyond merely illuminating an icon in the side view mirror. LaneWatch literally watches—with a camera mounted in the right side view mirror housing so you can see if anyone will be adversely affected before you make a right turn. Bluetooth, a text message reader, Pandora Internet radio capability, and lane departure warning are also offered with the CR-V. Its forward collision warning and mitigation system can distinguish between vehicles and pedestrians, and apply automatic braking to reduce the severity of a collision. Pricing starts at $23,595.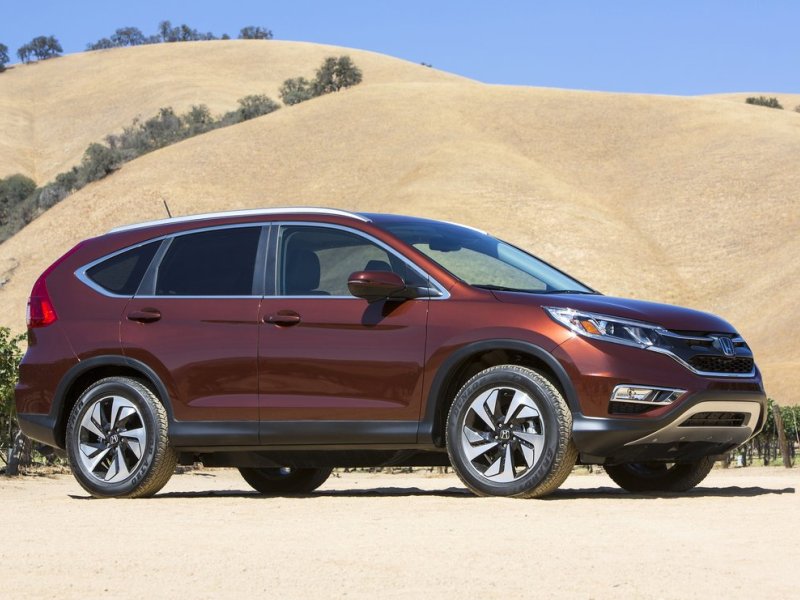 Honda Fit
In addition to being the most commodious car in its class (and believe us, it takes a lot of high tech finagling to make it happen), like its CR-V sibling, the Honda Fit is a cheap car with an abundance of high-tech features. These include a seven-inch touchscreen interface with swipe and pinch functionalities, the HondaLink smartphone integration system, Bluetooth, Pandora Internet radio, Siri EyesFree, Honda's LaneWatch, and an HDMI input. There is also a battery electric version of the Fit on offer. Pricing starts at $15,790.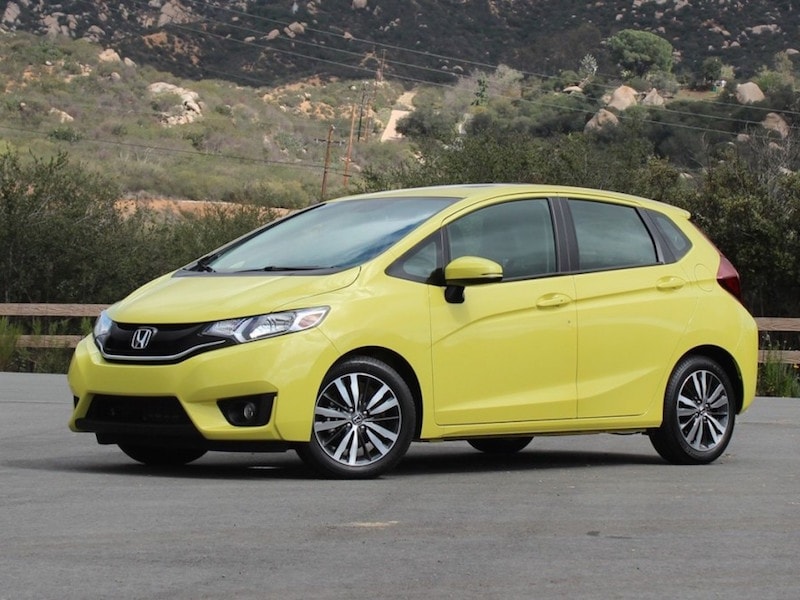 Photo by Honda
Kia Forte
When any mention is made of a list of the best cheap high tech cars for 2016, you can be sure Kia is going to come up. Even the least expensive model of the least expensive car of a brand known for inexpensive cars features Bluetooth and USB connectivity as standard equipment. Optional features include keyless entry and ignition, selectable steering assist, a rearview camera system, a seven-inch touchscreen interface, navigation and Kia's Uvo eServices telematics suite. Uvo provides voice activated navigation, roadside assistance, and interaction with your music collection on a compatible digital music player. It also keeps track of the amount of time left on your parking meter. Kia Forte pricing starts at $15,990.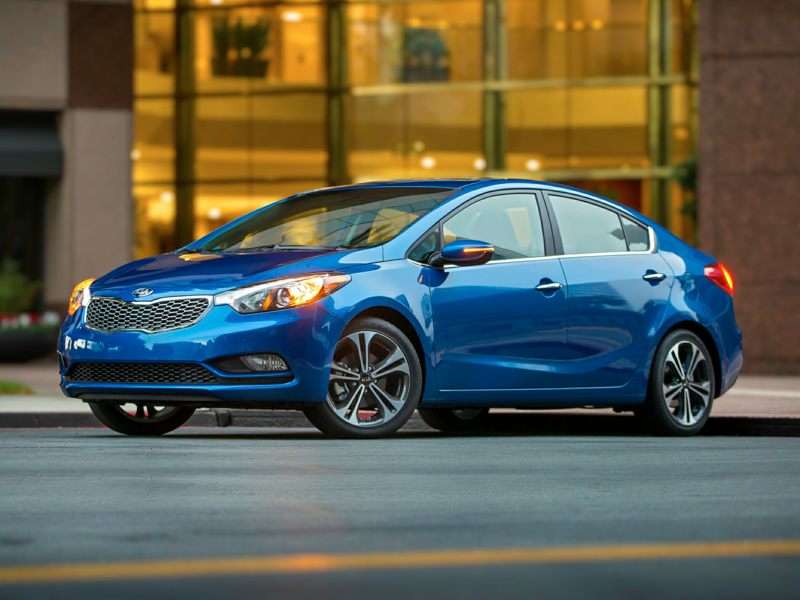 Photo by Kia Media
Mazda Mazda3
A head-up display, and the Mazda Connect infotainment system's dial and monitor interface are features typically found only in models costing nearly double the Mazda3's price. In this regard, the Mazda3 is absolutely one of the best cheap high-tech cars for 2016. Audio options include SiriusXM satellite radio, Pandora. Stitcher, and Aha Internet radio services. Further, the Mazda3 hosts today's most advanced driver aid features. These include blind spot monitoring, rear cross traffic alert, a rearview camera, lane departure warning, forward collision warning, and Mazda's Smart City Brake Support, which automatically stops the car at low speeds if the driver doesn't respond to an imminent crash situation. Pricing starts at $17,845.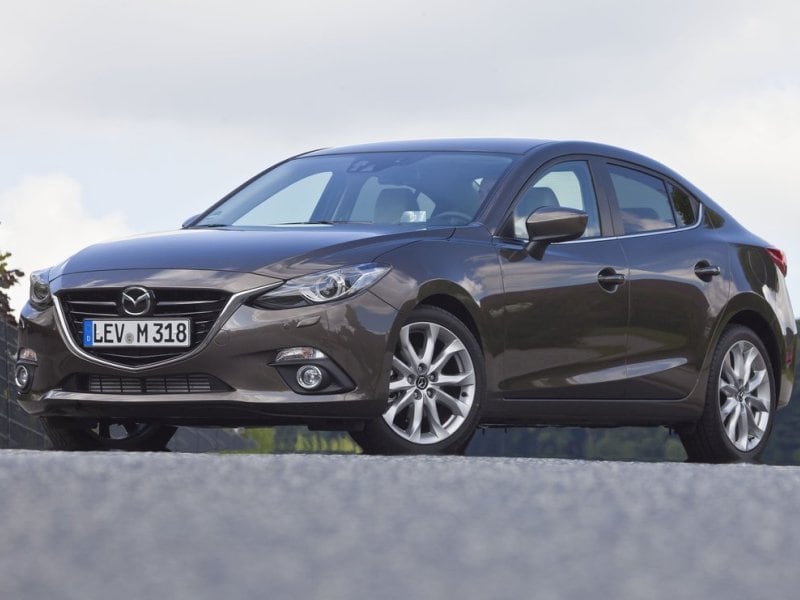 Scion iA
All-new for the 2016 model year, the Scion iA comes fully loaded—period. There are precious few optional features for the car, one of which is navigation, which you shall soon see it really doesn't need. Making the Scion one of the best cheap high tech cars for 2016 is keyless entry and push-button start, cruise control, low-speed forward collision mitigation with automatic braking, a rearview camera, Bluetooth telephony and audio streaming, a seven-inch touchscreen with a dial controller, Internet streaming radio and voice recognition. With Bluetooth audio streaming, you can use your smartphone's navigation application and have the instructions read aloud to you through the Scion's audio system. Pricing starts at $15,700.