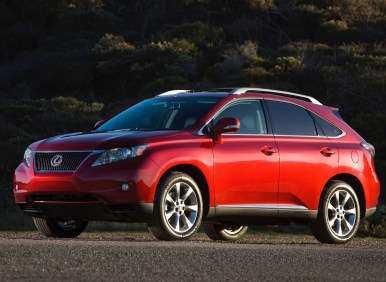 Looking for a new Lexus? Toyota's premium division is now ready to let you know the price of admission to a slew of coming products, including the all-new 2013 Lexus GS 450h; three fresh members of the 2013 Lexus RX family (350, 350 F Sport and 450h); and the 2012 IS sedans. Most get minor bumps over their previous incarnations, but notably, Lexus is holding the line on the GS 450h, even though it's the only one that's been completely made over for the new model year.
It's no doubt good news for customers, and it will be interesting to see if a sharper focus on pricing becomes a bit of a trend with Lexus. After all, the brand has been struggling of late, as have all the Japanese luxury divisions. Lexus sales have been up and down this year, with the brand posting a mere 3.6 percent increase in deliveries during the first quarter of the year, while Nissan's Infiniti brand and Honda's Acura division are down 5.6 percent and 1.8 percent, respectively, during the same time. And remember, the industry as a whole has improved by 13.3 percent in the first three months of the year, as the German competition—Mercedes-Benz, BMW and Audi—have all pushed sales upward by at least 15.5 percent.
Money isn't everything in the premium segments of the industry, but even the "1 percent" enjoys a bargain every now and then, and despite these relatively small increases, Lexus products can still have a hard time matching up against the competition.
Pricing Bulletin: 2013 Lexus GS 450h
Lexus' current GS lineup was comprehensively redone for the 2013 model year and showcases the brand's dramatic new design direction along with improved driving dynamics and yet more technology advances. For the hybrid 450h in particular, engineers were able to squeeze nearly 35 percent better combined fuel economy out of the car's enhanced propulsion system, which can now enable EPA ratings of 29 mpg city/34 mpg highway/31 mpg combined—while still packing a full 338 hp.
Owners also get the expected premium-level connectivity experience, thanks to the Lexus Enform system, and plenty of available safety tech, like Dynamic Cruise Control, a Pre-Collision System, Night Vision, a Heads Up Display, Lane Departure Warning and Lane Keep Assist, and a Blind Spot Monitor.
The 2013 Lexus GS 450h is due to arrive in dealerships in May, when it will join the Lexus GS 350 and GS 350 F Sport in the luxury mid-size sedan segment. And as mentioned, its MSRP of $58,950 is unchanged from the past-generation 2012 version.
However, the similarly sized Infiniti M Hybrid—the world's fastest full hybrid according to the brand—starts at $53,700 with an EPA line of 27/32/29; on the other hand, the BMW Active Hybrid 5 is $60,950 with less power and lower EPA marks.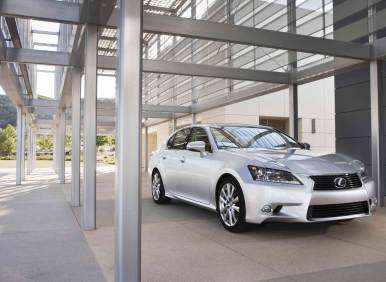 Pricing Bulletin: 2013 Lexus RX Family
Lexus' best-selling vehicle was thoroughly refreshed for 2013 and gains a new performance model that benefits from the full F Sport treatment. The 2013 Lexus RX 350 F Sport will be available in July, only in an all-wheel-drive configuration, with an eight-speed automatic transmission with paddle shifters, 19-inch alloy wheels finished in dark graphite, a performance-tuned F-Sport suspension with hi-po front and rear dampers, aluminum pedals, model-exclusive appearance enhancements, and Lexus' Vehicle Dynamics Integrated Management system—and an MSRP that begins at an even $47,000.
The RX 350 and 450h also wear Lexus' new-look sheet metal and signature "spindle" grille, while benefiting from a revised interior that features a redesigned steering wheel and center console. Unchanged are the latter's stellar fuel-economy ratings, which remain at 32 mpg city/28 mpg highway/30 mpg combined.
According to Lexus, the RX has been the best-selling "luxury utility vehicle" in the U.S. for 14 consecutive years, and it will attempt to keep that streak alive this year with the following price schedule:
RX 350 FWD—$39,310
RX 350 AWD—$40,710
RX 450h FWD—$45,910
RX 450h AWD—$47,310
FYI: Those MSRPs represent increases of between .6 percent and 1.5 percent over their 2012 levels, and will go into effect when the 2013 models reach dealerships this month. Also, comparison-wise, the RX is a few inches longer than rivals like the Audi Q5 or Acura RDX, but those vehicles start at $35,600 and $34,320, respectively.
Pricing Bulletin: 2012 Lexus IS
The Lexus IS 250 and IS 350 are the brand's entries in the growing luxury-compact segment, and all models grow their bottom lines by an extra $200 beginning in May, representing minor increases of .5-.6 percent depending on the exact model—but without much in the way of changes to show for the extra money. The model-by-model MSRPs: 
Lexus IS 250 RWD (manual)—$33,795
Lexus IS 250 RWD (auto)—$34,965
Lexus IS 250 AWD—$37,425
Lexus IS 350 RWD—$40,220
Lexus IS 350 AWD—$42,680
Now, it's true that the IS 250 undercuts the current BMW 328i Sedan by more than $1,100, but the 3 Series is all-new this year, delivers 36 more horsepower, 75 more lb.-ft of torque, more than 22 percent better fuel economy in combined driving, and a few more inches of length—and it's a BMW. The differences aren't quite as pronounced against the Audi A4, but the car from Ingolstadt still outperforms the Lexus in all of those measures with an MSRP of $32,500.
And while the IS 250 does offer a bit more pop than the Buick Verano, the fact that the Verano is priced some $11,210 lower than the Lexus brings some advantages of its own; and that's no typo, the Buick starts from $22,585.