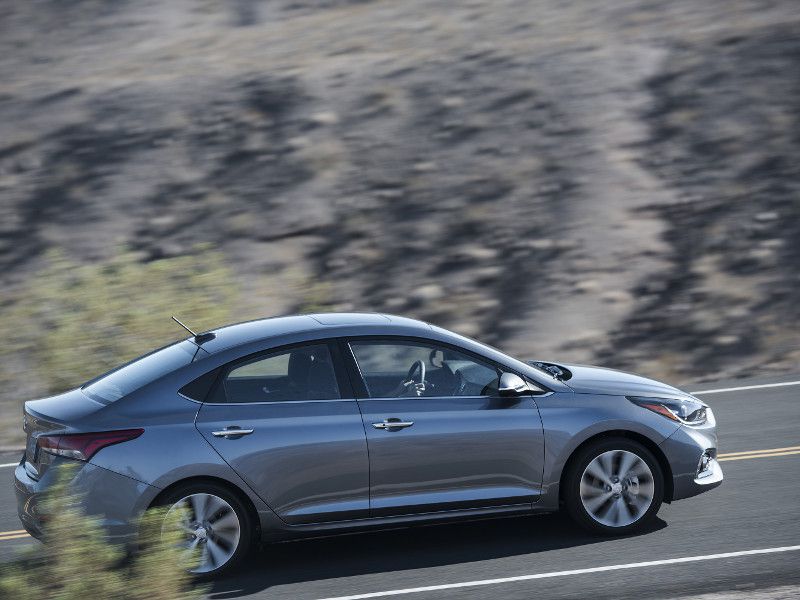 2018 Hyundai Accent profile driving ・ Photo by Hyundai
While compiling our list of ten of the cheapest 4-cylinder cars, we found that although you generally get what you pay for, some cars offer more for the money than others. It's just a question of doing some homework. We made the decision to go for an engine with a decent complement of cylinders, rather than something with only three. Some parts of the world offer cars with only two cylinders, so that's another good reason to celebrate the tastes of the typical American driver.
Any of these choices might be your next purchase. Some will be cheap and cheerless, others will be a little more cheerful. But all of them are relatively affordable.
2018 Nissan Versa
The 2018 Nissan Versa has a starting price point of $12,110, which is a really low starting price, but it's more than $2,000 extra for the automatic transmission. So although Nissan gets some good publicity for offering one of the most affordable new cars in the United States, it knows almost everyone will stump up for the 2-pedal option. What might be surprising about the Versa is how roomy it is for a subcompact sedan, there's even a decent amount of space for rear passengers. For such a modest outlay, the whole car is really quite bearable. The engine here is a 1.6-liter unit making 109 hp and 107 lb-ft of torque, averaging at 30 mpg for the standard manual transmission or 34 mpg with an automatic.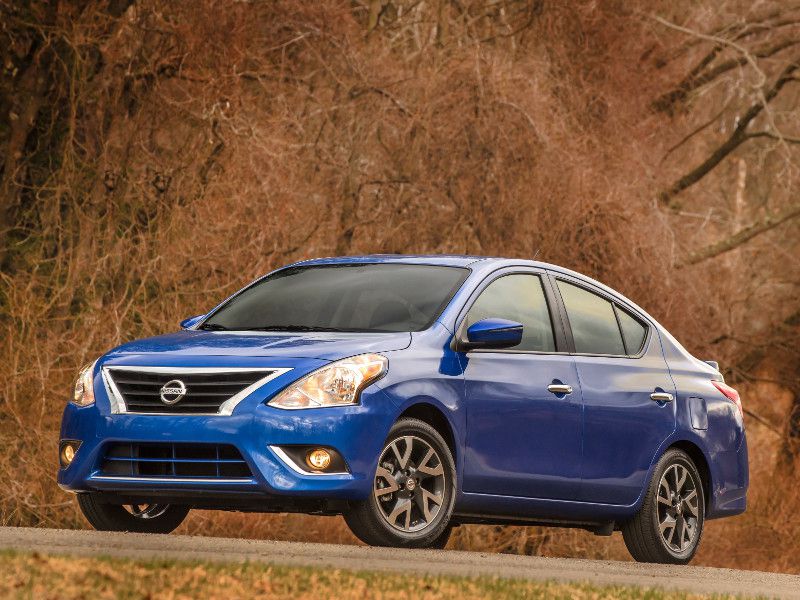 Photo by Nissan
2018 Chevrolet Spark
The 2018 Chevrolet Spark is a sweet little subcompact 4-door hatchback that starts at a modest price point of $13,925, although because the handles for the rear doors are disguised the car has more of a 2-door look. That's just one piece of design cleverness. The squared-off tail also makes it really easy to gauge distances for reversing. A tempting amount of standard equipment includes a rearview camera and Apple CarPlay/Android Auto smartphone integration. Chevy's OnStar service provides the reassurance of roadside assistance, stolen vehicle location, and automatic crash notification, making the Spark an interesting contender for a young driver. Propulsion comes from a 1.4-liter engine generating 98 hp and 94 lb-ft of torque, which is tepid, but an average of 33 mpg is some compensation.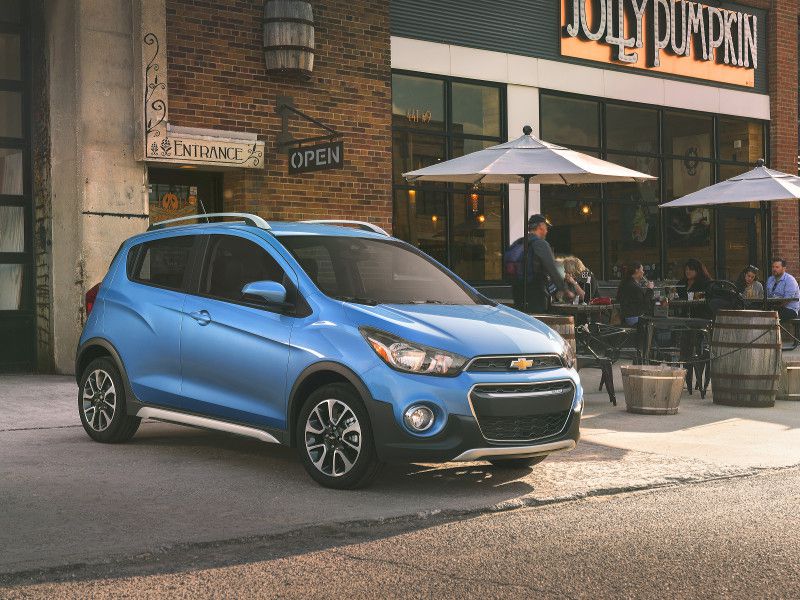 Photo by Chevrolet
2018 Kia Rio
The Kia Rio is all-new for 2018 and has a starting price point of $14,795. Like its equally fresh Hyundai Accent counterpart, it uses a 1.6-liter engine for 130 hp and 119 lb-ft of torque. Combined mpg of 32 is one mile per gallon better than the Accent. Unlike the more expensive Accent, the Rio may also come in hatchback form (for an extra $300) to offer a maximum cargo space of 32.8 cubic feet. The Rio is from a company that usually caters to the budget-conscious, but overall quality shows few signs of cost-cutting. However, try and stretch to the higher EX trim level, which upgrades the rear brakes from drums to discs, as well as adding a lot more equipment.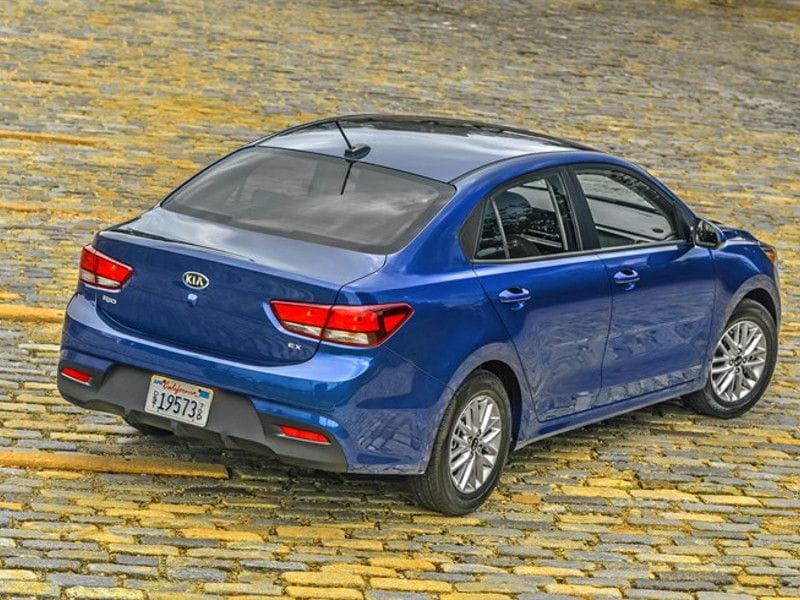 Photo by Kia
2018 Ford Fiesta
As usual, it's the sedan version that's the cheapest with 2018 Ford Fiesta which has a starting price point of $14,990. The Fiesta started life as a hatchback and was hugely popular across the Atlantic before heading west and gaining a trunk. This is about the most fun there is in the subcompact class. There's a distinctly European flavor to the handling, with the vehicle being precise yet pliant. The base engine has 1.6 liters of displacement, complete with an output of 120 hp and 112 lb-ft of torque, and average fuel consumption is 30 mpg (manual.) For 2018, a rearview camera is standard. The Fiesta is a joy on several levels and those interested should purchase soon since Ford is supposedly pulling the plug on it after this year.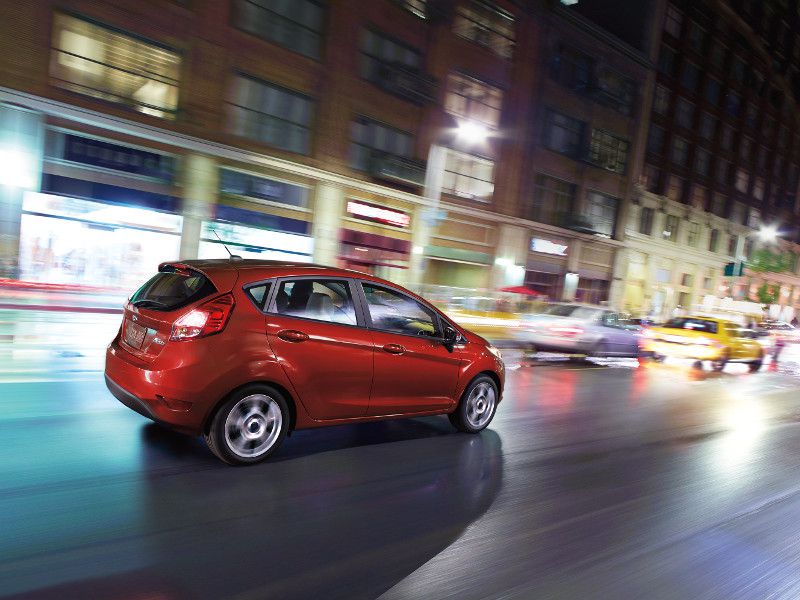 Photo by Ford
2018 Hyundai Accent
An all-new generation for 2018, the Hyundai Accent now comes as a sedan only and has a low starting price of $15,880. Logic might have suggested that in a subcompact car, having the extra practicality of a hatchback would be a no-brainer, but Hyundai obviously knows how many buyers went for the previous generation's sedan model and decided to stick with the better seller. Following the agreeable trend of cars becoming more refined, even at the lower-priced reaches of the market, the new Accent is quiet and composed. It's also pretty big for what is supposed to be a subcompact, with generous trunk space of 13.7 cubic feet. Its 1.6-liter engine provides 130 hp and 119 lb-ft of torque while consuming an average of 31 mpg.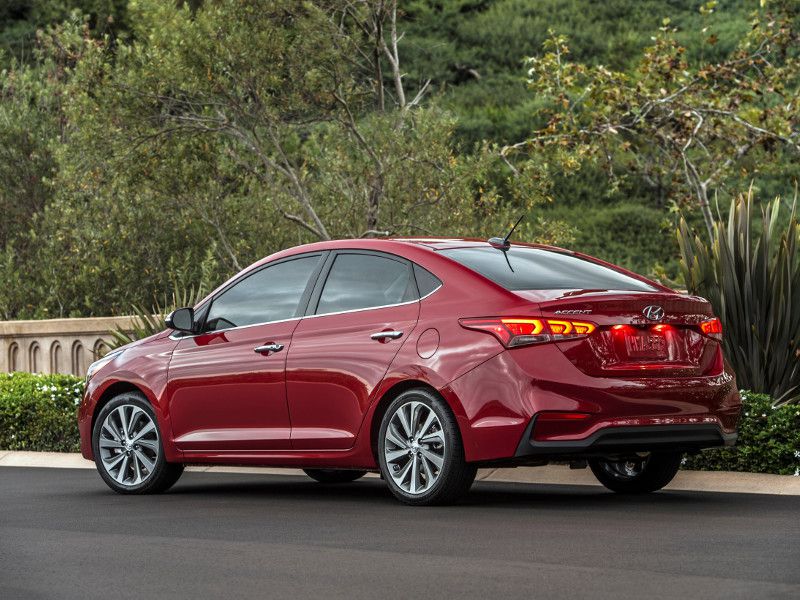 Photo by Hyundai
2018 Fiat 500
Because we don't have pricing yet for 2018, let's work with the 2017 starting price for the FIAT 500, which was $14,995 before any destination charges (the rest of this list has those charges included.)  The 500 is a subcompact 2-door hatchback with charming retro style, a fairly entertaining chassis, and a 1.4-liter/4-cylinder engine developing 101 hp and 97 lb-ft of torque. Average fuel consumption for the basic model with the manual transmission is 34 mpg. The 500c, incidentally, is the most affordable cabriolet (open-topped car) with a 4-cylinder engine, starting at $16,490 (2017 MSRP.)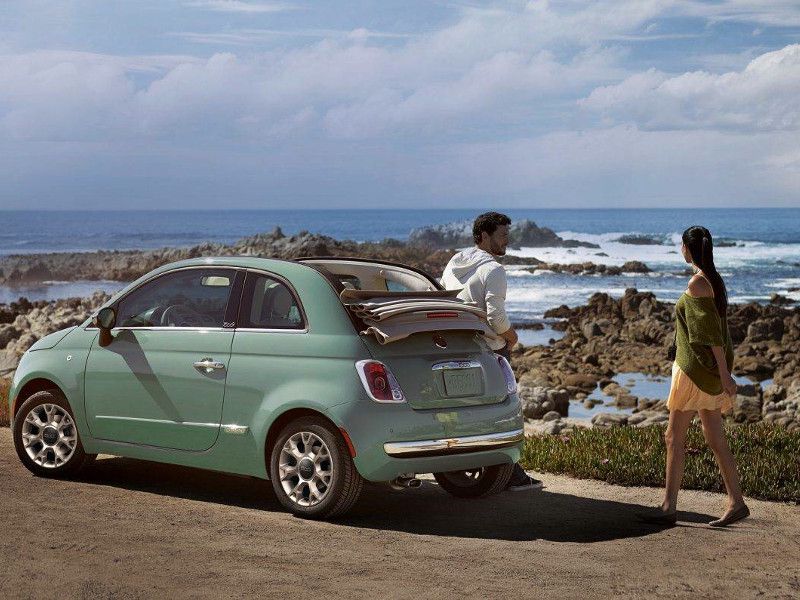 Photo by FIAT
2018 Toyota Yaris
The 2018 Toyota Yaris hatchback is slightly cheaper than the Yaris iA subcompact sedan (starting at $16,530,) but has the same 1.5-liter engine delivering 106 hp and 103 lb-ft of torque. The main things the Yaris has going for it is undeniable Toyota reliability with 34 mpg combined, plus an array of advanced safety features as standard (such as forward collision mitigation.) Otherwise, the general recipe includes a not-so-gutsy engine, cut-rate cabin materials and levels of interior noise that force the driver to turn up the volume of the cheap-sounding audio system. For those seeking the least expensive new Toyota on the market, however, here it is. It comes with two doors or four.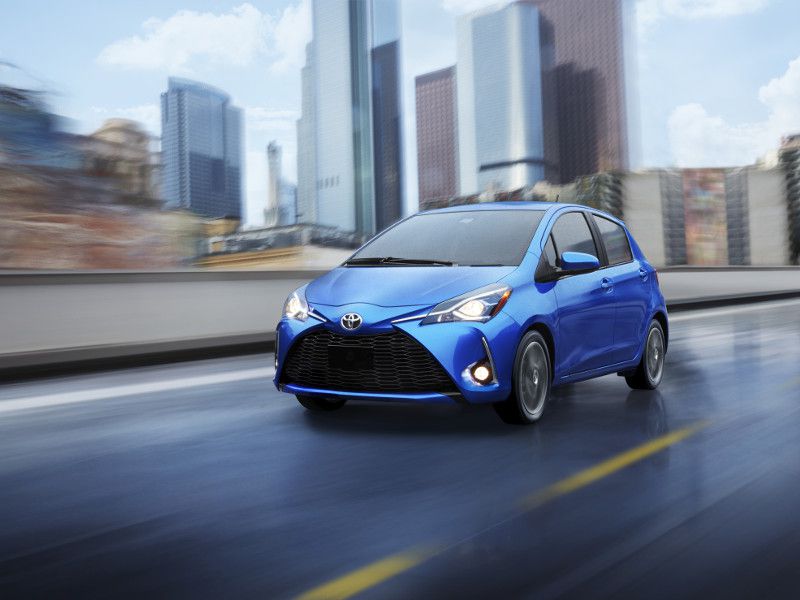 Photo by Toyota
2018 Honda Fit - from $17,080
For a list of the cheapest cars with a 4-cylinder engine, the Fit is getting somewhat pricey. But it is the least expensive Honda, a marque with a great reputation for quality and reliability, with the subsequent beneficial impact on resale values. And the refreshed-for-2018 Fit is a great package for the money. This is a 4-door hatchback with a superb amount of versatility. The splittable rear seats fold flat, providing a generous 52.7 cubic feet of cargo space. The front passenger seatback heads toward the floor too, so carrying longer items becomes possible. The Fit's 1.5-liter engine develops 130 hp and 114 lb-ft of torque and manages to achieve 31 mpg on average (manual transmission).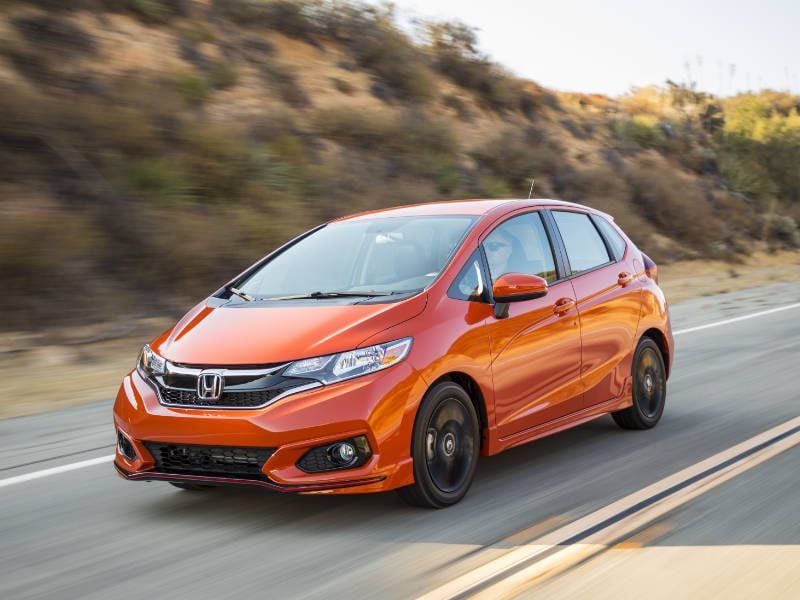 Photo by Honda
2018 Subaru Impreza
We've included the 2018 Subaru Impreza here because it's the cheapest new car (starting MSRP of $18,495) with all-wheel-drive, which is important to people who regularly have to deal with challenging weather. This is a compact sedan or hatchback, so it's one size up from the rest of our list. It also comes with a higher level of standard equipment, which makes that initial outlay a little less painful. The 4-cylinder engine here is of the "boxer" variety, meaning two pairs of horizontally opposed pistons. It's a Subaru hallmark. This 2.0-liter unit makes 152 hp and 145 lb-ft of torque while returning 27 mpg combined (manual transmission). The Impreza gets high scores in crash tests as well.
Photo by Subaru
2018 Toyota Prius C
Pardon this double entry for Toyota, but it's worth mentioning the subcompact 2018 Toyota Prius c hatchback because it's the cheapest hybrid on the new-car market with a starting price of $21,525. Since Toyota has been making and perfecting hybrids for so long, buying an inexpensive one doesn't represent any kind of gamble. A total of 99 hp comes from a 1.5-liter/4-cylinder engine augmented by an electric motor powered with a nickel metal hydride battery. Average fuel consumption is 46 mpg and admittedly, some corners have been cut. The rear seats fold but don't split, the seat cushioning is less than generous, sound insulation is not what it could be and nor is performance. But the car is really thrifty with gasoline.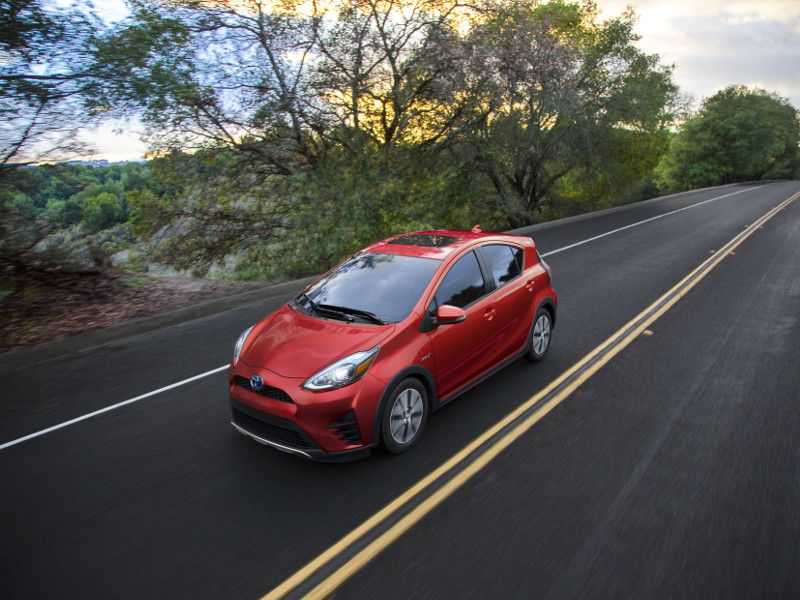 Photo by Toyota