ABTL Best Mid Size Car of 2016 Lede
What does it mean to be the best? Do subjective judgments and recommendations from experts produce the right answer, or should consumers rely solely upon objective facts and figures? In our quest to produce the most useful list of the 10 best mid-size cars for 2016, we used both approaches.
We took a look at base prices and rebates*, we examined warranty and roadside assistance programs, we considered safety and dependability ratings, and we factored in fuel economy estimates averaged across all available powertrains. Then, we decided which of these cars we like to drive, and which of these cars we think are the most attractive.
After crunching the numbers, the 10 mid-size cars on the following pages are the ones we've deemed the best, listed in descending order to the one you should probably buy. You might disagree with our approach, and the result. That's to be expected, and it's one of the great things about living in America. Know, though, that we didn't pull these rankings out of… well, just check out the list.
* Prices and rebates valid for Southern California on January 20, 2016
10th Place: 2016 Nissan Altima
Benefactor of a through update, Nissan's rejuvenated 2016 Altima has greater style, better handling, updated technology, and an upgraded structure that improves occupant protection in a collision. Plus, the spacious sedan's NASA-inspired "zero gravity" seat designs return, and boy, are they comfy. With an improved dependability outlook, a better warranty, and bigger rebates, the Altima would be even more impressive.
Roomy and comfortable
Upgraded safety rating
New SR model adds extra fun
Rebate machine not revved up yet
Unfavorable dependability ratings
Weak warranty coverage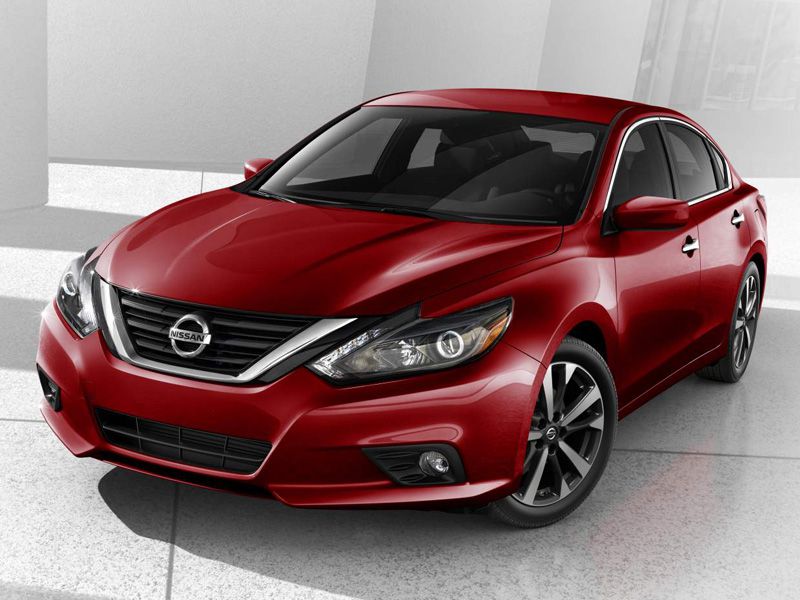 9th Place: 2016 Honda Accord
Historically, more people choose to park the Honda Accord in their driveways than any other mid-size car. This year, the Honda gives people even more reason to shop for an Accord, which gains new standard and optional equipment, offers new infotainment and safety technologies, and features dynamic upgrades to ensure an enjoyable drive. Still, based on our research, there are eight other mid-size sedans that you might be happier owning.
Reliability record
Strong safety ratings
Fun to drive, especially in Sport and Touring trim
High prices, no rebates
Too much exterior bling
Average warranty coverage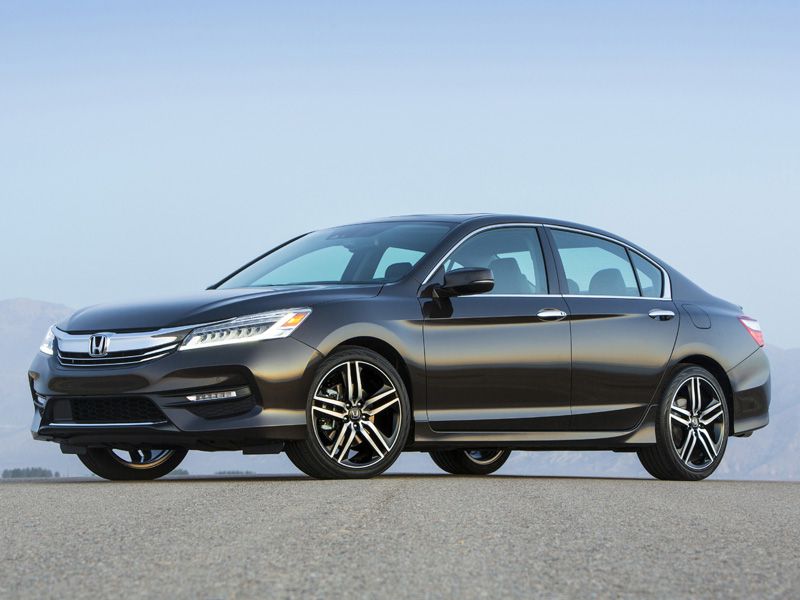 Photo by Honda
8th Place: 2016 Toyota Camry
If the Accord is the favorite of consumers, the Camry is the favorite of the market. While Honda restricts Accord sales to businesses, Toyota is quite happy to put Camrys into rental fleets, to sell them to government agencies, and to slap big rebates on the hood in order to entice consumers. Such practices rack up enough sales to make the Camry the best-selling car in America. The deals are only going to get better in 2016, because a redesigned Camry is due soon, perhaps for 2017.
Free maintenance, bulletproof dependability
4-cylinder, V6, and hybrid powertrain choices
Unexpectedly fun to drive in XSE V6 trim
High base price
Average warranty
Garish front styling on an uninspired body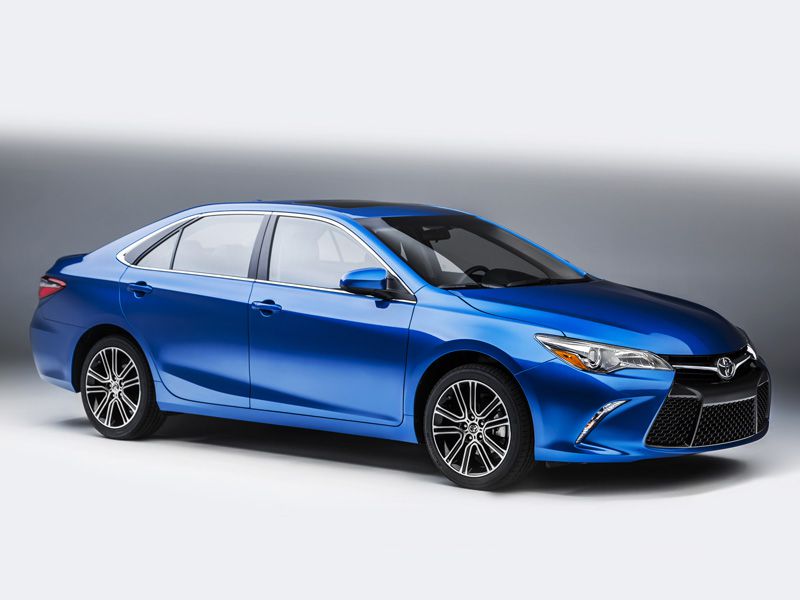 7th Place: 2016 Mazda Mazda6
Sophisticated enough to pass for an entry-luxury sedan, the stylish and engaging Mazda Mazda6 is a favorite of ours. This year, Mazda adds a big dose of refinement to the Mazda6, installing new infotainment and safety systems along with a more upscale look and feel. A lack of price discounts hurt this car's ranking, along with average warranty coverage.
Exterior styling, interior design
Fuel efficient, yet fun to drive
Impressive safety ratings
Small trunk
No V6, no turbo, no all-wheel drive
Infrequent rebate programs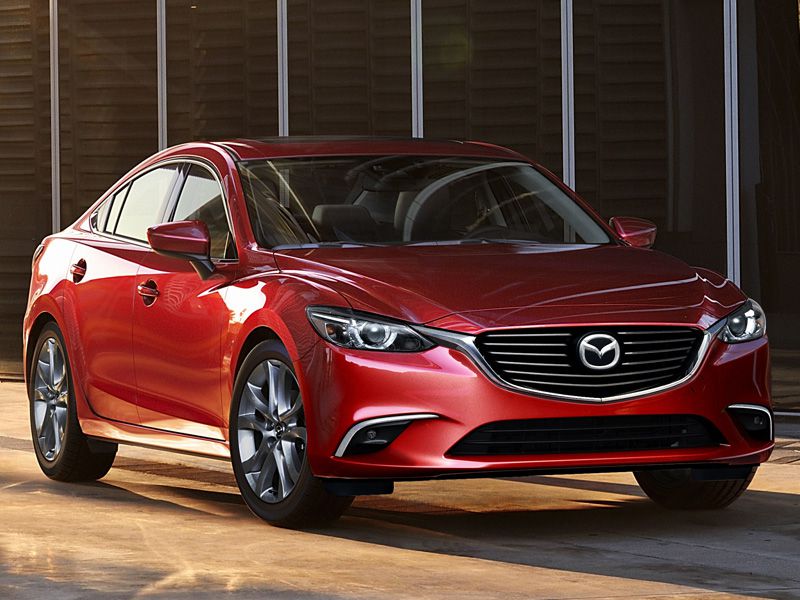 6th Place: 2016 Chrysler 200
Chrysler is not shy about making the 200 as affordable as is possible. When this article was written, buyers could get up to $4,500 in rebates. Low base prices + big fat rebates = higher ranking. Add appealing design, top crash-test ratings, modern infotainment and safety technologies, an available all-wheel-drive system, and more, and the Chrysler 200 lands mid-pack on our list.
Always on sale
Extremely safe in a collision
Powerful V6 option, available AWD
Cramped back seat
Unimpressive gas mileage
Unfavorable dependability predictions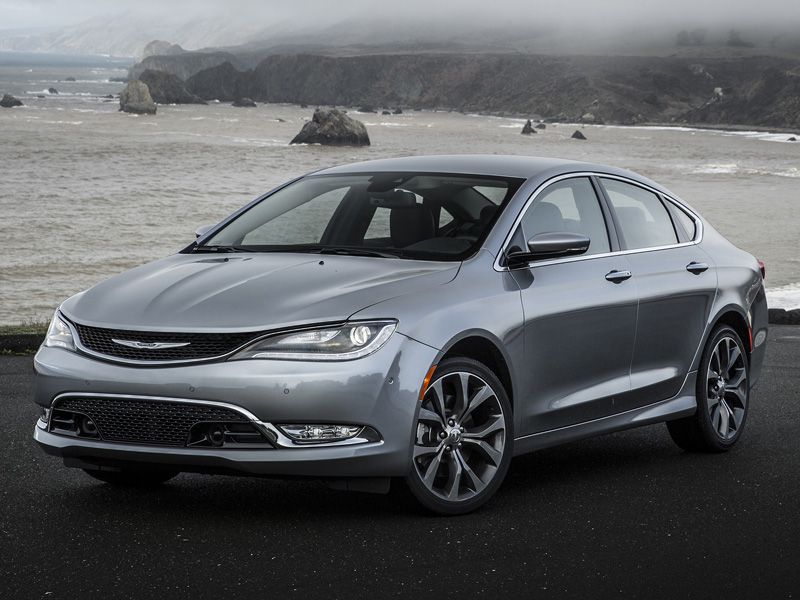 5th Place: 2016 Volkswagen Passat
Volkswagen's conservatively drawn yet handsome Passat makes an excellent family car. Though it looks nearly identical to last year's model, the 2016 Passat receives substantial improvements in terms of infotainment and safety technologies, as well as a restructured model lineup. Volkswagen's "Dieselgate" scandal has sidelined the thrifty turbodiesel TDI model, but a torque-rich turbocharged 4-cylinder and a V6 remain, and this safe, roomy sedan is an appealing alternative to what everyone else is driving.
Enjoyable to drive
"Top Safety Pick" crash-test rating
Impressive new infotainment and safety technologies
TDI model is on hiatus
Average expected reliability
Average warranty coverage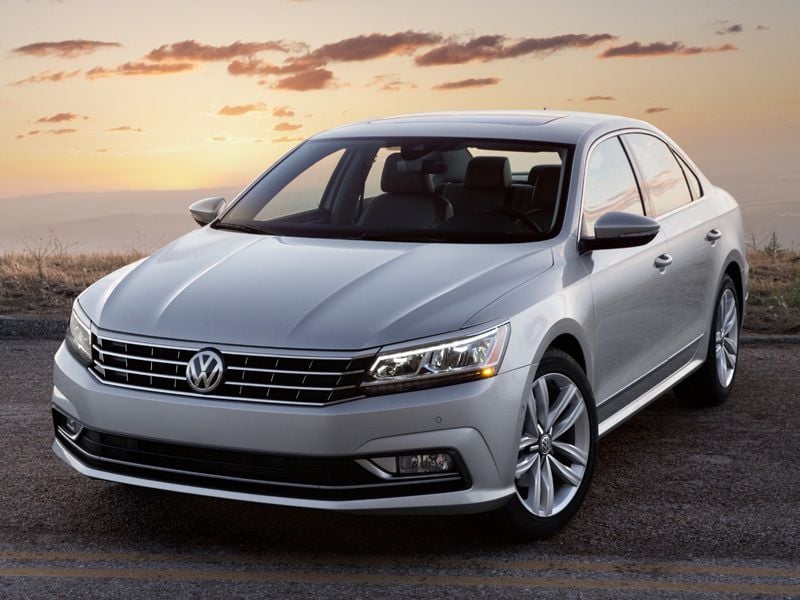 4th Place: 2016 Ford Fusion
When the current Ford Fusion debuted four years ago, it brought a sense of style and design to a segment sorely in need of it. The car has aged well. So well, in fact, that the refreshed 2017 Fusion that goes on sale in spring of 2016 looks much like it. In the meantime, the already affordable Fusion has big piles of rebate cash sitting on its hood, and value, combined with high fuel economy averages thanks to hybrid and plug-in hybrid variants, helped push this good looking car toward the top of our list.
Appealing design, with a sophisticated interior
Turbo, turbo AWD, hybrid, and plug-in hybrid options
Strong value due to low prices, big rebates, impressive gas mileage
Needs a structural safety upgrade
Too soft and floaty to be much fun to drive
Mediocre reliability record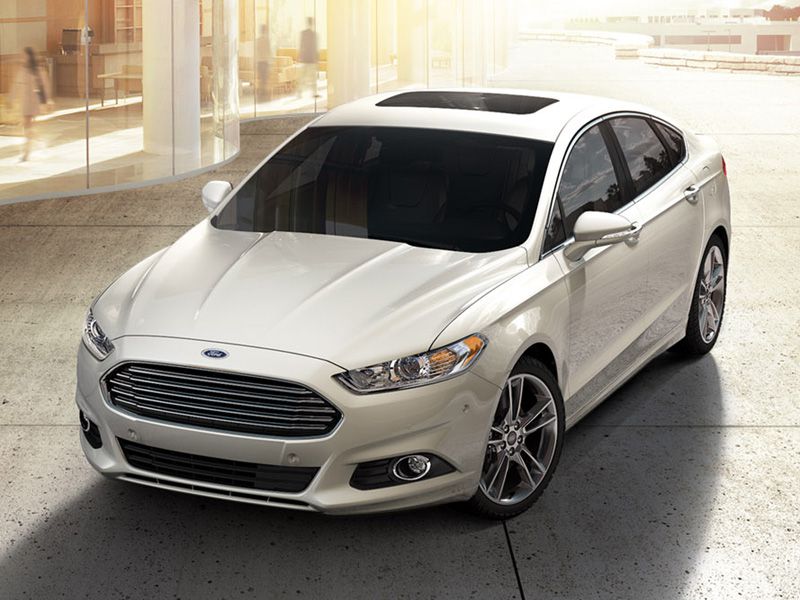 Photo by Ford
3rd Place: 2016 Subaru Legacy
One of the best-kept secrets of the mid-size car class, the Subaru Legacy lacks nothing more than a rebate and seductive styling to rule its segment. Equipped with weather-beating all-wheel drive as standard equipment, priced to sell, and the only car on our list to maximize available safety points, the dependable and engaging Legacy is a winner. Oh, and you might be interested in knowing that the Legacy does a better job of holding its value over time than any other vehicle on this list, according to ALG.
Ready for rain, sleet, and snow
Outstanding safety ratings and technologies
Roomy, comfortable, and dependable
No rebates (because Subaru doesn't need 'em)
Yeah, umm, can't think of anything else
2nd Place: 2016 Kia Optima
Redesigned for 2016, the attractive new Kia Optima is an excellent choice in a mid-size car. You can get an inexpensive LX model, or you can outfit this car like a luxury sedan with diamond-quilted premium leather, a panoramic glass roof, and much more. Fun to drive with its optional turbocharged engine, exuding style, and covered by one of the best warranty and roadside assistance programs you can get, the Optima impresses across the board.
Excellent value
Stylish, comfortable, and enjoyable to drive
Available with the latest in safety and technology
Hybrid is still based on last year's Optima
Deals aren't appealing as dealers clear out the last of the 2015s
Nothing else comes to mind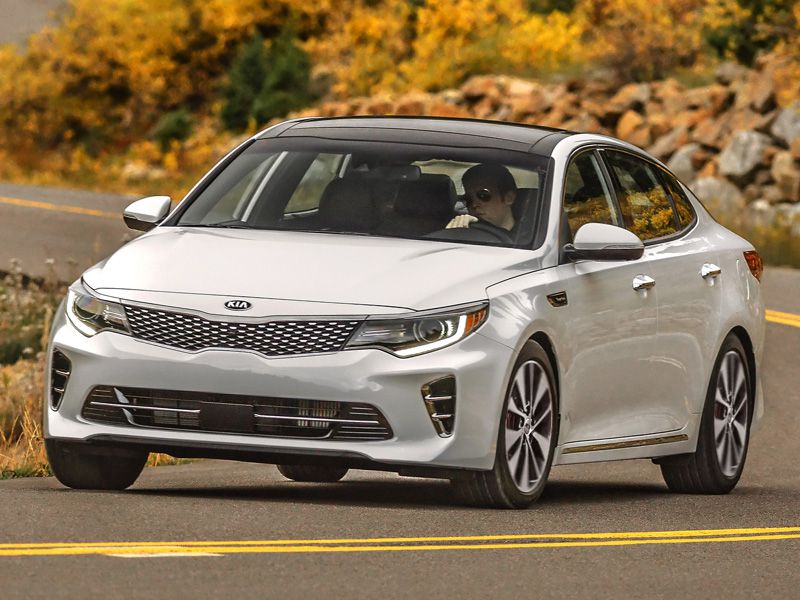 The Best Mid-Size Car: 2016 Hyundai Sonata
Looking at the Sonata, which doesn't possess nearly as much style as the version it replaced when it was redesigned for 2015, you would never guess that behind the dull design is a nearly perfect mid-size family sedan. Hyundai did a masterful job of checking all of the right boxes when engineering this car. But the company forgot to give it a soul. Is that important? That depends on who you are. From our perspective, the lack of visual pizzazz and driving engagement are the only flaws with Hyundai's recipe.
The Sonata does everything you need and want a mid-size car to do
Available hybrid and plug-in hybrid powertrain options
Unrivaled warranty and roadside assistance program
You could fall asleep looking at it, or driving it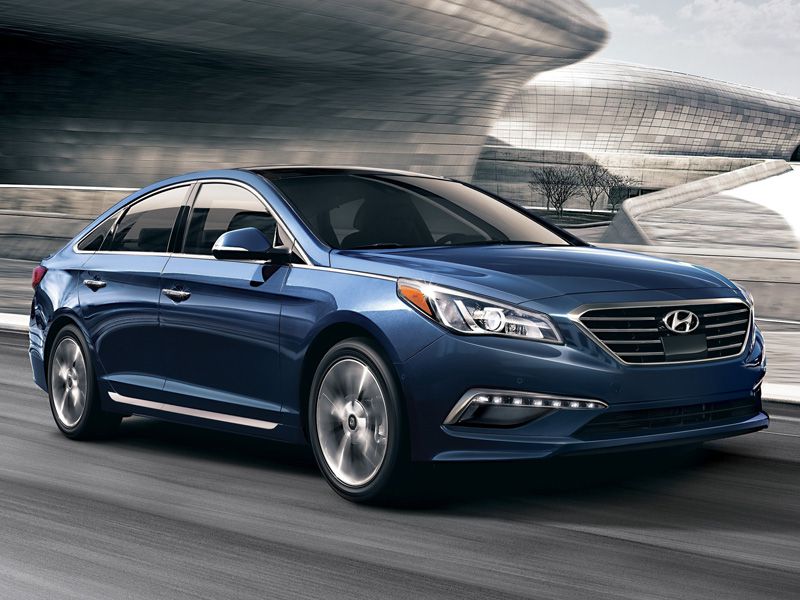 Photo by Hyundai