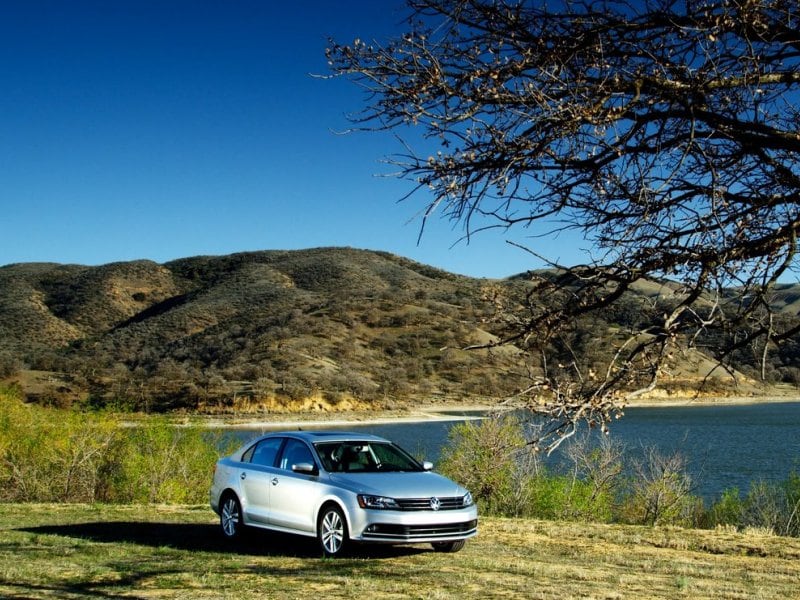 2015 Volkswagen Jetta
Our fresh selection of the Safest Compact Cars is a perfect match with current government safety results: According to the National Highway Traffic Safety Administration (NHTSA), 10 traditional compact cars have achieved 5-Star Safety Ratings based on the agency's New Car Assessment Program (NCAP). In that rigorous testing regimen, vehicles are analyzed for passenger protection in frontal crash, side crash and rollover scenarios, and NHTS also keeps track of which entries offer "Recommended Technologies" such as a rearview camera, forward collision warning or lane departure warning. 
Seven of these entries also earned Top Safety Pick ratings from the Insurance Institute for Highway Safety (IIHS), an organization that is funded by the insurance industry, and the three that didn't are—in a satisfying example of synchronicity—matched by three Top Safety Picks that didn't earn 5-Star NHTSA scores (Mitsubishi Lancer, Nissan Sentra and Toyota Prius). 
We went with the NHTSA-approved choices mostly because it seemed harder to miss the 5-Star mark than to miss out on the IIHS honor.
2015 Chevrolet Cruze
Representing the Bowtie brand on our list of Safest Compact Cars is the recently refreshed 2015 Chevrolet Cruze.
For the Cruze, that mid-cycle upgrade was highlighted by a mobile wi-fi hotspot, OnStar 4G LTE connectivity, restyled fascias and LED daytime running lamps, but engineers didn't have to do much to the car's safety setup. After all, the Cruze already showcased a 5-Star Overall Safety Rating from NHTSA, complete with 5 stars for frontal-crash performance, 5 stars in side-crash scenarios and a 4-star rollover ranking. 
Further, building on those scores, the Cruze can deliver proactive safety technologies such as side blind-zone alert, rear cross-traffic alert rear park assistance, and a rearview camera system.
The 2015 Cruze also is one of two entries here to offer a diesel engine, in this case one that can post EPA ratings of 27 mpg city/46 mpg highway/33 mpg combined.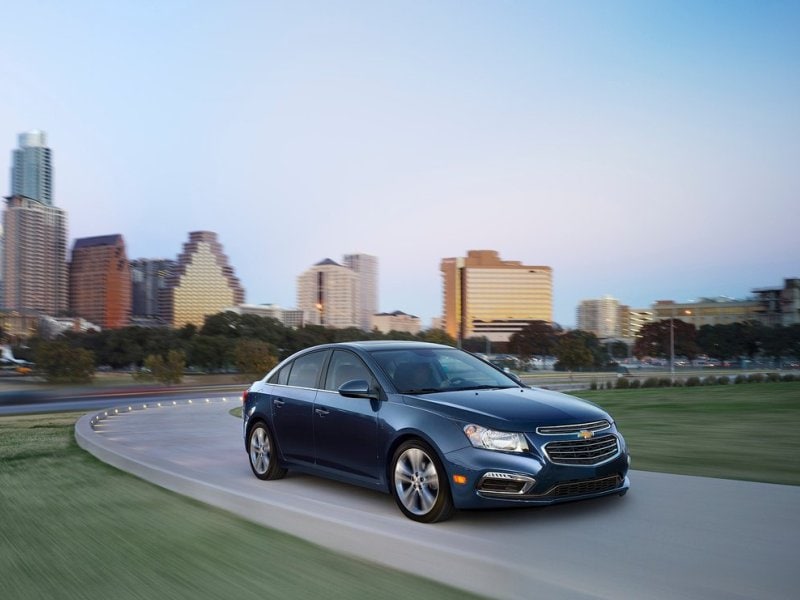 Photo by Chevrolet
2015 Dodge Dart
The 2015 Dodge Dart offers more than 60 available safety and security features according to its resume, and those credentials have helped it earn a place among the Safest Compact Cars in the country.
According to NHTSA, the Dart's 5-Star Overall Safety Rating included 5-star scores for both frontal- and side-crash performance, as well as a 4-star grade for rollover protection, and those results are complemented by a Top Safety Pick ranking from the IIHS. Additionally, the diminutive Dodge sedan can be ordered with driver-assistance measures like a rear backup camera, blind-spot monitor, rear cross-path detection and a ParkSense sonar-enabled rear park-assist feature.
Offering a package that readers of "The Detroit News" recently rated as a "Best Value" of the year, the 2015 Dodge Dart is on sale now from $16,495.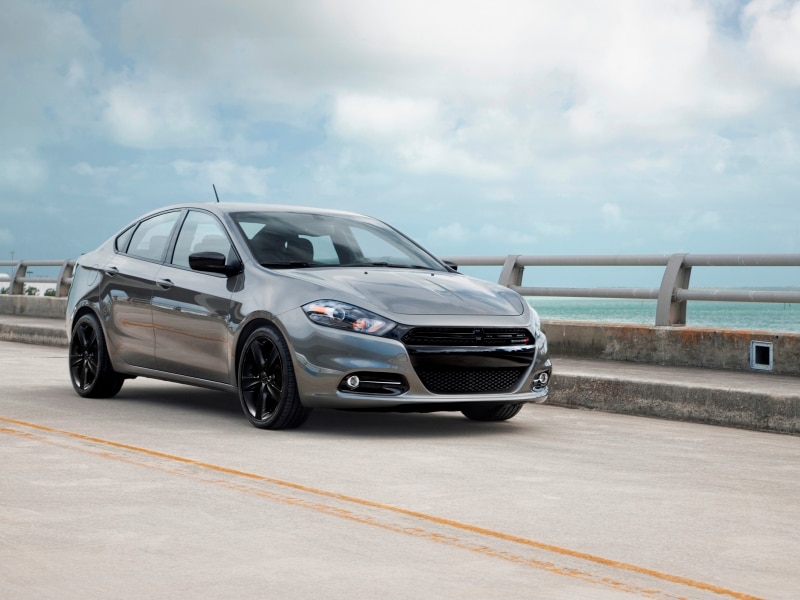 2015 Ford Focus
Okay, the 2015 Ford Focus sedan and hatch are members of the Safest Compact Cars club even though they're not a 5-Star NHTSA performers: But that's only because, through a quirk in timing, they haven't been tested yet. But the 2014 models were, and while there are some Focus style and feature upgrades for the new model year, they aren't expected to affect the cars' safety grades—except in a positive way.
The Foci currently carry 5-Star NHTSA grades, backed by 5 stars in the agency's side-crash test and 4 stars in both the frontal and rollover tests. But the 2015 models also will add a lane-keeping system as a new technology to complement a standard rearview camera and available Ford Blind Spot Information System (with rear cross-path detection).
The 2015 Focus has received a Top Safety Pick award from the IIHS.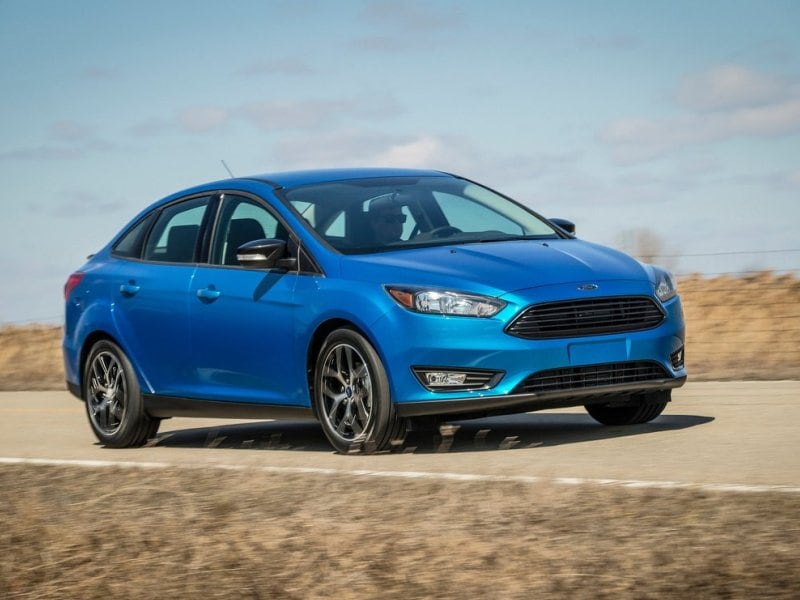 2015 Honda Civic
Let's start by being clear: Although the 2015 Honda Civic sedan is one of our Safest Compacts—courtesy of its 5-Star NHTSA number—the Civic coupe is not. (On the other hand, both are Top Safety Picks of the IIHS.)
Regardless, the Civic sedan succeeds with 5 stars for side-crash occupant protection, 4 stars for rollover and frontal-crash protection, and recommended safety technologies like a standard rearview camera. Available safety highlights include a multi-view camera and the Honda LaneWatch system that relies on a camera on the passenger-side mirror to display that view in the car's dashboard display screen.
It's further worth noting that the 47-mpg Civic sedan hybrid also was tested separately by NHTSA and also realized a 5-star result; NHTSA has not yet evaluated the CNG-powered Civic sedan.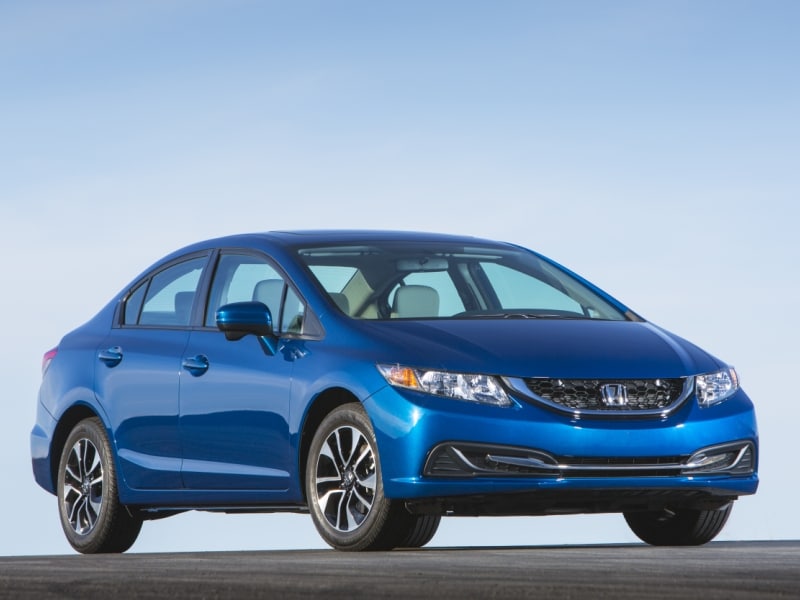 2015 Hyundai Elantra
The 2015 Hyundai Elantra team went 2 for 3 with NHTSA, as the sedan and GT five-door hatch both garnered 5-Star Overall Safety Ratings—and a spot on the Safest Compact Cars roster—while the Elantra coupe is still waiting for its agency evaluation. Unsurprisingly, the sedan and GT also received the same scores in the NHTSA sub-tests, with each awarded 5 stars in the side-crash trial and 4 stars for the frontal-crash and rollover examinations. The IIHS then narrows the field to only the Elantra sedan in the Top Safety Pick testing. 
In terms of technologies, the Elantra does offer a rearview camera and standard blind-spot mirror, along with all the basics offered by all of our choices, like vehicle stability management, traction control, electronic stability control and anti-lock brakes with electronic brake-force distribution.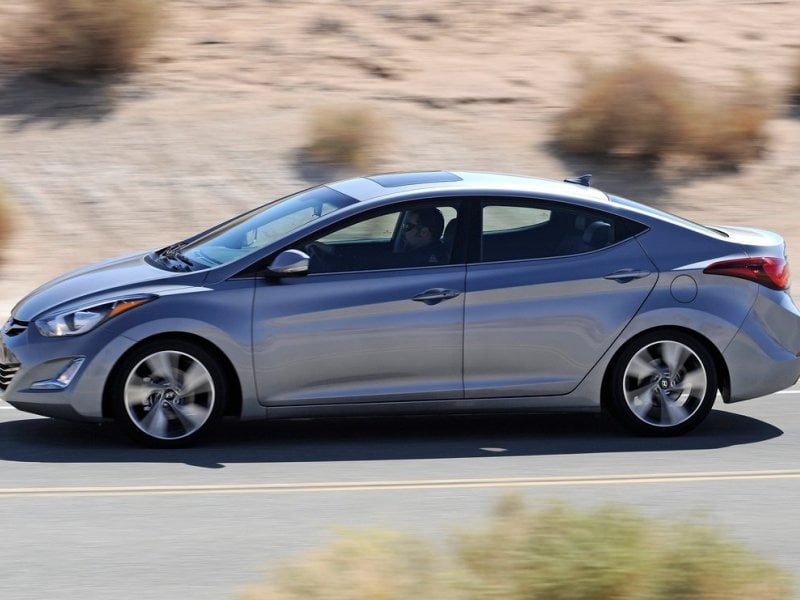 2015 Kia Forte
The 2015 Kia Forte leverages the same underpinnings as the Hyundai Elantra—or perhaps vice versa—so it's no surprise the former joins the latter among our Safest Compact Cars, and with the same 5-Star Overall Safety Rating, too. And that also includes the same 5-star rating for side-crash protection, and the same 4-star marks in frontal-crash and rollover testing. On the other hand, this also represents the Forte's first time with the top NHTSA Overall Safety Rating and it doesn't get as much love—or a Top Safety Pick honor—from the IIHS. 
Also, along with a rearview camera, the Forte offers a robust package of basic safety features such as vehicle stability management, electronic stability control, traction control, brake assist, electronic brake-force reduction, and four-wheel, anti-lock disc brakes. 
Note: neither the 2015 Forte 5 five-door hatchback nor the Forte Koup have been evaluated as part of the NHTSA NCAP process.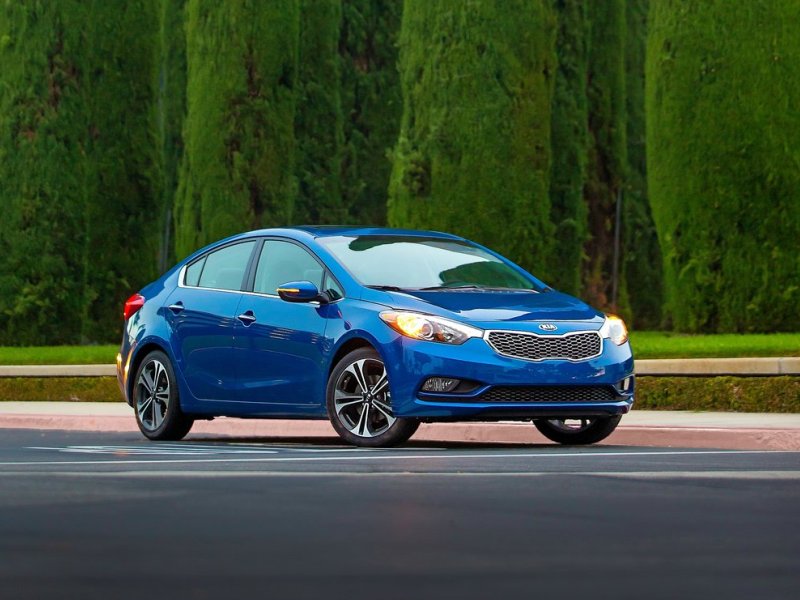 2015 Mazda Mazda3
Today's Safest Compact Cars also serve up some notable technological advantages, as is the case with the 2015 Mazda Mazda3 hatchback and sedan. Sure, they did just fine in NHTSA's physical testing, with a 4-star ranking for rollover protection and 5 stars for overall safety, frontal-crash protection and side-crash protection, but they also tout a long list of standard and available safety enhancers such as:
Blind-spot monitoring
Rear cross-traffic alert
A rearview camera
Smart City Brake Support
Forward obstruction warning
Lane-departure warning
High-beam control
Adaptive cruise control
Adaptive front lighting
As a result, the IIHS rated the 2015 Mazda3 duo as Top Safety Pick+ vehicles, with "Good" grades in all testing and an "Advanced" grade for front crash-prevention technology.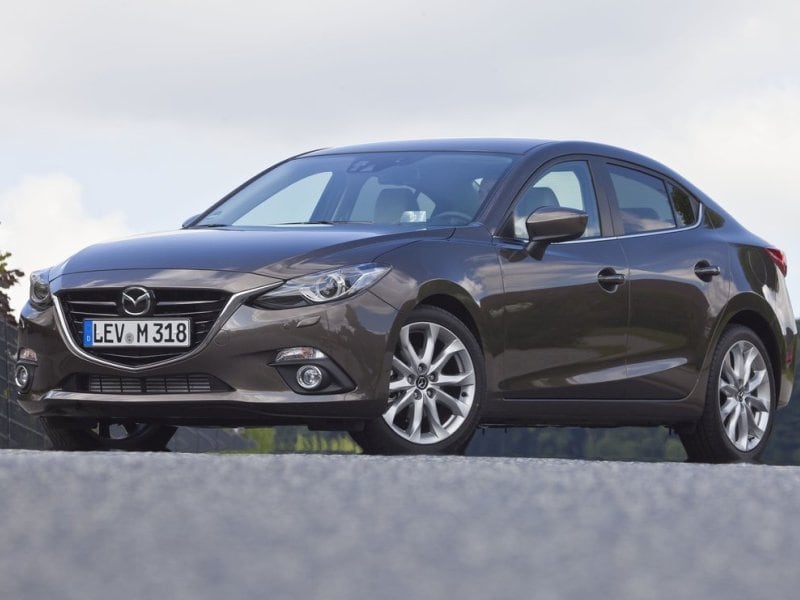 2015 Subaru Impreza
Subaru's selection for one of the Safest Compact Cars naturally serves up all the benefits of symmetrical all-wheel drive, but then goes on to ring a 5-Star Overall Safety Rating in the latest NHTSA testing regimen. More specifically, the 2015 Subaru Impreza brought home a 5-Star Overall Safety Rating by earning 5 stars in the side-crash and rollover evaluations, receiving 4 stars for frontal-crash protection, and being singled out by the agency for recommended technologies including a rearview camera, lane-departure warning and forward-collision warning. 
It's all part of the brand's bundle of "Eyesight" driver-assistance technologies that also features adaptive cruise control. In fact, that stereo-camera setup offers so much assistance that it received a "Superior" grade in the IIHS' evaluations, in which the Impreza was named a Top Safety Pick+ vehicle with the highest possible grades in all individual testing categories.
2015 Toyota Corolla
Even though past models received only 3-star NHTSA scores as recently as 2011, the 2015 Toyota Corolla is a fully-fledged 5-star performer now, which is good enough for a spot among the Safest Compact Cars of the year. The current tale of the tape includes, of course, a 5-Star Overall Safety Rating, with the Corolla also capturing 5-star grades in frontal- and side-crash situations, and a 4-star mark in the NHTSA rollover test.
The Corolla also was comprehensively updated for the new model year, adding an available rearview camera setup to go with a wealth of style and feature improvements.
And like the rest of our safer choices, the Corolla is configured with a full array of basic passenger protections, highlighted by a Toyota Star Safety System with "Smart Stop" technology.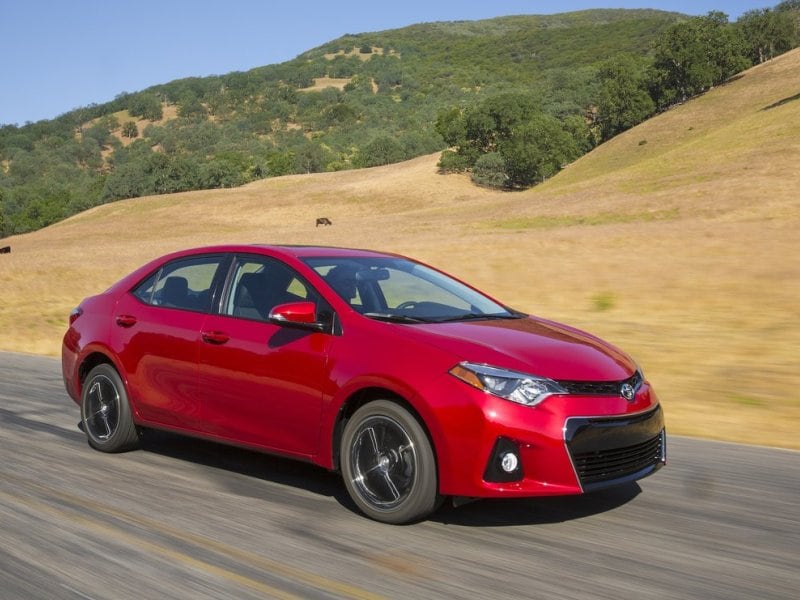 2015 Volkswagen Jetta
The vagaries of vehicle testing mean that the 2015 Volkswagen Jetta gets selected for the Safest Compact Cars club ahead of the brand-new Golf, which has yet to be evaluated by NHTSA. (And may never be, as recent agency data—going back to 2011—shows the Golf hasn't been tested for the past five model years.)
But as for the Jetta, its German engineering delivered a 5-Star Overall Safety Rating from NHTSA, based on a 5-star test result in the side-crash evaluation and 4-star performances for both frontal-crash and rollover situations. NHTSA notes that the car also offers forward collision warning as a recommended technology, and that can be complemented by a rearview camera, blind-spot monitor, rear cross-traffic alert and parking assistance.
The Jetta additionally garnered a Top Safety Pick honor from the IIHS, with "Good" grades in all crash testing and a "Basic" rating for front crash-prevention technology.