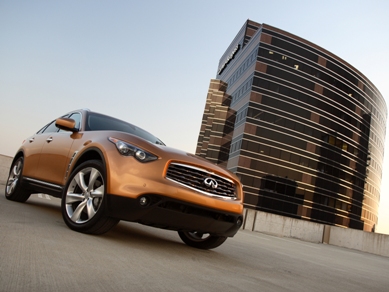 The Infiniti FX family has always emphasized the "sport" in sport utility vehicle, and that's never been truer than with the all-new 2009 Infiniti FX models. With more powerful engines, a new seven-speed transmission, bigger brakes and better handling, the Infiniti FX crossover fires one over the bow of the BMW X5.
If you were a fan of the previous Infiniti FX, you'll dig the new one. It's more of the same: more power, more handling, more luxury and more in-your-face styling. Left off the list of improvements is more room, more fuel economy and more rear visibility.
It's 2003, and the word "crossover" is just starting to seep into the automotive lexicon of the average buyer. These car-based utility vehicles have gained a solid foothold and are getting more popular by the day. Automakers are scrambling to make theirs stand out, but by and large, the offerings either look like big station wagons (BMW X5), vaguely minivan-ish (Mercedes-Benz M-Class, Acura MDX), or weren't really crossovers at all, but just trucks with slightly less trucky styling (Lexus GX 470).
Then the Infiniti FX crossover shows up, with its beefy sportscar-inspired styling, and changes the equation. Think the new BMW X6 is a new take on things? Ever notice how closely it resembles an FX? Clearly, Infiniti was onto something, and the company's SUV sold well, even though it offered up a stiff ride, absolutely zero off-road capability and an interior that could charitably be described as cozy.
The 2009 Infiniti FX crossover stays close to the original in concept and execution, so close that it takes an extra look or two to really see any difference at all. Yet the vehicles are entirely different, with new body panels, interiors and underpinnings. The message here is more: More power, more performance, more luxury and technology gadgets. However, if you're looking for more room, more cargo space or more subdued styling, the new FX crossover sticks a little too close to its predecessor, once again coming up short in these key areas.
Page 2
There are three models of Infiniti FX available, all nicely equipped, and all with a $865 destination charge. The Infiniti FX35 comes in either rear-drive ($41,815) or all-wheel drive ($43,215), both versions powered by a revised 3.5-liter V-6 engine that puts out 303 horsepower and 262 lb.-ft. of torque. The third model is the all-wheel-drive Infiniti FX50, which has a 5.0-liter V-8 engine with 390 hp and 369 lb.-ft. of torque, making this $57,565 crossover the most powerful Infiniti on the market today. All Infiniti FX models get a new seven-speed automatic transmission with a manual shift mode as standard equipment.
The 2009 Infiniti FX models have an independent suspension, and share their underpinnings with a wide variety of other Infiniti and Nissan products, including the Infiniti G35 sedan and Nissan 350Z. The double wishbones in front and a multilink setup in the rear are designed for handling, not off-roading, so if you plan on tackling something more aggressive than a wet or snowy road, stop reading here. Infiniti FX50 buyers can opt for electronic shocks with variable damping settings, and also select rear active steering from the options list. Infiniti FX35 models with rear-wheel drive get 18-inch wheels and tires standard; all-wheel-drive versions move up to 20-inchers, and FX50 buyers get humungous 21-inch wheels and tires standard. Infiniti FX50s also get huge 14-inch front disc brakes gripped by multi-piston fixed calipers, a good thing considering the brawniest version of the FX crossover weighs in at 4,575 pounds.
Options are mostly divided into groups on the Infiniti FX line. The Infiniti FX35 is available with a $2,350 Premium Package that adds climate controlled front seats, Bluetooth hands-free phone interface, an iPod jack, memory driver's seat, paddle shifters for the transmission and quilted leather upholstery. The navigation package costs $2,850, adds a hard-drive-based navigation system with voice recognition, Infiniti's very cool Around View Monitor system, and requires the Premium Package. The Technology Package requires both the Premium and Navigation groups, costs $2,900, and adds things like lane departure warning, lane departure prevention, intelligent cruise control, rain-sensing wipers and a few other bells and whistles. Put another way, if you want those rain-sensing wipers on your Infiniti FX35, it's going to cost you an extra $8,100 since you have to get two other options groups. Maple wood trim, adaptive headlights and 20-inch wheels and tires are part of the $2,650 Deluxe Touring Package, and the in-car DVD video system costs $1,600 – and requires the Technology package, which requires the Navigation package, which requires the...well, you get the point.
If you want all that stuff, you may as well just spring for the Infiniti FX50, which has the Navigation and Premium packages as standard equipment. Don't worry though: Infiniti has plenty of ways to help you spend more money. How about the $3,000 Sport Package, for example, which includes the adaptive headlights, rear active steering, a driver's seat with extra bolstering and a pull-out thigh extension, and the active shock absorbers. The Technology package is still optional here, as is the rear-seat entertainment system. High-performance "summer" tires are a no-cost option.
Page 3
The changes made to the Infiniti FX crossover for the 2009 model year are subtle, but noteworthy. For example, the headlights are a new design, and are totally surrounded by sheetmetal, giving the impression of unearthed jewels peeking from beneath the dirt. The side vents behind the front fenders are functional -- according to Infiniti they help reduce front-end lift by 5 percent. The taillights are also all-new, and check out that big honkin' grille.
Inside, the 2009 Infiniti FX carries over another feature from the previous car: a small cabin. Despite the shadow the FX casts, it's tighter inside than many family sedans. However, this is by design: the Infiniti FX crossover isn't supposed to be a big family or stuff hauler, but a sports wagon with an unusually commanding view. Look at it that way, and the snug cockpit is just right, with an excellent driving position, communicative controls, good layout and plenty of luxury gadgetry available to keep drivers occupied.
As a brand-new vehicle, the Infiniti FX is loaded with all the safety equipment one expects these days. Antilock brakes, front, side, and ceiling-mounted airbags, active head restraints, and extensive use of high-strength steel are standard on all FX crossover models. So are electronic brake force distribution, brake assist, and traction and stability control. Step up to the Technology Package and you get adaptive cruise control, which uses radar to monitor how far away you are from the cars in front of you, and accordingly adjusts your speed. You also get lane departure prevention and warning, both of which are self-explanatory, and intelligent brake assist.
Page 4
The 2009 Infiniti FX crossover doesn't break new ground, but it doesn't really need to. The previous FX was a smash, and the new one carefully recreates the elements that made it so, while improving nearly every aspect of the vehicle at the same time. It's no heavy hauler, and the interior isn't really meant for five passengers, despite how many seatbelts there are. But the Infiniti FX is about driving, and if you want performance from your utility vehicle – and don't mind sacrificing quite a bit of that utility to get it – the 2009 FX crossover is a good call. However, the BMW X5 offers up just as much sport and a roomier interior for about the same money.
$42,815
$43,215
$57,565
3.5-liter V-6
3.5-liter V-6
5.0-liter V-8
303 hp @ 6,500 rpm
303 hp @ 6,500 rpm
390 hp @ 6,500 rpm
262 lb.-ft. @ 4,800 rpm
262 lb.-ft. @ 4,800 rpm
369 lb.-ft. @ 4,400 rpm
Seven-speed automatic with manual shift control
Seven-speed automatic with manual shift control
Seven-speed automatic with manual shift control
4,094 lbs.
4,299 lbs.
4,575 lbs.
16 city/23 hwy
16 city/21 hwy
14 city/20 hwy
191.3 in.
191.3 in.
191.3 in.
75.9 in.
75.9 in.
75.9 in.
113.6 in.
113.6 in.
113.6 in.
65.0 in.
66.1 in.
66.1 in.
44.7 in./34.6 in.
44.7 in./34.6 in.
44.7 in./34.6 in.
39.3 in./38.5 in.
39.3 in./38.5 in.
39.3 in./38.5 in.
Five
Five
Five
24.8 cu. ft.
24.8 cu. ft.
24.8 cu. ft.
By Keith Buglewicz Photo credit: Oliver Bentley