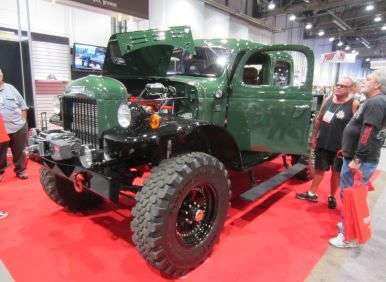 It seemed that everywhere you tuned at the 2012 SEMA show in Las Vegas last week there was a repro car waiting to make your acquaintance.  Once considered the province of sketchy kit car builders or ultra-high-end body shops, the ability to build a classic vehicle almost entirely out of reproduction parts has become far more than a cottage industry - it has exploded onto the custom scene over the course of the last few years.
Leading the charge has been Dynacorn, a company that has long been at the forefront of the reproduction wave.  This year, Dynacorn showed off a complete body shell for the iconic 1966-1976 Ford Bronco, one of the most capable and revered off-road vehicles of all time.  Unfortunately for those living anywhere in the rust belt, the Bronco was also one of the most susceptible-to-rust trucks to ever have left Dearborn.  Dynacorn's repro Bronco shell - which can be further accessorized with as many as 70 other components from the company - takes much of the headache out of assembling an as-new edition of the SUV.  The Bronco sits alongside Ford Mustang and Chevrolet Camaro body shells, as well as Pontiac Firebird, Chevrolet Chevelle, and Chevy pickup shells.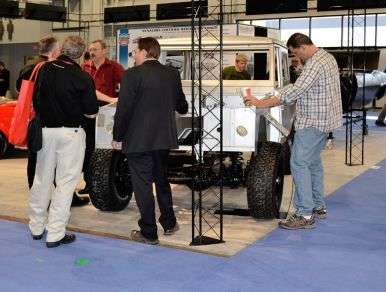 Of course, it would be impossible to discuss reproduction cars without mentioning the scores of Shelby Cobra, Ford GT40, and Shelby Daytona models available from a wide range of manufacturers.  Leading the pack was perennial Cobra hobbyist favorite Factory Five, which produces some of the most well-received kits in the business.  Not to be outdone were Superformance, which had a commanding display located right beside Ford's 'out front' installation directly facing the Las Vegas Convention center.  Superformance offers a similar lineup of kit-based Cobras and Daytonas built under license from the late Carroll Shelby himself.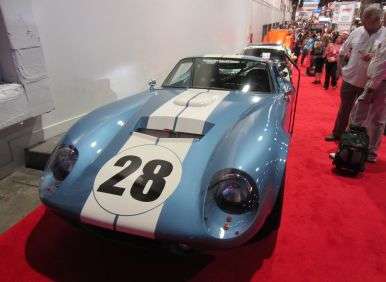 Even OEMs are starting to get in on the repro act.  The company already offers all-steel body shells for certain classic Mustang models (1965-1970), but the real scene stealer at SEMA 2012 was its 1940 Ford coupe shell.  Available at an affordable price right from the Ford Restoration Parts catalog, the vehicle looks exactly like its namesake and should prove extremely popular with the hot rod crowd.  The shell is of course much better built than the original model due to the ability to use modern welding techniques as well as computerized assembly in order to create better-than-stock panel gap and thickness of steel.