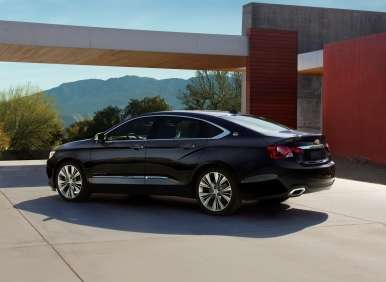 Chevrolet will get back into the full-size sedan business in a big way with the 2014 Chevy Impala, which will come to market next spring with an all-new design, plenty of technologies, and a starting price of $26,725. (Note: All prices in this story are before the Impala's $810 destination charge.)
Well, technically speaking, the 2014 Chevy Impala will initially reach dealerships stickered at $29,950, since that's the required opening bid on the V6-powered model that will go on sale first. It will then be followed by the Impala with its standard 2.5-liter I4, at the above-mentioned MSRP, and, in short order, an eAssisted variant with a price that's yet to be released. However, Chevy is promising 35 mpg on the highway with that latter model, backed by an advanced 2.4-liter I4 engine and GM's eAssist light-electrification setup. With that technology—also found on the Chevy Malibu, among others—the Impala will be able to store energy it creates via regenerative braking, then use that power to assist its gas engine in certain driving conditions.
The party line from Chris Perry, vice president of marketing for Chevrolet: "We'll build on the success the Impala nameplate has generated over its history.
"We've added sophisticated design features, more technology and safety equipment, while conserving Impala's current strengths like spaciousness and comfort."
2014 Chevy Impala: What's New
Although the current model does offer a surprisingly high value play for the right customers—fleet and otherwise—the 2014 Chevy Impala will take things in a far more premium direction. As explained by John Cafaro, GM's director of passenger-car exterior design in North America: "Our design team was challenged to create a new classic, but that didn't mean relying on nostalgia. This is very much a contemporary car, with design elements, craftsmanship and attention to detail that complement its advanced technology and performance."
Of course, that much should be obvious from your first glance at the new car, now showing a sleeker, more streamlined appearance that seems to borrow a bit from the beautiful Buick LaCrosse. The result is a dramatic change from the look of today's Impala, with a curvaceous, hunkered-down presence that fits in nicely among the new generation of full-sizers like the Ford Taurus, Toyota Avalon and Hyundai Azera.
Similarly, the 2014 Chevy Impala also gets a bevy of next-generation technologies, including:
A new iteration of Chevrolet's MyLink entertainment system that will add a customizable eight-inch touchscreen and natural voice recognition functionality
Expected electronic safety measures like adaptive cruise control, rear cross-traffic and side blind-zone alerts, forward collision alert, lane-departure warning, collision-mitigation braking, a rearview camera system and rear-park assist
HID headlamps and LED daytime running lamps
Active noise cancellation for a quieter cabin
Added Cafaro: "This is very much a contemporary car, with design elements, craftsmanship and attention to detail that complement its advanced technology and performance."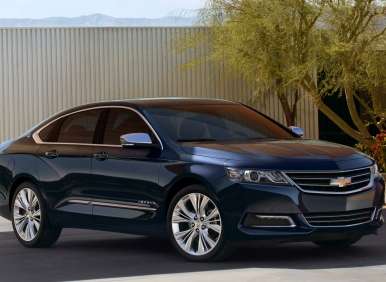 2014 Chevy Impala: A Look Back
The 2014 Chevy Impala may represent a quantum leap past today's version, but the current car does provide a relatively interesting choice, even for retail customers, as long as your focus is on the basics. As you'd probably expect, the 2013 Chevy Impala is less expensive than its top rivals when comparing sticker prices, and even more so when taking into account the Impala's likely end-of-its-lifecycle discounting, but it's also quite competitive in terms of passenger volume, power and fuel economy, too.
Check out this quick comparison chart that includes the entry-level models of the Chevy Impala, Ford Taurus, Toyota Avalon, Hyundai Azera and Dodge Charger: 
Vehicle
MSRP
Passenger Vol.
Power (hp/torque)
EPA marks
Impala
$25,860
104.5 cubic feet
300/262
18/30/22
Charger
$25,995
104.7 cubic feet
292/260
18/27/21
Taurus
$26,600
102.2 cubic feet
288/254
19/29/23
Avalon
$30,990
119.6 cubic feet
268/248
21/31/24
Azera
$32,250
107 cubic feet
293/255
20/29/23