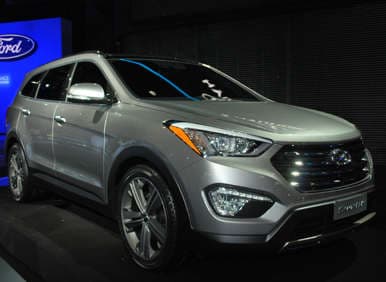 The 2013 Hyundai Santa Fe has been completely redesigned
Hyundai has introduced a second, seven-passenger long-wheelbase model
Five-passenger crossover has been renamed Hyundai Santa Fe Sport
Three-row, seven-passenger Santa Fe gives Hyundai a foothold in the high capacity mid-size people mover segment.
More powerful, more efficient Santa Fe Sport improves on previous-generation crossover.
2013 Hyundai Santa Fe Debut: Notable Features
Torque-vectoring rear-differential
Driver-selectable steering
Bluelink as standard equipment
3,500 lbs of towing capacity
V-6 power for seven-passenger model
The 2013 Hyundai Santa Fe Sport that rolled onto the stage at the New York Auto Show displayed an updated take on the 'fluidic sculpture' design language that graced the older model of the mid-size crossover.  The long-wheelbase Santa Fe offers more visual heft without coming across as much bigger than its competitors.  Inside, both of the Santa Fe models offer better passenger room and more cargo space while providing the same high content experience fans of the brand have come to expect.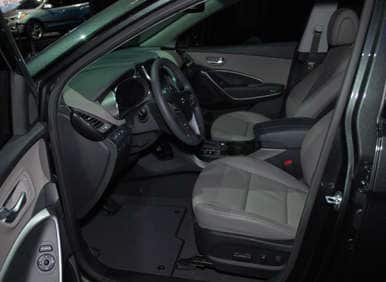 2013 Hyundai Santa Fe Debut: Under The Hood
The 2013 Hyundai Santa Fe Sport is available with one of two four-cylinder engines.  The base 2.4-liter unit generates 190 horsepower and 181 lb-ft of torque while returning fuel mileage of 23-mpg city and 33-mpg highway.  A 2.0-liter turbocharged mill is offered as an option, and it delivers 264 horses and 269 lb-ft of torque while matching the 2.4-liter motor in city mileage and dropping just two-mpg from the highway measure.  These figures are aided by a substantially lower curb weight for the crossover and the use of direct injection technology.  The seven-passenger Hyundai Santa Fe comes with a 3.3-liter V-6 engine that is good for 290 horsepower and 252 lb-ft of torque.  A six-speed automatic transmission is standard across the board, while all-wheel drive is optional.
The 2013 Hyundai Santa Fe is positioned to go up against crossovers like the Ford Edge, the Mazda CX-7 and now, with the introduction of a seven-passenger model, the Toyota Highlander.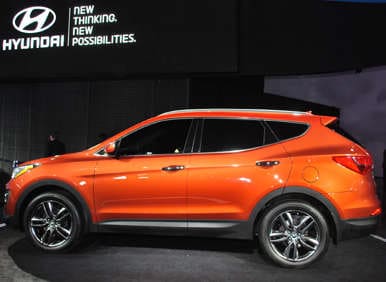 Why We Like It
More of the same is never a bad thing, especially when Hyundai has managed to put more shine on an already solid family SUV.  The introduction of a surprise seven-passenger model also hints at further changes to the Hyundai stable in the near future – changes that could see the 2013 Hyundai Santa Fe at the top of the automaker's crossover lineup.
Original photos by Jeffrey N. Ross