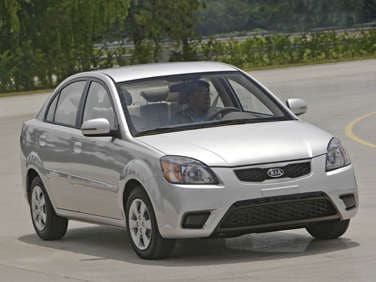 Today's fun factoid: The 2011 Kia Rio was the only Kia product to finish in the top three of its segment in the recent J.D. Power & Associates Initial Quality Study (IQS). The punch line, of course, is that the Rio also is the only model from that brand that hasn't gotten the complete makeover treatment yet.
Now, I know that these kinds of third-party industry reports have their flaws, but even if the IQS doesn't always tell us much about the quality of the vehicles under consideration, it certainly tells us something about customer perceptions of said vehicles, which is just as important. After all, the goal in this business isn't necessarily to build the best cars, it's to sell the most cars. Oftentimes the two go hand in hand, but when they don't, the high sales/low perceptions scenario can be just as problematic for an automaker as a low sales/high perceptions situation, at least in the long term. This should concern Kia a bit.
The Kia Sales Surge
Last year was an impressive one for the two South Korean automakers in this country, but it was certainly more impressive for Hyundai than Kia. The former outsold the latter by a hefty 181,960 units, while also outperforming its corporate sibling in terms of growth rate. Hyundai saw sales jump up by almost 24 percent in 2010, as compared to a mark of almost 19 percent for Kia. Those full-year statistics gloss over a notable change in the two brands' relative strengths.
In October of 2010, Kia notched a healthy 38.7 percent increase in sales, while Hyundai "only" managed a 38 percent jump. That began an ongoing string of eight straight months in which Kia has expanded sales at a quicker rate than its big brother (both are owned by the same parent company). At this stage, through the first five months of 2011, Kia has ridden three consecutive all-time monthly sales records to post a year-to-date increase in customers of 44.8 percent; Hyundai, even on its own run of setting new monthly sales record for five months in a row, has improved by 29 percent.
Further, Kia also has been No. 2 in sales growth among brands that sell more than 10,000 units a month for the last three months. (FYI: Jeep led the way twice, Dodge once.)
I attribute this to a couple of factors, among the most important being Kia's success with its crossovers. The brand's top sellers have consistently been the Kia Sorento and Kia Soul, both of which are now moving above 10,000 units per month on their own. On the car side, the Kia Forte is seeing steady improvements, but really the all-new Kia Optima is doing most of the heavy lifting, with year-to-date sales up by more than 102 percent. The Rio happened to see an 8 percent lift in May—likely the result of reduced Japanese competition—but on a year-to-date basis, its sales have slipped by more than 16 percent.
And again, it was the Rio that aced the IQS, not the Sorento, Soul, Optima or Forte.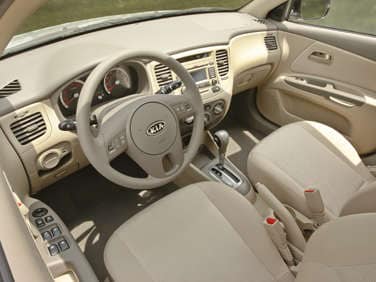 Minding the Perception Gap
The part of this that should concern Kia is that by now, the brand is approaching the point where it's plucked all the low-hanging fruit it can reach. That is, it's captured as many of the "easy" customers—those shopping mostly on price, those so fed up with the other mainstreamers they're ready to try something new, etc.—and now Kia has to sell its vehicles on their merits to start actively conquesting those who like Kia products, not just those who dislike everything else.
In fact, I think that is what's going on with Hyundai right now. As I mentioned, while the brand is still racking up big monthly sales volumes, its rate of growth has slowed noticeably. There may be some extra demand for the Hyundai Sonata and Hyundai Elantra that isn't being satisfied by the company's current production capacity, and it could see some easy growth as it begins building more of these products for the 2012 model year—but that's still an open question. And it's not like capacity constraints are holding down sales of the rest of the Hyundai lineup; those vehicles simply aren't growing sales as fast as in the past.
The thing is, it's awfully difficult to sell a vehicle on its merits when objectively measuring those merits can be such a tricky proposition. That's especially the case for typical shoppers who are likely to rely on highly publicized, but not necessarily sound quality studies, like the IQS which almost invariably end up by gauging customer perceptions instead.