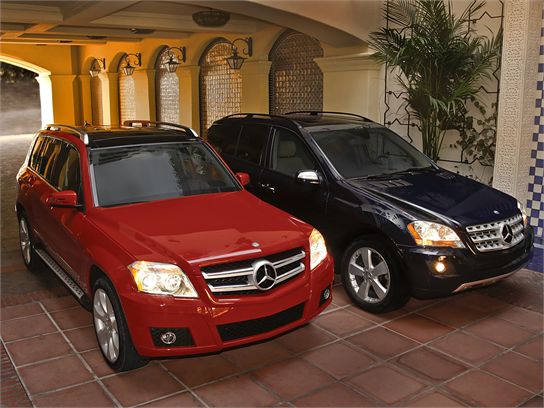 Easy, at a base price of $33,900, the 2010 Mercedes GLK is $14,075 cheaper than the Mercedes ML350. It also handles better, is 1.5 seconds quicker to 60 mph, gets better gas mileage, and sacrifices only 6.1 cubic feet of volume behind the second row. The real question is why do you really need a Mercedes M-Class, to which the answer might be towing capacity, and the availability of a V-8 engine (at which point, you might ask yourself, maybe I should just get a Mercedes GL?)
Photo Credit: Greg Jarem
Page 2
The 2WD GLK gets 16 city/22 highway, compared to the 2WD ML at 15/20. With a curb weight that is 670 pounds lighter than the Mercedes ML350, this seems about right, though it isn't that much better. Consider too that an ML320 BlueTec diesel actually gets 18/24. While the 3.5-liter is the only available engine in the GLK, rumor is that it will receive a 4-cylinder BlueTec engine for 2011 that should significantly boost its fuel economy. We observed roughly 19.8 mpg during our drive with the GLK on a mix of highway and local roads.
Photo Credit: Mercedes-Benz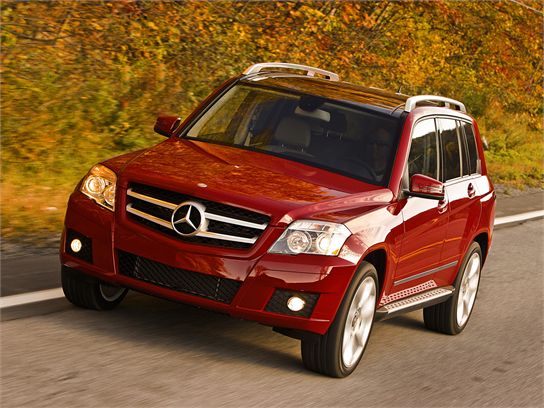 Page 3
Lexus better get ready for the GLK ($33,900) to start eating into its RX sales. The current Lexus RX 350, similarly equipped, starts at $37,700. Not to mention the new 2010 Lexus RX has styling that could only be described as automotive-Lunesta. Similarly, the BMW X3, at a base price of $39,400 will also be on your list, and with more cargo room and better mileage than the Mercedes GLK, it certainly has advantages, but at what cost? The Acura RDX, Volvo XC60, Audi Q5, and Infiniti EX would round out a shopping list nicely.
Photo Credit: Mercedes-Benz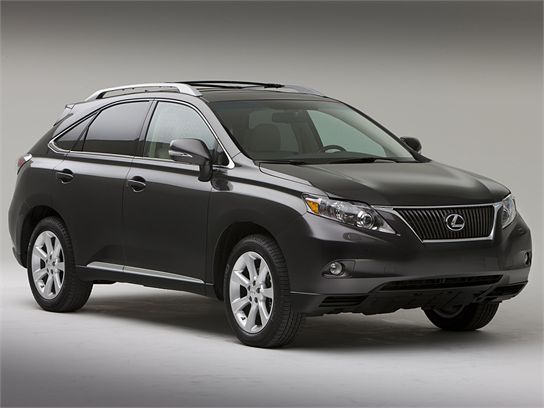 Page 4
Your suspicion would not be unfounded, but in the case of the Mercedes GLK it just isn't true. The GLK comes with a well-appointed interior, and a satisfying list of standard equipment, including 19-inch wheels, a seven-speed automatic transmission, brushed aluminum or burl walnut interior trim, dual chrome exhaust tips, multimedia controller with 5-inch display, Bluetooth interface, and of course, a giant three-pointed star on the grille that will actually have people thinking you paid more for it than you did.
Photo Credit: Mercedes-Benz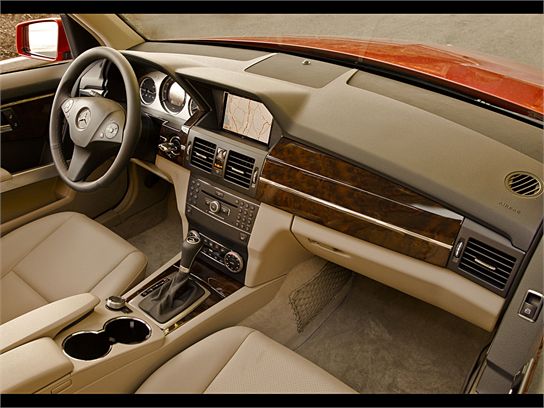 Page 5
Mercedes-Benz estimates that the average transaction price for a GLK will be around $37,300. They assume most folks will go for the $3,150 Premium Package, with power liftgate, panorama sunroof, and satellite radio. For our money, we'd skip the Premium Package and go for the $3,350 Multimedia Package instead. This includes a harman/kardon LOGIC7 surround-sound system, GPS navigation on a 7-inch LCD screen, and a rear-view camera. We think the $375 iPod integration kit is a must too for music fans. For those that need it, 4Matic all-wheel drive is an extra $2,000 over the base Mercedes GLK350.
Photo Credit: Mercedes-Benz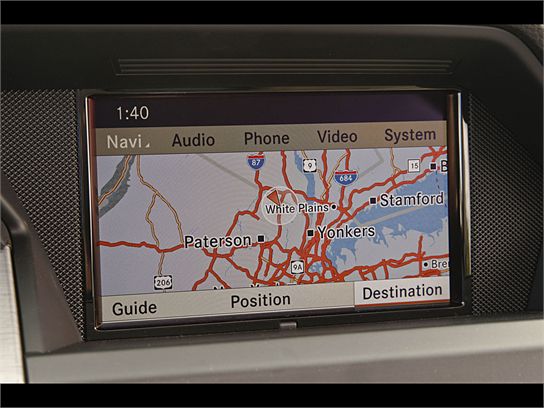 Page 6
The last-generation COMAND system was about as intuitive as piloting a Cosmonaut moon lander. The Mercedes GLK comes standard with the next-generation COMAND system which includes a BMW iDrive-like controller wheel behind the shifter. This makes for a huge leap forward in usability, though we'll continue to use Acura as the benchmark for how systems should intuitively function. In case you were curious, "COMAND" stands for ckpit nagement and avigation evice.
Photo Credit: Mercedes-Benz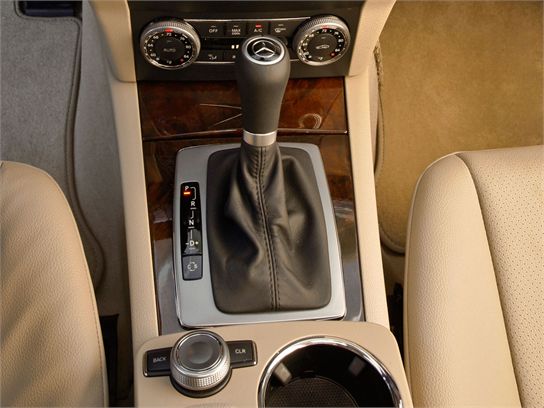 Page 7
Many manufacturers claim that their SUVs have "car-like handling." The Mercedes GLK doesn't have car-like handling -- it has car handling. As we pushed the GLK through turns way faster than the law might prefer, we often had to remind ourselves that technically we were driving an SUV. Body roll was minimal, and we'd have no problem characterizing the Mercedes GLK as fun to drive. Our one complaint was that steering felt a little too loose at highway speeds. With 268-horsepower and a seven-speed transmission, acceleration was excellent; Mercedes claims a 0-60 time of 6.5 seconds. For reference, a 2008 BMW 328i sedan makes the same dash in 6.4 seconds.
Photo Credit: Mercedes-Benz
Page 8
We should all be so lucky, but it will never happen. Mercedes was actually emphatic about this point when we asked them. Something about preserving the AMG reputation, to which everyone in the room did not say, "Well what about the G55 AMG and R63 AMG?" This is an entry-level vehicle, and Mercedes wants to keep the price point reasonable. Right, reasonable like a $63,000 entry-level C63 AMG.
Photo Credit: Mercedes-Benz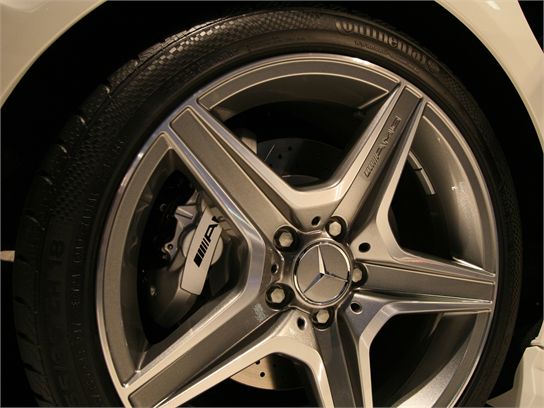 Page 9
Theoretically? Absolutely. Mercedes put the GLK through the same rigorous tests that its ML went through. That said, the only off-roading the GLK is likely to see is the tailgating field outside your local college football stadium. It certainly will handle winter driving well with the 4Matic all-wheel drive system, and even if you don't live in a state with snow, all-wheel drive is helpful in wet driving and even on dry roads. Consider, too, that the 4Matic system only adds on 145 pounds to the weight of the GLK, doing little to compromise fuel economy.
Photo Credit: Mercedes-Benz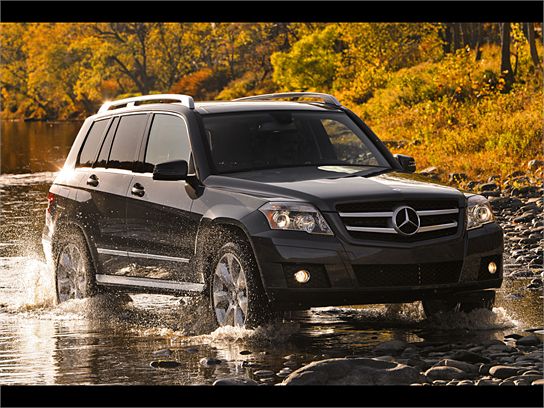 Page 10
It's grown on us a lot. When the 2010 Mercedes GLK first appeared, we thought the proportions were a little too much Subaru Forester, probably because it was shown in two-tone. It's still a bit squat for our tastes, but we can see the G-Class design heritage in it, which we like. The standard 19-inch rims fill out the wheel wells really nicely, and we like the aggressive grille too. While they come as part of a $970 lighting package, the LED tail lamps look really cool at night and are almost worth the money when combined with the package's Bi-Xenon headlamps.
Photo Credit: Mercedes-Benz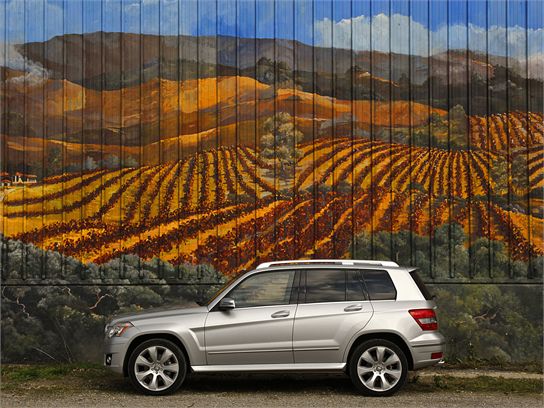 Page 11
Photo Credit: Mercedes-Benz