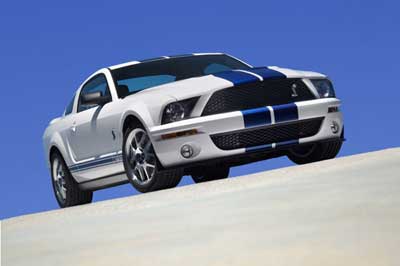 DETROIT – It wasn't the day-glow orange paint or black carbon fiber striping on the long sloping hood of the Dodge Challenger Concept. It wasn't the liquid burble of the 5.4-liter supercharged V8 just before unleashing a furious 475 horsepower to the Mustang Shelby GT500's rear wheels. It was the perfume of pure, unadulterated gasoline left in the wake of a parade of classic Chevys that heralded the arrival of the Chevrolet Camaro Concept car at the 2006 North American International Auto Show. Each tickled the gray matter of my brain, but it was the scent of fuel that . It flared my nostrils, invigorated my heart and, suddenly, I was once again young and invincible. My face curled into an involuntary smile of times gone by. It wasn't a single memory or life-changing moment I recalled. It was collective – pages from the past whirling by in a cloud of fragrant fumes, my hair stirring as the first-generation Camaros revved and rumbled along Cobo Hall's massive show floor. In America, say we're largely over SUVs and we've moved on to CUVs. And, there are some truly and conveyances that take other forms. There are hot new CUVs that look like trucks and drive like cars, minivans with on-board entertainment studios, and slippery, wind-cheating wagons. But, let's face it, there's no there. Don't get me wrong. There's a place for them in driveways across the land. But, do they express passion? No. Even the resurgence of roadsters generally lacks an indefinable soul. In Detroit, at the 2006 North American International Auto Show, that returned to automobiles. Not simply history, nor even performance. We're talking about legendary horsepower – muscle. What exactly is it, this mystique that has brought a trio of two-door pony cars to the forefront in a world that has gone green and four-door? And, exactly who will buy them, if the Chevy Camaro and Dodge Challenger concept cars unveiled in Detroit join the 2007 Mustang Shelby Cobra GT500 in the over-crowded U.S. car market? Baby Boomers? Teenaged tuners? Twenty-something DINKs, with disposable income? These cars are not just cool looking and relatively inexpensive, but they are icons of spirited power. And – the past. Who cares a about cupholders? Forget diesel technology! Let the pony car wars begin!
Dodge Challenger Concept
According to Barry Dressel, manager of the Walter P. Chrysler Museum, pony cars are in the vortex. "The moving centerpiece of the antique car hobby is cars that are 30 to 40 years old," Dressel said. "It's now the muscle cars of the '70s that hold the most nostalgia for many that were too young to own one or couldn't afford one," said the classic car historian. "If you follow the antique car market and look at Hemmings Motor News, for instance, these are the cars that are bringing astounding prices – the cars with Hemi engines, for instance. But, with a new car you have none of the drawbacks and compromises, and a lot of the joy of owning a muscle car." "Another piece of the past 10 to 15 years is that the domestic automakers were not paying attention to brand-building. In fact, their goal was to make things look like a past model," Dressel explained. "Now, they are burnishing their brands and nameplates, and see the affection. Using these names is continuity and brand building – its reminding people of their heritage." With the Dodge Challenger Concept, "we're trying to be true to our brand," explained Jim Yetter, senior marketing and brand manager Dodge car, talking about one of the hottest models at this year's North American International Auto Show. "Dodge is an emotional brand and, for awhile, we got away from that. Take the Dynasty, for example. We did well with our big, bold trucks and we let it go with cars. In the past, we did great muscle cars (with paint color names) like Plum Crazy, Go-Man-Go…performance was a lot about that – it was about colors, wheels, graphics and expressing who you are. A lot of people remember that and those cars are now going for hundreds of thousands of dollars at Barrett-Jackson." "Cars like the new 2006 Charger and the Challenger Concept mine the Hemi past – the Mopar boys – and show that Ford isn't the only game in town," said Yetter. Chrysler has reported that the new Dodge Challenger Concept, with design that is strongly based on the original 1970-74 Challenger, has been engineered to be driven, and could hit 60 mph in 4.5 seconds on the way to a top speed of 174 mph. Although the Challenger Concept is an idealized image of this pony-car icon that had a production run of only five years, Yetter is quick to point out that DaimlerChrysler is already reaping the rewards of "Hemi-mania" without it, thanks to engines in 5.7-liter and 6.1-liter displacement available in the Chrysler 300, Dodge Charger, Dodge Magnum, Jeep Grand Cherokee and Dodge Ram pickups. "Today's appeal is bi-modal. These cars are not just for people who had one or wanted one, but also for younger consumers who like cool cars, live life to the fullest, and care about cars. They've been impacted by movies like ," said Yetter. "The important thing, however, is that the Challenger Concept is done with today's technology, the Hemi with DaimlerChrysler's Multiple-Displacement fuel savings System (MDS) and other modern technologies that allow you to bring that package back, in a modern way." In fact, the Dodge Challenger Concept also benefits from the success and heritage of the Hemi engine, for under its long hood is a 6.1-liter Hemi V8 with 425 horsepower matched to a six-speed manual gearbox, manipulated by a pistol-grip shifter. "There's been a shift from two-door to four-door. Some 80 percent of the market when (the original) Mustang and Challenger were out was two-door. Now, it's 80 percent four-door. We recognized that and that's why we went with the four-door Charger. We made it into a modern muscle car with four doors – a family-sized sports car. That car has the essence of Charger," explained Yetter. "The Challenger is a show car, but we've already had a fantastic response from it with blogs, and letters," enthused Yetter. "We're tracking the emotion behind it – there's a lot from 30- to 50-year-olds, and there's also a market for two-doors from the 20- and 30-year-olds. But, the new vehicle has to be true and have integrity to live up to what the car of the past was – and that is high horsepower, performance suspension, performance wheels and tires, exciting colors, and a look and feel of the '70s with an interior done in a modern way."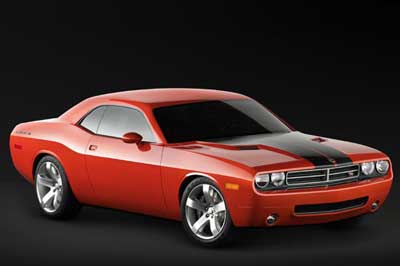 Ford Shelby Cobra GT500
Ford Motor Company's financial analyst, George Pippas, has a numbers perspective on the retro pony-car phenomenon. "There are between 70 and 75 million Baby Boomers, aged 45 to 60, and many have a lot of money. Many are in their peak earning years, are now entering a different life stage and, therefore, want to drive different vehicles. For many, their first car was a Mustang." And, if you ask Pippas, Mustang is "the best-loved nameplate in America." "Many Baby Boomers don't need an Explorer, and as they downsize, many are choosing CUVs. But some will put two cars in their driveway and, maybe, the new Mustang Shelby Cobra GT500 will appeal to them," said Pippas, describing the 2007 limited-production model that has a 5.4-liter supercharged and intercooled V8 whipping up a riotous 475 horsepower and 475 lb.-ft. of torque under its bulging hood. To put that into perspective, consider this: The Cobra makes 175 more horsepower than the already quick Mustang GT. "Few cars have gone so far to be at the top," remarked Pippas. "People don't say we're going to have in our Volvo and there's no ," he laughed, by way of contrast. "These cars work best when they line up with the styling cues from the past. Whenever we've departed from the original – the Mustang II, is a case in point – they haven't done as well. These cars have to line up with the original!"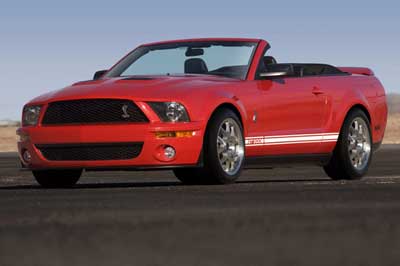 Chevrolet Camaro Concept
Ed Wellburn, General Motors vice president of global design, claimed that bringing the Camaro in concept form to the 2006 North American International Auto Show "just felt right. When you look at all the energy and excitement today, the timing is right. You can't buy a '69 Camaro for under $30,000, and special-edition models go for over $200,000," he said. Wellburn says that the buyer for the Camaro Concept, should it become a reality, is: "Anyone who knows car energy and passion. I don't think you can define it that tightly – it's a wide variety. Most boomers couldn't afford (a Camaro) at the time," he offered, talking about the first-generation version that grabbed the hearts of Americans when it pranced onto the scene in the late '60s and trundled off into the sunset at the end of the last century. The new Chevrolet Camaro Concept has been sculpted with a long snout that is shaped to mimic the cowl-induction hood of Chevys past, and has a 6.0-liter V8 engine that delivers 400 horsepower to the rear wheels through a six-speed manual transmission. Like Dodge's Hemi motor, this Corvette-sourced V8 has 21st century technology to shut down four of the motor's eight cylinders when cruising on the highway. This fuel-saving system is called Active Fuel Management. As in the past, the Camaro Concept four-seater is truly for two, with rear seats that are best for taking others for a fast ride around the block.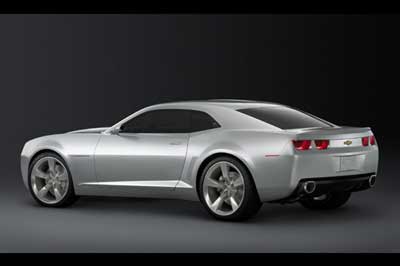 Wrapping Up
So, what's it really about, this pony-car resurgence that ran wild at this year's North American International Auto Show? We asked some of the experts and their answers are all over the road map. Loyalist Boomers, says Ford's analyst George Pippas. Youthful tuners, adds Dodge's brand manager, Jim Yetter. And, anyone with passion, purports GM's designer, Ed Wellburn. Clearly it's about nostalgia. But, if you ask auto historian Barry Dressel, of the Walter P. Chrysler Museum, it's more a predictable equation of timing than pure nostalgia for a brand, or, perhaps, even a by-gone time. Whatever the magic, Chevy, Chrysler and Ford got it just right. And their muscle cars were the talk of the town. Ford plans to put its Shelby Cobra GT500 on the street later this year. The Dodge Challenger and Chevy Camaro Concepts are "driveable," but will they come to market? That answer is still blowin' in the wind, but they seem almost guaranteed to be on sale by the end of the decade if you ask me. In the meantime, I think I'll let my hair blow in the breeze of pleasant memories from a far simpler time…but, you can be sure, I'll catch the first pony ride that comes by. How about you?
Photos courtesy of the manufacturers