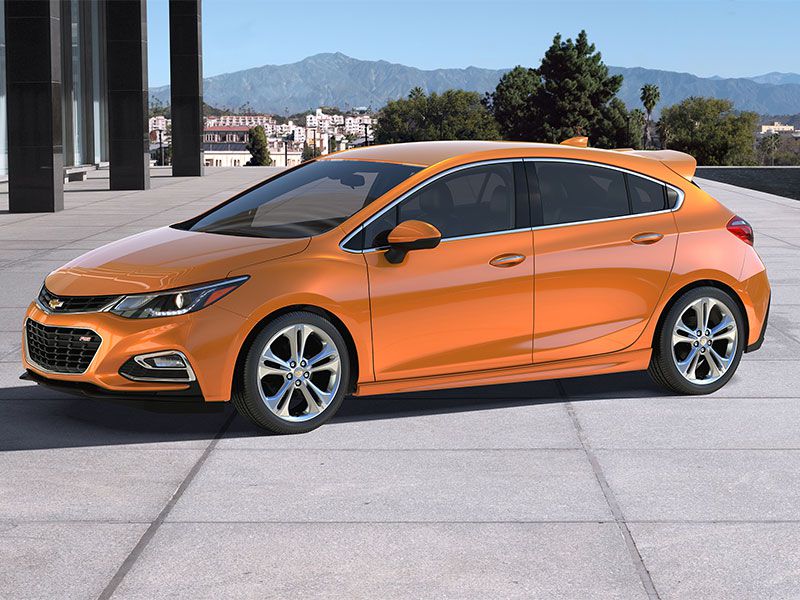 2017 Chevrolet Cruze Hatch exterior hero ・ Photo by Chevrolet
What does it mean to be connected? A bigger question: Why is connectivity necessary for a car, particularly when most new car shoppers are armed with smartphones? Having a connected car—that pairs with a smartphone or features its own source of networking—is a matter of convenience and safety. These vehicles let drivers keep in touch on the go (something they'd do anyway) while enabling them to stay focused on the road. We focused on cars for this Autobytel list, choosing to skip over the dozens of high-tech SUVs in favor of models that might otherwise go overlooked. (We do, however, have one interesting exception). Without further ado, our 10 favorite connected cars:
2017 Audi R8
We could go on forever about the redesigned 2017 Audi R8—its svelte styling, its comfortable interior, its enticing engine lineup, and its sophisticated road (and track) manners. But we're here to talk about its technology, particularly the Audi Virtual Console. The Virtual Console includes the Audi Connect infotainment system, and it arranges and displays all the information the driver needs while taking up a remarkably small amount of cockpit real estate. The display is located behind the steering wheel, right in front of the driver's eyes, and offers features such as Google Earth satellite maps (which is a uniquely interesting experience while driving on a race track), 4G LTE connectivity, and a Wi-Fi hot spot. (Granted, you can get many of these features in other new Audi vehicles, without spending $162,900. They just look better in the R8.)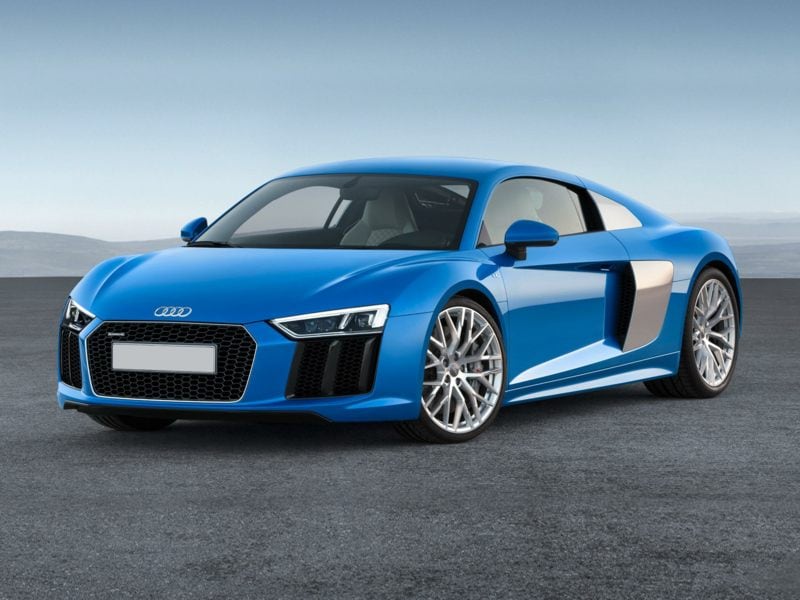 Photo by Audi
2017 Buick LaCrosse
The Buick LaCrosse has been completely redesigned for the 2017 model year, with a sleek new silhouette and plenty of features. This large sedan has a competitive MSRP of $32,065. A strong V6 engine provides plenty of power and decent fuel economy, and the LaCrosse balances good handling with a comfortable ride. Here, though, we're focusing on the LaCrosse's technology suite, which includes Bluetooth, Apple CarPlay and Android Auto smartphone integration, and a built-in Wi-Fi hot spot. We'll see the LaCrosse's Teen Driver system on other GM vehicles, too—it's an active safety suite that allows parents to customize settings and limits for different members of the household. Best yet, all of these features come standard on the base model.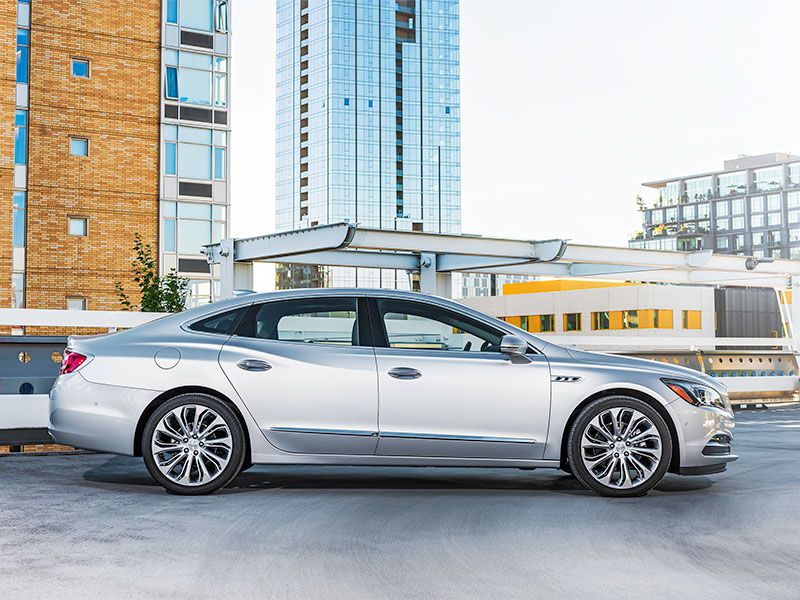 Photo by Buick
2017 Cadillac CT6
The Cadillac CT6 was introduced for the 2016 model year and quickly ascended the ranks. This large luxury sedan is offered at a starting price of $53,495, and for that, it comes with a turbo 4-cylinder engine and plenty of standard equipment (although it also can be optioned quite a bit higher). Connectivity features in the CT6 include an updated version of the brand's CUE infotainment system with a separate touch pad controller, a Wi-Fi hot spot, and Apple CarPlay. The CT6 also comes standard with a wireless phone charging pad, a nice and convenient touch for buyers with compatible smartphones.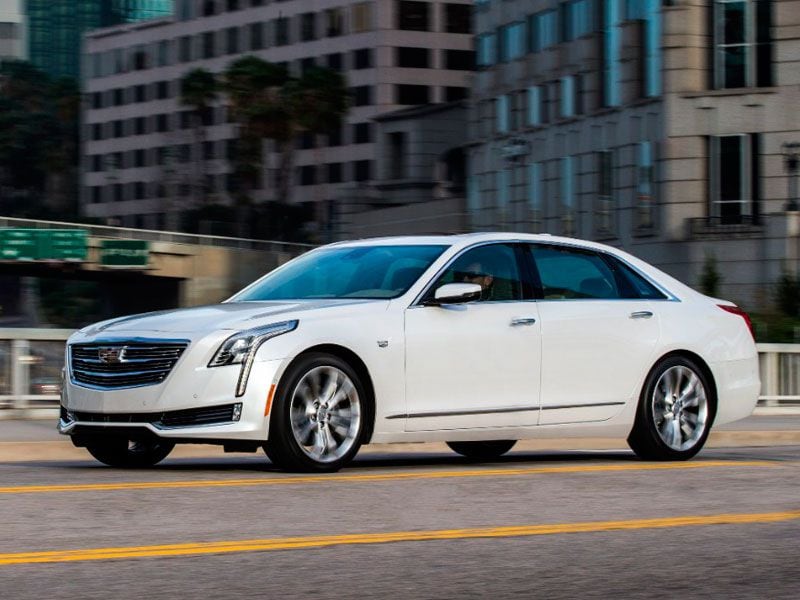 Photo by General Motors
2017 Chevrolet Cruze
Here we have another connected GM car, and it happens to be the most affordable of the bunch (by far), starting at $16,975. The Chevrolet Cruze was once perceived as not much more than a Millennial-mobile, though a full redesign for 2016 lent the compact car some much-needed sophistication, and for 2017, a new hatchback model adds functionality. The Cruze offers one of the best infotainment systems in its class, which is key to staying connected, and the base model also includes features seen on much more expensive vehicles. Buyers who want Apple CarPlay or Android Auto, Bluetooth, and a Wi-Fi hot spot should consider the Cruze. Chevy's Teen Driver safety system is included, too.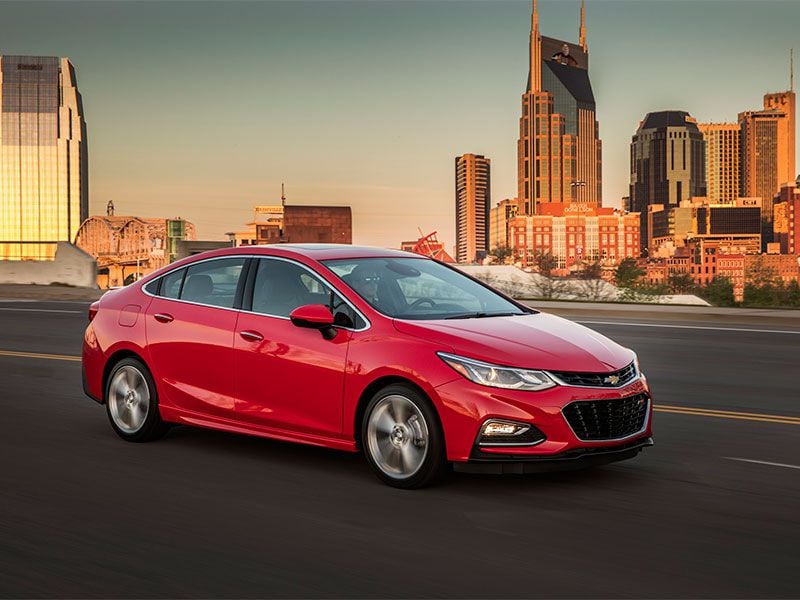 Photo by General Motors
2017 Chrysler Pacifica
Here's that exception to the "car" rule we mentioned. The all-new 2017 Chrysler Pacifica is the most connected minivan on the market, and at $28,595 it's priced at right about the middle of its class. The Pacifica's technology is controlled by Chrysler's Uconnect infotainment system, which is known for its intuitive, easy-to-learn interface. Uconnect Access, a standard feature, provides internet access and the ability to use a smartphone to unlock the car. Higher trim levels come with a built-in game system in the second row to keep kids entertained. The system also has an HDMI port for your own video game console and can play Blu-ray movies.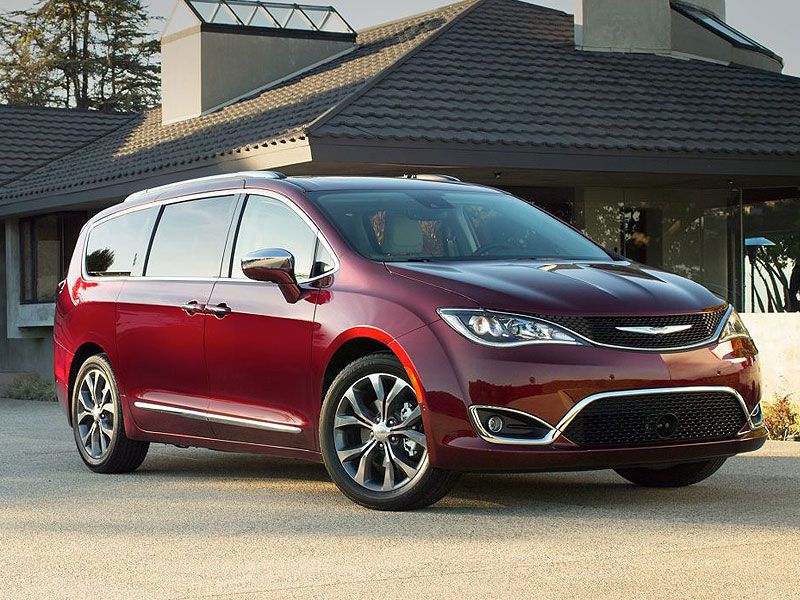 Photo by Fiat Chrysler Automobiles
2017 Honda Civic
Consider the 2017 Honda Civic another point scored for affordable and compact connected cars. Available as a coupe, a sedan, or a hatchback, this popular model starts at $18,740. The Civic has a well-insulated interior, particularly for a car in this class, which puts the emphasis squarely on the car's tech features. The base Civic doesn't have much in the way of connectivity, but at this price, an upgrade is worth it, and the next trim level up comes with an infotainment system, plus Android Auto and Apple CarPlay, for basic yet essential connection features. If you like a bit more power with your connectivity, Honda's got a solution on the way. Two high-performance models, the Civic Si and Type R, will be released sometime in 2017.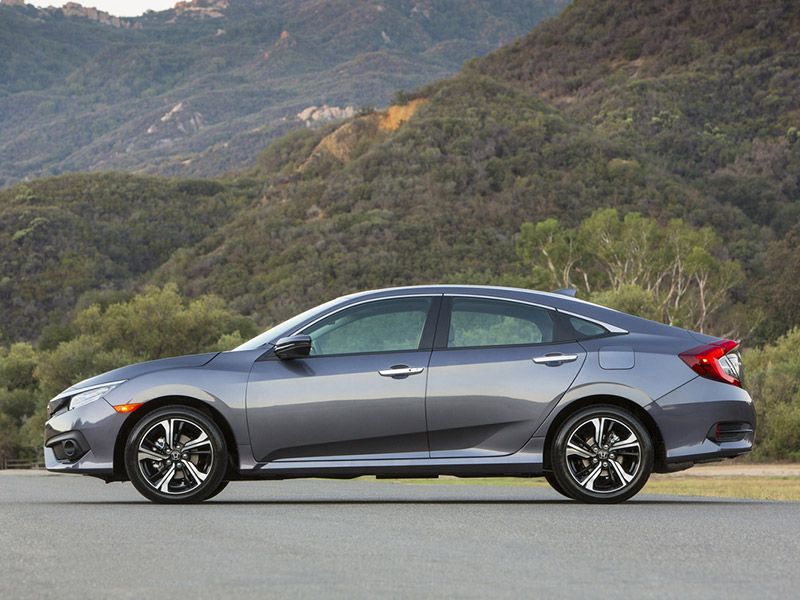 Photo by Honda
2017 Infiniti Q50
The 2017 Infiniti Q50 takes tech seriously, as evidenced by the infotainment system's two displays—an 8-inch screen and a 7-inch screen. The smaller of the two is a touchscreen, for controlling the system; the other is there just to provide information. It occupies a lot of digital real estate, and it also helps make the $33,950 Infiniti look a bit more upscale—although the system has a bit of a learning curve. This luxuriuous Infinti sedan also includes Bluetooth wireless integration, and offers lots of advanced safety systems, such as backup collision intervention.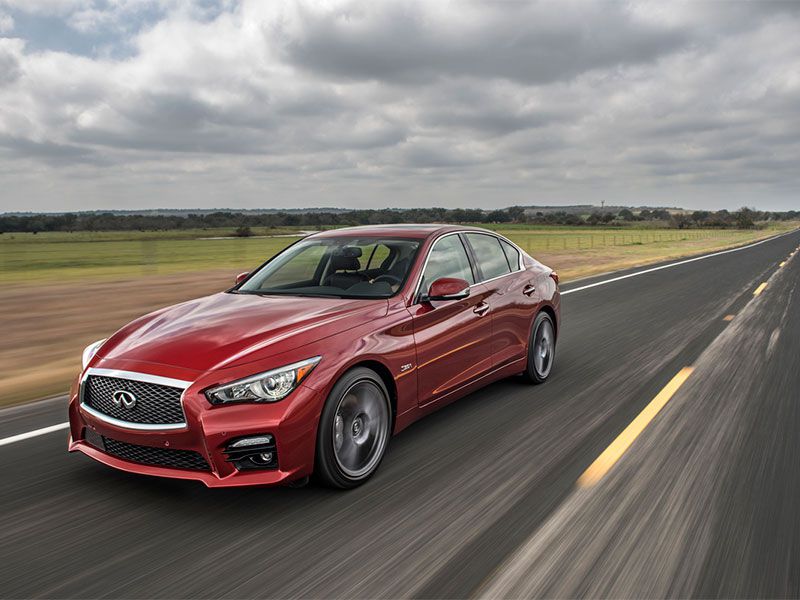 Photo by Infiniti
2017 Mercedes-Benz E-Class
The 2017 Mercedes E-Class is a well-connected car that's available as a sedan, coupe, convertible, or station wagon. This extensive lineup of luxury cars, which starts at $52,150, has an infotainment system that's a little different. The Mercedes COMAND system uses a touchpad and a control knob, but adds a new element to the mix—tiny touchpads on the steering wheel that allow the driver to input commands, making smartphone-like gestures with the thumbs. The E-Class lineup also offers a cutting-edge suite of active safety systems and advanced driver-assistance features.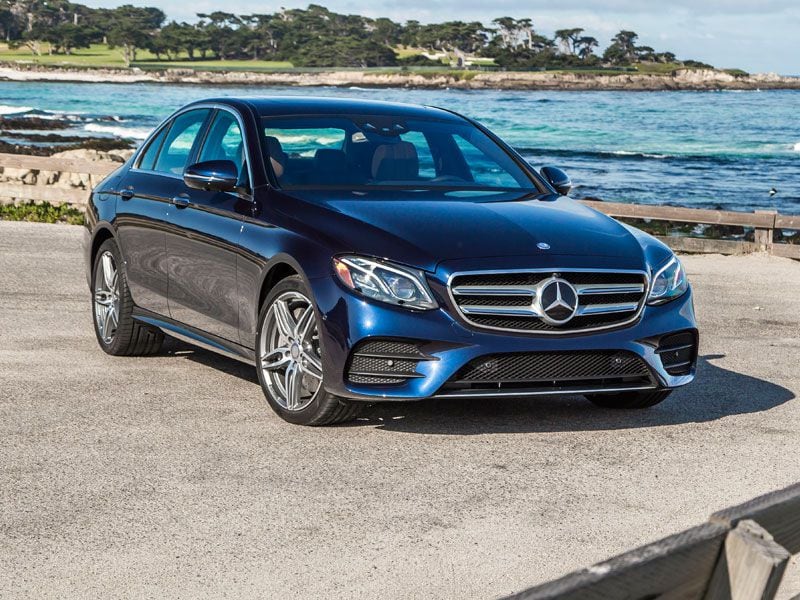 Photo by Mercedes-Benz
2017 Tesla Model S
Of the connected cars on this Autobytel list, the Tesla Model S is perhaps the most connected of all—even if its semi-autonomous driving system has had some very public problems. But there's still plenty to appreciate about the Model S. This electric luxury car starts at $66,000, but most buyers seem to want the (much more) expensive models, which provide better range and more power. The Model S's infotainment system is controlled by a 17-inch touch screen display—much larger than what you'll see in any other vehicle—that's surprisingly user-friendly, since it works with smartphone-like gestures.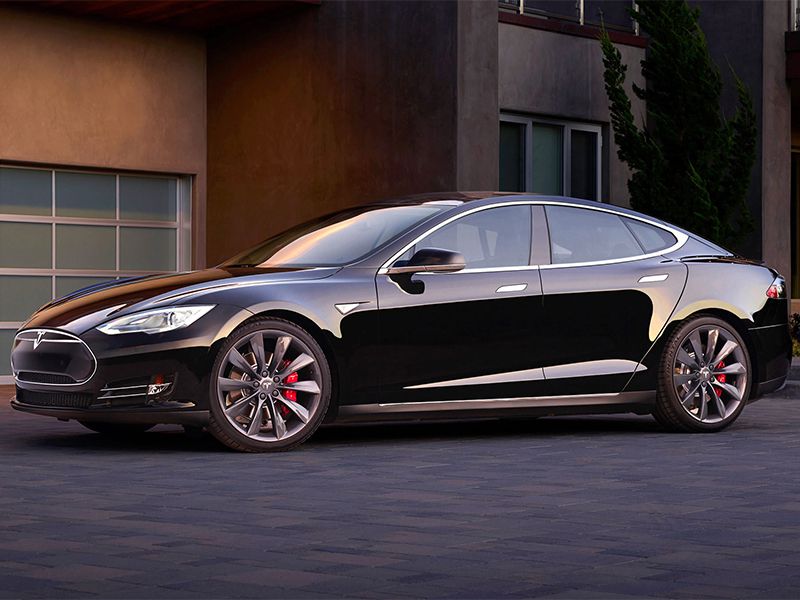 Photo by Tesla
2017 Toyota Prius
At a starting price of $24,685, the Toyota Prius is a bargain of a compact hybrid car. It's not the fanciest out there, but it's enough to satisfy most consumers. The Prius' smartphone integration system is a little awkward to use, although it's perfectly functional. Toyota's optional Entune App Suite is a smartphone app that enables the use of other smartphone apps (such as Pandora) through the infotainment system. The Prius also offers a head-up display that projects the car's speed on the windshield in front of the driver, helping to reduce distractions. For 2017, the Toyota Safety Sense suite of active safety and driver-assistance features is now standard, giving this connected hybrid car an even bigger edge over the competition.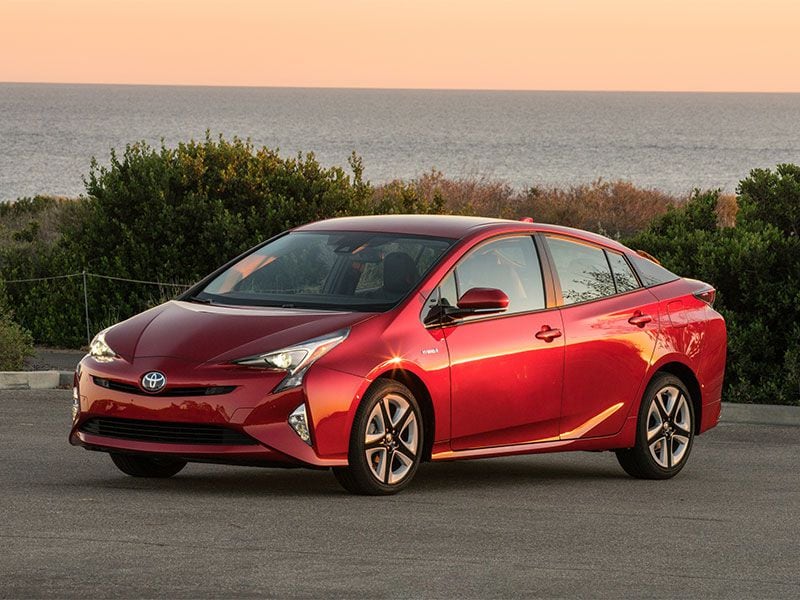 Photo by Toyota