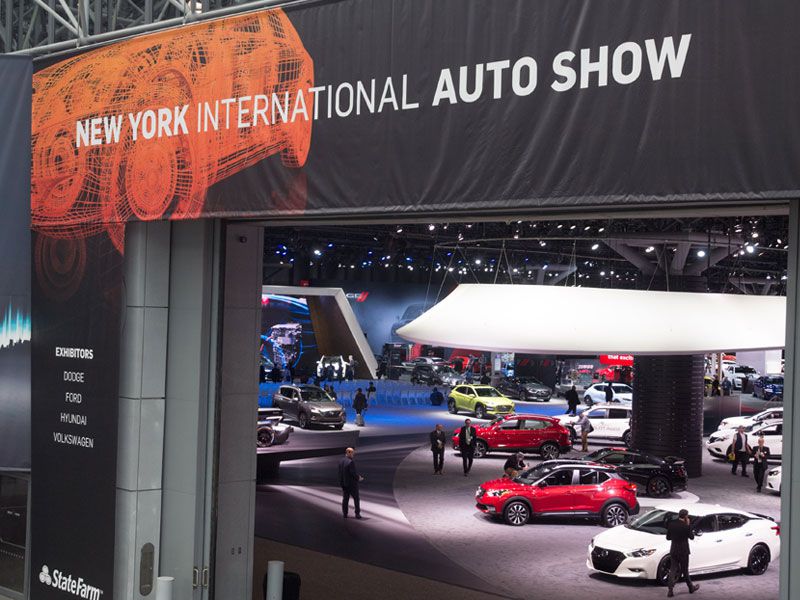 2018 New York International Auto Show showfloor ・ Photo by Newspress USA
The New York International Auto Show (NYIAS) is quickly becoming one of the most significant auto shows of the year. What used to primarily focus on luxury brands, NYIAS now features all kinds of significant automotive introductions from just about every automaker. Join us as we take a look at all the new vehicles debuted at the show, with information on what's changed and when they'll be available.
2019 Acura RDX
After showing a prototype at the 2018 Detroit Auto Show, the official production version of the 2019 RDX was unveiled in New York. The new 5-seat crossover promises better handling due to brand-new body and chassis, and with a slightly longer wheelbase and increased cargo capacity, comfort and convenience should be vastly improved as well. Also available will be the RDX A-Spec, which features extensive sport styling both inside and out, in the spirit of the Lexus' F SPORT series.
Mid-2018.
Pricing TBA.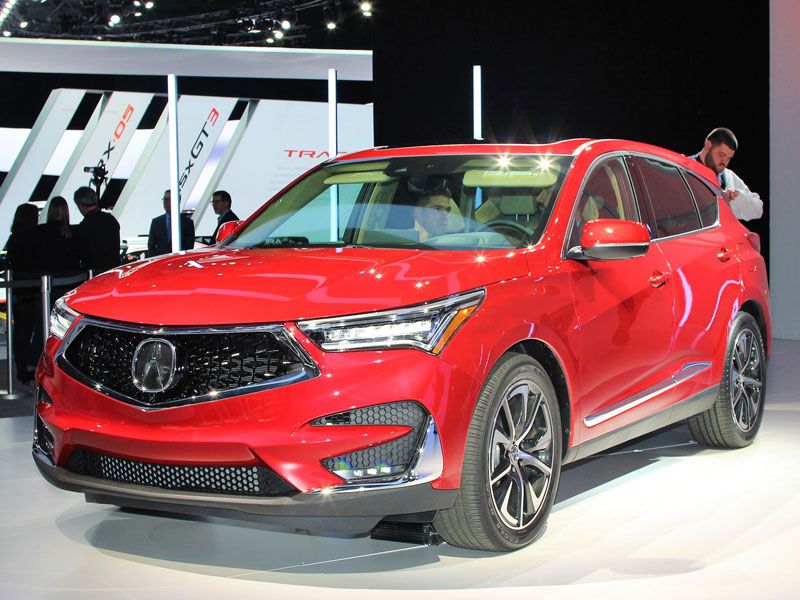 2019 Audi RS 5 Sportback
The 2019 Audi RS 5 Sportback is the first of its breed, and the fifth member of the Audi Sport lineup. It is a five-door hatchback powered by a 2.9-liter V6 bi-turbo engine that produces 444 hp and 443 lb-ft of torque. The RS 5 can go from 0-60 mph in under 4 seconds up to a top speed of 155 mph. Add the optional Dynamic plus package, and top speed is extended to 174 mph. The RS interior features sport seats with RS embossing, a flat-bottomed steering wheel wrapped in perforated leather, stainless steel pedals and other race-inspired elements. Second half of 2018. Prices to be announced.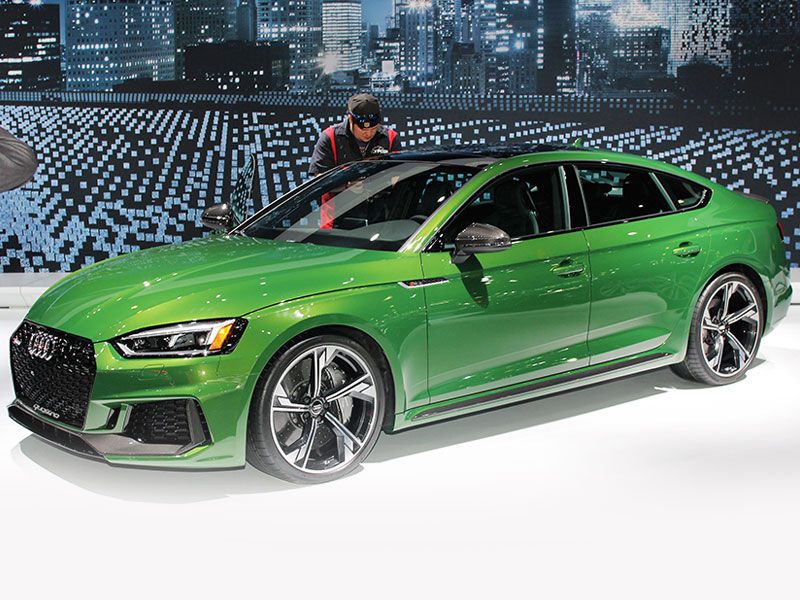 Photo by Matt Carpenter
2019 BMW X4 M40i M Performance
The BMW X4 M40i is an M Performance model SUV that delivers blistering speed and dynamic sport styling. The suspension has been updated, the aerodynamics have improved, and the six-cylinder engine yields 355 hp, accelerating from 0-60 in 4.6 seconds. New standard creature comforts include a panoramic moonroof and a 3-zone climate control system.
Summer 2018
$60,450 (plus $995 destination charge)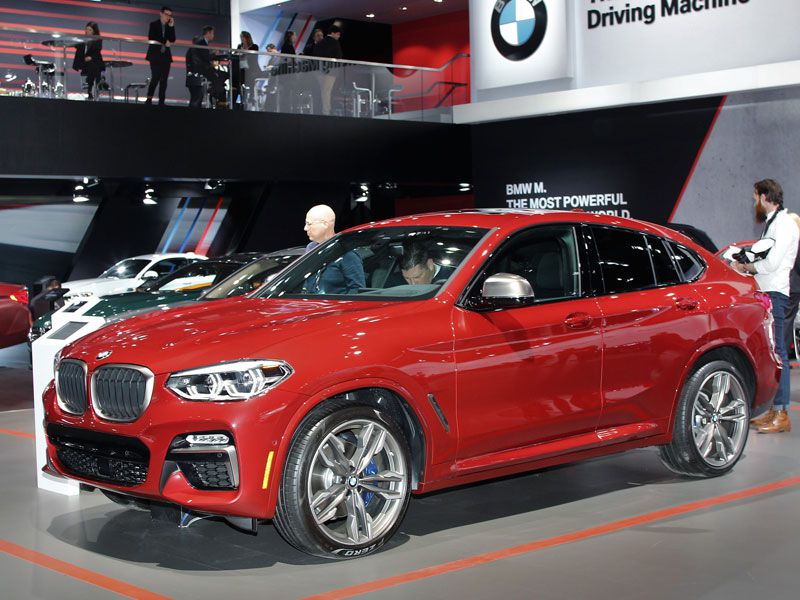 Photo by Matt Carpenter
2019 Bugatti Chiron Sport
The Chiron, already a beast by any measure, got faster and lighter. To provide more agility and superior handling, the Chiron Sport comes with a new dynamic handling package. The car's weight has been reduced by 40 lbs, which has helped it to become faster and more nimble. In terms of appearance, look for a new wheel design and new four-pipe exhaust deflector. End of the year. $3.26 million including transport, customs duties, taxes, and fees.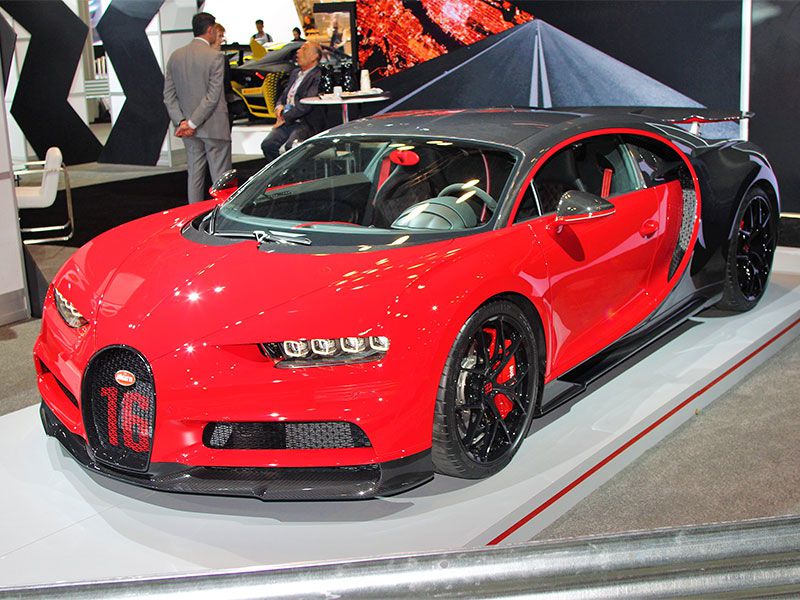 Photo by Matt Carpenter
2019 Cadillac CT6 V-Sport
The top of the line CT6 sedan finally joins the Cadillac V-Sport family. Like the CTS V-Sport, the CT6 V-Sport will boast enhanced performance chops and menacing styling to set it apart from the more traditional offerings. It gets the first engine exclusive to Cadillac in decades, which is a twin-turbo V8 with an estimated 550 hp. V-Sport styling cues include a large V mesh grille, gloss black window trim, and unique 20-inch V-Sport wheels.
TBA
Pricing is not yet available.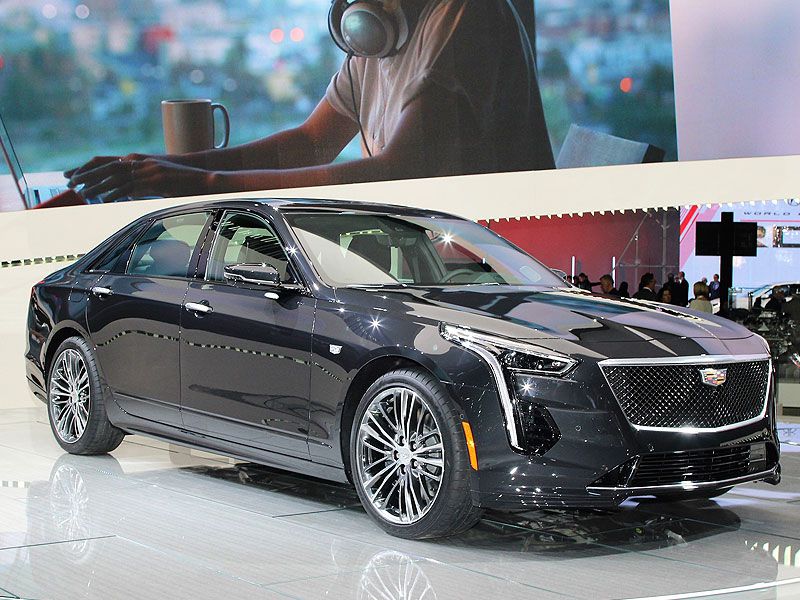 Photo by Matt Carpenter
2019 Cadillac XT4
The Cadillac XT4 is a brand-new small crossover from the brand that's poised to compete with the Infiniti QX50, Lexus NX and Lincoln MKC. Available as Luxury, Premium Luxury, and Sport models, the 5-door, 5-seater is aimed at a younger buyer. With a starting price just under $36,000 and a 2.0-liter turbo 4-cylinder engine that delivers 237 horsepower, it should raise some eyebrows – in a good way. Although it's new, it's very recognizable as a mini-version of the brand's larger SUV, the XT5.
Fall 2018
Starts at $35,790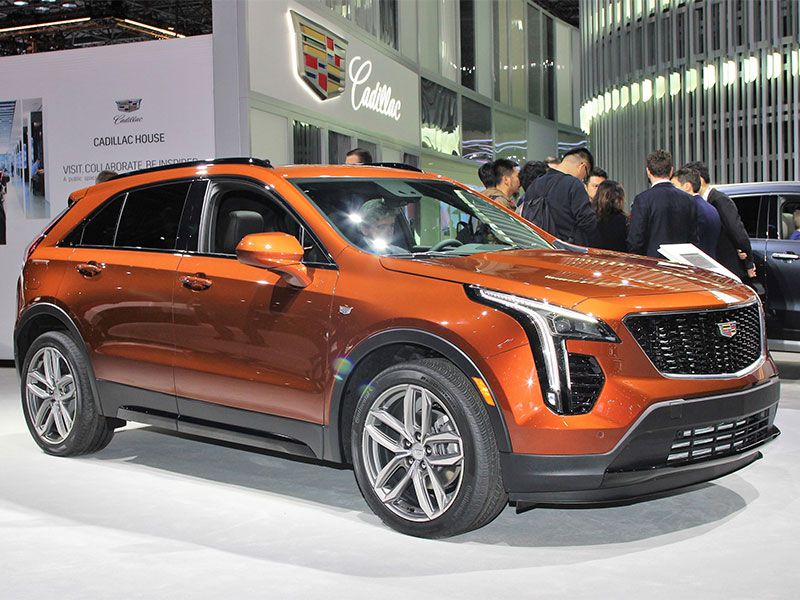 Photo by Matt Carpenter
Genesis Essentia Concept
The Genesis Essentia is a concept car, a hint toward the possible design and engineering direction for the brand. Genesis calls their design language "Athletic Elegance." The concept for an all-electric high-performance two-door luxury Gran Turismo car. is built around a carbon-fiber monocoque with a multi-motor battery-electric powertrain. In GT fashion, it has a long hood, swept-back cabin, and an abbreviated trunk. The concept also has a carbon-fiber body. Maybe never. Production vehicles take cues from concept cars, but the actual concept is often almost unrecognizable in the final product. Not for sale.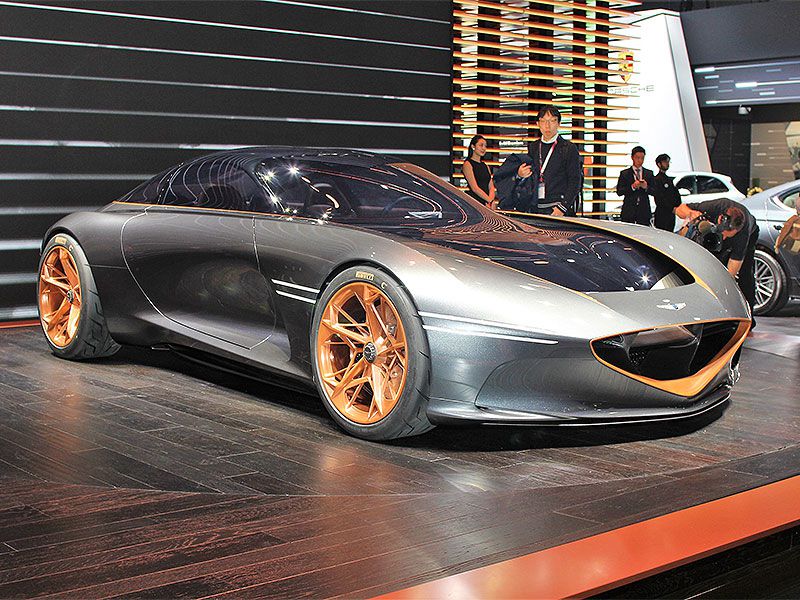 Photo by Matt Carpenter
2019 GMC Sierra AT4
The new Sierra now gets its own off-road specialty treatment with the AT4, GMC's new off-road package. Like Chevrolet's Z71 off-road package, the AT4 package will be available across GMC's lineup. Highlights will be a 2-inch suspension lift, off-road tuned Rancho monotube shock absorbers, traction select system, and a surround vision display. The AT4 will also be distinguishable by body-colored front and rear bumpers and a black chrome grille.
Fall 2018
TBA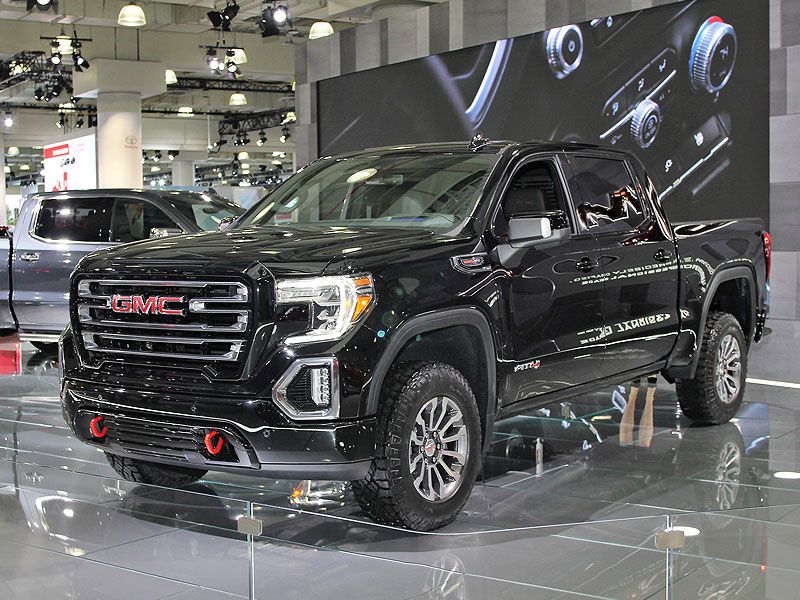 Photo by Matt Carpenter
2019 Honda Insight
Honda has used the Insight name for a gasoline-electric hybrid vehicle before, but the 2019 Honda Insight is an all-new compact sedan with a gasoline-electric two-motor hybrid system. Slotted into the Honda lineup between Civic and Accord, the new Insight is capable of delivering up to 55 mpg in the city. The Insight has a lovely exterior design, adopting the coupe-like swooping roofline and fastback look; It's a car that advertises its style, not its fuel efficiency. Early summer. Pricing has not yet been announced but should start between $18,840 and $23,570 (starting prices for Civic and Accord).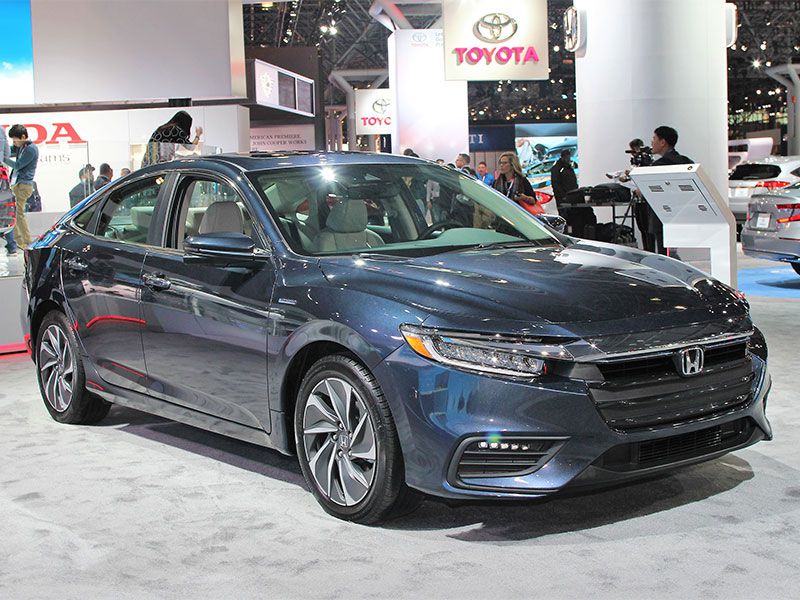 Photo by Matt Carpenter
2019 Hyundai Kona Electric
The 2019 Hyundai Kona Electric is a battery-electric-powered crossover vehicle (BEV), and it's all new. It fits into the Hyundai design scheme, with modern and assertive lines. Since the BEV doesn't require a front grille for radiator cooling, the face of the Kona Electric is unique and striking. The big story is a claimed 250-mile range from its 201-hp, 291 lb-ft of torque electric motor, drawing from a 64-kWh lithium-ion battery. Fourth quarter 2018, starting in California and spreading to ZEV-focused states in the western and northeastern US. Pricing has yet to be announced.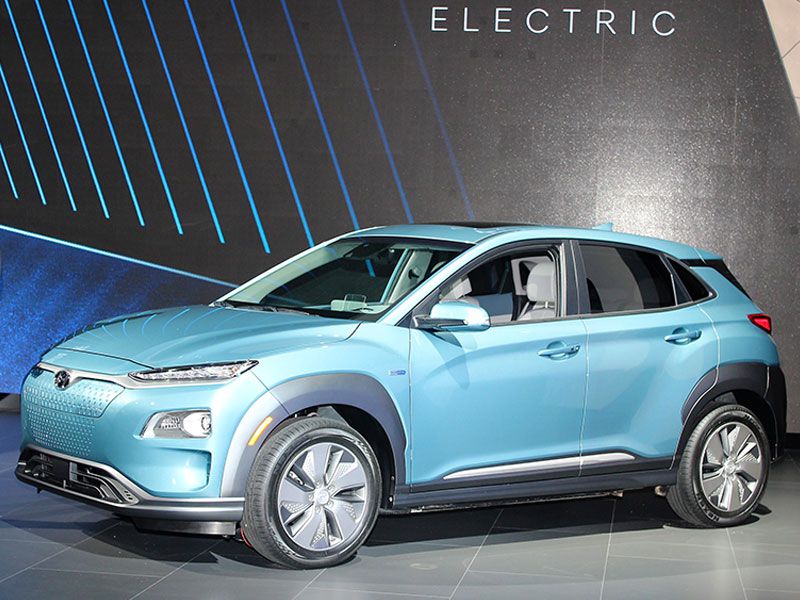 Photo by Matt Carpenter