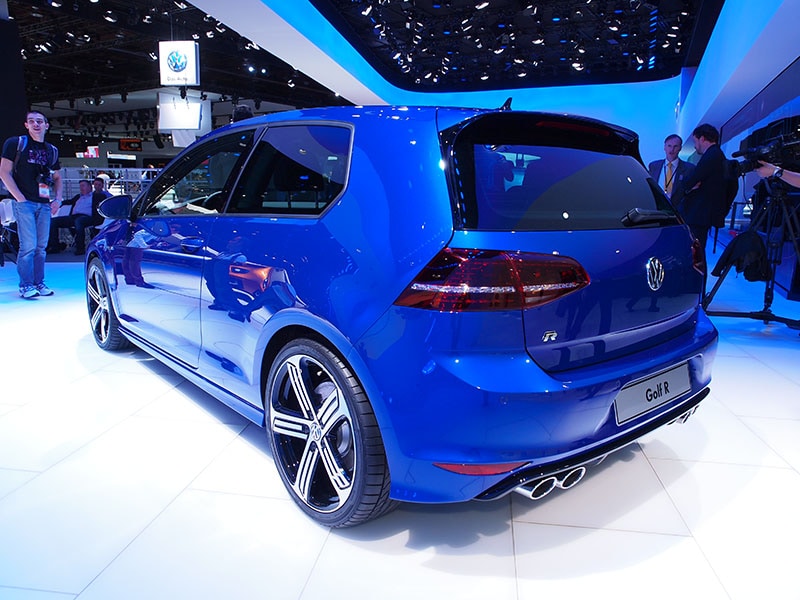 2015 volkswagen golf r
Compact cars have seen some big improvements in recent years, and today's next-gen models now offer the same kind of technologies and comforts that used to be reserved for the bigger segments—only with more nimble proportions and higher EPA grades. This batch of small-car stars has a particularly Teutonic taste, too, with entries from Audi, VW, BMW, MINI and Smart all among the highlights.
Unveiled in Detroit: 2015 Mini John Cooper Works Hardtop
The new hi-po flagship of the brand, the 2015 MINI JCW Hardtop has been re-tuned by the John Cooper Works performance-engineering division to offer the most powerful engine ever plugged into a serial production model. It's a 2.0-liter, four-cylinder TwinPower turbo that can release 231 hp and 236 lb.-ft. of torque, and that powerplant is matched by revised suspension and braking systems to ensure drivers enjoy an "authentic race feeling" in the car—and up to a 20-percent jump in fuel-economy (in Euro testing).
Among the many new features for the 2015 MINI JCW Hardtop will be Brembo brakes, a full range of "MINI Connected" technologies, camera-based safety measures like front collision warning and automatic braking, bolder exterior colors, Harman Kardon audio, and a fresh batch of JCW design enhancements.
This spring.
The MSRP of the 2015 MINI JCW Hardtop starts at $30,600.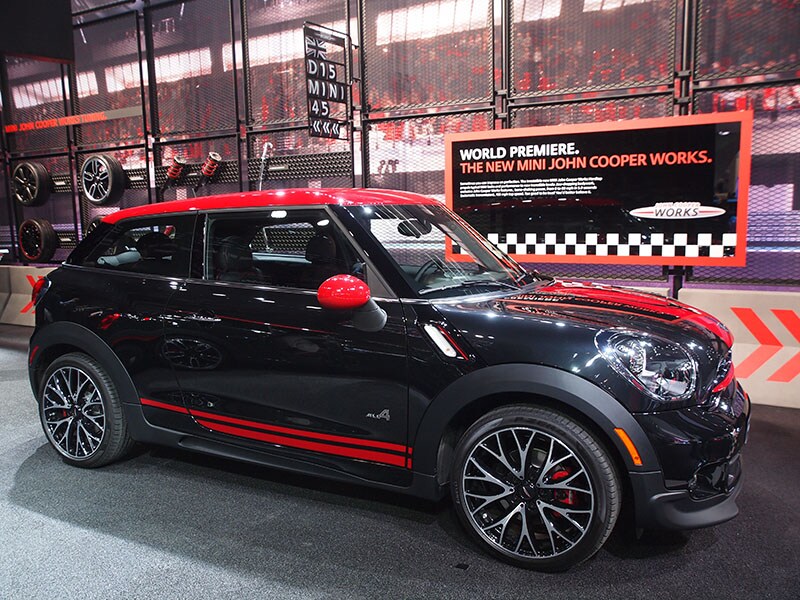 2015 Volkswagen Golf
Completely redesigned for the new selling season, the 2015 Volkswagen Golf celebrates the seventh generation of a small-car icon with what's clearly one of the nameplate's best iterations ever. It's one of the broadest, too, thanks to a selection of turbo, turbodiesel and electric powertrains that can satisfy an equally wide range of driving styles. The standard model also is bigger, lighter, more powerful and more efficient than the outgoing version, while serving up cutting-edge technologies like forward collision warning, front and rear parking-assistance systems, Fender premium audio, a full portfolio of VW Car-Net connected services, Climatronic automatic air conditioning and 3D navigation.
The 2015 Volkswagen Golf is a brand-new vehicle.
Now.
Pricing ranges from a starting point of $17,995 for the standard Golf up to $35,445 for the e-Golf—which will, however, qualify for the $7,500 federal tax incentive for EVs.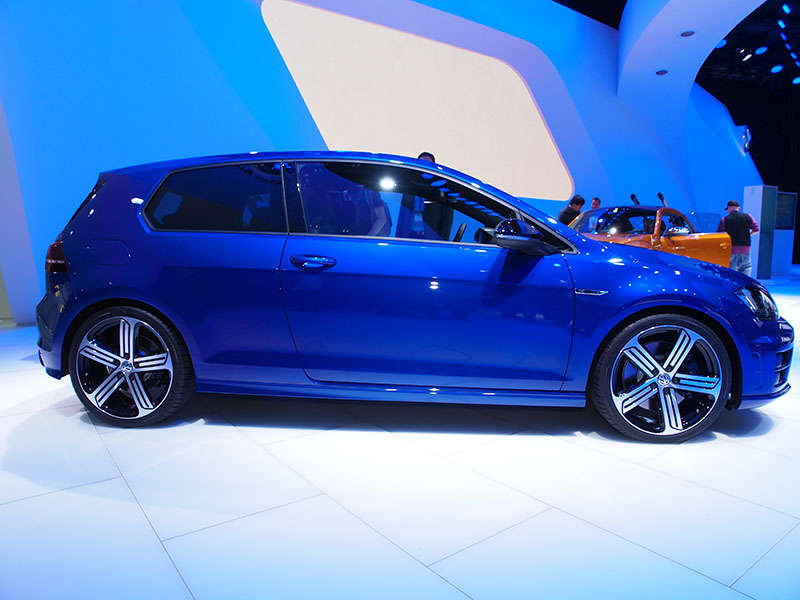 2015 Volkswagen Jetta
The 2015 Volkswagen Jetta is VW's compact contender for the sedan set, offering a four-door alternative to the Golf as well as a more U.S.-centric approach to the driving experience. For 2015 specifically, the Jetta will benefit from a number of upgrades designed to keep it competitive in a very challenging segment, highlighted by a limited-edition "Sport" model with a revised suspension, nav system, rearview camera, rear spoiler and 1.8-liter turbo engine.
The 2015 Volkswagen Jetta has been refreshed inside and out, while also adding some key driver-assistance features and an upgraded lighting system with LED daytime running lamps; the Jetta TDI also gains a new, more efficient diesel engine that can achieve 46 mpg in highway driving.
The 2015 Volkswagen Jetta is at dealerships now.
How much? The entry-level Jetta opens at $17,325.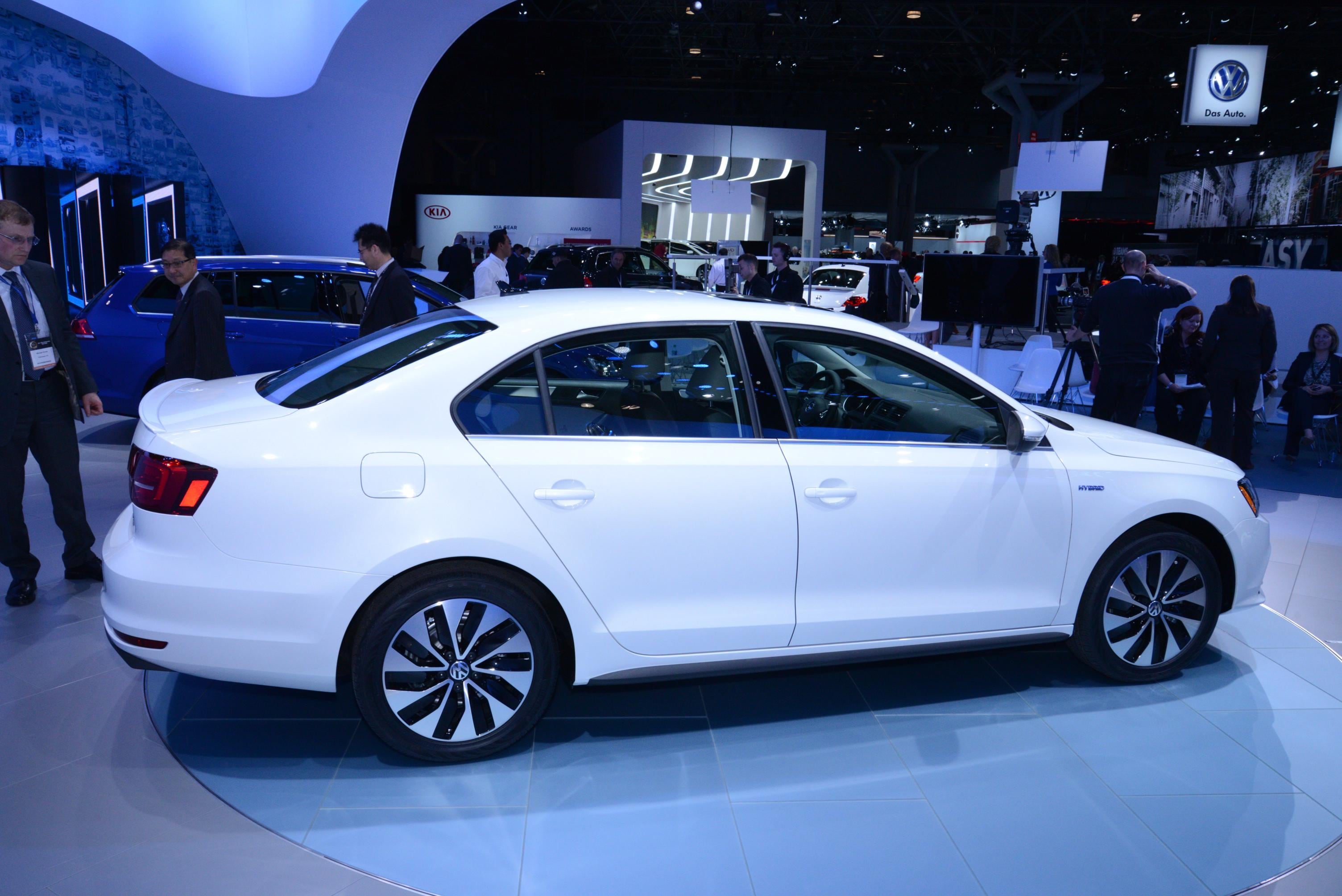 2015 Audi A3
A key reason that Audi closed out 2014 with its fifth straight year and 48th straight month of record sales, the 2015 Audi A3 is a premium pioneer in the compact segment, setting the pace with a typically Audi-esque range of benefits, from quattor all-wheel-drive to the latest Audi "connect" technology to a high-efficiency TDI diesel engine. Then, the four-rings brand is expected to launch "Sportback" models some time in the second half of this year (readers also can see below for more on these latter A3s).
Everything.
Sales already have begun for the 2015 Audi A3.
The 2015 Audi A3 range is priced as follows: Audi A3 sedan, $29,900; Audi S3 performance sedan, $41,100; and Audi A3 Cabriolet, $35,600. The MSRP of the A3 Sportbacks will be revealed closer to their on-sale dates.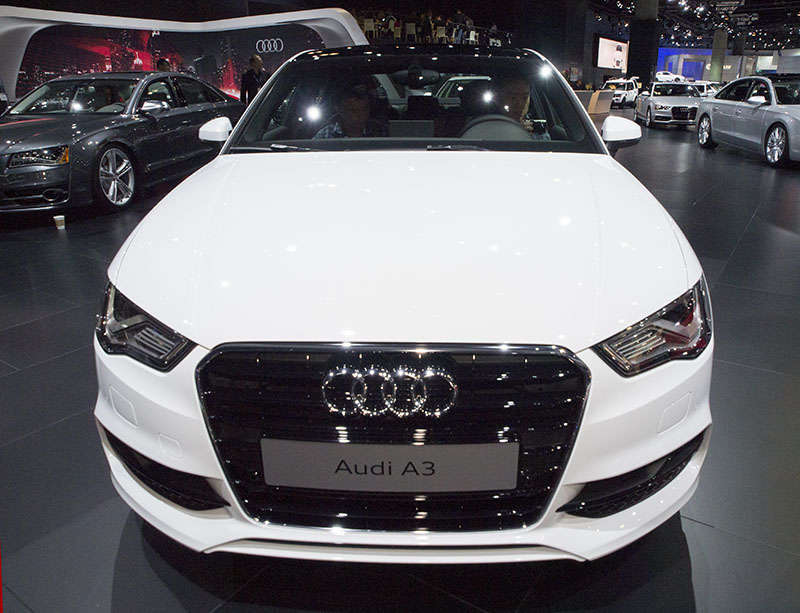 2015 Volkswagen Golf R
Packing 290 hp and 280 lb.-ft. of torque, the 2015 Volkswagen Golf R hops into the Motor City with the ability to run from 0-60 in fewer than 5 seconds, yet is still green enough to achieve up to 31 mpg highway.
The very nature of the beast, since the 2015 Volkswagen Golf R represents the most powerful production Golf ever sold to the North American public, with heart-pounding output that's complemented by 4Motion all-wheel drive, an XDS cross differential lock, GTI Performance brakes, a lowered ride height and the second-gen VW DCC adaptive damping setup. And yes, both manual and dual-clutch automatic transmissions are available.
A pre-order program for the 2015 Volkswagen Golf R launched on January 8, with models expected to become available during the first quarter of the year.
$36,595.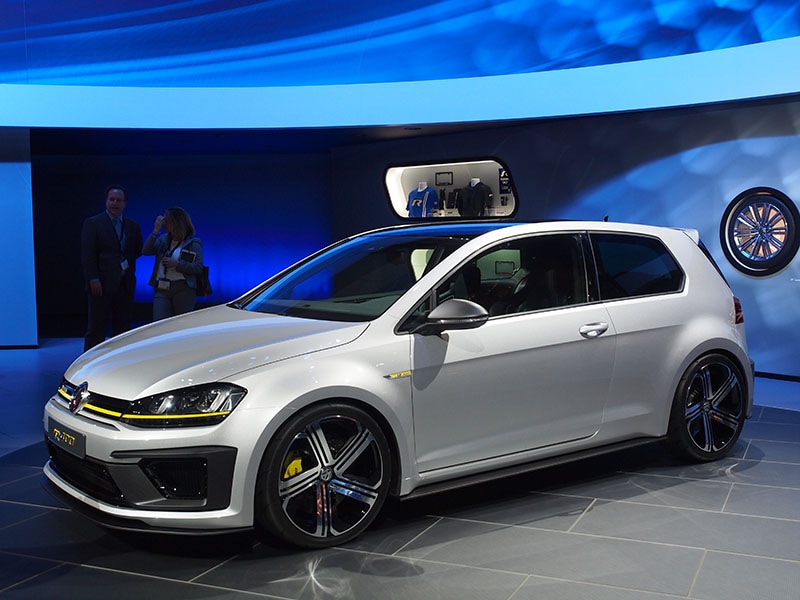 2015 Versa Note SR
The 2015 Versa Note SR brings a dash of hot-hatch excitement to what's already the best-selling subcompact family in the country, although folks should know that, despite the dynamic design upgrade, the new model does not offer a corresponding performance upgrade.On the other hand, it does enjoy fuel-economy marks of 31 mpg city/40 mpg highway/35 mpg combined.
The 2015 Versa Note SR shows off exclusive style upgrades to both the front grille and fascia as well as the rear fascia, and those enhancements are complemented by a dark headlight treatment, 16-inch aluminum-alloy wheels, body-color side sills, a rear spoiler, "sport" seat trim, a leather-wrapped steering wheel and exterior mirror-mounted turn signals.
Now.
With an MSRP of $17,530, the well-equipped 2015 Nissan Versa Note SR requires a $3,250 premium as compared to the standard Versa Note.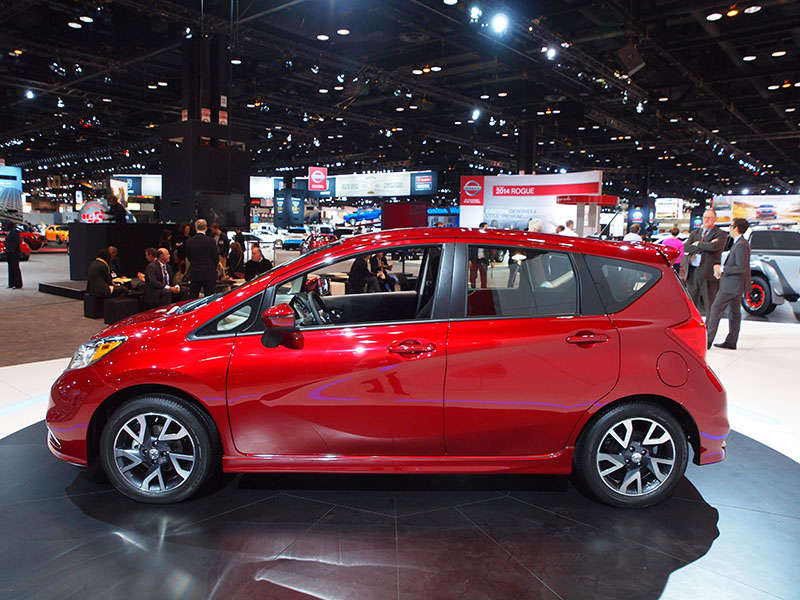 2016 Smart ForTwo
Finally ready to embrace the latest next-gen technologies, the 2016 smart fortwo manages to fit even more content and cabin space into its city-sized dimensions, which now wrap around a more powerful, 88-hp three-cylinder engine; active safety measures like Crosswind Assist, forward collision warning and a lane-keeping system; infotainment upgrades like Bluetooth connectivity, smartphone integration and JBL audio; and both manual and dual-clutch automatic transmissions. Additionally, while its modernized design includes a wider track for a more stable driving experience, engineers also have reduced its turning circle to a mere 22.8 feet.
The 2016 Smart ForTwo launches its third generation as an all-new vehicle.
Sales of the 2016 Smart ForTwo are slated to begin later this year.
To be determined, but the European models will start from $11,000 euros (about $13,015).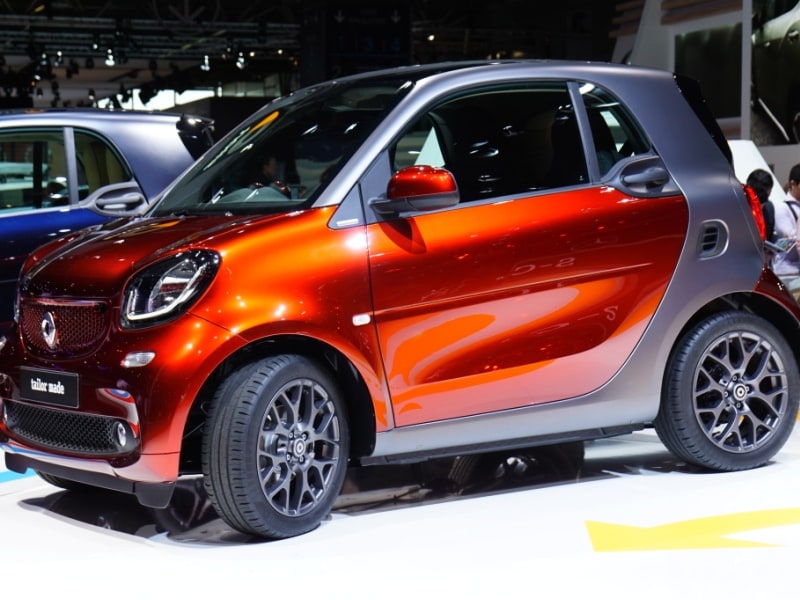 2015 MINI Cooper 5-Door
The 2015 MINI Cooper 5-Door will launch in this country as the MINI Hardtop 4-Door, but whatever you call it, the car will showcase the kind of fun-to-drive characteristics and impeccable handling as the two-door version. Of course, that's because it also showcases the same peppy Twinpower turbo engine as its smaller sibling, with both squeezing 134 hp and 162 lb.ft. of torque from just three cylinders and 1.5 liters of displacement.
Compared to the newest MINI, this model adds two more doors as well as notable jumps in cargo and occupant space. In fact, along with a 30 percent larger luggage compartment than the two-door model, the 4-Door provide up to 40.7 cubic feet of cargo space with its rear seats folded.
The 2015 MINI Hardtop 4-Door is scheduled to go on sale this month.
$21,700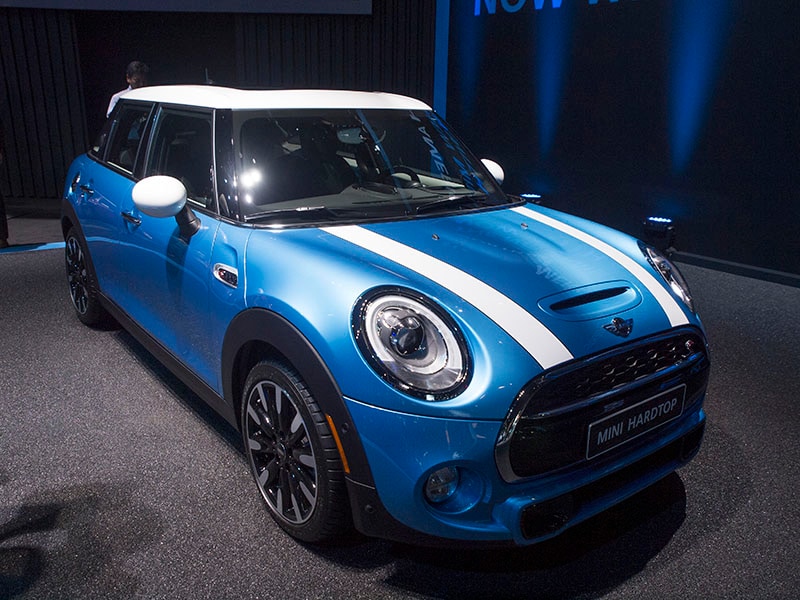 2015 Toyota Corolla
The 11th-generation model of the best-selling nameplate of all time—that would be the 2015 Toyota Corolla—entered the marketplace late last year after a complete overhaul. The models now boast some of the highest EPA marks in the segment, with the Corolla LE Eco able to reach 42 mpg highway. In fact, that makes the 2015 Toyota Corolla the most fuel-efficient version ever, and yet it's the roomiest, too, boasting the most rear-seat legroom in its class; the rival Ford Focus offers just 33.2 inches. Also as quiet as it is spacious, that cabin can then be configured with upscale features like Entune Premium Audio, navigation, Toyota's App Suite system, Bluetooth technology, an integrated backup camera and more.
Pretty much everything.
Now.
The starting MSRP for the 2015 Toyota Corolla is $16,900.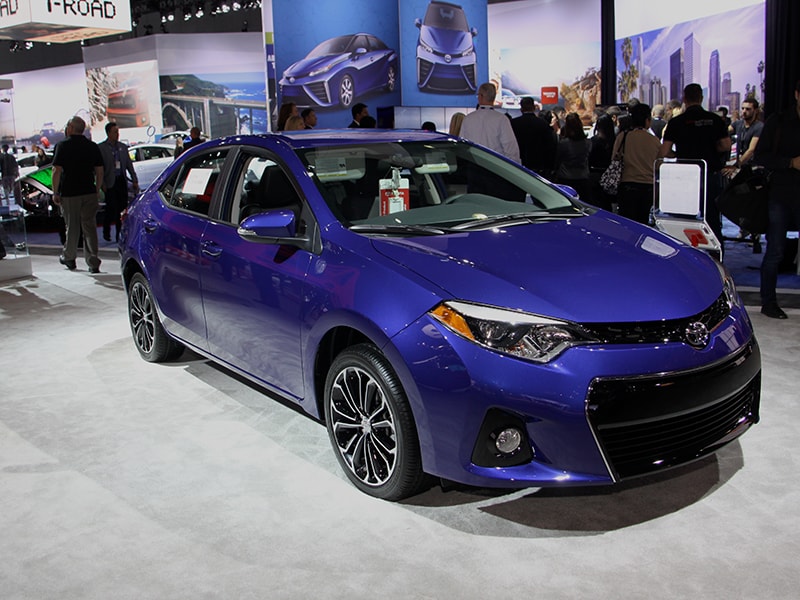 2015 BMW i3
The 2015 BMW i3 represents a new kind of ultimate driving machine, with a strikingly modern design and a choice of two sophisticated electric powertrains. The 2015 BMW i3 electric vehicle provides up to 81 miles of all-electric driving range and can be fully charged in about 3.5 hours, and it also can be equipped with a two-cylinder gas engine that extends that mark to about 150 miles (without affecting charging times). And to be sure, the brand promises "driving dynamics worthy of a BMW," along with the latest BMW ConnectedDrive technology services.
All new the 2015 BMW i3 is.
The i3 EV is currently at dealerships.
With its range-extending gasoline engine: $46,250; without: $42,400; and that's before any federal or local incentives in both cases.