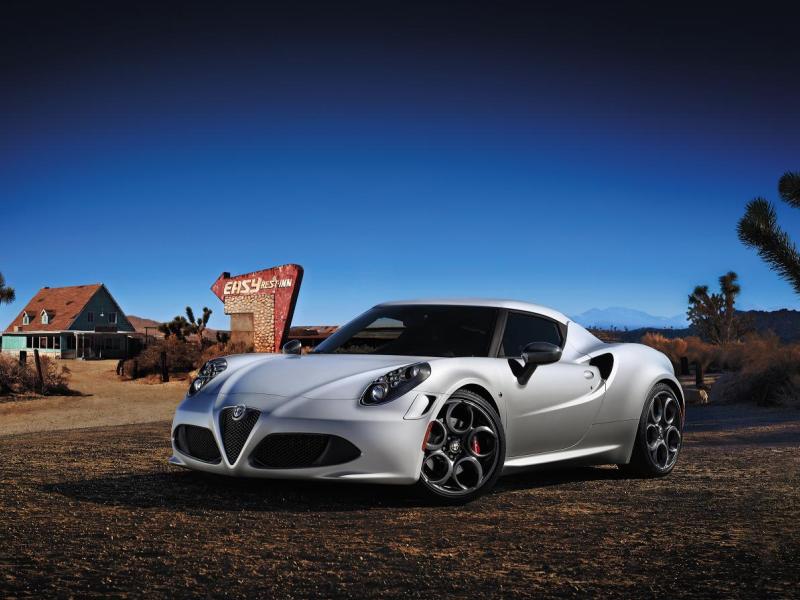 One day, you'll realize you probably have more days behind you than in front of you. This is when some consider buying a car simply because it's fun. Yeah, Ferraris and Lamborghinis come to mind, but mid-life crisis cars like those could mean choosing between the car and a second home. Happily, you don't need to go six figures to get a reasonably exotic and fun car these days. If you can slice up to $65,000 out of your nest egg, here's a list of popular mid life crisis cars in which you can glide off into your sunset years.
Alfa Romeo 4C
Got a hankering for a hand-built mid-engined Italian exotic sports car? Longing for the sound of a snarling turbocharged engine whirling away right behind your shoulder blades? Looking for a lightweight carbon fiber tub, prescient steering, sublime handling, and brick wall braking—in other words, a thinly disguised racing machine? Need it to wear a pedigreed badge from one of the most successful names in motorsports history? Desiring of concept car styling with eye arresting proportions and a highly purposeful stance? Are rarity and exclusivity must-haves for you too? You just described the Alfa Romeo 4C. Pricing starts at $53,900.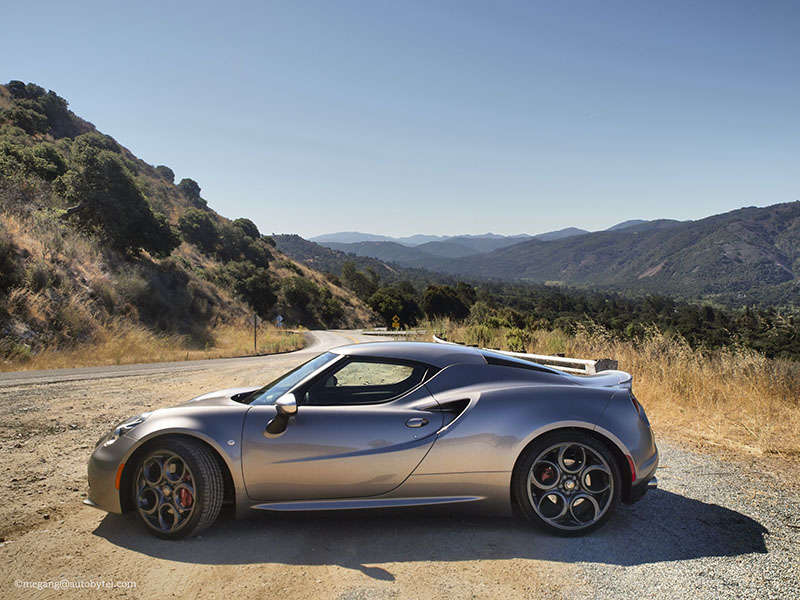 Photo by Megan Green
Audi S5
If your proclivities lean more toward a powerful German coupe with handsome styling, an aristocratic flair, and an extraordinary degree of sex appeal, the Audi S5 Coupe will probably tickle your fancy. Few cars out there are as good looking—let alone better looking. The Audi's supercharged V6 is good for 333 horsepower, 325 ft-lbs of torque and is capable of propelling the beautiful coupe to 60 in less than five seconds. Top speed is limited to 155 miles per hour. The S5 pushes all your mid-life crisis buttons and looks perfectly respectable in the process. Pricing starts at $52,500.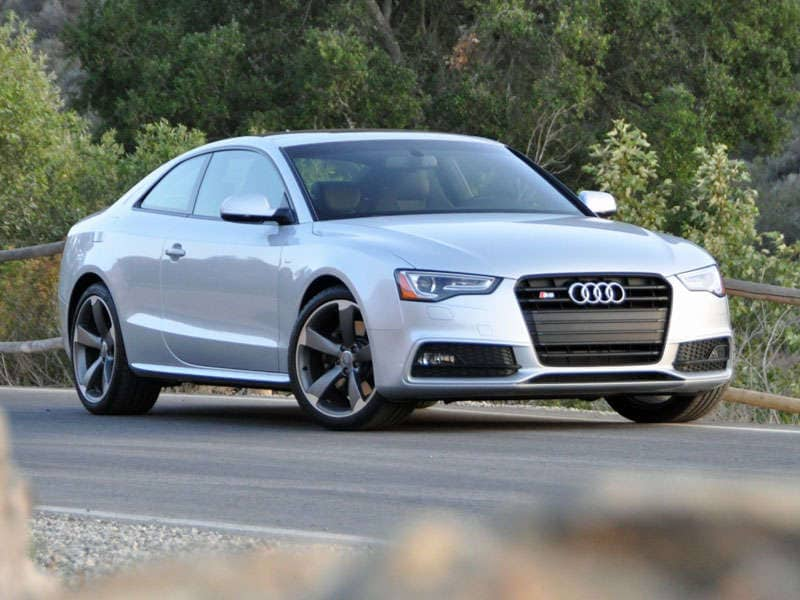 Photo by Christian Wardlaw
Audi TTS
Let's say you want something totally unique and distinctive. You're looking for sexy, but just a bit on the conventional side. Audi's TTS fills the bill. The instantly iconic shape of the original Audi TT has evolved over the years, but it still looks like nothing else. Further, you'll get a sophisticated 265-horsepower turbocharged engine good for 258 ft-lbs of torque and a zero to 60 of less than five seconds. Top speed here is limited to 155 miles per hour. With all of that—plus Quattro all-wheel drive working for you, how can you miss? Pricing starts at $48,700.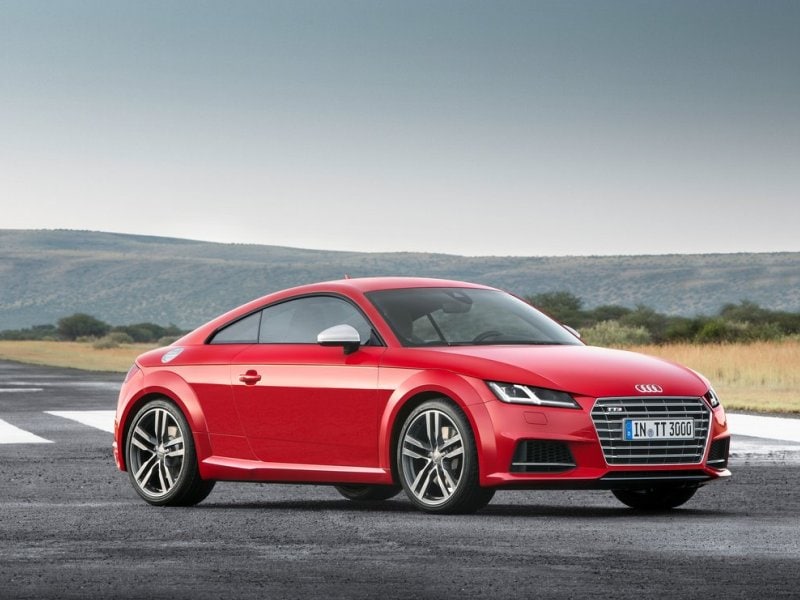 BMW Z4 sDrive35i
There are days you'll want a roadster, and there are days you'll need a coupe. If you're doing your sunset years in Arizona or Florida, you'll want the joy of a convertible when the sun is low, and need the protection of a fixed roof when the sun is high. BMW's Z4 combines long nose/short rear deck styling with a silky 300-horsepower turbocharged inline six-cylinder engine. There's just enough room for you and your favorite person, plus a folding hardtop for the protection only a steel roof can provide. BMW Z4 sDrive35i pricing starts at $56,950.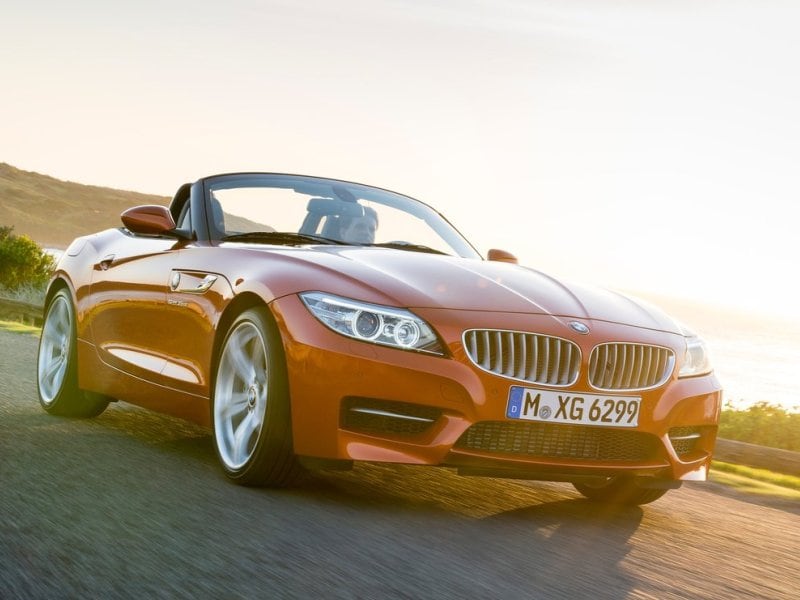 Chevrolet Camaro ZL1 Convertible
Imagine a warm summer afternoon, the top is down and you're motoring sublimely through the shopping district. Catching the reflection of sensuously curvaceous lines in the windows as you pass, a fat V8 is burbling contentedly in your wake. Life is good. You've always wanted a convertible Camaro. You always knew it'd be special, but the Camaro ZL1 is even more so. The 6.2-liter V8 makes 580 horsepower and 556 ft-lbs of torque, which makes it the most powerful convertible pony car. The run to 60 takes just over four seconds, and the ZL1 has the suspension to handle just as well as it goes. Pricing starts at $60,705.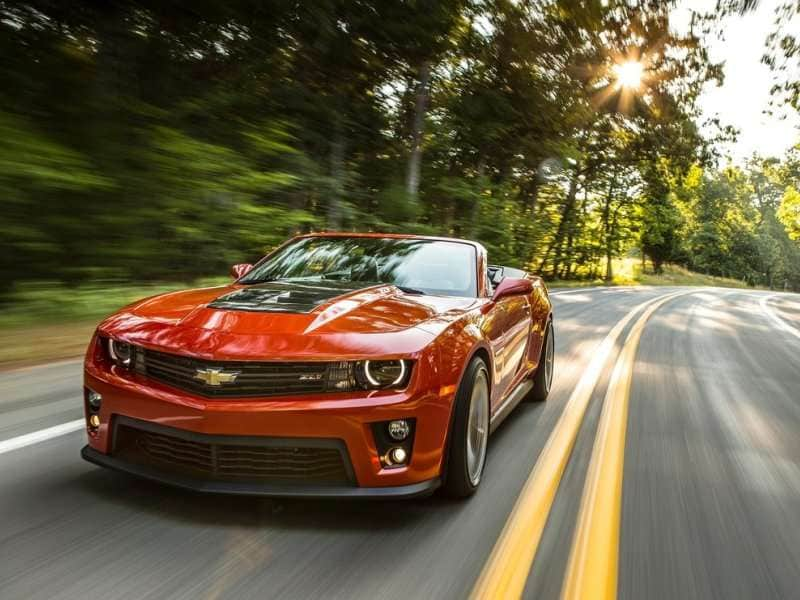 Photo by General Motors
Chevrolet Corvette Stingray
Our task here is to describe in 100 words why the cars listed are wonderful mid-life crisis cars. But in this context, when you've said "Chevrolet Corvette Stingray", what else is there to say? So we'll say it again, Chevrolet Corvette Stingray; and again, Chevrolet Corvette Stingray; and again, Chevrolet Corvette Stingray; and again, Chevrolet Corvette Stingray; and again, Chevrolet Corvette Stingray; and again, Chevrolet Corvette Stingray; and again, Chevrolet Corvette Stingray; and again, Chevrolet Corvette Stingray; and again, Chevrolet Corvette Stingray; and again, Chevrolet Corvette Stingray; and again, Chevrolet Corvette Stingray. Pricing starts at $54,000; yes, Chevrolet Corvette Stingray.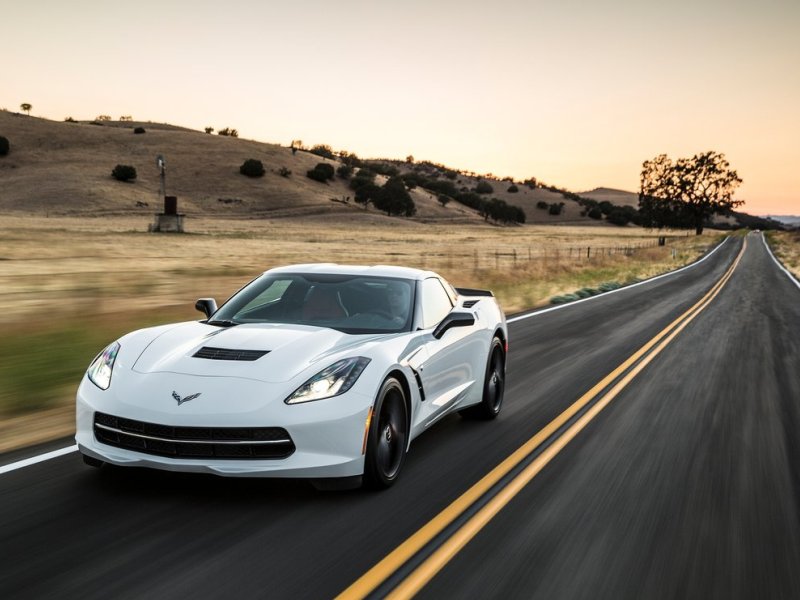 Dodge Challenger SRT Hellcat
Fans of American pony cars practically swear fealty to Chevy, Dodge, or Ford; such is their pride in their chosen brand. So you know there's always bragging going on. While the Camaro ZL1 is definitely a big dog with its 580-horsepower supercharged V8, the Shelby GT500 Mustang with its 662-horsepower supercharged V8 had been enjoying lead dog status. Well, for 2015, Dodge has them sniffing tailpipes. Unless you've been buried in a cave on the Galapagos Islands, you know by now the 2015 Challenger SRT Hellcat rocks a pavement wrinkling 707 horsepower. Pricing starts at $59,995.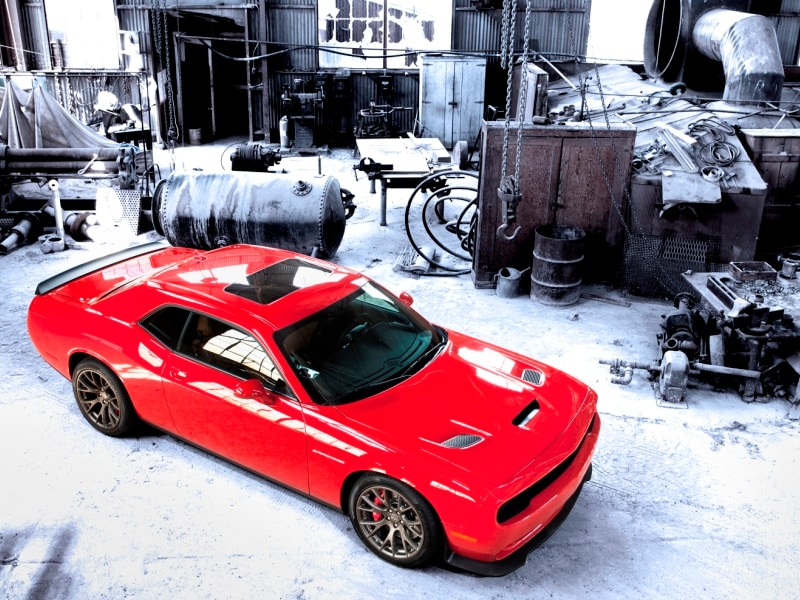 Ford Mustang GT Convertible
Going out of production just in time to avoid being shamed by the Challenger SRT Hellcat, the GT500 Mustang is not being offered for the 2015 model year. Still, the all-new 2015 Ford Mustang is the best version of the car from which the pony car genre takes its name ever produced. Why? For the first time in the history of the model, the Ford Mustang GT finally offers an independent rear suspension system. This, in concert with its free-winding 435-horsepower, 5.0-liter V8, makes the 2015 Mustang GT possibly the most sophisticated pony car ever offered. Pricing starts at $41,600.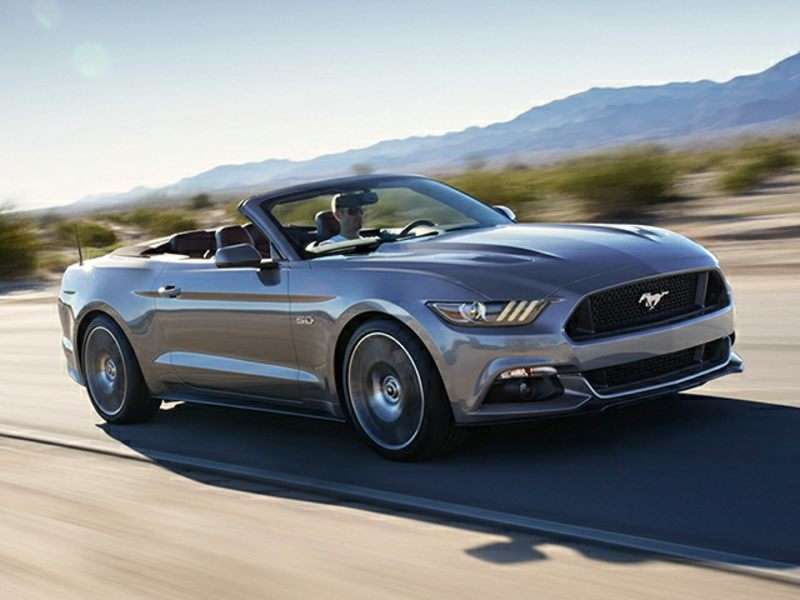 Jeep Wrangler Unlimited Rubicon Hardrock
And now, something completely different. Few automobiles say "youthful exuberance" the way the Jeep Wrangler does. What's more, Wrangler has a pedigree going all the way back to the 1940s. Only one other model can be said to have evolved over time in the same fashion as the venerable Jeep Wrangler, and that's the highly vaunted Porsche 911. Which—by the way—the Jeep preceded by more than 20 years. When it comes to Jeep Wranglers, the one is the Unlimited Rubicon Hardrock. Outfitted to go absolutely anywhere; Wrangler URH is positively peerless. Pricing starts at $39,895.
Lexus RC F
Over the last several years, Lexus has been working hard to cultivate a performance portfolio. The latest shot fired in that quest for velocity is an unquestionably lovely coupe in the form of the new Lexus RC F. Now, we'll be the first to admit its spindle grille treatment is on the polarizing side, but the profile of this new 467-horsepower Lexus is more than strong enough to overcome any objections raised by the grille. Based as it is on elements of all the best performing Lexus models, RC F offers a thoroughly engaging driving experience. Pricing starts at $62,400.