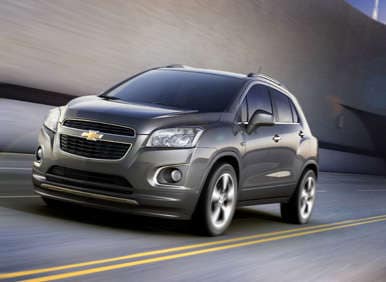 Although the upcoming Chevy Trax small SUV isn't (yet) scheduled to show up in the U.S., it's already getting closer to the brand's home market: Soon after the Trax story first broke, announcing the new vehicle would be introduced at this fall's Paris Motor Show, Chevrolet updated its release to include Canada as among the first countries in line to get it.
Details are sparse at this point, but the new Trax will hold up to five and provide best-in-class cargo space, and, according to Mary Barra, GM's senior vice president of Product Development: "The Trax provides Chevrolet an entry into a growing small SUV segment and delivers the flexibility, great fuel economy and car-like handling that urban explorers around the world require. After a record sales year in 2011 and a record first quarter, Chevrolet continues to meet customer needs by expanding its portfolio with strong new entries."
Is the Trax on track for the U.S.?
And while it wouldn't be the first next-gen Chevrolet to be offered globally but not in this country—the reinvented Chevy TrailBlazer and Chevrolet Cruze station wagon are other examples—a few points are worth noting:
For one thing, while the party line from the brand is that, "Because of the strong position of the Equinox, there are no plans to introduce the Trax in the U.S. market," there actually is room for a smaller SUV/crossover entry from the Chevy. More and more customers are downsizing their expectations in these segments, and automakers like Kia and Hyundai are responding by offering one entry that directly competes with Equinox-sized rivals and one that is a class smaller. Thus, the former offers both the 184-inch Kia Sorrento and the 175-inch Kia Sportage. With that template, since the Equinox is almost 188 inches long, it would be easy for Chevy to slot an American Trax into the lineup, at least from a size standpoint.
And remember, GM already is poised to introduce an SUV/crossover of just 168.5 inches for premium owners, in the shape of the 2013 Buick Encore. Leveraging that same platform for Chevrolet would seem to make a lot of sense, and it could help Chevy make a lot of dollars, too, if the Trax were sold in America.
Photo of the Chevrolet Equinox