... and the cars set to replace them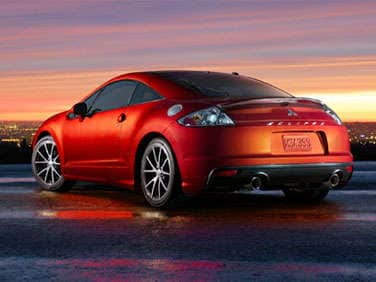 So it is said that "time heals all wounds," but when it comes to the automotive world, the common feeling is usually something closer to "what have you done for me lately?" Whether it is based on sales, competitiveness or for no apparent reason whatsoever, automakers frequently trim the fat from their line-ups, and here's a list of cars, utility vehicles and even a minivan that won't be around for the 2013 model year.
Ford Escape Hybrid
The Ford Escape Hybrid has been a staple among fuel-efficient vehicles since it made its debut back in 2004... for proof of this, just check out New York City where most of the cabs (and even some of the police cars) are Escape Hybrids. As successful as the Escape Hybrid has been, though, Ford had no plans to make the 2013 Ford Escape available with a gasoline-electric hybrid model. Instead, it uses a couple of Ford's EcoBoost engines to deliver fuel economy that bests the Escape Hybrid while still delivering plenty of performance. Not to completely shut out customers looking to buy a family-friendly hybrid vehicle, the 2013 model year will see the all-new Ford C-Max debut in both Hybrid and Energi (a plug-in hybrid) models. Like the Escape Hybrid, the new C-Max is a compact, five-passenger vehicle that uses a smaller Atkinson-cycle engine paired with a more advanced lithium-ion battery pack which should help deliver better fuel economy numbers than the Escape Hybrid (up to 34 miles per gallon in the city and 31 mpg on the highway).
Mercedes-Benz R-Class
Introduced in 2006 as a vehicle positioned somewhere between a minivan and a full-size crossover, the Mercedes-Benz R-Class is being cancelled following the 2012 model year despite an extensive overhaul in 2011. With just 719 R-Class models sold so far in 2012, this family car is barely out-selling the six-figure SLS AMG supercar. Due to these extremely slow sales and the fact that all of the qualities of the R-Class can also be found in new Mercedes-Benz crossovers like the ML-Class or GL-Class models, we're sure not many people will miss the "almost minivan." As for the new and redesigned 2013 Mercedes-Benz GL-Class (the only other Mercedes product to offer a three-row seating configuration like the R-Class), it will go on sale later this year.
Hyundai Veracruz
Unlike other models on this death list, the Hyundai Veracruz is actually selling about as well this year as it did in 2011... albeit it in similarly small numbers. So far in 2012, Hyundai's mid-size, three-row Veracruz has managed to sell 3,112 units with this year's May numbers outpacing last year's. Introduced in 2007, the Veracruz was likely due for a redesign soon anyway, but instead, Hyundai is replacing this model with a three-row version of the Santa Fe which carries far more name recognition as it was Hyundai's first-ever utility vehicle. The 2013 Hyundai Santa Fe will become a three-row, seven-passenger crossover, and the 2013 Hyundai Santa Fe Sport will continue to be a two-row, five-passenger model.
Mazda CX-7
For the longest time, Mazda's history with utility vehicles was linked to Ford Motor Company (the Explorer-based Navajo and the Escape-based Tribute), but the Mazda CX-7 helped take Mazda in a whole new direction with this mid-size crossover in 2007. Since then, Mazda has also added the three-row CX-9 crossover, but it is the all-new 2013 Mazda CX-5 that has made the CX-7 obsolete in the United States following the 2012 model year. In U.S. dealers, the new CX-5 will replace both the Tribute and CX-7, and early numbers suggest this was a good move on Mazda's part. Through the first five months of 2012, Mazda has sold only 9,987 CX-7s (down 23 percent) compared to 11,480 CX-5s, and the even more surprising figure is that the CX-5 outsold both the CX-7 and CX-9 combined in the month of May. The CX-7 will continue to be sold outside the U.S., but it isn't clear in which markets.
Lexus HS 250h
Looking to introduce a fuel-efficient, entry-level sedan to its line-up, Lexus unveiled the HS 250h with high aspirations in 2010. Less than three years later, production of this dedicated hybrid luxury sedan ended due to slow sales. In 2011, sales of the Lexus HS 250h were down 73 percent with just 2,864 units being sold, and things weren't much better in 2012 with only 612 HS models being sold through May. Production of the HS ceased back in January, and in April, Lexus unveiled its sixth-generation ES with the biggest news was that it would, for the first time, be offered with a hybrid powertrain. Between the all-new 2013 Lexus ES 300h going on sale later this year and the Lexus CT 200h compact hatchback being available since 2011, this should give new-car shoppers plenty of alternatives when looking for a hybrid luxury car.
Subaru Tribeca
The Subaru Tribeca was pretty much doomed from the start with its awkward styling and tremendously awful name, B9 Tribeca, and even an early design update apparently couldn't save this ill-fated crossover. Introduced in 2006, the Subaru Tribeca has been the automaker's flagship model since, but according to recent reports, the 2013 model year will be the last for the Tribeca. While there has been no official announcement from Subaru regarding the Tribeca's fate, slow sales and an all-new crossover all but spell the end for this model. Through May, Subaru has sold just 907 Tribeca models which marks a 17 percent drop compared to 2011, and the sporty Subaru BRZ outsold the Tribeca almost 2:1 despite only being on sale for part of the month. The good news for Subaru shoppers looking for a mid-size crossover? The 2013 Subaru XV Crosstrek is set to hit dealer showrooms this fall, but it lacks the Tribeca's three-row seating configuration.
Kia Sedona
The minivan market has been brutal to most automakers in recent years, and Kia will be the latest to withdraw from this family-friendly vehicle segment. The Kia Sedona was originally introduced in 1998, but the most recent version of Kia's van has been around since 2006. This is a long time to be on the market with no redesign, and the Sedona's option list and safety ratings are evidence of this. While it is confirmed that there will be no 2013 Kia Sedona, rumors indicate that Kia might be planning a replacement model for 2014. Whether or not this new model carries the Sedona name (or if it will even be a minivan) has yet to be seen, but the 2011 Kia KV7 Concept is most likely a good look at Kia's future family hauler.
Volvo C70
As Volvo continues to trim down its product line-up, the next car to be cut from the mix is the Volvo C70 hardtop convertible. Coming off a fairly aggressive design update in 2011, the Volvo C70 still isn't selling well with sales down 16.1 percent so far this year. The Volvo C70 has given the Swedish automaker a sporty and luxurious convertible since 1997, but recent rumors do indicate that C70's void could be filled by a more upscale convertible wearing the C90 designation.
Mitsubishi Eclipse / Mitsubishi Eclipse Spyder / Mitsubishi Galant
Mitsubishi has already cancelled its slow-selling Endeavor crossover, but following the 2012 model year, it will also kill off its other two U.S.-built models: the Mitsubishi Eclipse and Mitsubishi Galant. Dating back to 1990, the Mitsubishi Eclipse is the oldest nameplate on this list, and it helped spark a new enthusiast crowd in the early to mid 1990s focused on small, sporty import cars. The often-overlooked Mitsubishi Eclipse Spyder convertible will also be riding off into the sunset. Production for all three models ended long ago as Mitsubishi retooled its Normal, Ill. production plant for the 2013 Mitsubishi Outlander Sport, but while there is no replacement planned for the Eclipse, a next-generation Galant is expected to debut for the 2014 model year.
Saab
Technically, the last Saab produced was a 2012 Saab 9-3, but this sedan pretty much marked the end for the entire Saab brand. While a new buyer (or at least the report of a new buyer) seems to pop up every month or so hoping to obtain Saab, nothing has happened as of yet leaving the demise of this 63-year-old Swedish automaker imminent.