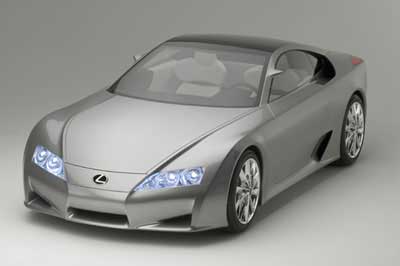 Call them the smug lads of the auto circuit. And for good reason, for all that the boys and girls at Lexus create turns to gold. The automotive press applauds their vehicles as engineering wonders, and customers flock to their dealerships for their own special taste of the Lexus experience. So it's understandable that people listen when Lexus talks about pursuing perfection. They're not far off, by most accounts outside of Bavaria. And so when Lexus pulled out its very own super car concept, the LF-A, the furrowed brows could be seen from Europe all the way to Yokohama. The LF-A Concept puts Lexus in rarefied air, and if the past is any indication, this super car will be what the rest will follow, envy and stare at as it goes by. And if the design and power of the Lexus LF-A deliver on such high expectations, it will be no surprise, as the concept is a beautifully-Japanese rendering of luxury sports car might – the kind that looks different from every possible direction, a car that looks brutishly masculine and softly feminine at the same time.
Overview
Built five inches shorter than the Porsche 911 but on a wheelbase that is nine inches longer, the Lexus LF-A Concept is almost identical in dimension to the Ferrari F430, and is close to the Mercedes-Benz SL55 and the Aston Martin DB9. It features an engine capable of developing more than 500 horsepower, and the Lexus LF-A Concept is engineered to take advantage of gearing, weight and aerodynamics. Lexus executives say that the LF-A Concept could produce a top speed of 200 miles per hour.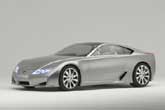 Will it be built?
Lexus won't comment for sure, except to smile and say that they are "looking into it." But here's a hint for you: Lexus wants a super car, Lexus needs a super car, and this is one heck of a super car that is designed specifically to line up with the current stable of luxury sport uber-wonders on the road…er, in someone's garage. The final, low-volume production version may not be a replica of this concept, but it will be darn close. As far as price goes, if you have to ask…keep dreaming. With secret testing "apparently" underway in Germany, you may actually see a production version of the LF-A. But if you have to ask, again…you're dreaming.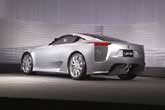 Performance
The Lexus LF-A Concept features an engine capable of more than 500 horsepower from less than five liters. Theoretically, with a combination of gearing, weight and aerodynamics, the LF-A Concept would produce a top speed in the neighborhood of 200 miles per hour. According to the company, the Lexus LF-A Concept is designed to reflect Toyota's commitment to Formula One racing.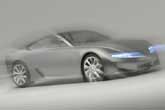 Design
Inside, the Lexus LF-A Concept is designed as a luxury high-speed capsule. Although it is about five inches shorter in length than the Porsche 911 Turbo, its wheelbase is nine inches longer. At 48 inches, it is nearly identical in height to the Ferrari F430. And with a width of 73.2 inches, it splits the difference between the Mercedes Benz SL55 AMG and the Aston Martin DB9. What's most important, however, is the exterior styling. Here, you see the future of Lexus design, according to Lexus people. If so, count on swooping lines, a focus on motion, and, mostly, simplicity of form. The design philosophy, called L-Finesse, relies on simplicity to evoke luxury; the key to the formula is how the visual contrast between that simplicity and elegance creates a look that is dynamic, forceful and vigorous. Also key to the new Lexus design mandate is balance – it must, according to Lexus, achieve a near-perfect weight balance, which is an important part of ride and handling.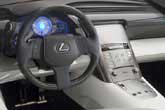 Wrap-Up
The Lexus LF-A Concept is, first and foremost, a representation of the Lexus way to design its next generation of vehicles. For those interested in buying a Lexus, that's good enough – but where hearts really start racing is at the mere thought of this concept becoming the first-ever Lexus super car. It's possible, even likely – and here's hoping that possible and likely turns into definitely – and soon. It's safe to bet that those smug lads from the luxury circuit are up to something – something that probably is more than another $50,000 luxury ute.
Photos courtesy of Lexus