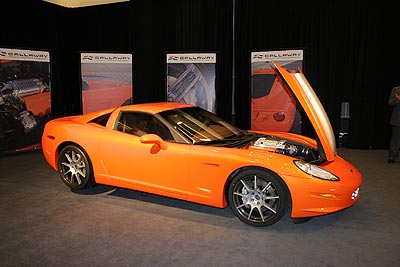 LA Auto Show Exotics – Photo Gallery: With Hollywood and all its celebrities in such close proximity, it's only fitting that the exhibition that is the LA Auto Show would include some pretty slick exotics. This year they covered the spectrum, from an exquisite Aston Martin roadster to a rebodied and supercharged Corvette to a $100,000 electric sports car that offers respectable range and super car acceleration. And, of course, no list would be complete without a few entries from the Italians. They're all detailed on the following pages with pictures and highlights.
2007 Aston Martin V8 Vantage Roadster
With or without a fixed top, the Vantage is a potent blend of style, sophistication and performance. While it may not generate the fastest acceleration times or highest g-loads in a corner, the sum of the parts is much more satisfying than any spec sheet numbers. The downside, of course, is price. The Vantage Coupe costs $110,000, and the Roadster will certainly come in comfortably above that. And then there is Aston Martin's infamous reliability. Performance comes from a 4.3-liter 380-horsepower engine mounted behind the front axle and one of two six-speed transmissions ahead of the rear axle. This gives the Vantage excellent weight distribution.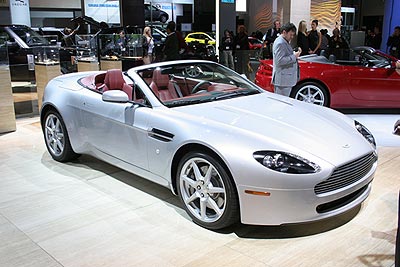 2008 Audi R8
The all-new 2008 Audi R8 is a mid-engine two-seater sports coupe poised to compete with the Aston Martin Vantage, BMW M6 and Porsche 911. Based in platform on the Lamborghini Gallardo, this super sport Audi employs a lightweight aluminum space frame. However, the R8 forgoes the Lambo's V10 engine in favor of a formidable 4.2-liter V8 engine developed in house. Three years ago, Audi delivered its Le Mans Quattro in concept form to the applause of journalists and potential customers. The production version, the new R8, will hit showrooms sometime in the first half of 2007 tagged as a 2008 model. Pricing has not been announced, but will likely ring up just over $100,000.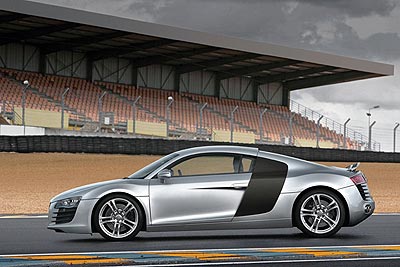 2007 Callaway C16
When the redesigned Chevrolet Corvette made its debut, automotive journalists and enthusiasts alike couldn't say enough about the car's aggressive 400-horsepower V8 and screamin' value. However, Callaway Cars felt it could do better, and after seeing the Corvette-based C16, we'd say the Connecticut company may be right. In addition to all-new body panels, an optional supercharged 6.0-liter V8 under the hood makes up to 616 horses at 6,200 rpm and 582 lb.-ft. of torque at 4,750 rpm. In case you're curious, that's good for a 3.3-second 0-60 mph run with a top speed of 206 mph.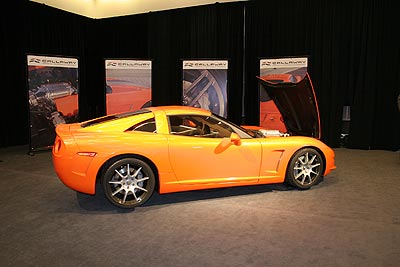 2007 Ferrari 599 GTB
Ferrari is a brand synonymous with Italian elegance, finesse, power, and supercar performance. With a promise to continue the family heritage, a new two-door coupe, the V12-powered Ferrari 599 GTB, fills the void created by the departure of the 575M Maranello, a magnificent supercar last produced for the 2004 model year. And for its official pictorial debut the car is, of course, red.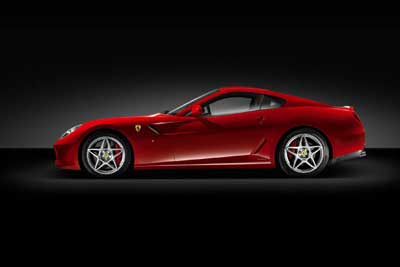 2007 Lamborghini LP640 Versace
Somewhere out there is a place where $300,000 Lamborghini Murciélagos lack the right amount of exclusivity. Lamborghini is addressing this critical problem with two new models of the Murciélago, certain to make neighbors the deepest shade of green that jealousy can muster. The first is the 2007 Lamborghini Murciélago Roadster LP640. Power increases to 631 hp, and the rest of the vehicle is suitably outfitted for the fastest driving one can possibly think of doing. Still not enough? Then try the 2007 Lamborghini Murciélago LP640 Versace, a fully loaded Murciélago LP640 with an interior outfitted by Gianni Versace SpA. It also comes with coordinated driving gloves and shoes, luggage set, and watch. Price? If you have to ask….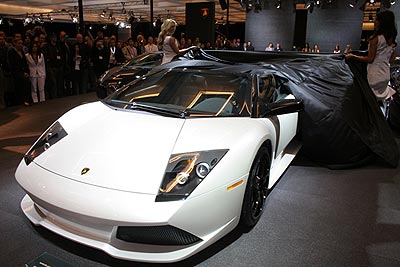 2007 Lotus Exige S
Add an aerodynamic body kit and a roof panel to the Lotus Elise, one of the greatest sports cars on the planet, and you create a Lotus Exige. Add a supercharged and intercooled 1.8-liter engine to the Exige, and you create a Lotus Exige S, which is new for 2007. Lotus says that a limited number of supercharged Exige S models will be on sale this year, wearing a starting price tag of $56,990.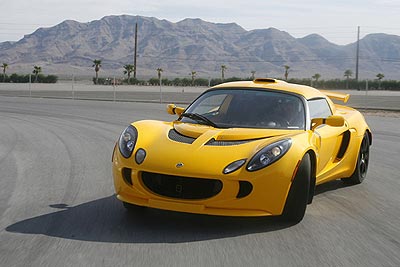 2007 Lotus Sport Exige Cup
Nope, it's not a protective device to be worn when driving the Lotus Exige. Rather, the Lotus Sport Exige Cup is a car that's ready to race right out of the box, thanks to key modifications. Among them, a curb weight of just 1,800 lbs. motivated by a supercharged 252-hp engine, slick tires, upgraded brakes, an SCCA-compliant roll cage, and an FIA-approved driver's seat with a six-point harness. Options include a larger fuel cell, an air-jack system, and a stainless steel exhaust with de-cat pipe. Y'know, racing stuff.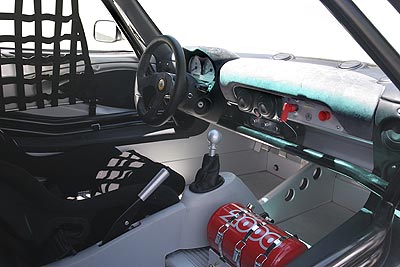 2007 Tesla Roadster
A movie was released this past year that aimed to solve the mystery of what company killed the electric car. Well, it wasn't Tesla, maker of the self-named Roadster that's good for 250 miles on a single charge. According to the company, that equates to about 135 mpg, all while offering outstanding performance. How outstanding? Try 0-60 mph in four seconds. Not bad for a 100-percent electric car. Of course, there's gotta be a catch, and for the vast majority of shoppers that'd be the $100,000+ price tag. If you've got that kind of bank lying around and want your own little plug-in ripper, get moving – Tesla reports that it already has a waiting list for 2008 models.
Photos courtesy of Ron Perry and the auto manufacturers