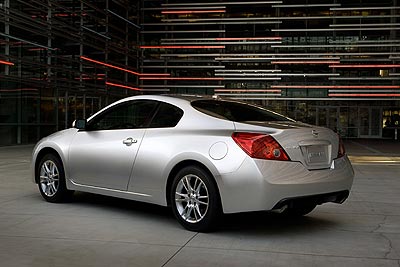 LA Auto Show Production Debuts – Photo Gallery: As is typical, this year's LA Auto Show played host to a number of cool and simply outlandish concept cars. They're a lot of fun to look at, but the production models - those that the auto makers say are coming (or strongly hint at the likelihood) and you can actually buy – those are the vehicles that can get you excited. On the following pages you'll find pictures and information on the cars that are already arriving on lots, or are destined to do so in the near future.
2007 Aston Martin V8 Vantage Roadster
What is there to say about one of the world's most beautiful cars? Forcing our objectivity back into line, we have to throw in the caveat emptor about Aston Martin's famously unreliable machines. "Beautiful but delicate" comes to mind. But if your heartstrings are tugged hard enough, and you have the cash, we won't try to talk you out of anything. Except maybe your keys.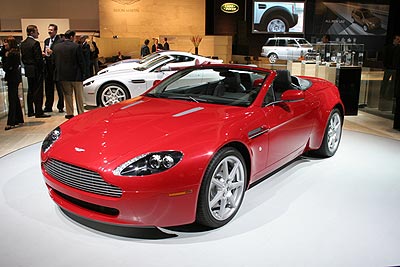 2008 Audi TT Roadster
Guys might actually buy the 2008 Audi TT Roadster, but not because Molly Simms endorsed it in exchange for a big, fat check. With more power, more room, and styling that resembles a sports car instead of a Volkswagen New Beetle, the Audi TT's sales oughta soar -- even if it does still have front-wheel drive.
2008 Buick Enclave
The 2008 Buick Enclave has to be good. No, scratch that, it has to be great. General Motors has high hopes for the new model, and buyers used to Lexus and Acura levels of quality aren't willing to compromise. On paper, the Enclave has the goods, and in person, the styling inside and out appears up to the task. All we can say is that we're as eager as anybody to find out if GM's late arrival is someone we want to party with.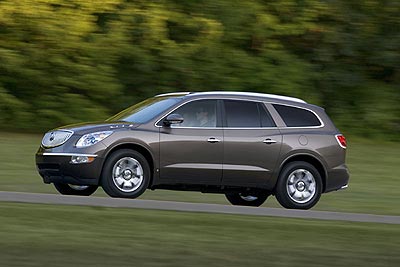 2007 Cadillac DTS-L
The 2007 Cadillac DTS-L has been modified by a the brand's "Professional Vehicles conversion specialists" and now extends to 215.6 inches in length (an increase of eight inches). Those extra eight inches are added behind the rear doors, which have allowed engineers to move the second row seat back, thus providing extra foot and leg room while also allowing passengers some privacy behind the wide rear pillar. Rear passengers also enjoy heated and power seats, as well as a rear DVD entertainment system.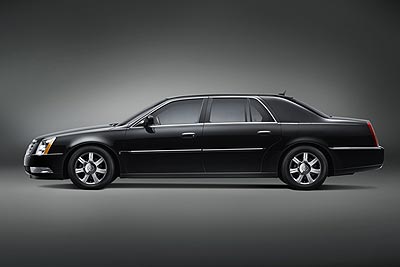 2007 Cadillac DTS Platinum
Without looking at the Platinum badge on the decklid, it might be hard to distinguish the DTS version of these special Cadillacs. Other giveaways are 18-inch wheels, an extra-chrome grille, and the chrome door handle inserts. Inside, it's clear this Caddy is king with real olive ash wood, rich Tuscany leather, a suede headliner and visors, and hand-cut and -sewn leather on the dashboard, console, and door panels. The Cadillac DTS Platinum goes on sale in August of 2007.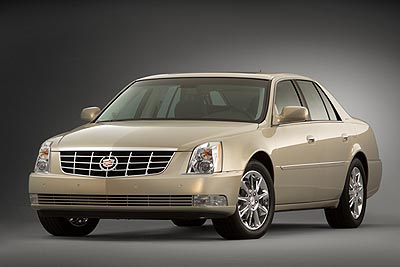 2007 Cadillac STS Platinum
Like the DTS Platinum, the Cadillac STS Platinum is understated on the outside. Chrome 18-inch wheels, Glacier Gold paint, chrome door handle trim, and extra brightwork on the grille are the primary identifiers, in addition to the special Platinum badge on the back. Inside, the STS Platinum receives the leather-upholstered dash, door panel and center console treatment of its performance oriented V-Series sibling. Tuscany leather, added chrome accents, olive ash burl wood trim, and premium floor mats deliver an upscale cabin environment. Cadillac will offer the STS Platinum with a choice between V6 and V8 engines when it goes on sale in the first quarter of 2007.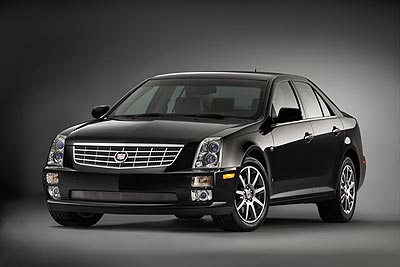 2007 Cadillac XLR Platinum
It's easy to spot the Cadillac XLR Platinum, thanks to its Liquid Amethyst paint job. If that's not a dead giveaway, check out the exclusive 15-spoke chrome wheels and shinier grillework. Inside, the XLR Platinum gets a Cashmere color scheme, with olive ash burl wood, Alcantara suede trim, and leather on the dashboard and door panels. The XLR Platinum goes on sale in the first quarter of 2007.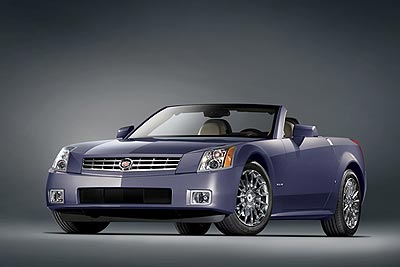 2008 Chrysler Sebring Convertible
Chrysler's new Sebring Convertible is a winner in top Limited trim with all the goodies, and it's too bad that thousands of people will judge the car based on test drives in poorly-maintained rental units that don't have the retractable hardtop, the V6 engine, the MyGIG infotainment system, or the other features that make the Sebring a compelling choice. We strongly recommend that Chrysler give up the lucrative fleet sales and concentrate instead on boosting the Sebring's cool quotient in the consumer marketplace.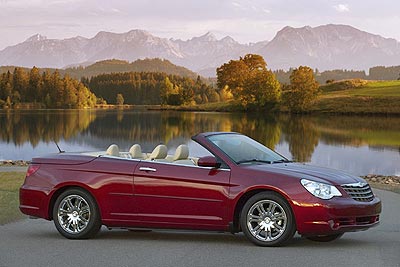 2008 Ford Escape
From a company of "bold" moves, we expected a bit more from the redesigned 2008 Escape. The styling is pleasant enough, holding onto the traditional Escape shape and cues while blending in updates that suck in new life, the interior looks to be comfortable and ergonomically well designed, the additions of a touch-screen navigation system and iPod jack are welcome, and the choices of power and drivetrains will continue to attract a variety of shoppers. But we question the wisdom of carrying over an aging 200-horsepower V6 when competitors are working on 250+ horses, and wonder what a truly bold redesign of the Escape might've offered.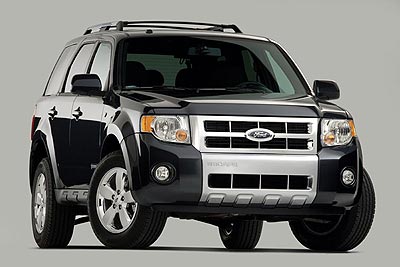 2008 GMC Yukon Hybrid
Not too long ago, GM unveiled its Active Fuel Management technology – we've tested it, repeatedly, and have yet to see results close to those advertised. However, this two-mode technology may provide more discernable advantages, as it promises to cut off power in stop-and-go traffic and dial up electric-only propulsion at low speeds. Those benefits would be admirable. But what have yet to be determined are issues of price, and possibly more important to large SUV buyers, how this technology works when the truck is working. If the Yukon Hybrid can return improved fuel economy while towing a boat or transporting the family for a holiday vacation, then we've got something to take notice of.