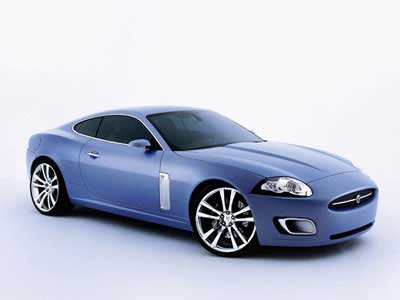 Jaguar's press kit for the Advanced Lightweight Coupe Concept, which is a thinly veiled version of the next generation XK sports car, credits "Renowned Design Director Ian Callum" for the styling of the body and interior. The purpose of the design, according to Jaguar, is to show that future vehicles from the iconic English luxury automaker will be adorned with "no extraneous sculpture or unnecessary surfacing…nothing superfluous." Please excuse our brief editorializing, but isn't superfluous design and unnecessary detailing the point of a Jaguar? The recently introduced XJ sedan is gorgeous in its retro bulges and swells, the existing XK sports car sensuous thanks to flares and swoops, and even the S-Type and X-Type are distinctive thanks to immediately identifiable styling traits that can be traced to revered Jaguars of yore. Good gracious, gents, styling is what sells a Jaguar today. Based on the Jaguar Advanced Lightweight Coupe Concept, future Jags sound austere and minimalist in terms of design – like a Lexus. Is Callum drinking the J Mays kool aid, or what?
Little Originality
For all the talk about distinctive design, we see elements of the existing Jaguar XK, Aston Martin DB9, Audi TT, and Hyundai Tiburon in the styling elements of the Jaguar Advanced Lightweight Coupe Concept. From an elevated rear quarter viewpoint, even the final 1995 Buick Riviera is evident in this concept vehicle. Nothing about the design is original except the blistered rear haunches, and even those can be traced to Callum's R-D6 concept of two years ago. Nonetheless, we'd better get used to it, because the 2007 Jaguar XK8 is probably going to look plenty like the Advanced Lightweight Coupe Concept. The car is based upon the Jaguar XJ's lightweight aluminum body structure, which explains the awkwardly long wheelbase on this sporting coupe. Seating for four is offered in bucket seats front and rear, and a hatchback design makes loading luggage into the generous trunk easier. We hear the hatchback won't make production, which is too bad, because it's our favorite thing about the Advanced Lightweight Coupe Concept.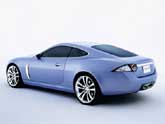 Wood Trim is MIA
Inside, the design theme is "clean, simple, and straightforward." Again, we'd suggest that those three words should never describe a Jaguar. Jags are supposed to feel like a wealthy gentleman's club from the driver's seat, and that means plenty of wood and leather trim. The Advanced Lightweight Coupe Concept offers plenty of the latter, but none of the former, because aluminum trim has taken its place for a colder, more modern appearance. An Alpine telematics system dominates the center of the dashboard, furthering the impression that this isn't your traditional Jaguar.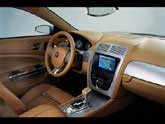 Performance
Hardware includes a supercharged 4.2-liter V8 engine that can get the relatively scrawny Advanced Lightweight Coupe Concept to 60 mph in less than five seconds on the way to a top speed cresting 180 mph. The car rides on 21-inch wheels with special Pirelli tires, and includes the latest version of Jaguar's Computer Active Technology Suspension. Adaptive cruise control and the company's Active Restraint Technology System are also included in the Advanced Lightweight Coupe Concept.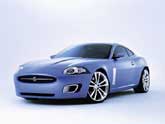 Less Zest
Design isn't Jaguar's problem today. Rather, durability and resale issues are to blame for sales losses. Nobody who spends the kind of coin that a Jag commands wants to know the local dealership service advisor on a first name basis, wishes to be stranded at the side of the road due to a mystery malady, is thrilled to learn that Hertz has a large fleet of Jags on hand for luxury rentals, or wants to watch a sizable portion of the purchase price evaporate with weeks of taking delivery. When it comes to luxury cars, most people expect to get what they paid for, and nothing less. If Jaguars lose their garish and exaggerated design vocabulary, the automotive landscape will definitely become less…less zesty.
Photos courtesy of Jaguar Cars North America