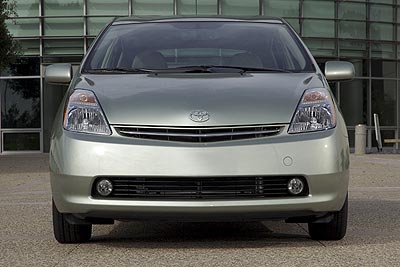 The Feds want you to buy a hybrid. Really…they do, and to back it up they're offering a tax credit of up to $3,400 for hybrids purchased after 2005. Basically, the amount depends on the efficiency of the model -- based on the average fuel economy in 2002 -- and the expected fuel conservation during the life of the vehicle, as well as an emissions rating qualifier. In essence, the better the conservation, the bigger the tax credit. In order to claim the credit, you'll need to fill out Form 8910, Alternative Vehicle Credit. Be sure to check with a tax professional about these credits, however, as there are specific exclusions depending on your tax status. There's also a catch to the credit. When an automaker sells 60,000 hybrids, the credit dips to 50 percent of the total, starting in the following quarter -- then another 50 percent during the next quarter until the credit gets to zero. So far, only Toyota has hit the 60,000 vehicle threshold; see the following pages for actual credit adjustments beginning in October, 2006. You can also expect that Honda will be at the limit soon, followed by Ford.
Additional Incentives
Your state and local governments are happy to help you with the purchase of a hybrid vehicle, so check your state's website. Colorado, for example, offers a $4,713 tax credit. Other state-based incentives include free parking and single occupant HOV lane access in states such as California, which allows access for vehicles that meet its Super Ultra Low Emission Vehicle (SULEV) classification, and are rated at 45 or more miles per gallon. Ask your dealer about getting HOV lane stickers, or visit your state website. Corporations are also beginning to get the gas/electric mojo going, with the likes of Bank of America, and Google offering incentives to their hybrid-happy employees. Perhaps they should offer the same reward for car-poolers and train-takers, eh?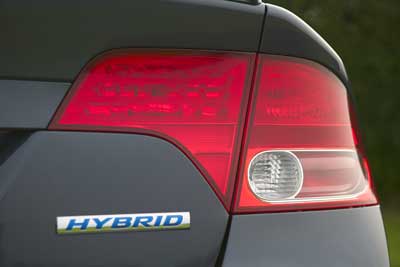 2006 Toyota Prius
Credit: $3,150 Status: Over the 60,000 limit; Prius credits will scale down to $1,575 in October, 2006 and $788 in April of 2007. Pros: Real world fuel economy of around 45 miles per gallon, rated at 60 in the city and 51 on the highway. Hatchback utility, futuristic design and a Partial Zero Emissions Vehicle (PZEV) rating. Cons: A bit slow after initial acceleration, virtually impossible to buy without paying sticker price or higher. Is it possible that the Prius is too trendy?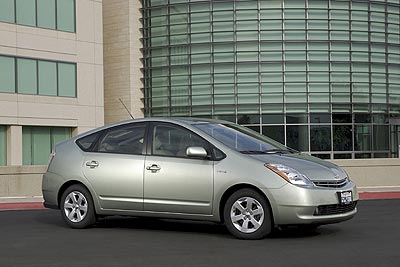 2006 Toyota Highlander Hybrid
Credit: $2,600 Status: Over the limit; Toyota Highlander Hybrid tax credits will be cut to $1,300 in October 2006, and $650 in April, 2007. Pros: More powerful than you'd expect from a hybrid thanks to its V6 engine; all the good traits of a Highlander, such as room and reliability, with a Super Ultra Low Emission Vehicle (SULEV) rating. Cons: For a hybrid, gas mileage is rated at just 30 miles per gallon combined – and your actual mileage will be less. Our tester managed a paltry 19.8 miles combined city and highway miles per gallon.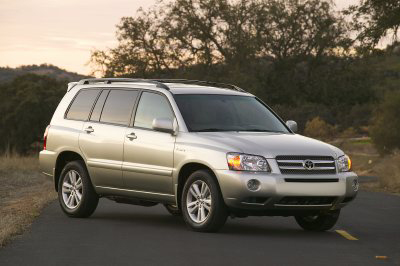 2007 Toyota Camry Hybrid
Credit: $2,600 Status: Over the limit; Toyota Camry Hybrid tax credits will be cut to $1,300 in October 2006, and $650 in April, 2007. Pros: Camry-like ride, comfort and convenience with hybrid sensibility, excellent gas mileage with above average performance. When a hybrid performs better than a four-cylinder and still gets four-cylinder gas mileage (39 combined, we achieved 33 mpg) that's a winner. Cons: Sticker price is $25,900, but real world price is closer to $30,000. California drivers should also take note that the Toyota Camry Hybrid fails to qualify for single-driver HOV access.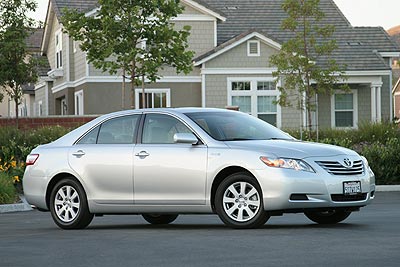 2006 Ford Escape Hybrid 2WD
Credit: $2,600 Status: Under the limit; looks to be for some time. Pros: The Escape offers drivers a high seat position, step-in height and cargo room. Add to that a full-hybrid powertrain that, like the Toyota models, can run solely on battery power up to around 15 miles per hour, and you have a fuel-efficient and clean-burning SUV. Cons: Ride quality, fit and finish and cargo room (the fuel cell battery is located on the rear cargo floor) are outmatched by competitors. The sticker price is also a bit high. California drivers should also take note that the Ford Escape Hybrid fails to qualify for single-driver HOV access.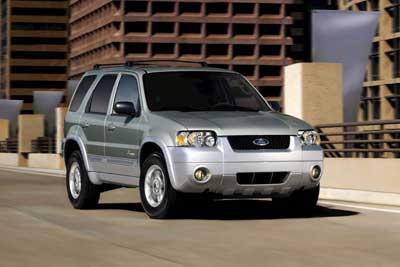 2006 Lexus RX 400h
Credit: $2,200 Status: As with all Toyotas, over the limit. Starting in October, 2006, this tax credit will drop to $1,100 – and to $550 in April, 2007. Pros: The soft, quiet and supple Lexus luxury experience with SUV convenience and hybrid benefits such as a Super Ultra Low Emissions Vehicle (SULEV) rating. As with the Highlander Hybrid, performance is on the up tick, as well, mainly due to its V6 engine. Cons: At a combined 30 mpg and a real-world rating of significantly less than that, gas mileage is worse than a hybrid should be – even for a luxury vehicle.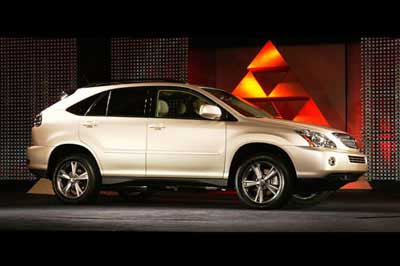 2006 Honda Civic Hybrid
Credit: $2,100 Status:Not at the limit, but you'd be wise to treat the Civic as though it is thanks to the popularity of the new model. Consider too that this will likely be the preferred solution when the Prius credit is slashed. Pros: Virtually seamless hybrid powertrain operation; excellent fuel economy of a combined 50 miles per gallon, new Civic styling and interior execution is brilliant. Lots to love about this vehicle. Cons: Weak power after initial acceleration that will hurt fuel economy, thrashy engine when under load.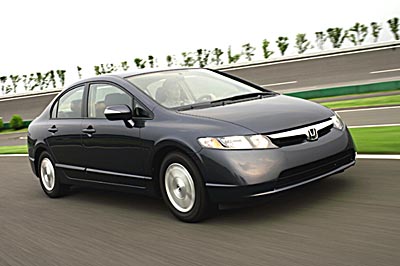 2006 Mercury Mariner 4WD
Credit: $1,950 Status: Under the limit; sales and volume indicate that this, along with the Ford Escape Hybrid, should stay that way for awhile. Pros: A Ford Escape Hybrid by a different name and the addition of a few more creature comforts, the Mercury Mariner Hybrid is really ideal for those who think there's luxury cache in the Mercury brand and want an earth-friendly vehicle that gets 31 combined miles per gallon. Cons: It costs more for what some consider to be a thin upgrade over the Ford Escape Hybrid, plus it comes only as a four-wheel-drive model – which hurts fuel economy. Also: 2006 Ford Escape Hybrid 4WD: $1,950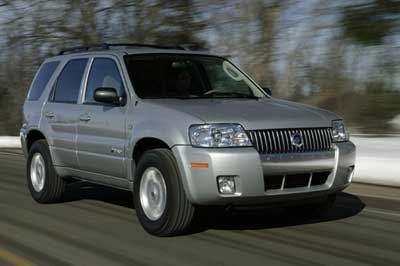 2007 Lexus GS 450h
Credit: $1,550 Status: In the penalty phase with all other Toyotas, and just arriving on dealer lots. Get used to a $778 credit starting in October and a $388 credit in April of 2007. Pros: It goes really fast and is fun to drive with an exceptionally smooth power delivery. It burns clean as a Super Ultra Low Emissions Vehicle (SULEV), and gets good gas mileage (25/28 mpg rating) for the performance it delivers. Cons: Cramped interior, and availability: good luck getting one of these ponies, as initial volume is low. As with many of their new vehicles, Lexus/Toyota will start slow and build demand.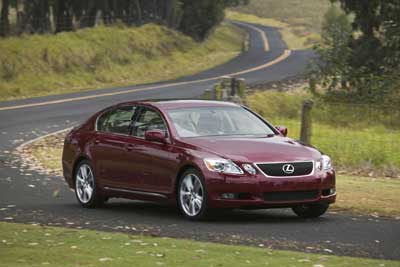 2006 Honda Insight CVT
Credit: $1,450 Status: Under the cap, so have at it – but be aware that production ends later this year. Pros: For those who want to make a statement, this is your car. With fuel economy in the 50s and surprising power, it could also be considered the ultimate commuter car, as long as said commuter doesn't mind the two-seat interior and the sub-par ride, courtesy of small fuel mileage-minded tires. Cons: The ride's harsh, the interior cramped and it looks like a beetle. Plus there are more advanced hybrids on the market. Our advice is to wait for Honda's expected replacement, due next year, or buy a Civic Hybrid.