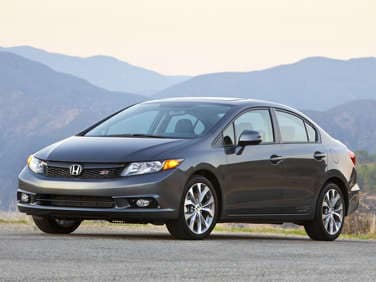 With the floods in Thailand continuing to hamper its business, Honda stumbled through November with by far the worst sales performance of any mainstream automaker. The Honda division's sales fell off by 6.2 percent (on a volume basis), while the lowest advance of any of the other top brands was Toyota's 6.7 percent gain. Perhaps even more interesting is the fact that Nissan seems to be well on its way to establishing itself as the new No. 4 player in the U.S.—behind Chevrolet, Ford and Toyota—as that brand has now outsold Honda in four out of the five last months. And remember, this has occurred despite a string of new-model launches on Honda's part, so we're not looking at a situation in which a lineup of stale vehicles is holding down sales. A potential solution to Honda's troubles, however, made its debut at the recent Tokyo Motor Show, where the automaker introduced its "Earth Dreams" strategy/technology: A comprehensive powertrain initiative that Honda expects to catapult its models to top EPA ratings in every segment within the next three years.
What on Earth …
There are a number of different components to the Earth Dreams effort, including the upcoming launch of a new family of gas engines that (finally) adopts direct injection, improves on Honda's VTEC (Variable Valve Timing and Lift Electronic Control System) and benefits from a full-scale friction-reduction program; the introduction of a small diesel engine; increased use of enhanced CVTs (continuously variable transmissions); two new hybrid systems, one geared specifically for fuel economy and the other designed to optimize both fuel efficiency and driving dynamics; and a new, "high-efficiency" electric powertrain design for use in future EVs.
It's all good news from a fuel-economy standpoint, and it's also newsworthy that Honda is at least giving lip service to the idea that it can effectively combine enthusiast-oriented driving with its enhanced focus on fuel efficiency. In addition to its "performance" hybrid system, for example, the new CVTs are going to feature Honda's "G-Design Shift," which the company is painting as "a new coordinated control system for shift transmission, throttle, and hydraulic control which responds quickly to driver demands and realizes an exhilarating, sporty drive with superior acceleration."
On the other hand, that's the kind of thing we heard about the Honda CR-Z, too.
A Re-Volting Development
Now for a quick digression: Much hope for the short-term success of EVs recently went up in flames, along with a few Chevy Volt battery packs that did the same. Regardless of if/when GM comes up with a permanent fix, the reputational damage has been done. U.S. customers haven't exactly been flocking to EVs, and this will give them one more reason to stay away. And that's just the latest setback to the idea of making over the American auto industry into a gentler, greener place. Moderating gas prices also have helped, but the bigger problem is, again, one of perceptions.
For drivers that don't remember the high-mileage cars of the early 1980s, a fair number of which cracked 40 mpg in combined driving, a modern-day Chevy Cruze or Hyundai Elantra that is capable of getting 40 mpg highway with strong content levels at an affordable price is no doubt an impressive accomplishment. And the same kind of thing can be said about cars like the V6 versions of the Ford Mustang or Chrysler 300. Both those entries currently top 30 mpg highway, yet one is a true sports car and the other is a well-equipped full-size sedan.
Then, you've also got automakers such as Ford and Chrysler constantly boasting of the efficiency gains in products like the EcoBoosted Ford F-150 or Jeep Grand Cherokee, which reach 22 and 23 mpg highway, respectively.
The result? I'm betting a substantial chunk of today's customers believe they're already getting into highly efficient vehicles with the current crop of entries. This reduces the demand needed to support vehicles that truly break new ground, especially if those vehicles are going to reflect any significant price premium, or even require any significant change in driving behaviors.
Shattered Dreams?
Also consider: More than a decade after the introduction of the Toyota Prius, not a single hybrid vehicle has managed to achieve anything like mainstream success. The latest evidence for this can be found in November's sales charts, where the Prius rang up a sales gain of more than 38 percent on a volume of 15,208 units; the combined total number of deliveries for all other hybrids on the market remained under 11,000 units.
We'll see if the rest of the Prius family changes things, but for now, it's clear the hybrid revolution still hasn't happened, and there's not much reason to believe that will change anytime soon.
Let's note as well that this is a bit different from Mazda's SkyActiv campaign: Both involve much in the way of improvements to standard internal-combustion technology, but Mazda essentially had to make these changes to remain competitive on the fuel-efficiency front. The 2011 Mazda3 only achieved 33 mpg highway, and even U.S. customers would be likely to balk at the huge difference between that mark and the new 40 mpg standard in the compact class.
But things are different at Honda. New vehicles like the redesigned Honda Civic and the soon-to-launch all-new Honda CR-V already have some of the highest ratings in their segments. Further, there's no evidence that Honda's Earth Dreams vehicles will benefit from the same huge percentage jump in fuel economy that the SkyActiv Mazda3 enjoys over previous versions.
Thus, you've got Honda making a major commitment to powertrain technologies that will have a relatively minor impact on absolute fuel-economy ratings, and at a time when fuel-economy is really among the least of its problems—and a fairly minor concern for U.S. customers. And while I've joined other auto observers in recognizing Honda's engineering excellence isn't what it used to be, the Earth Dreams stuff is more about Honda catching up with the competition, and perhaps edging ahead incrementally, than it is about breaking new ground.