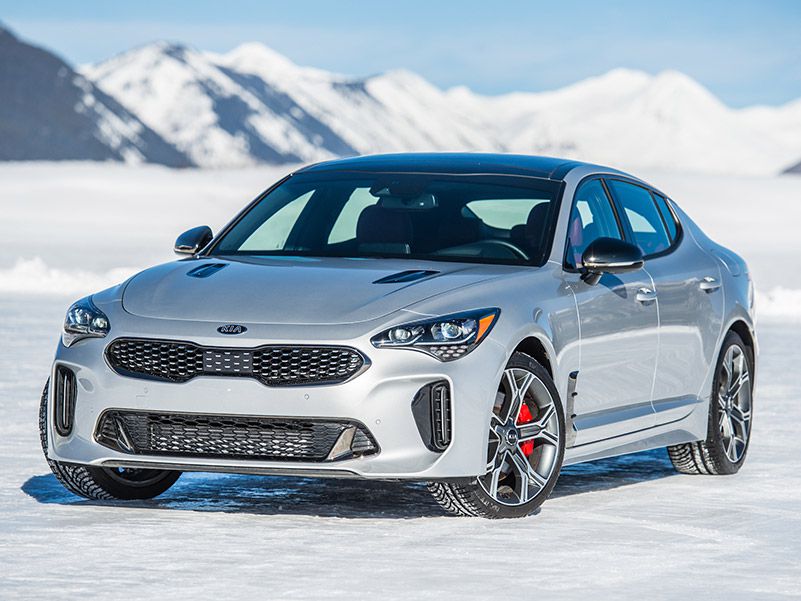 2020 Kia Stinger ・ Photo by Kia
The Holidays are here, and if you are like many people you are still looking for the "Big Gift" that will really make a statement. Some people like to give expensive jewelry. Others give the gift of an elaborate vacation. Still others look to give more practical gifts. While a new washing machine or vacuum cleaner might be worthwhile from a rational standpoint, it probably won't express the feelings that you'd like to express. Ditto with the gift of an exercise bicycle or a gym membership.
But the gift of a new car is both impressive and practical. After all, the money you spend on a new car will dwarf the amount you'd spend on a tennis bracelet or a trip to the Caribbean, but at the same time, we all need transportation, so a new car has practical benefits. In recent years many carmakers have gotten into the holiday spirit by offering great deals on very "giftable" vehicles. Here are some Holiday deals you should know about.
2020 Lexus LS 500
The LS full-size sedan has long been the flagship sedan of the Lexus luxury brand, and because of that, the LS is a terrific holiday gift, whether it is for you or a very significant other. Not only does the Lexus LS command attention in your driveway; it is also an extremely pleasant place to spend time.
It is filled with standard luxury features like a moonroof and dual-zone automatic climate control. Its infotainment system features a 12.3-inch display and integrates well with Apple CarPlay. Additional features that are available send the sedan to an even higher level, among them the 23-speaker Mark Levinson audio system and the 7-inch touchscreen in the rear console. The LS 500 is powered by a 416-horsepower twin-turbocharged V6 engine, while the LS 500h hybrid models have a 354-horsepower drivetrain that combines a V6 engine with two electric motors. This month both a 2020 Lexus 500 and Lexus 500h can be purchased with 0% financing for 60 months. In many areas of the country, customers can lease a 2020 LS 500 all-wheel-drive for AWD $799 per month for 36 months with $4,999 due at signing, and the first month's payment is complimentary.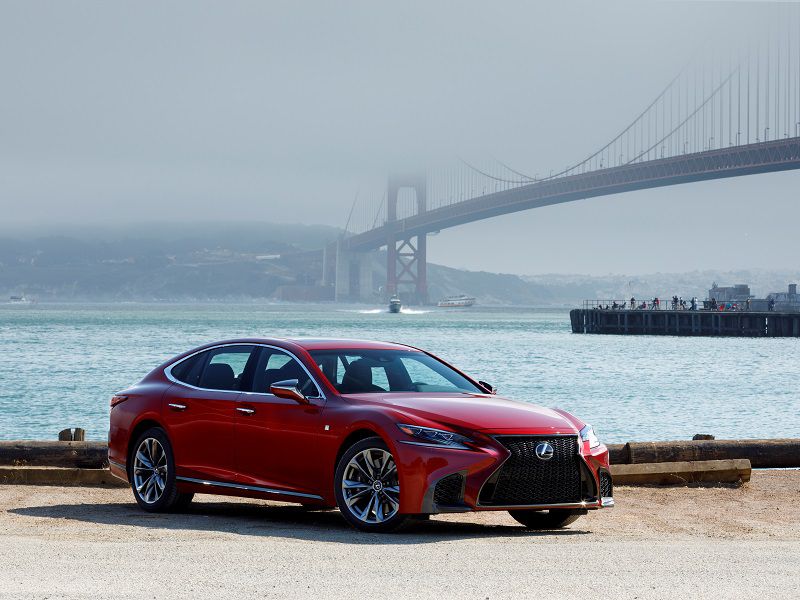 Photo by Lexus
2020 BMW X3
Imagine giving the gift of "The Ultimate Driving Machine." That is entirely possible with the attractive deals currently available on the BMW X3 compact crossover. As the name suggests, this isn't your average SUV. While the X3 has surprisingly good off-road credentials, it is also a true BMW in its on-road performance. The X3's 50:50 weight distribution, well-engineered chassis and suspension, and its xDrive Intelligent all-wheel-drive system deliver on the performance front.
In the BMW X3 xDrive30i, the 2.0-liter twin-turbo four-cylinder gasoline engine produces 248 horsepower while maximum torque of 258 lb-ft is on tap between 1,450 and 4,800 rpm. Inside the X3 has an ergonomically optimized cabin with exceptional material quality, fit, and finish. Comfort-enhancing features include tri-zone automatic climate control and reclining 40-20-40 split-folding rear seats that can be adjusted individually. The 2020 BMW X3 is available with 0.9% APR financing for up to 60 months for qualifying buyers.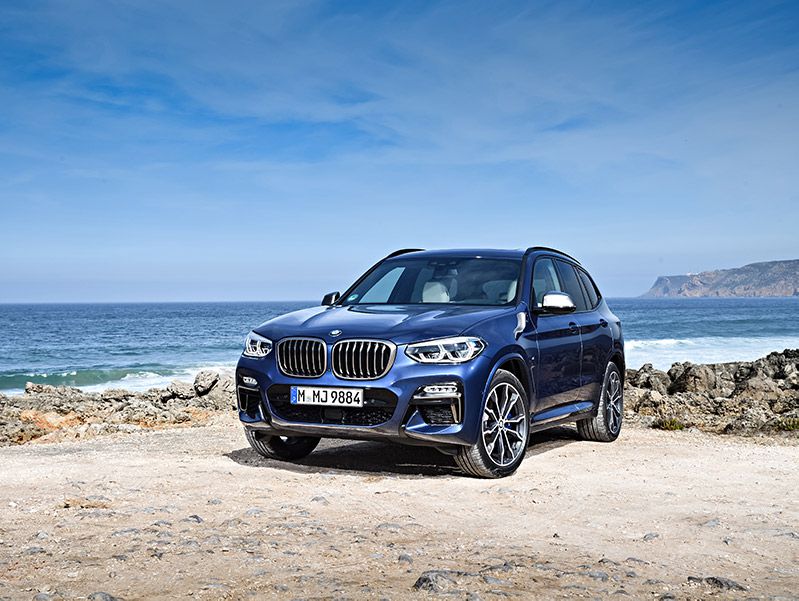 Photo by BMW
2020 Nissan Murano
Known for its distinctive looks and high style, the Nissan Murano five-passenger mid-size SUV continues to win new fans. Its great looks and upscale interior make it a natural for holiday gift-giving. The Murano's interior style is contemporary and upscale, and the car features an easy-to-operate infotainment system.
Power comes from a 3.5-liter V6 engine rated at 260 horsepower and 240 lb-ft of torque teamed with the Xtronic continuously variable transmission with "D-Step Logic," giving it the feel of a conventional step-gear automatic. All Muranos are offered in front-wheel drive or all-wheel drive. On the driver-assist front, the Murano's standard Safety Shield 360 includes blind-spot monitoring, automatic emergency braking with pedestrian detection, rear automatic braking, and other systems. Through January 4, 2021, the Murano qualifies for 0% financing for 72 months plus $3,500 in cash back.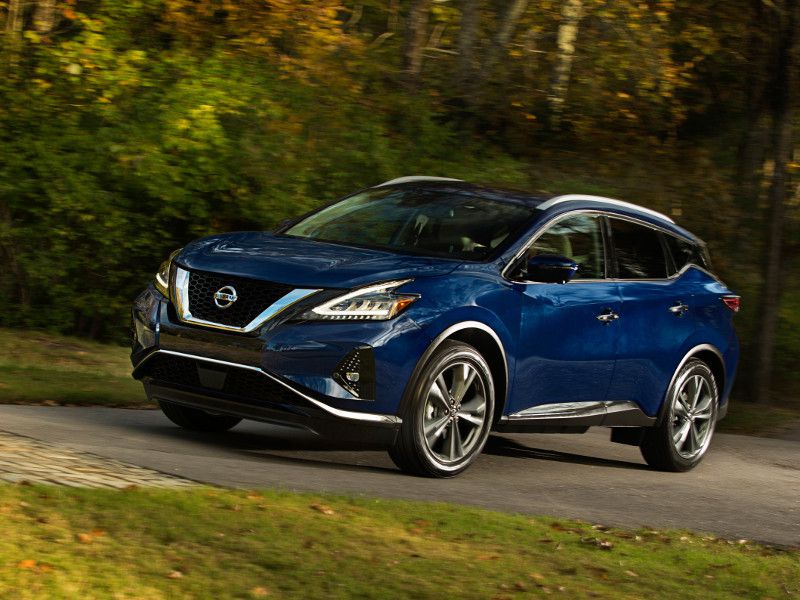 Photo by Nissan
2021 Cadillac CT5
luxury cars and gifts just seem to go together. One excellent option in that regard is the Cadillac CT5, a mid-size five-passenger sedan with a highly styled interior and exterior. The sporty sedan offers the choice of a 258-horsepower turbocharged 2.0-liter four-cylinder engine or a 360-horsepower twin-turbocharged 3.0-liter V6. Both engines are matched to a 10-speed automatic transmission and both rear-drive and all-wheel driver versions are available. Inside the CT5, the Cadillac User Experience infotainment system has a 10-inch touchscreen and upscale sound.
Those interested in slipping a Cadillac into their driveway this month have some choices to make. Cadillac is offering $1,500 toward the lease of a 2021 or 2020 CT5 to qualifying lessees, but perhaps the best deal of all is 0% financing for 72 months plus a $500 purchase allowance. A similar offer is available on 2020 CT5s that includes $2,500 in cash.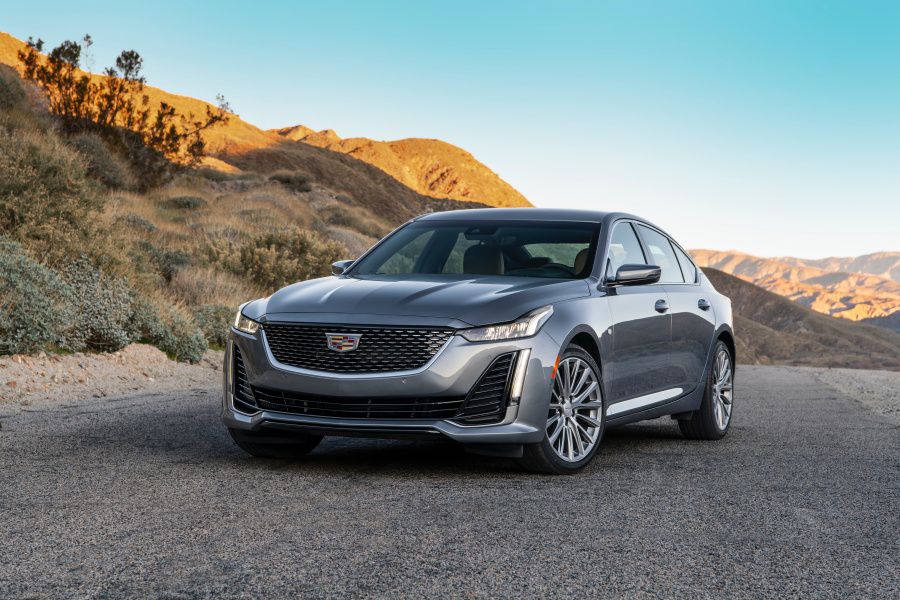 Photo by General Motors
2021 Kia Stinger
The Kia Stinger is a well-drawn sports sedan with a European sensibility despite its Korean origins. With an exterior penned by a well-known European designer and a chassis set up for handling prowess, the car both looks and acts the part of an international performance car.
It is offered with two powertrain choices. The 2.0-liter twin-scroll turbocharged four-cylinder engine produces 255 horsepower at 6,200 rpm with 260 lb-ft of torque across a wide rev band. The 3.3-liter twin-turbo V6 produces 365 horsepower at 6,000 rpm and offers 376 lb-ft of torque with an equally flat torque curve. The Stinger features an eight-speed automatic transmission that is designed for heavy torque loads and the extremes of track driving. Kia says the Stinger GT has a top speed of 167 miles per hour, enough to outrun Santa and his sleigh. Now through the end of the year, all this performance can be had with 0% financing for 66 months. Even better, a very similar 2020 Stinger can be purchased with 0% financing for 75 months.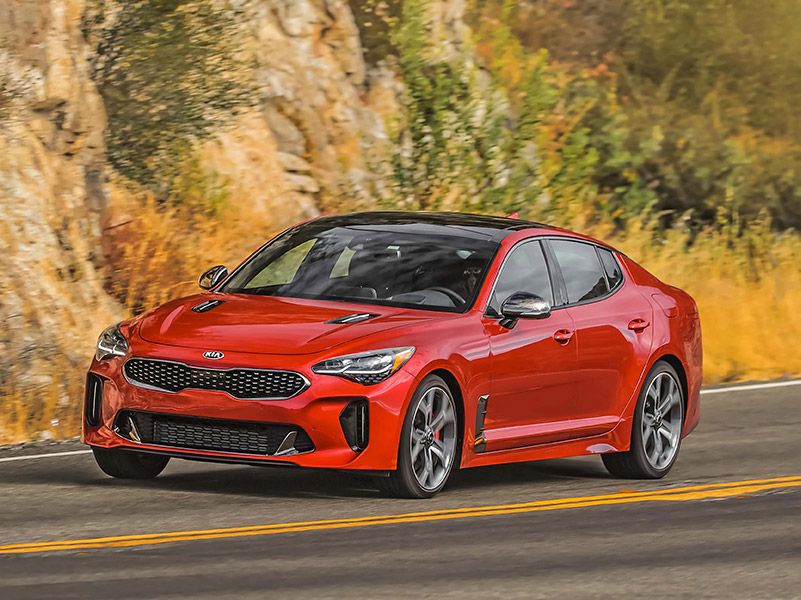 Photo by Kia
2020 Volkswagen Golf GTI
The Volkswagen Golf GTI started the hot hatchback trend eons ago, and the concept is still a good one. A performance-oriented five-door hatchback, the Golf GTI offers room for five passengers and plenty of gear. It's a blast to drive on the curvy bits on a Saturday morning, but it will also be a stalwart day-to-day commuter car.
With a 228-horsepower turbocharged 2.0-liter four-cylinder engine teamed with a six-speed manual or seven-speed dual-clutch automatic transmission, the front-drive GTI offers excellent all-around performance. While the exterior has the classic two-box hatchback shape, the interior is handsome and purposeful. The GTI's VW Car-Net telematics system features standard Apple CarPlay, Android Auto, and Wi-Fi hotspot capability. Standard safety gear includes a forward-collision warning with automatic emergency braking, blind-spot monitoring, and a rear cross-traffic alert. In many areas across the country, the Golf GTI is being offered in a deal that includes $0 down, a $0 security deposit, a $0 first-month's payment, and a total of $0 due at signing with a lease term of 39 months. The monthly payment is $399.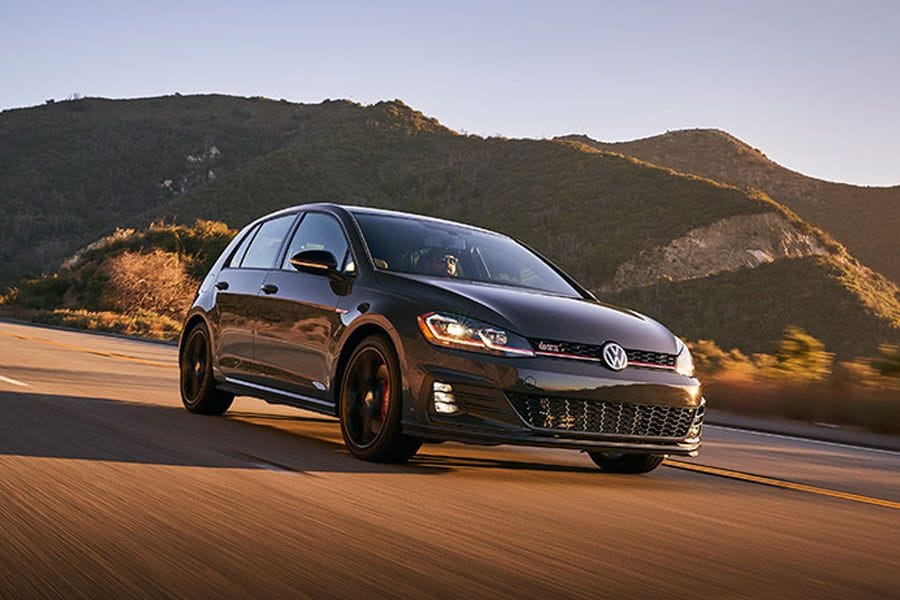 Photo by Volkswagen
2020 Chevrolet Silverado
The Chevrolet Silverado full-size pickup truck is one of America's favorites. Whether you are looking for a work truck to help you make a living day-to-day or a lifestyle truck that will help you fulfill your recreational desires, the Silverado has a model for you. With an impressive record of longevity and reliability, the Chevrolet Silverado can do a serious amount of hauling. The maximum trailering capacity is a stout 13,400 pounds while the maximum available payload is 2,250 pounds.
The engine array is impressive as well. At the top end is the 420-horsepower 6.2-liter V8 engine with a 10-speed automatic transmission. The 5.3-liter V-8 engine with Dynamic Fuel Management is also paired with a 10-speed automatic transmission. Then there is the 2.7-liter turbocharged four-cylinder engine with an eight-speed automatic transmission and the 3.0-liter turbodiesel with a 10-speed automatic transmission. Interiors range from utilitarian on Work Truck trims to luxe in the LTZ and High Country. Chevy's current promotion is Employee Discount for Everyone, and among the holiday time deals is a total of $8,465 in total savings on a 2020 Silverado 1500 crew cab LT All Star Z71 with four-wheel-drive.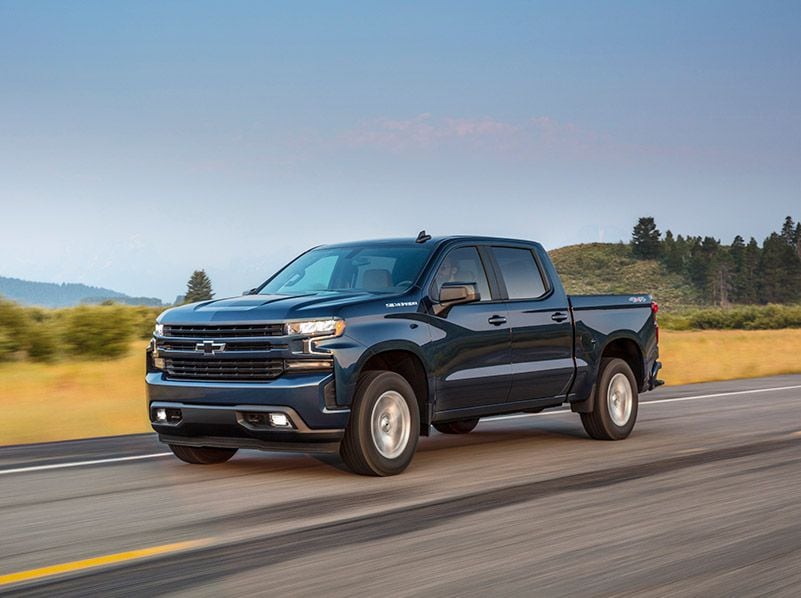 Photo by General Motors
2021 Hyundai Sonata
The Sonata one of the best-looking mid-size sedans, and it is filled with comfort and convenience equipment typically found only in luxury vehicles. It offers a choice of two engines — a 191-horsepower 2.5-liter four-cylinder and a 180-horsepower 1.6-liter turbocharged four-cylinder, both mated to an eight-speed automatic transmission.
Upscale touches include hands-free trunk lid operation, a panoramic sunroof, an electric parking brake, and a wireless smartphone charging pad complete with a cooling fan. The top-of-the-line infotainment display is a high-definition, customizable 10.25-inch touchscreen monitor with split screens offering speech recognition technology. Several attractive offers are currently available on the 2021 Sonata, including 0% financing for up to 72 months. Or customers can lease a 2021 Sonata for $189 per month for 36 months with $2,799 due at lease signing. Even more attractive deals are available on the virtually identical 2020 Sonata models.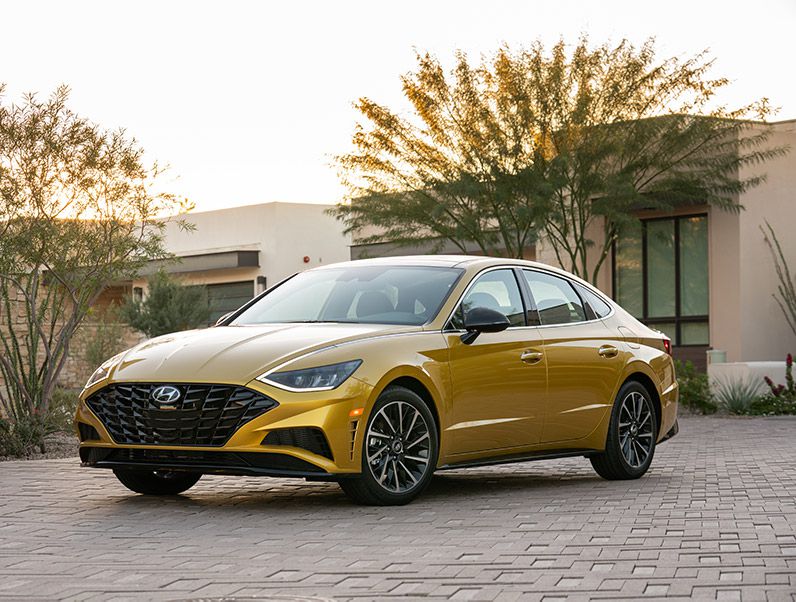 Photo by Hyundai
2021 Mazda Mazda3
We would certainly like to see a 2021 Mazda Mazda3 as a holiday gift. It's a compact car that inspires admiration all around from its premium-grade exterior style, to its nicely crafted interior, to its powertrain and chassis. Way more than a grocery-getter, the Mazda3's precise handling sets it apart from its competitors.
For 2021 the Mazda3 offers the choice of a 155-horsepower 2.0-liter four-cylinder engine, 186-horsepower 2.5-liter four-cylinder engine, or 250-horsepower inter-cooled turbocharged 2.5-liter four-cylinder. Both front-drive and all-wheel-drive versions are available. Standard driver-assist and safety features include automatic emergency braking, adaptive cruise control with stop-and-go, a lane-departure warning, and lane-keep assist. The 2021 Mazda3 sedan is available with 0.9% financing for up to 60 months and the first payment can be deferred for 90 days, which is way past the holidays.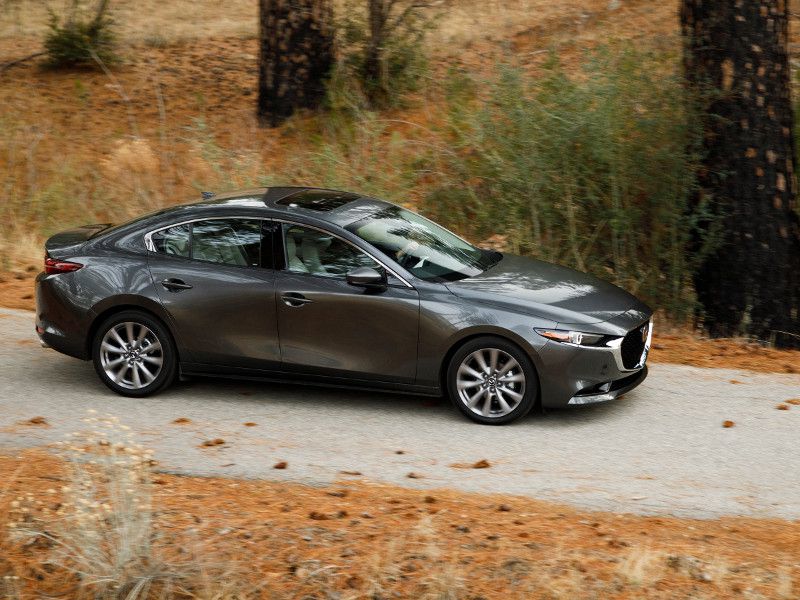 Photo by Mazda
2021 Jaguar F-Type
Many of us have dreamed of getting an exotic sports car for the holidays. Now that dream can come true. The Jaguar F-TYPE is one of the most sought-after sports cars of its generation. Beyond its good looks and impressive provenance, the Jaguar F-Type gives performance drivers an incredible array of good choices.
First, they can pick a coupe or convertible, both dazzling in design. Then there are the powertrains — from a 296-horsepower turbocharged 2.0-liter four-cylinder to a 575-horsepower supercharged 5.0-liter V8. There is a lot to recommend every one of them. Now, just in time for the Yuletide, every F-Type model is being offered with 0% financing for up to 72 months. Beyond that, the 2.0-liter coupe can be leased for $579 per month for 36 months with $4,995 due at lease inception. A 2.0-liter convertible can be leased for $629 per month for 36 months with $4,995 due when the lease begins. Happy Holidays!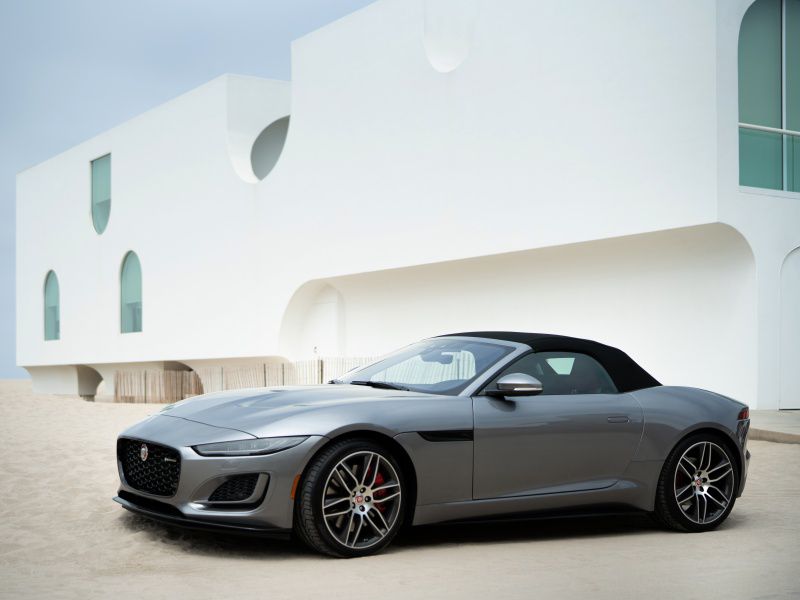 Photo by Jaguar