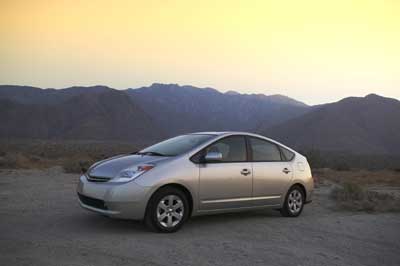 Expensive gas. Dirty skies. Stinky exhaust fumes. Noise pollution. Yes, we Americans love our cars, but we're not so crazy about how much it costs to run them and the results of doing so.Despite the availability of mass transit systems and carpool lanes, the vast majority of us still prefer to travel solo to and from work everyday. That being the case, how can issues such as improving fuel economy and lessening pollutants be addressed? To date, the best solution is the hybrid vehicle, which offers substantial gains at the pump and cleaner emissions with very few compromises.
Fuel Economy
Hybrids provide better fuel-efficiency. Probably the most obvious of all hybrid benefits is the outstanding fuel economy they achieve. The Toyota Prius, for instance, can get mileage in the high 50s, but achieving such lofty figures requires a light foot - speed demons and stoplight racers will not see the same results. And with new offerings, including the Honda Accord Hybrid and Ford Escape Hybrid, there are more mainstream offerings that combine style and utility with impressive fuel mileage. The Ford Escape Hybrid serves as a capable SUV, complete with front- or all-wheel-drive, and returns about 30 mpg, whereas the gas-only version typically achieves about 20 mpg. With a 15-gallon fuel capacity, that allows the Escape Hybrid to travel about 450 miles per tank, for a total cost of $30.00 ($2.00/gallon). To travel the same distance, the gas-only Escape, at 20 mpg, would require $45.00 worth of fuel -- an additional $15.00. Over time, that extra money spent on gas becomes significant. Adding performance to the mix is the Honda Accord Hybrid, which actually offers 15 more horsepower than the already impressive gas-only V6 version (for a total of 255), and yet gets another seven miles to each gallon of gas.

Foreign Oil
Hybrids can lower our dependence on foreign sources of oil. According to figures from the Natural Resources Defense Council, the U.S. is home to only two percent of the world's oil supply, but as a nation we use nearly 25 percent of the global supply. To get our oil fix, more than 50 percent of our demand must be met by outside sources. With an increase in fuel economy, hybrid vehicles conversely decrease our dependence on foreign sources of oil. This is an especially important point in today's political climate. With turmoil continuing in some of the most oil-rich regions, it makes sense to be developing systems that limit dependence on this natural resource, and allows for a possible self-sufficient energy policy in time.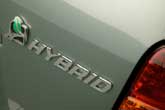 Emissions
Hybrids emit fewer pollutants into the air. Since hybrid vehicles are more fuel-efficient than their gas-only counterparts, they burn less fuel and, therefore, emit fewer emissions. In fact, it has been estimated that hybrid vehicles cut harmful greenhouse emissions by up to 90 percent. Furthermore, full hybrids like the Toyota Prius and Ford Escape Hybrid can run on electric power alone (up to certain speeds) and allow the gas engine to be shut off when at a complete stop. Relatively inefficient gas-only vehicles, however, are always running in stop and go traffic and at stop lights.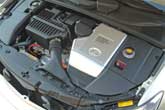 Incentives
Hybrids are eligible for certain tax incentives. Starting in 2002, the federal government offered a tax incentive of up to $2,000 for owners of hybrid vehicles, though that amount will continue to decrease and will be phased out completely by 2007. However, some city and states have adopted their own plans to support hybrid ownership. For example, the state of Virginia allows hybrid drivers to use lanes otherwise reserved for high-occupancy vehicles, a move that is also being considered in Georgia and Connecticut ; Oregon offers up to $1,500 in personal income tax incentives for hybrid owners; and the city of Los Angeles permits free parking for hybrid vehicles.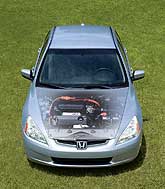 Quiet
Hybrids are quiet. This is especially true for full hybrid vehicles, including the Toyota Prius and Ford Escape Hybrid. Because they can be operated on battery power alone in traffic and up to certain speeds, there is no noise or vibration generated by the gas engine, and subsequently, the ride is extremely quiet. And even at full throttle on the highway extra power is coming from an electric motor rather than an internal combustion engine, so in those situations a hybrid vehicle still generates relatively little noise.
Styling
Newer Hybrids often offer designs that are exactly the same as gas-powered versions. When the Honda Insight first arrived on the market, it was clear that the car's primary purpose was to achieve excellent fuel economy, and utility was a distant second. The Insight featured skirts on the rear wheels for improved aerodynamics, but only offered seating for two and a limited amount of cargo space. Less unusual was the first-generation Toyota Prius, with its small sedan styling and seating for five. But for shoppers looking for a hybrid, the Insight and the Prius were only the choices. Today, however, the number of choices is growing, and now includes the Honda Accord Hybrid, the Ford Escape Hybrid SUV, and the first luxury hybrid, the Lexus RX 400h. Many more from a broad range of manufacturers, from Chevrolet to Mercedes-Benz, are also on their way to consumers. Except for very subtle differences, including badges and in some cases the wheels, there is no distinguishing a hybrid from a non-hybrid model.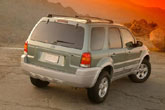 Good Deed
Hybrids provide the "Feel Good Factor". There is something very satisfying about knowing you're doing a good deed, and that's what comes with hybrid ownership. When the nightly news is about global warming, a rise in the number of respiratory diseases, or the ever-present smog layer, a hybrid owner feels a sense of accomplishment for doing their part to address and alleviate those concerns.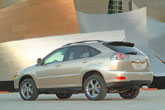 Wrap
There are a number of good reasons to buy and drive a hybrid vehicle, and you need not be a tree-hugger to embrace them. Environmental concerns aside, hybrid ownership makes financial sense in a climate where gas prices continue to climb. Also, as more companies develop and offer this sophisticated technology, the lower the price will be for consumers. And with the broad availability of hybrids, car buyers can feel assured that parts and services will be available, serving to take the worry out of long-term ownership.So, next time you find yourself stuck in traffic, gazing out into the brown sky and reaching for your asthma inhaler, take a second to picture yourself in a hybrid.