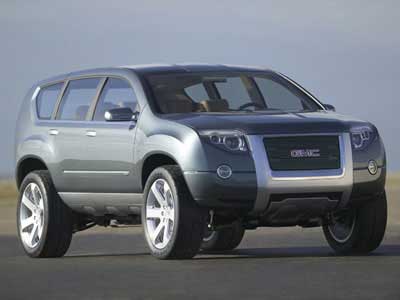 To address the need for propulsion systems that improve fuel economy, reduce emissions, and ultimately operate on renewable alternative fuels, General Motors has a three-pronged plan to address the problem. In the short term the automaker is introducing technologies such as Displacement on Demand and six-speed automatic transmissions that save fuel. In the long-term, liquid hydrogen fuel cell technology is the plan, with GM hoping to bring an affordable fuel cell vehicle to market within ten years. Mid-term, however, the company is focused on its two-mode full hybrid powertrain, developed in conjunction with DaimlerChrysler, which has already been applied to passenger buses in several U.S. cities and is trickling down to consumer vehicles within the next few years. To showcase the application of this two-mode full hybrid system in mainstream vehicles, GM has installed it in the GMC Graphyte Concept, an all-wheel-drive SUV which benefits from a 25-percent increase in fuel economy with no loss of power and performance over a regular mid-size SUV.
Design
Designed at GM's studio in Coventry, England, the GMC Graphyte Concept resembles the progeny of an Audi and an Isuzu Axiom. A large metal-framed grille presents GMC's giant red logo front and center, flanked by lighting elements that instantly recall the Chrysler 300 and which also swivel side-to-side as well as up-and-down. The Graphyte's wheelwells bulge tastefully, and the greenhouse is squared off with a triangular D-pillar reminiscent of the deceased Isuzu. Inside, twin skylights running the length of the GMC Graphyte's roof, divided by an overhead console, illuminate the cabin. Mokanto wood veneer, polished aluminum trim, and leather are the primary design materials for the cabin, which also offers impressive utility. The rear seat, which slides fore and aft for comfort or cargo, includes three seatbacks that fold independently of one another for maximum flexibility. The clamshell tailgate can open from either side or fold down like a pickup truck to ease cargo loading. Interesting interior features include a control panel for the transmission, which is push-button even though it looks more like a regular sliding gear selector mounted to the center console. The hybrid powertrain's operational details are shown on a centrally mounted screen, which also displays functions for onboard info-tainment features. Next-generation OnStar telematics offers English, French and Spanish interaction, and the GMC Graphyte concept also includes Advanced Automatic Crash Notification (AACN), which communicates critical crash information to OnStar advisors after an accident, so that emergency responders know before arriving at the scene what to expect.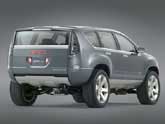 Powertrain
A Vortec 5300, 5.3-liter V8 engine sits under the GMC Graphyte's hood, equipped with Displacement on Demand cylinder deactivation technology. It's connected to the two-mode full hybrid system, which is scheduled to debut in the 2007 Chevrolet Tahoe and GMC Yukon. In its first mode, the hybrid system combines engine and electric power for low-speed, stop-and-go driving, while the second mode operates at higher vehicle speeds. Though it looks like a crossover suv, the GMC Graphyte Concept possesses rugged ladder-frame construction, with an independent air suspension that allows the ride height to be adjusted by 4.7 inches for either increased ground clearance or road-hugging stability and aerodynamics. The concept vehicle is equipped with giant 22-inch wheels wearing Goodyear all-terrain tires, which reinforce the notion that the Graphyte is a real SUV designed for real off-roading. Huge vented and cross-drilled brake discs are mounted at each corner.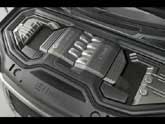 Wrap-Up
We wouldn't take a bet that GM will produce the GMC Graphyte, but the technology is coming to showrooms and this concept vehicle could point in the direction that the next generation Chevrolet Tahoe and GMC Yukon will take, stylistically. Regardless, it's a great showcase of GM's dedication to developing real world, no-compromises hybrid powertrains.
Photos courtesy of General Motors