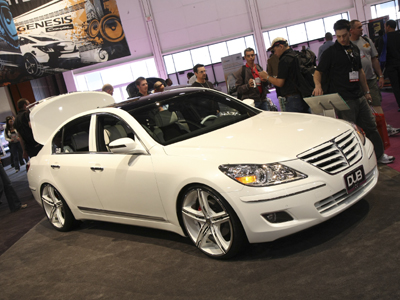 Until this year, it probably would have been unlikely to see DUB Magazine tackle a Hyundai, and maybe this gallery would have contained a slammed Sonata or something, but that was before the Genesis launched. This one, in custom Pearl White paint is sitting on 22-inch color-matched TIS 12 wheels, and on the inside it features custom white leather with black piping and a black suede headliner. Topped off with some Alpine gear, this isn't just a sweet Hyundai, it's a sweet car.
Photo Credit: MyRide Staff
Page 2
BMW, Mercedes-Benz, and Porsche were heavily represented at the show, but we thought this take on the new Volkswagen CC was a refreshing addition. Already a great looking car, the Eco Performance Concept adds to the CC an exterior featuring black chrome accents, grey pearl paint, and a custom front and rear bumper. Where does the "Eco" come in? Fitted with a three-stage turbocharger, stage 1 actually boosts fuel economy in the city from 19 to 27, and even in full power mode (unleashing 311-horsepower), a mileage increase in gained over the CC's base engine. Twenty-inch wheels and Brembo brakes round out this best-of-both-worlds concept.
Photo Credit: MyRide Staff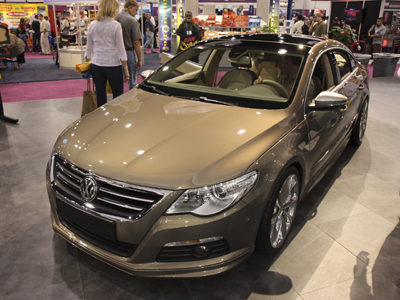 Page 3
The Chevrolet Camaro was the official vehicle of the SEMA Auto Show, but the Nissan GT-R was the unofficial vehicle of the show as far as we're concerned. We thought it was a rare vehicle...until we saw one in every other booth at the show. They even had one in the men's room just for the hell of it. This was one of our favorites, with a two-tone matte-gray-on-black exterior, and color-matched HRE rims on the corners.
Photo Credit: MyRide Staff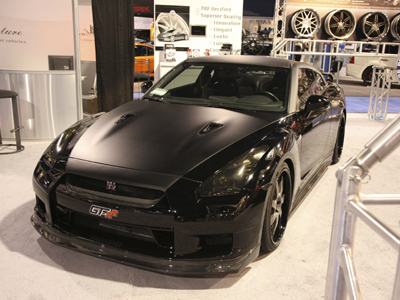 Page 4
Having to choose which Italian model to feature is a dilemma of King Solomon baby-splitting proportions, and there were plenty to choose from, but in the end we settled on this Ferarri 599 Fiorano by 3T Motorsport. No one does the color red like Ferrari, and the black wheels really stand out nicely. Rumor is 3T has access to a Ferrari FXX through their friends at aftermarket parts maker Jim Gainer, and we hope they manage to bring that out to SEMA next year.
Photo Credit: MyRide Staff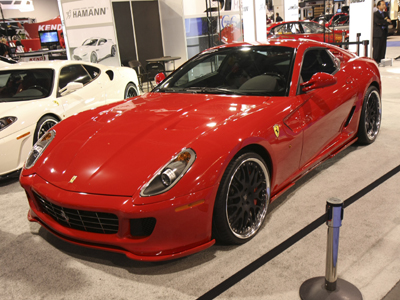 Page 5
There were no lack of Range Rovers at the show, and we were really disappointed that no one customized a Jaguar XF, so when we saw this rare Aston Martin DBS we thought it should carry the Union Jack (and technically Range Rover and Jaguar sport the National Flag of India these days anyway). For a vehicle at SEMA, the DBS here is relatively untouched aside from HRE wheels, but when you look that good naturally, why bother with makeup?
Photo Credit: MyRide Staff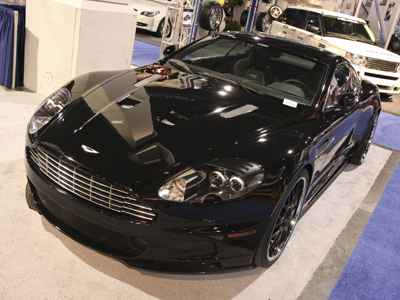 Page 6
Check out the best accessories, wheels, audio systems, custom cars and even green technology at the 2008 SEMA show!
Photo Credit: MyRide Staff