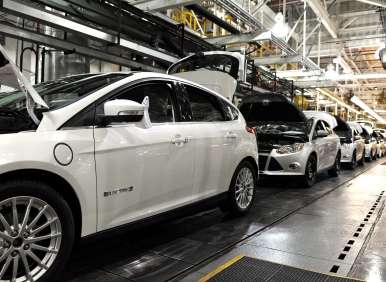 Coinciding with the start of production of the all-new 2012 Ford Focus Electric, Ford has released fresh information about its coming EV, as well as its overall vehicle-electrification plans.
First in line for retail customers will be the Focus Electric, which will be the first five-passenger EV to achieve a rating of 100 MPGe (miles per gallon equivalent), as well as the first to showcase new fast-charging technology that allows drivers to fully recharge the car in just 3-4 hours—that's about half the time it takes to "fill up" the Nissan LEAF. Even better, all it takes to accomplish this is access to a 240-volt outlet that can be simply installed in an owner's home. A quicker charging speed is a key enabler of the Focus Electric's practicality; with a charging rate of about one hour per 30 miles, it will be easy for owners to extend the car's approximately 100-mile range as part of their daily driving routines.
Ford also is introducing an advanced lithium-ion battery that boasts active liquid cooling and heating to ensure optimum performance and efficiency regardless of outside temperatures. On hot summer days, the system circulates cooled liquid around the batteries to absorb excess heat, while heated liquid is used to gradually warm up the battery pack during colder weather.
Further Focus Electric features will include:
• An EV-specific version of the automaker's latest SYNC with MyFord Touch in-car connectivity system
• The latest SmartGauge with EcoGuide gauge cluster system, designed to help "coach" efficient driving
• The MyFord Mobile app that gives owners the ability to remotely control charging and select other vehicle functions, as well as to check the vehicle's current charge state and more
• "Value-charging" functionality, which leverages Microsoft technology to help owners set charging times to automatically recharge the Focus Electric when utility rates are lowest
• A dynamic driving experience that builds on the same athletic underpinnings of the gas-powered Focus
The Focus Electric is being built right here in the U.S., too, at Ford's Michigan Assembly Plant in Wayne, Mich. Deliveries of the car will begin soon in California, New York and New Jersey, then expand to a total of 19 launch markets throughout 2012. Among them: Atlanta; Austin and Houston, Texas; Boston; Chicago; Denver; Detroit; Los Angeles; San Francisco; San Diego; New York; Orlando, Fla.; Phoenix and Tucson, Ariz.; Portland, Ore.; Raleigh-Durham, N.C.; Richmond, Va.; Seattle; and Washington, D.C.
"The Focus Electric is a shining example of the leading fuel economy Ford is offering for each new vehicle," said Derrick Kuzak, group vice president, Global Product Development. "Whether people want a hybrid, plug-in hybrid or full battery-electric vehicle, we have a family of vehicles for them to consider, providing a range of options to best meet their needs and support their driving habits and lifestyles."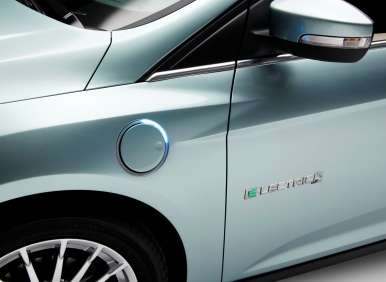 C-MAX to See More Efficiency
As Kuzak implies, the Focus EV will soon be joined by a number of other electrified vehicles in the Ford lineup, including the Ford C-MAX hybrid and Ford C-MAX Energi, a plug-in hybrid version of the company's all-new multi-activity vehicle (MAV). MAVs represent a new segment for U.S. buyers and wrap high levels of interior versatility in nimble, more car-like packages.
Both the C-MAX and C-MAX Energi will rely on Ford's next-gen hybrid technology, with the automaker's innovative "powersplit" system for higher all-electric driving speeds, and smaller lithium-ion battery packs that deliver notable weight savings. Those hybrid systems are then mated to a high-efficiency, Atkinson-cycle four-cylinder engine that Ford says is "among the most advanced non-turbocharged four-cylinder powertrains" it has ever developed. Backed by all that tech, the C-MAX Hybrid is expected to return better EPA ratings in city, highway and combined driving than the Toyota Prius v, while the C-MAX Energi is slated to provide a higher MPGe in all-electric driving than the Toyota Prius Plug-in hybrid, as well as a total driving range of over 500 miles—more than 100 miles beyond the range of a Chevy Volt.
Also being assembled in the United States at Wayne Assembly, the C-MAXs are scheduled to go on sale in the latter half of next year.
"The C-MAX Hybrid and C-MAX Energi are designed to meet the needs of customers looking to 'plus-up' and optimize their hybrid car experience," said Amy Machesney, C-MAX Hybrid and C-MAX Energi Marketing manager. "These customers are living more environmentally responsible lives and may have bought a hybrid in the past. They are now ready for more hybrid choice, combined with style, better performance and additional versatility."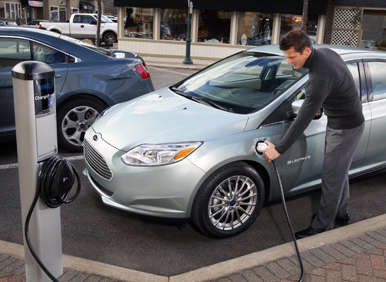 The Power of Choice
All told, Ford plans to introduce five electrified vehicles in the U.S. in 2012, including three new products that remain top secret at this stage in the game. However, the bottom line is that, come next year, one third of the automaker's lineup will offer customers a vehicle capable of at least 40 mpg.
It's a further development of Ford's "Power of Choice" strategy, as explained by Kuzak, "Whether people want a hybrid, plug-in hybrid or full battery-electric vehicle, we have a family of vehicles for them to consider, providing a range of options to best meet their needs and support their driving habits and lifestyles."
And remember, this also includes the gas-powered Ford Focus and Ford Fiesta—on sale now with EPA highway ratings of 40 mpg.