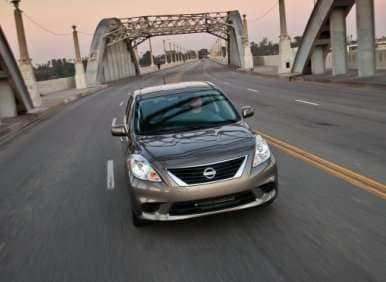 The most affordable sedans of 2012 provide owners with two key advantages: Not only do they provide a fairly easy way to get into a new set of wheels, but they also deliver a certain je ne sais quoi that most folks believe to be missing from their inexpensive hatchback counterparts. Of course, that's not a problem for the five choices here, which aren't just among the most affordable sedans of 2012—they're also among the best affordable sedans of 2012.
And today's list isn't limited to just small cars, either; it features entries from the heart of the U.S. auto industry, with low-cost choices in the sub-compact, compact, mid-size and full-size sedan classes, along with the country's most affordable hybrid sedan.
Most Affordable Sedans of 2012: Nissan Versa Sedan
Long the country's least-expensive car of any kind, the 2012 Nissan Versa Sedan still starts at just $10,990 and, thanks to its wholesale redesign for the 2012 model year, it now offers air conditioning as a standard feature. That means the most affordable of the most affordable sedans for 2012 can actually be used by most people fresh from the factory, since it also comes standard with an AM/FM/CD sound system with an auxiliary input jack, a 12-volt cabin outlet, halogen headlights, and Nissan's Advanced Air Bag System.
Beneath the hood is a competitively powered 1.6-liter I4 engine that serves up 109 hp/107 lb.-ft. of torque—besting rivals like the Toyota Yaris—as well as EPA marks of 27 mpg city/36 mpg highway/30 mpg combined with its standard five-speed manual transmission. And while these marks are already better than those from the similarly transmissioned Honda Fit, Nissan has fine-tuned the available CVT in the Versa Sedan to reach 31/40/35. (To provide drivers with a more affordable automatic option, the Versa Sedan also will offer a traditional autobox for the new model year.)
Cementing its place as one of the best affordable sedans of 2012, the Nissan Versa is a Top Safety Pick of the Insurance Institute for Highway Safety and a Total Cost of Ownership award winner from Kelley Blue Book.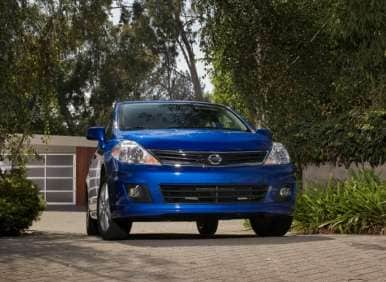 Most Affordable Sedans of 2012: Kia Forte
Moving up to the next weight class, the Kia Forte joins our roster of best affordable sedans for 2012 with an MSRP of $15,400. The Forte was one of the first new-style Kia vehicles to enter the marketplace, in 2011, and it continues to offer a strong value even against the compact segment's newest entries. The key here is a particularly long list of standard content, especially given the Forte's starting point. Right out of the box, Kia's compact is configured with an AM/FM/CD/MP3/XM sound system with USB port, Bluetooth technology, steering-wheel-mounted audio and cruise controls, a climate system with both a/c and rear-seat vents, auto-off halogen headlights, and the proverbial much, much more.
Like many affordable sedans in 2012, the Forte also provides some wallet relief at the fuel pumps. While it's true that there's no 40-mpg version in the lineup, the base model (with six-speed DIY transmission) does get the exact same EPA grade in combined driving as the comparable Chevy Cruze; but in the Forte, that 29 mpg is backed by significantly more power. The tale of the tape shows the Kia packing 156 horses and 144 lb.-ft. of torque in its 2.0-liter I4, while the Chevy offers 138/125 with a smaller-displacement 1.8-liter I4.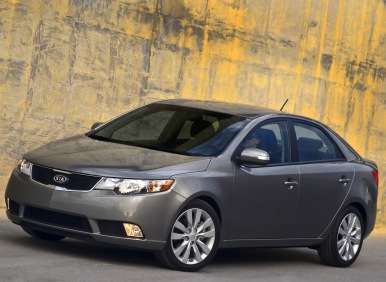 Most Affordable Sedans of 2012: Chrysler 200/Dodge Avenger
With these two Chrysler Group products sharing both the same price and the same platform, we'll also let them share a place among our list of best affordable sedans for 2012. After all, where else can you get a brand-new mid-size sedan for a mere $18,995? Of course, there is one catch: Although the base models for both the Avenger and the 200 do provide all the basics—including air conditioning—and they do offer some nifty style touches—like LED taillamps, heated outside mirrors, and acoustic laminated glass—they still start with four-speed automatic transmissions.
As a result, the EPA marks here come out to 21 mpg city/29 mpg highway/24 mpg combined, which is a bit off the pace set by the segment leaders. For example, the new Ford Fusion will be rated at 22/34/26. On the other hand, the Blue Oval's new mid-sizer also will be priced from $21,700, giving the Chrysler Group duo an advantage of more than $2,700—which would buy a fair amount of gasoline, even at $4 a gallon.
It's worth pointing out that these two of the most affordable sedans of 2012 also are two of the best-selling vehicles in their class. Through the first nine months of the year, Chrysler has delivered 100,267 units of the 200, for a 71 percent increase, and Dodge has sold 74,739 Avengers during that time, representing a 66 percent jump.
Most Affordable Sedans of 2012: Dodge Charger
When it comes to full-size entries, the list of affordable sedans for 2012 is surprisingly small. Most of the players in this segment, even from the mainstream automakers, now showcase premium amenities and price tags to match. Consider: Getting into a new Hyundai Azera will set you back at least $32,250, while a Toyota Avalon opens at $33,195. But the cost of a Dodge Charger—the largest of our most affordable sedans of 2012—undercuts that pair by more than $6,000.
Priced from $25,795, the Charger is only $115 more expensive than a Chevy Impala, yet it delivers a full complement of new-school advantages in almost every department and was recently honored with an Ideal Vehicle Award from Autobytel and AutoPacific; the long-in-the-tooth Impala is spending the last year of its current generation primarily as a fleet vehicle.
Meanwhile, Charger choosers benefit from standard equipment like a 293-hp Pentastar V6 engine, 17-inch aluminum wheels, Dodge's hallmark LED taillamps, keyless entry and push-button start, a dual-zone climate system, a Uconnect connectivity/infotainment system with 4.3-inch touchscreen, integrated dual exhaust, and acoustic laminated glass.
Just note that the specific Charger model on our list of most affordable sedans for 2012 is configured with a five-speed automatic transmission that's good for EPA ratings of 18 mpg city/27 mpg highway/21 mpg combined—not the available eight-speed unit that ups the ante to 19/31/23.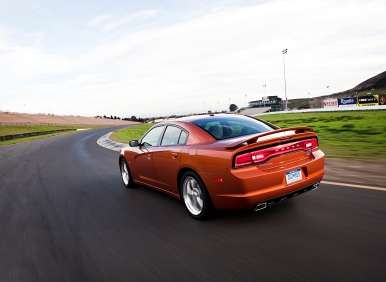 Most Affordable Sedans of 2012: Honda Civic Hybrid
Indulging in my preference for petroleum savings, I've also added the Honda Civic Hybrid to the roll call of the best affordable sedans for 2012: The car's MSRP of $24,200 makes it the least expensive hybrid sedan sold in America. It's also one of the least expensive to fill up, thanks to the latest version of Honda's Integrated Motor Assist (IMA) powertrain technology. Now boasting a bigger I4 engine than in the 2011 model, as well as a more powerful electric motor and new lithium-ion battery pack, the current Civic Hybrid can achieve 44 mpg in all phases of EPA testing.
To put those numbers into context, the coming VW Jetta Hybrid will offer 45 mpg in combined driving, but will cost at least $795 more than the Honda on our list of affordable sedans for 2012; further, that entry-level VW will be offered as a special order only. The least expensive Jetta Hybrid that customers are likely to find at dealerships, the SE version, will start at $26,990.
The Civic Hybrid, on the other hand, is already based on an upper-level trim, so its standard goodies include Bluetooth HandsFreeLink technology, steering-wheel-mounted controls, automatic climate control with rear-seat ducts, a 160-watt AM/FM/CD/MP3/WMA sound system with six speakers, Honda's intelligent Multi-Information Display (i-MID), an ECON button/driving mode, automatic halogen headlights and a rear spoiler.