According to the most recent data from MotorIntelligence.com, SUVs and crossovers account for nearly 30 percent of all vehicle sales in this country, with more than 2 million sold through the first six months of the year. It's a sure sign that Americans' demand for the bold, versatile and increasingly fuel-efficient vehicle style continues to run high—especially for the entries under discussion here. The best-selling SUVs of 2012 include a trio of high-volume crossovers that are consistently among the top sellers of any kind, a pioneering luxury choice, and a full-size body-on-frame brute that was coming off a 17.4 percent increase in deliveries in June (the last full month of sales when this article was written).
Best-selling SUVs for 2012: Ford Escape
The much-anticipated launch of the all-new 2013 Ford Escape has been a bit of a mixed bag for the Blue Oval. On the one hand, its first month on the market saw the Escape nameplate set an all-time monthly record for sales (of both 2012 and 2013 models); on the other, the redesigned entry-level crossover also endured two recalls, including one that was so serious that Ford asked owners to stop driving a very limited number of Escapes with the 1.6-liter EcoBoost engine.
But once the Escape puts these teething pains behind it, Ford is expecting the vehicle to continue taking a big bite out of the always-competitive entry-crossover segment. For starters, that high-efficiency EcoBoost powerplant—which rings up an EPA line of 23 mpg city/33 mpg highway—gives the Escape the best fuel-economy numbers of any of the non-hybrid top-selling SUVs of 2012, along with better highway performance than even the hybrid. And there are two other engine choices, including a 240-hp EcoBoost I4, on tap as well.
Customers looking for the latest in cutting-edge technologies are also helping the Escape stay up among the best-selling sport utility vehicles of 2012, since it offers segment exclusives like active park assist, a hands-free liftgate and the updated Sync with MyFord Touch connectivity and infotainment system.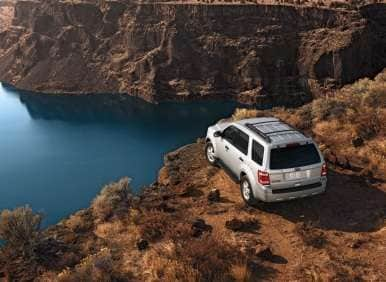 Best-Selling SUVs for 2012: Honda CR-V
Although the Honda CR-V has long been one of the country's best-selling SUVs, 2012 has seen the small crossover up the ante to record-setting levels. A key difference for the current CR-V, which was completely redesigned for the 2012 model year, is a much more family-friendly approach to satisfying customers. For the first time ever, for example, the Honda is available with a rear-seat DVD entertainment system, with a 7-inch display screen that deploys from the CR-V's ceiling and a wireless headphone set. Also, when CR-V owners swap kids for cargo, the 60/40 split rear seatbacks can be folded down with a simple pull of a lever to showcase up to 70.9 cubic feet of space.
Like many of the other top-selling sport-utility vehicles of 2012, the CR-V caters to those who want more power under the hood without having to spend more time—and money—at the gas pumps. Thus, the new CR-V is both more powerful than the 2011 model and more efficient. The tale of the tape: 185 hp, 163 lb.-ft. of torque and EPA grades of up to 23 mpg city/31 mpg highway/26 mpg combined.
The CR-V also received a 5-star Overall Vehicle Score for crash protection from the National Highway Traffic Safety Administration (NHTSA).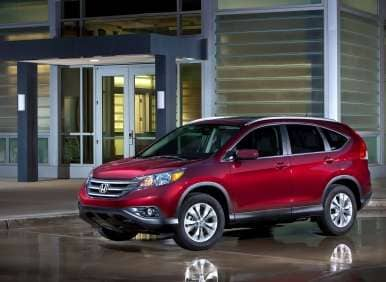 Best-selling SUVs for 2012: Chevy Equinox
Another consistent member of the industry's overall best-seller list—and one of the top-selling sport-utility vehicles of 2012—is the Chevy Equinox. The Bowtie brand's entry crossover attracts its customers with two very distinct powerplants. The standard choice is a 2.4-liter I4 engine that delivers 22 mpg city/32 mpg highway/26 mpg combined; the only one of Autobytel's best-selling SUVs of 2012 to beat those grades is the Escape with the 1.6-liter EcoBoost, and that's by just a single mpg in each measure—and that Escape requires a premium of some $1,500 over the starting price of the Chevy.
The optional engine for the Equinox is a V6 that, beginning later this year, will provide more power than found in any other six-cylinder entry among Autobytel's best-selling sport-utility vehicles of 2012. It's a direct-injection 3.0-liter engine that makes 301 hp and 272 lb.-ft. of torque, much more than any other rival in its segment.
Another key customer satisfier available in the Equinox: Chevy MyLink technology, which integrates drivers' Bluetooth-compatible smartphones for touchscreen and voice control of the vehicle's audio system (including Pandora and Stitcher Internet radio sources), numerous mobile apps, and hands-free calling.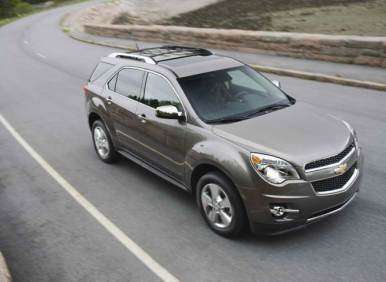 Best-selling SUVs for 2012: Lexus RX
The Lexus RX has been an owner favorite ever since helping to kick off the luxury crossover segments back in 1998, and it continues its run of success today as the top-selling SUV of 2012 for premium buyers. Nor is that likely to change, since Lexus has significantly refreshed the 2013 model that is already on sale at dealerships now.
Highlights include a new expression of the latest Lexus design language, with the brand's signature "spindle" grille providing a bolder, more dynamic appearance that's enhanced by redesigned front lighting—now featuring LED daytime running lamps and distinctive fog-lamp bezels. The rear of the RX has been updated as well, while the cabin shows off an upgraded and more comfortable steering wheel, new metallic and Ebony Bird's-Eye Maple accents, Saddle Leather surfaces, and a redesigned center console that provides more versatility for owners.
The RX also was the first lux crossover to offer a full-hybrid model, and the 2013 iteration—the RX 450h—carries on that tradition with the ability to reach 32 mpg city/28 mpg highway/30 mpg combined in its front-wheel-drive configuration and 30 mpg city/28 mpg highway/29 mpg combined with all all-wheel drive. Those are the best city and combined numbers for any of the best-selling sport-utility vehicles of 2012.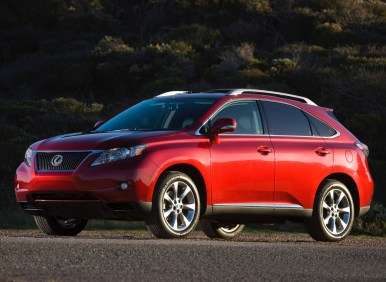 Best-selling SUVs for 2012: Chevy Tahoe
When it comes to the top-selling SUVs of 2012, the Chevy Tahoe is the real deal. It's 202 inches worth of body-on-frame truck, powered by a 5.3-liter V8 that can haul 8,500 lbs., up to nine occupants or almost 109 cubic feet of gear. But don't get fooled into thinking the Tahoe trades comfort and style for capabilities. After all, it also can be outfitted with up-scale leather seats (including a heated and cooled front row and a heated second row), premium audio technology from Bose, touchscreen navigation, a rear-vision camera, 20-inch polished aluminum wheels, adjustable pedals, a rear-seat DVD entertainment system, Bluetooth functionality and plenty of chrome.
The Tahoe also is surprisingly/relatively economical to drive, too. By leveraging cylinder deactivation, the big boy from the Bowtie brand posts the exact same EPA line—15 mpg city/21 mpg highway/17 mpg combined—as a V8-powered Ford F-150. Plus, it's available in a hybrid model that delivers 20 mpg city/23 mpg highway/21 mpg combined; for what it's worth, that's a higher city rating than you get in cars like the Toyota Avalon or Nissan Maxima.
And the Tahoe lives up to its recogntion as one of the best-selling sport-utility vehicles of 2012 by so far being, literally, the best-selling sport-utility vehicle of 2012—at least as far as traditional SUVs go.