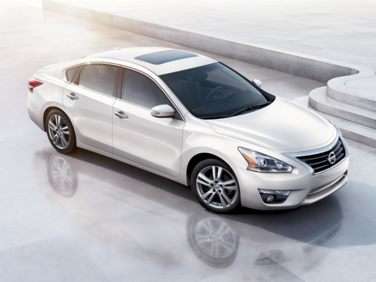 The tried-and-true sedan body style—with four doors and a traditional trunk—remains a favorite of American drivers, but that formerly conservative shape is now anything but. Designers and engineers alike have lavished significant attention on today's top sedans to create some stunningly attractive vehicles, with high levels of performance, content and fuel efficiency. And it's the latter characteristic that's in focus here, as Autobytel presents its list of the best MPG sedans of 2012. The roster includes hybrid, diesel and traditionally powered choices that are all readily available to U.S. buyers—which means potential picks like the Tesla Model S EV and Ford Fusion Energi plug-in hybrid didn't happen to make the cut this time around.
To see the high-quality quintet that did get included among our high-mpg sedans for 2012, just keep on clicking:
Best MPG Sedans of 2012: Nissan Altima
When the all-new 2013 Nissan Altima was launched earlier this year, it radically re-ordered the fuel-efficiency rankings among mid-size sedans. Boasting an EPA line of 27 mpg city/38 mpg highway/31 mpg combined, the current Altima enjoys advantages of 4 mpg/6 mpg/4 mpg over the 2012 model, as well as the overall fuel-economy crown among mid-sizers with a traditional internal-combustion powertrain. Even more impressive is the fact that it also out-efficiencies light-hybrid rivals like the Chevrolet Malibu Eco (with GM's eAssist technology) and turbocharged cars like Ford Fusion (with its premium 1.6-liter EcoBoost engine).
Because the Altima does its best work with its standard powertrain—instead of requiring an additional cash outlay from customers—this one of the high-mpg sedans of 2012 also is a conspicuously high value. The nifty Nissan's MSRP of $21,500 is almost $3,000 lower than that of the EcoBoosted Fusion and nearly $4,000 below the Malibu Eco.
Needless to say, the Altima's efficiency benefits are even stronger when compared to the entry models from its competition. The Toyota Camry and Hyundai Sonata top out at 28 mpg combined, for example, giving the Altima a more than 14 percent bonus in that measure and cementing its place on the roster of 2012's high-mpg sedans.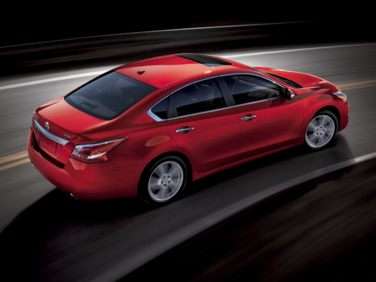 Best MPG Sedans of 2012: VW Passat TDI
For customers who don't mind paying a bit of a powertrain premium to get one of 2012's best-mpg sedans, the Volkswagen Passat TDI can deliver EPA marks of up to 31 mpg city/43 mpg highway/35 mpg combined with a six-speed manual transmission or 30 mpg city/40 mpg highway/34 mpg with a six-speed dual-clutch automatic. Further, VW's clean-diesel technology also means that the Passat TDI emits fewer emissions than many of its gasoline-powered rivals.
But it's not just the EPA that recognizes the Passat TDI's impressive fuel-efficiency; the car is one of 2012's best-mpg sedans in the real world, too. Earlier this year, a stock Passat TDI set a new world record for longest distance travelled on a single tank of clean-diesel fuel, covering 1,626 miles while averaging 84.1 mpg.
Now, about that price premium: The Passat TDI starts at $26,225, but it's also one of the better equipped of the best-mpg sedans of 2012. Along with its turbocharged I4 diesel engine—also capable of 140 hp and a robust 236 lb.-ft. of torque—the car's standard equipment includes automatic halogen headlights, 17-inch alloy wheels, a premium eight-speaker touchscreen sound system, Bluetooth technology, heated front seats and outside mirrors, a leather-wrapped multifunction steering wheel and V-Tex leatherette seating surfaces, upgraded cabin trim, rear-seat climate vents, and chrome exterior accents for the grille, exhaust tip and windows.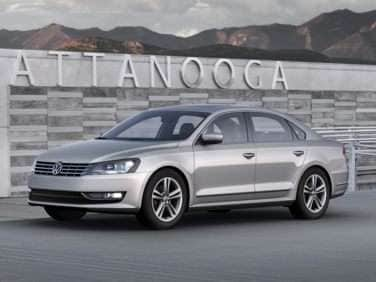 Best MPG Sedans of 2012: Chevrolet Cruze Eco
Although its momentum has slowed as its Japanese rivals have recovered from last year's natural disasters, the Chevy Cruze Eco remains the most fuel-efficient gasoline-only compact sedan in America. The Bowtie brand's entry on our list of best-mpg sedans of 2012 can post an EPA line of up to 28 mpg city/42 mpg highway/33 mpg combined. True, that's with a six-speed manual transmission, but the DIY approach to shifting also is the best way to enjoy the Cruze Eco's turbocharged I4 engine, backed by 138 hp and 148 lb.-ft. of torque. And the automatically transmissioned version is no slouch when it comes to fuel economy either; it can attain 26 mpg city/39 mpg highway/31 mpg combined.
This one of Autobytel's best-mpg sedans for 2012 also will get even better for the 2013 model year, especially in the infotainment department. The key addition here is a color touchscreen media system with a seven-inch display and Chevy MyLink technology. Leveraging the driver's smartphone, MyLink delivers Bluetooth audio streaming and hands-free calling, voice-recognition functionality, integrated interfaces for Pandora and Stitcher online music services, and access to the Gracenote database for creating playlists and viewing album art.
The 2013 Chevy Cruze Eco launches later this year; the 2012 model is at dealerships now, priced from $19,325.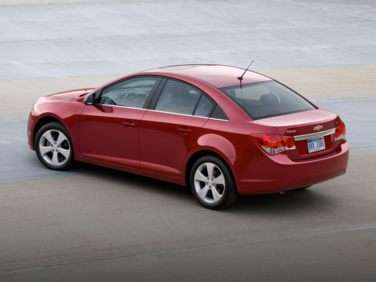 Best MPG Sedans of 2012: Buick LaCrosse
A big luxury sedan with the same EPA grades as an entry-level compact? That's the Buick LaCrosse with GM's eAssist light-electrification system, good for fuel-efficiency ratings of up to 25 mpg city/36 mpg highway/29 mpg combined—the exact same combined mark as for the 2012 Toyota Corolla. Keep in mind, too, that the LaCrosse is the biggest of our best-mpg sedans of 2012, stretching 197 inches in length and about a foot and a half longer than the Corolla.
The difference-maker is that eAssist technology, which relies on regenerative braking to develop electrical power, as well as a compact battery pack/electric motor to deliver an electrical assist to the LaCrosse's gasoline engine in certain driving scenarios. The system is included as a standard feature with the LaCrosse's MSRP of $30,170, a price tag that also brings a Buick IntelliLink infotainment system with an eight-inch color touchscreen and Bluetooth technology, as well as Buick QuietTuning, an exclusive design strategy that reduces, blocks and absorbs intrusive cabin noise to create one of the quietest interiors in the industry.
Adding to its honor as one of Autobytel's best-mpg sedans of 2012, the Buick LaCrosse with eAssist also recently earned a Best Overall Value of the Year Award—in the Premium Passenger Car class—from IntelliChoice.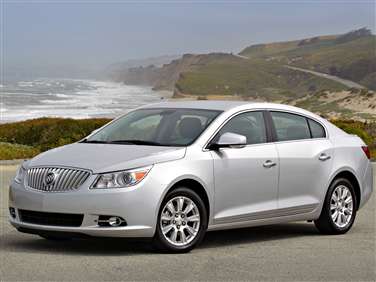 Best MPG Sedans of 2012: Infiniti M Hybrid
Certainly the best performing of the best-mpg sedans of 2012—in the traditional sense of the term—is the incredible Infiniti M Hybrid. The luxurious sport sedan holsters a 3.5-liter V6 engine and the Infiniti Direct Response Hybrid system to provide owners with 360 hp, 258 lb.-ft. of engine torque and 199 lb.-ft. from its electric motor, and the ability to run from 0-60 in under six seconds. That makes it the quickest full-hybrid production car in the country, yet it also squeezes out EPA ratings of 27 mpg city/32 mpg highway/29 mpg combined.
Unsurprisingly, the car's advanced powertrain was the only hybrid setup to garner a spot on the most recent 10 Best Engines list from Ward's.
The price of admission to what's also the most sumptuous of our high-mpg sedans of 2012 is $54,200, which includes a power sliding moonroof, auto on/off HID headlights, dual chrome-tipped exhaust outlets, power-folding outside mirrors that tilt down for enhanced visibility when the car is in reverse, rain-sensing wipers, outside door handles with integrated courtesy lights, a leather interior with Japanese Ash wood accents, heated front seats, Infiniti's Fine Vision electroluminescent gauges, Bluetooth technology, a rear-view monitor and more.