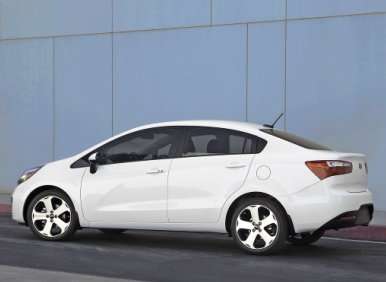 Perhaps the biggest surprise on our list of Best Sub-Compact Cars for 2013 isn't so much who made the roster as who didn't: Entries like the Honda Fit and Toyota Yaris, neither of which has yet to make the full leap to a next-gen model (e.g., neither offer a six-speed automatic transmission, with the former relying on a five-speed unit and the latter still making do with a four-speed). All of our Fast Five Best Sub-Compact Cars, on the other hand, are on the cutting edge of the segment, providing nimble proportions, out-sized fuel-efficiency performances and a surprisingly wide range of features.
Autobytel's list of approved sub-compact cars also comes with plenty of marketplace momentum, as three scored double-digit sales gains in May—when this story was first published—and the two that didn't are entering the U.S. marketplace for the first time this year.
Without further ado, and presented in alphabetical order, the Best Sub-Compact Cars for 2013 include:
Best Sub-Compact Cars for 2013: Chevrolet Sonic
As this article went to press, the Chevrolet Sonic was the reigning monthly sales leader on our list of sub-compact cars, marking a 180-degree reversal of expectations for American entries. And as Chevy is quick to remind folks, the Sonic is, in fact, the only car in its segment actually being built in this country, for whatever that's worth.
More importantly, the Sonic earns its way onto the roster of Best Sub-Compact Cars with the requisite 40-mpg edition, capable of EPA grades of 29 mpg city/40 mpg highway/33 mpg combined, along with standard features like Bluetooth technology, 10 airbags, steering-wheel-mounted controls, six months of complimentary OnStar service, and fairly sophisticated design. The cabin is particularly nifty, with an asymmetric approach to the instrument panel that draws its inspiration from motorcycles, but designers also deserve kudos for creating one of the few stylish sedans among Autobytel's Best Sub-Compact Cars (although, to be clear, the Chevy Sonic comes in both four- and five-door configurations).
At the more premium end of the Sonic range, owners can enjoy a Chevrolet MyLink audio system with Pandora and Stitcher interfaces and a seven-inch color touchscreen, heated front seats, perforated "leatherette" seating surfaces, and an RS hot-hatch model that packs a turbocharged 4-cylinder engine delivering 138 hp and 148 lb.-ft. of torque.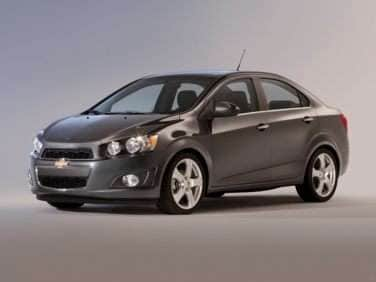 Best Sub-Compact Cars for 2013: Fiat 500L
From the best-of-both-worlds department comes the FIAT 500L, which solidly fits into the best sub-compact cars category in terms of length, but also happens to wrap that tidy packaging around a cabin with as much interior volume (120.1 cubic feet) as a full-size sedan. For those who are counting, that's also 42 percent more space that the car's little brother, the FIAT 500 proper, with that interior space stuffed with standard features like a Uconnect 5.0 infotainment and connectivity system with five-inch touchscreen, voice recognition, Bluetooth audio streaming, hands-free calling, and USB and auxiliary inputs. The 500L also offers a pair of particularly notable performance enhancers.
Drivers looking to take advantage of superior driving dynamics in one of the best sub-compact cars in the country will enjoy the standard frequency selective-damping front struts and rear shock absorbers from Koni, while those focused on versatility will be able to leverage the also-standard—and class-exclusive—60/40 split rear seats with fore-and-aft adjustment, recline, and tumble/slide functionality.
The Fiat 500L also is the most powerful of Autobytel's Best Sub-Compact Cars for 2013, brandishing a 1.4-liter MultiAir turbo engine that provides 160 hp, 184 lb.-ft. of torque, and EPA marks of up to 33 mpg highway.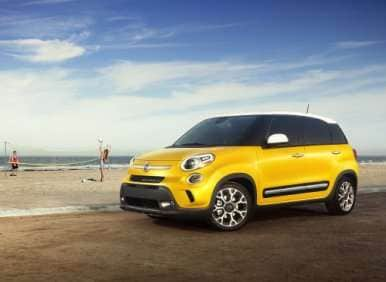 Best Sub-Compacts for 2013: Ford Fiesta
While the Fiat 500L plays up its capacious cabin, the next one of Autobytel's Best Sub-Compact Cars for 2013 is fine with embracing its smaller size—at least in terms of powertrains: The Ford Fiesta soon will offer the industry's first modern-day three-cylinder engine, a 1.0-liter unit with EcoBoost technology that will deliver more than 40 mpg while still pumping out more power (123 hp) than the Fiesta's entry-level engine. On the other hand, customers don't have to wait for that new powerplant to break that 40-mpg barrier. The 2014 Ford Fiesta SE, with the Blue Oval's SFE fuel-saver package, already has become the first car in the segment to achieve that benchmark, boasting an EPA line of 30 mpg city/41 mpg highway/34 mpg combined.
Yet, while its $14,000 MSRP provides an easy entree to the Best Sub-Compact Cars list, the Ford Fiesta also can be optioned up with the best of them. The full SYNC with MyFord Touch and SYNC Services is just one of the premium features offered on the Fiesta menu, joining tasty treats like a rear-view camera, navigation, Ford's intelligent access system with push-button start, heated and leather-trimmed seating, Sony premium audio, and, in the Fiesta ST, a 197-hp EcoBoost engine and sport-tuned suspension.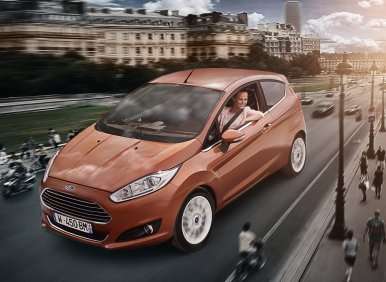 Best Subcompacts for 2013: Kia Rio
Why the Kia Rio instead of the Hyundai Accent? Well, for one thing, the Kia Rio sedan is the most affordable of the Best Sub-Compact Cars for 2013, with a current MSRP of $13,600; that undercuts the starting point of the Accent by nearly $1,000. As for the Kia Rio5, it's some $1,300 less expensive than the corresponding hatchback from Hyundai.
Of course, the Rio runs through the Best Sub-Compact Cars roster on its own merits, too, because that high-value pricing includes one of the brand's typically dynamic exterior designs, in this case wrapped around everything you need in a daily driver: air conditioning, Bluetooth technology, and a multi-function steering wheel. And speaking of technology, the Rio brings a new one to Autobytel's portfolio of Best Sub-Compact Cars for 2013: Idle Stop and Go (ISG).
A first-in-class feature, the Rio's ISG system boosts fuel economy by shutting off the flow of fuel to the engine when the car stops, for example, at traffic lights, then seamlessly restarts the Rio as soon as the driver's foot comes off the brake to begin accelerating.
And yes, like the rest of the Best Sub-Compact Cars, the Rio offers leading-edge upgrades like navigation, Kia's UVO infotainment system, 17-inch wheels, and LED exterior accent lighting.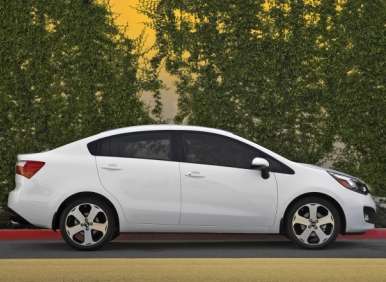 Best Sub-Compact Cars for 2013: Nissan Versa Note
The next-gen Nissan Versa hatchback—now designated by the "Note" moniker—grabs the final slot among the year's Best Sub-Compact Cars as the least-expensive hatchback model and the most efficient overall entry for city and combined driving: When equipped with its next-gen Xtronic continuously variable transmission (CVT) and active grille shutters, the Versa Note can reach 31 mpg city/40 mpg highway/35 mpg combined. With its standard five-speed manual, the car is rated at 27/36/30.
Also, along with the only CVT among our Best Sub-Compact Cars, the Versa Note distinguishes itself with two other first-in-class features. Not only is the car the only one it its segment to offer a 360-degree "Around View" monitor that delivers a top-down view of the area surrounding the Versa Note, but it's also the sole entry with the Divide-N-Hide Adjustable Floor system. This latter setup provides additional versatility in the cargo hatch, creating either a flat load floor or acting as cover for hidden items.
The automaker's Nissan Connect technology is available too, and leverages a full-function nav system, hands-free text messaging, Google Services, an interface for Pandora Internet radio, and Bluetooth Streaming Audio.