2015 land rover range rover evoque
A big reason why AWD crossovers have snagged so much market share from minivans and wagons is that they promise surefooted grip in all kinds of weather.  Whether you're forced to deal with snow, wet and rain-soaked roads, or icy driveways, an all-wheel drive crossover can carry you, your family, and a substantial load of cargo wherever you need to go in absolute safety.  AWD crossovers don't just leverage the ability to motivate all four wheels for maximum traction, but modern editions of these versatile haulers can also offer sophisticated torque management capabilities and electronic driver's aides that can intervene when the going gets extra dicey. 
Let's take a quick look at 10 AWD crossovers and see how they cut through the worst of driving conditions.
01. 2015 Jeep Cherokee
The 2015 Jeep Cherokee, like all vehicles wearing the Jeep badge, actually offers more than one type of all-wheel system.  All-new for 2015, the five-passenger Jeep Cherokee's top-tier Active Drive Lock system found in the Trailhawk model can be thought of as more of a traditional four-wheel drive setup, what with its low-range gearing and its locking differential suited for off-road driving (there's also Active Drive II for those seeking a less-hardcore setup that maintains low-range).  The Cherokee's Sport, Latitude, and Limited trim levels, however, can be outfitted with an AWD system that's better suited to daily driving.  Called 'Active Drive I,' it can be set to Snow, Sport, and Sand/Mud modes (as well as an Auto mode) via the Selec-Terrain feature to help better handle specific road conditions.  AWD is available regardless of whether you order the Jeep with its 184 horsepower, 2.4-liter four-cylinder engine or its 271 horsepower, 3.2-liter V-6, each of which is shifted via a nine-speed automatic transmission.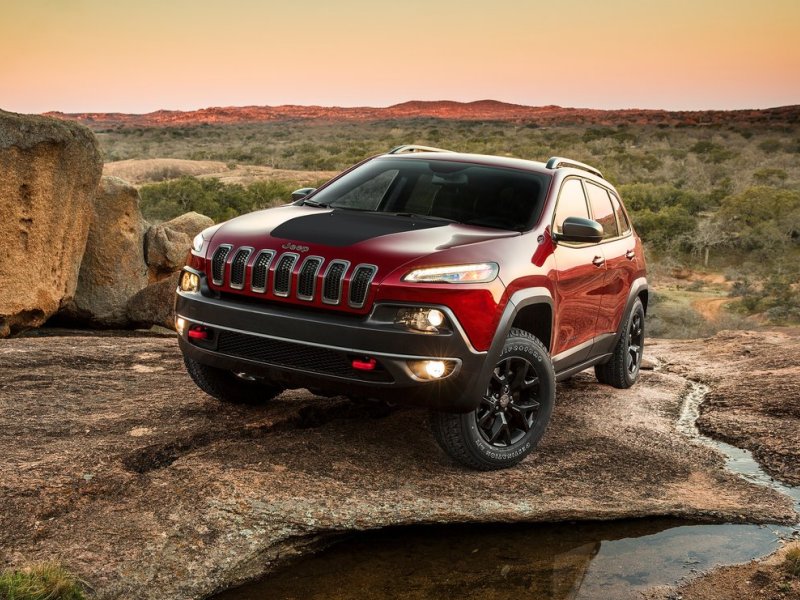 02. 2015 Land Rover Range Rover Evoque
The 2015 Land Rover Range Evoque is another AWD crossover coming from a brand with a strong tradition of off-road prowess.  The sleek and slope-roofed Land Rover Range Rover Evoque is available in both two-door and four-door body styles, but each features all-wheel drive as standard equipment.  The system bundled with the five-passenger Range Rover Evoque also comes with the sophisticated Terrain Response system, which, like the Cherokee's Active Drive I, is capable of varying throttle, transmission, and traction control response based on whether it is set to Grass/Gravel/Snow, Mud and Ruts, or Sand (plus Auto, of course).  Hill Descent Control is also standard with the Land Rover, and the vehicle sends most power to the front wheels during normal driving to improve fuel efficiency.  The only engine offered with the AWD crossover is a 2.0-liter turbocharged four-cylinder that develops 240 horsepower and is matched with a nine-speed automatic transmission.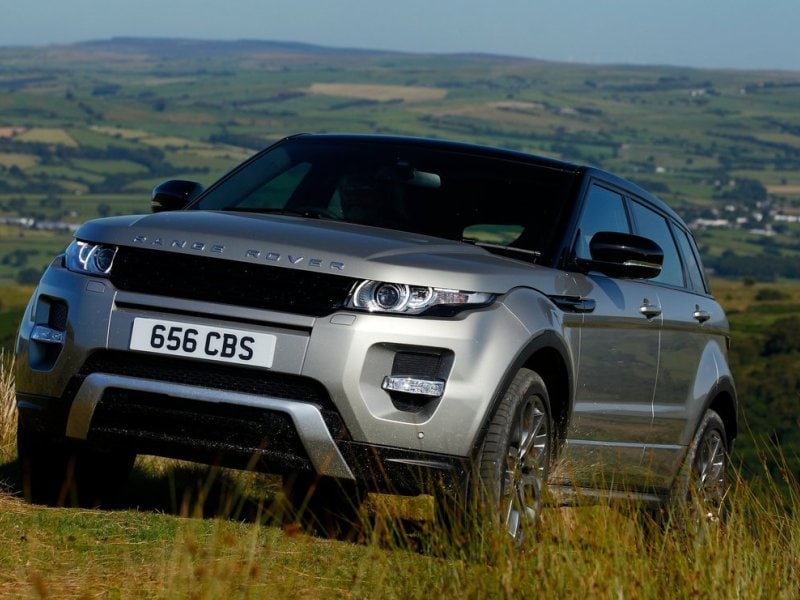 03. 2015 Hyundai Santa Fe
The 2015 Hyundai Santa Fe is a mid-size AWD crossover that's designed to carry as many as seven passengers across three rows of accommodations.  It's also a thoroughly on-road affair, as the Hyundai Santa Fe's chassis has been designed with enough ground clearance to handle muddy ruts, but not ford streams or cross hill and dale.  There's an extra wrinkle that's been added to the Hyundai's AWD system, however, that accentuates its utility in daily driving, and that's the Active Cornering Control feature.  When turning round a bend, AWD-equipped Santa Fe's automatically transfer more torque to the crossover's rear wheels while simultaneously lightly braking the inside rear wheel to create a more natural pivot.  A 290 horsepower, 3.3-liter V-6 is standard with the Santa Fe, and so is a six-speed automatic transmission.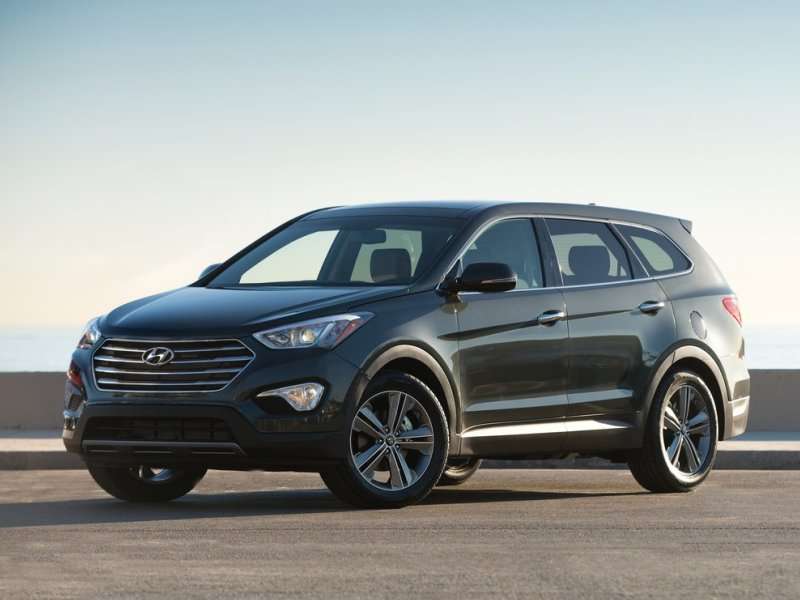 Photo by Hyundai
04. 2015 Mazda CX-5
The 2015 Mazda CX-5 provides five-passenger capacity along with a suspension system that has been aimed at drivers who are looking for above-average handling in an AWD crossover.  Lighter on its feet than most would expect, the Mazda CX-5's all-wheel drive system enhances its cornering capability via the Active Torque Split feature.  Rather than maintaining a constant division of power between the front and rear axles, the CX-5's AWD monitors wheel speed and vehicle traction so it can automatically vary how much grunt it sends front and rear.  The result is seamless grip, making it easier for the Mazda's six-speed automatic transmission to transmit its 2.5-liter four-cylinder engine's 184 horsepower to the road.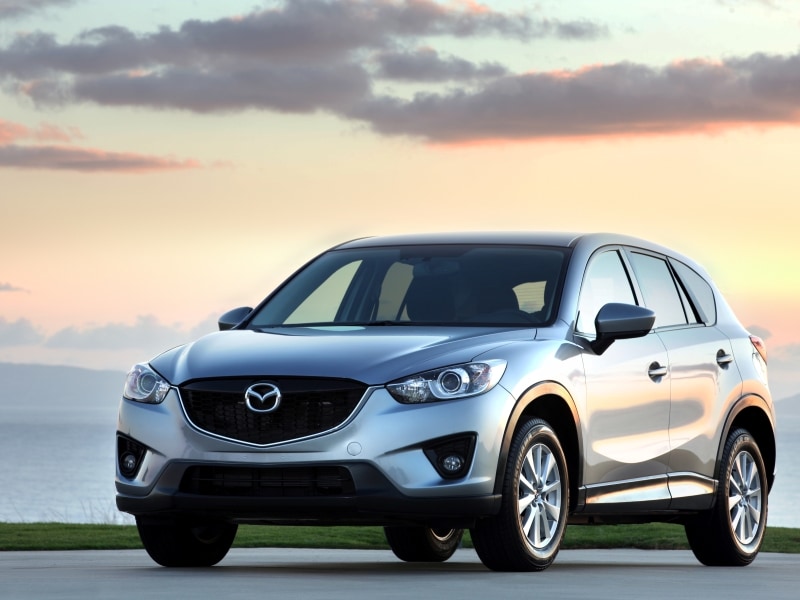 05. 2015 Ford Escape
The 2015 Ford Escape is one of America's most popular compact AWD crossovers, and as such this five-passenger model is available in a bewildering number of configurations.  Engine choices for the Ford Escape include a 2.5-liter (168 horsepower), a turbocharged EcoBoost 1.6-liter (178 horsepower), and a turbocharged EcoBoost 2.0-liter (240 horsepower), each a four-cylinder design mated to a six-speed automatic gearbox.  Ford's 'intelligent' all-wheel drive system functions much the same way as that found in the Mazda CX-5, in that evaluates road conditions 60 times a second in order to move power back and forth from the front to the rear axles - sometimes as much as 100 percent of engine torque, in extreme cases.  The Escape also keeps most power flowing exclusively to the front wheels during normal highway operation in order to reduce fuel consumption, with the rear wheels getting an additional torque boost when accelerating off of the line.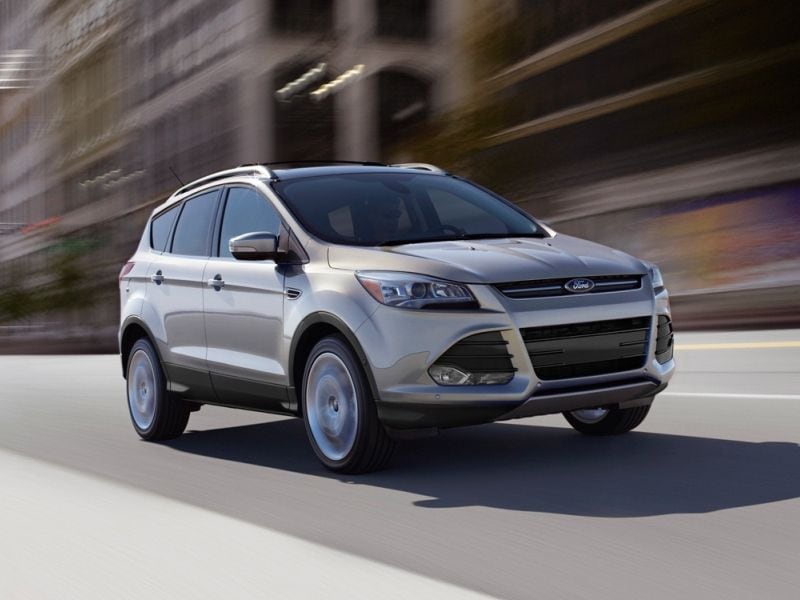 06. 2015 Volkswagen Tiguan
The 2015 Volkswagen Tiguan is another compact five-passenger AWD crossover, and one that's aimed at buyers looking for a premium feel without having to spend luxury-levels of cash.  The Volkswagen Tiguan is very much tuned for comfortable cruising on the highway and the deft negotiation of slippery roads when ordered with 4MOTION all-wheel drive (which is available on all vehicles equipped with a six-speed automatic transmission).  The Tiguan with 4MOTON electronically controls torque distribution front and rear via a Haldex multi-plate clutch, informed by data transmitted via its traction control and stability control systems, as well as the wheel speed sensors used by the anti-lock braking system.  A 2.0-liter turbocharged four-cylinder engine that's good for 200 horsepower is standard with the Volkswagen crossover.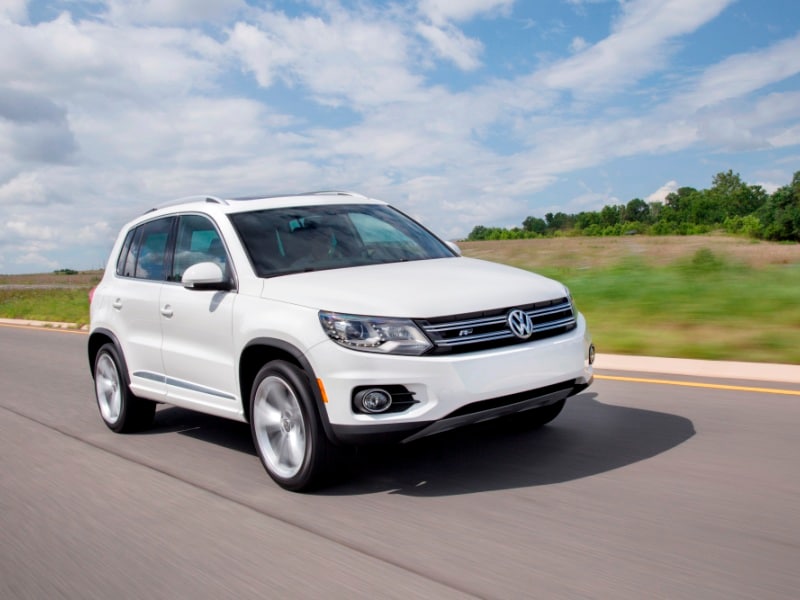 Photo by Volkswagen
07. 2015 Mercedes-GLK-Class
The 2015 Mercedes-Benz GLK-Class is an AWD crossover for families who want to stay as close to a station wagon as they can without sacrificing versatility.  The Mercedes-Benz GLK-Class provides 4MATIC all-wheel drive as standard equipment when ordered with its 2.1-liter turbodiesel four-cylinder engine (200 horsepower, 369 lb-ft of torque), and as an option with the GLK350's 3.5-liter V-6 (302 horsepower).  4MATIC can not only shift power from the front axle to the rear in the event of a loss of traction, but it can also use the vehicle's braking system to transfer power from the left wheel to the right wheel on either axle.  Even if only a single wheel has grip, 4MATIC can channel torque to it and pull the five-passenger GLK-Class out of whatever mess it's gotten into.  This wheel-to-wheel agility is also used when cornering on a dry surface, as the braking system applies on the inside wheels to help rotate the AWD crossover through a turn.  A seven-speed automatic transmission is standard with the Mercedes-Benz.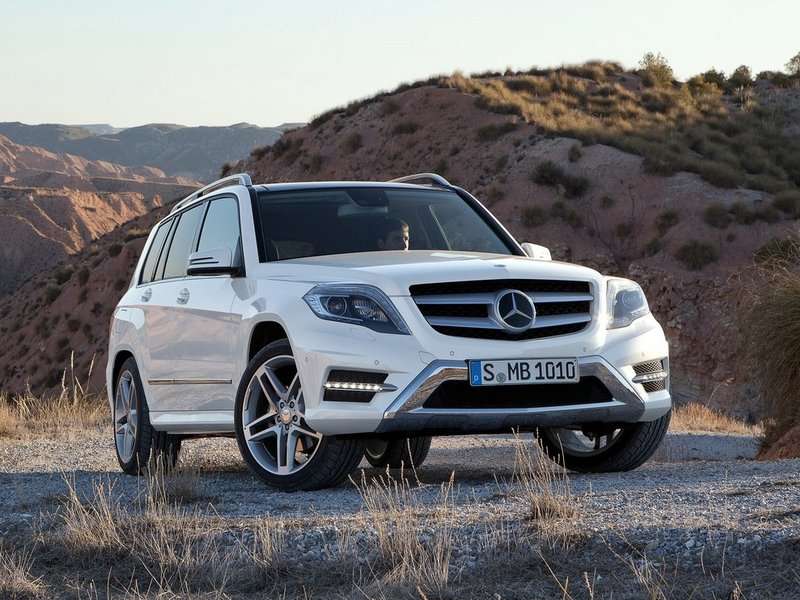 08. 2015 Lexus RX
The 2015 Lexus RX is the best-selling vehicle in the Japanese luxury brand's entire line-up, and it's easy to understand why: the RX offers comfortable five-passenger seating along with a sky-high reputation for reliability.  The Lexus RX adds all-wheel drive as an option for most models, and it comes with the Active Torque Control feature that is capable of sending as much as half of all engine torque to the rear axle should the front wheels (which nominally receive 100 percent of power) start to slip.  A six-speed automatic transmission is standard with all versions of the RX except for the F Sport, which gains an eight-speed box, but both are motivated by the same 270 horsepower, 3.5-liter V-6.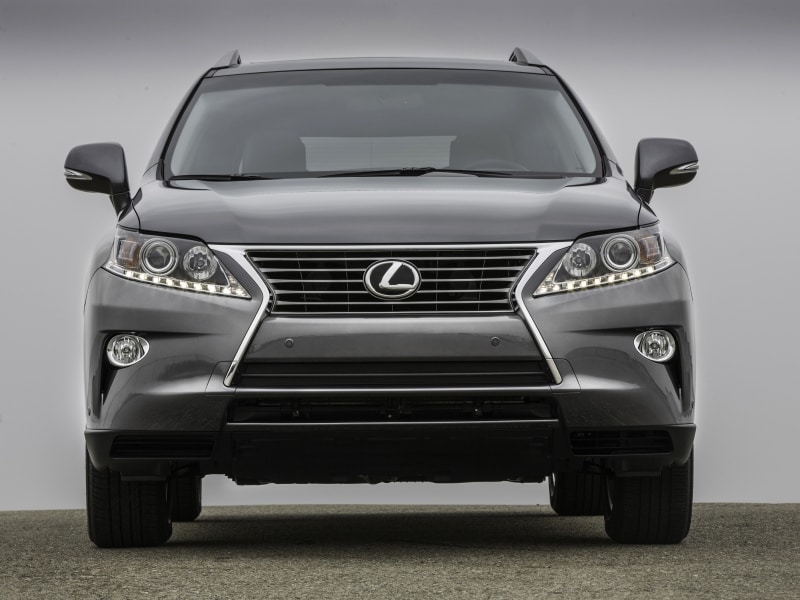 09. 2015 Ford Explorer
The 2015 Ford Explorer provides seven-passenger AWD crossover buyers with more than most will need when it comes to addressing their traction concerns.  Like the Escape, the Ford Explorer comes with Ford's 'Intelligent' all-wheel drive system (also known as 'Intelligent 4WD'), but with the added wrinkle of the Terrain Management system.  Terrain Management preps the AWD, electronic driver's aides, and engine and transmission response for one of three different traction situations: Mud/Ruts, Sand, and Grass/Gravel/Snow.  There's also a normal mode suitable for letting the system automatically manage torque distribution.  The Explorer can be equipped with either a 290 horsepower, 3.5-liter V-6, a 2.0-liter turbocharged EcoBoost four-cylinder that generates 240 horsepower, or a 365 horsepower, twin-turbo EcoBoost V-6 in the Sport model.  Each comes with a six-speed automatic transmission.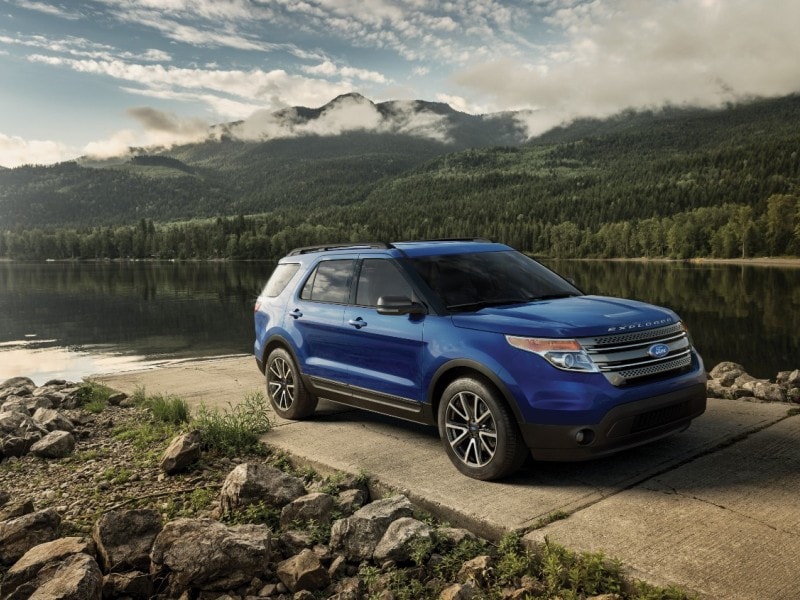 10. 2015 Nissan Rogue
The 2015 Nissan Rogue - a compact crossover with an available third row of seating that boosts total passenger capacity to 7 - also labels its optional AWD system 'intelligent,' albeit without the capital 'I.'  Like several of the other systems on this list of AWD crossovers, the Nissan Rogue can use its inside brakes to enhance agility during cornering, and it can also brake when hitting a big bump when traveling over a rough surface to help keep things extra stable.  All versions of the Rogue are outfitted with 2.5-liter four-cylinder engine that's good for 170 horsepower, and a continuously-variable automatic is the only available transmission for the model.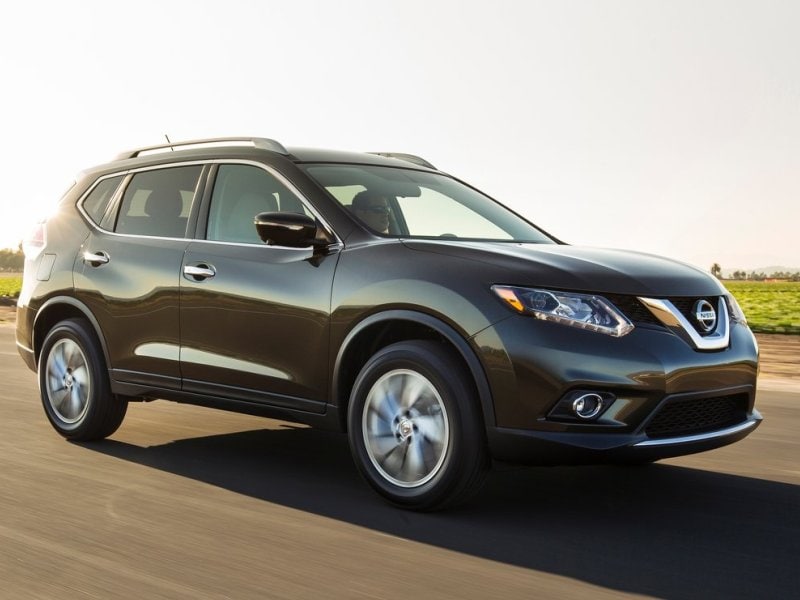 Photo by Nissan