General Becomes First U.S. Automaker to Sell 1 Million +30-mpg Vehicles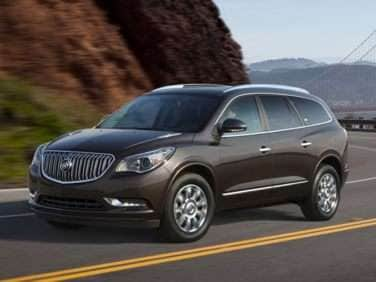 General Motors notched its highest December sales total since 2007 last month, which was the good news. The bad? The company's 245,733 sales translated into a growth rate of just 4.9 percent, a mark that was some three times lower than the sales expansion of the industry as a whole in December. And that actually represented an improvement as compared to the General's annual sales performance—GM's 2012 sales total of 2,595,717 vehicles were only enough to lift the automaker's numbers by 3.7 percent versus 2011.
On a divisional basis, the final numbers looked like this:
Buick—180,408 sales, up 1.6 percent
Cadillac—149,782 sales, down 1.7 percent
Chevrolet—1,851,646 sales, up 4.3 percent
GMC—413,881 sales, up 4 percent
Yet there were a few other bright spots to report, including one that's a bit of a surprise: Last year, GM became the first U.S. automaker to sell more than 1 million vehicles in this country that were capable of achieving at least 30 mpg in highway driving. There are more to come in 2013, too, according to Mark Reuss, president of GM North America, who said that: "Our investments in advanced powertrains are clearly paying off, and our smaller vehicles are resonating with customers. In 2013, we'll introduce new diesel, eAssist and plug-in vehicles in the United States and expand the availability of turbocharged four-cylinder engines.
"This will give us the most technologically diverse range of fuel-efficient cars and crossovers in the industry."
December Auto Sales: GM's Cold, Hard Facts
Sadly, the list of GM's top sales performers for 2012 is a short one, as only two of the company's retail products were able to achieve double-digit gains in both December and for the year as a whole, and they weren't exactly high-volume models. The Chevy Volt continued to see strong sales, with another 2,633 units going out the door in December—a 72.2 percent advance over the same month last year—and closed out 2012 with 23,461 sales that were an improvement of 205.8 percent as compared to 2011. The GMC Terrain also achieved a notable sales surge, with a 49.1 percent growth rate last month, on the strength of 11,516 deliveries; for the year as a whole, the Terrain fell just shy of the six-digit mark and finished up with 97,786 annual sales that were 17.6 percent more than in the previous year.
The Chevy Cruze also had a particularly impressive December, as the Bowtie brand's compact contender lifted sales 27.3 percent on 21,230 deliveries in the face of very strong in-segment competition from the 2013 Honda Civic.
Finally, let's remember that GM introduced a number of new nameplates in 2012 that don't have year-over-year data to report, yet are still having a positive impact on the marketplace. Among them:
Buick Verano—The brand's compact luxury sedan only was on sale for a few days in 2011, but delivered 41,042 units in 2012, assisted by a December in which the car enjoyed 4,820 sales.
Cadillac ATS—Autobytel's Luxury Car of the Year has garnered a slew of other impressive awards as well, while also attracting 2,979 sales in December. In the first few months since the ATS debuted, Cadillac has sold 7,008 units of its lightweight sport sedan.
Cadillac XTS—Cadillac's current flagship launched late last year too, and the premium full-size sedan added 2,939 sales to its bottom line in December to bring its 2012 sales total to 15,049 units.
Chevy Spark—Chevrolet's eye-catching minicar caught 2,229 sales in the past month and has now delivered 12,385 units since it first debuted in the second half of 2012.