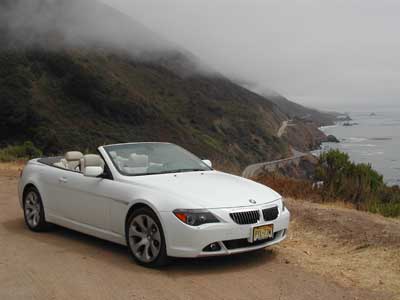 It is a seemingly simple ribbon of black asphalt, wrapping itself along California's coastline, but this famous scenic drive is anything but simple road construction. Stretching 644 miles, the Pacific Coast Highway crosses deep crevasses, protected wetlands and earthquake faults. One section took eight years to build and features one of the highest single-span bridges in the world, stretching 714 feet and standing 260 feet high. The road is punctuated by dramatic cliffs and sparkling seashores, as well as living natural wonders---ancient windswept trees, brilliant flower fields and beaches dotted with sea lions and elephant seals. While the spectacular scenery is always there, the view of it is not. Often Highway 1 (as it is also known) is mired in thick, billowing fog and, in winter months, heavy rains frequently cause rock and mud slides that can make driving treacherous. We began our journey near Los Angeles in the summer -- hoping the warm days would cause the fog to lift early, resulting in postcard-perfect weather. The hour as the sun begins to set is the most magical of any day along the coast. It is then that the setting sun lights up the shoreline as if it were made of gold. It is this light, what a photographer friend once called "God's light," that makes the scenery even more breathtaking.
Page 2: BMW 645Ci
Our car for the journey northward on this scenic drive was the 2004 BMW 645Ci. Brought back to the line-up after a 15-year hiatus, the 6 Series is BMW's latest creation in its line-up of ultimate driving machines. The 2+2 model comes in both coupe and convertible versions and we had been blessed with a convertible for a trip where the weather gods shined down upon us. (Causing quite a sunburn, I might add.)As we headed out, Highway 1 could have been the suburbs of any major city, marred with traffic lights and retails stores. Gradually, however, the city landscape faded and soon we were cruising through beachside towns where shoes and shirts are optional and being laid-back is mandatory. A short drive brought us to Santa Barbara and a night stop at the Simpson House Inn, a gorgeous 1874 Victorian home. Just a five-minute walk from the shops and restaurants of State Street, the Simpson House, with its 11 rooms in the main house and renovated barn as well as three individual cottages, is tucked away behind a tall hedge in a secluded setting. Although complimentary hors d'oeuvres and local wines in the Inn's English garden was as close to heaven as one could get, we tore ourselves away to ride the charming Old Town Trolley, touring Stearns Wharf, State Street's shops and the city's historic adobes.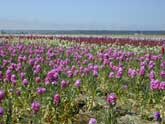 Page 3: Valley of Flowers
After dinner, we returned to find a homemade treat of two tiny heart-shaped cakes nestled on a plate with a personalized note wishing us a pleasant evening. The light, fluffy cakes with colorful sprinkles turned out to be the perfect midnight snack. Breakfast on the sprawling porch of the Simpson House and the friendly staff made it a challenge to leave the next morning, but alas, we packed the 6-Series' trunk and pointed our wheels north once again.Known as the Valley of Flowers, Lompoc's 1500 acres of flower fields produce seeds and cut flowers for the majority of the United States. Many fields bloom throughout the year, allowing visitors an up-close look at sweet peas, marigolds, larkspur, delphinium and others. Over 60 murals decorate downtown buildings depicting town landmarks including nearby Vandenberg Air Force Base, the historic Point Conception lighthouse and La Purisma Mission, one of 21 Missions founded by Franciscan monk Father Junipero Serra between 1769 and 1823. Our arrival at La Purisma was punctuated by the odors of the Misson's livestock corrals located adjacent to the parking lot. The near fully-restored Spanish-style Mission is located on 900 acres, which include farming areas, gardens and walking trails as well as the buildings that comprise the Mission itself. Heading north again, the road passed through more agricultural communities, including Guadalupe, a town nestled along a large rise of sand dunes where parts the 1923 epic The Ten Commandments was filmed. The entire movie set, including giant sphinxes and three-story-high pharaohs, was dumped into trenches and covered by sandstorms over the years. Bits and pieces of the set have been recovered and an archaeologist is currently planning a full excavation.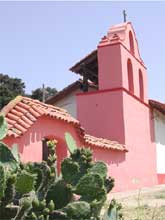 Page 4: Cambria
A bit further north, Highway 1 turned inland and briefly joined with Highway 101 near San Luis Obispo before separating again. We followed Highway 1 back out to the coast and the town of Morro Bay. The shops along the water were busy with tourists and parking was at a premium. I was pleased to find the 6 Series a snap to parallel park, using the Park Distance Control to ensure the pristine bumpers remained unscratched. As we searched the street for a restaurant, a little place called Giovanni's with a take-out window and outdoor seating on a dock caught our eye. There were easily 20 people in line waiting to place an order, so Jeff and I figured it must be good. Their seafood was by far the freshest we'd ever tasted as we sat on the dock and gazed out at Morro Rock (picture the rock in the Prudential insurance logo and you'll be close) a natural habitat for the peregrine falcon.We stopped for the night in Cambria, an artist's community with unique galleries and shops. Our room at the Pelican Suites had an ocean view and the famous Moonstone Beach was just steps away, but we had one more stop we wanted to make before ending our day. We knew sunset would be the ideal time, so after unloading our gear, we ventured out once again.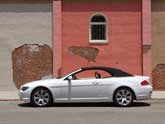 Page 5: Big Sur
Just north of Cambria is San Simeon, the tiny town made famous by publishing magnate, William Randolph Hearst, who built a home high on the mountaintop. Hearst Castle, as it is known today, is now owned by the California State Parks Service and is open for guided tours. We admired the castle from afar as we parked the 6 Series at Elephant Seal Beach and walked to get an up-close look at hundreds of these amazing creatures frolicking in the surf and resting on the sand.The 90-mile stretch from Cambria to Big Sur is what made Highway 1 famous and we headed out early the next morning to explore this part of the coast. Here Bixby Bridge, with its spectacular "rainbow arch" of concrete and steel, spans the canyon, while stately redwoods provide shade at Julia Pfeiffer Burns State Park. The cliffs are impossibly steep and in places giant nets hold rocks on the hillside from crashing down onto the highway. This is where the weather changes from brilliantly sunny to a wet blanket of thick fog in minutes---bringing as much as a 20-degree Fahrenheit temperature difference within a matter of a few miles and certainly making it an interesting drive with the top down. While the automatic climate control got a workout on this stretch, so did the BMW's powertrain, which performed marvelously through the countless twists and turns of the asphalt. The 325 horsepower, 4.4-liter engine provided more than enough power, while rack-and-pinion steering with Servotronic power assist, active steering and active roll stabilization made for an effortless drive.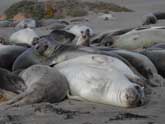 Page 6: Monterey
Just north of Big Sur are the towns of Carmel, Pebble Beach and Monterey, all located on the Monterey Peninsula. Ready to stretch our legs, we parked the car and set out on foot to take in Carmel's unique "Fairytale Tudor" architecture before getting back in the car to cruise the Peninsula's famous 17-Mile-Drive. While the road is best known for the famous Pebble Beach Golf Links, the real treat is the scenery. Native pine and cypress trees dot the landscape filled with deer and birds, while harbor seals frolic on the white sand beaches and rock-laden shoreline. In Monterey, the commercial fishing and canning plants of Fisherman's Wharf and Cannery Row made famous by author John Steinbeck, are now filled with shops, restaurants and galleries for browsing. It made the perfect spot for a late lunch.It would have been easy to spend the entire day on the Monterey Peninsula, but before time could get any further away from us, we turned the BMW back to Highway 1 and once again headed south to our lodgings back in Cambria. The journey made for a long day, but a supremely pleasant one cruising the most scenic stretch of an already scenic highway not once, but twice. The 12-way power seats and four-way power lumbar support meant there was no shortage of comfortable driving positions and the one-touch power top made is easy to put the top up when the temperatures dropped as the fog rolled in from the ocean.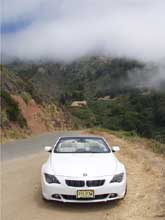 Page 7: Paso Robles
We arose the next morning to find our hotel shrouded in a thick, wet blanket of fog. Knowing that the nearby mountains had a tendency to stop the fog from coming further inland, we decided to journey east on Highway 46, toward Paso Robles. Within 10 miles, the sun was shining brilliantly and the mercury began to rise. The microclimate created from the coastal fog and the mountains is perfect for growing grapes and over 70 wineries and 200 vineyards call this region home. We explored just a couple of wineries along Highway 46 before continuing onward to Paso Robles. This town of 25,000 has a downtown area filled with buildings from the late 1800s and early 1900s as well as a town square where we stumbled upon a local arts fair and learned that Paso Robles' winemaking history goes back to 1797 at the Mission San Miguel Archangel. We decided that should be our next stop and hopped back in the car for the short drive north. Located a baseball's throw from the freeway, Mission San Miguel Archangel still looks nearly the same as when it was founded in 1797. We escaped from the near 100-degree temperatures by journeying within the cool adobe walls. We looked at the original painted designs that decorated the doorways and walls, while getting a feel for how the padres lived over 200 years ago. Our tour was cut shorter than usual as part of the Mission was closed due to earthquake damage and we found ourselves blinking in the hot sun, anxious to seek comfort in the BMW's air conditioning. We traveled back to our hotel base and enjoyed another leisurely walk along the shore.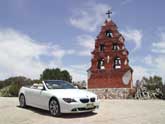 Page 8: Scenery
As I assessed the luggage and our purchases in the hotel room the next morning, I began to wonder if we would have enough room in the 6 Series' trunk for our gear. It was a near perfect day, sunny with just a few clouds with summer temperatures kept cooler than usual from the sea breeze. Driving with the convertible top up was simply not an option. Besides, both my husband and I wanted to experience the sights and smells of the coast during our journey home. It was our way of extending this little getaway for as long as possible. We successfully packed all our belongings save one small bag in the trunk, put the top down and turned the BMW toward home.Throughout California, scenic roads are designated with a small rectangular sign picturing an orange California poppy, the state flower, matted against dark mountains and a startling blue sky. The signs punctuated the side of Highway 1 with such frequency that I began to take them for granted. They seemed as much a part of this journey as the strikingly beautiful coastline. As I piloted the 6 Series through the transition from Highway 1 to Highway 101 at the end of our journey, the sign leapt out at me from the road's edge. There, in bold letters was the word "end." Almost simultaneously, the California coastline with its brilliant Pacific Ocean and dramatic hills disappeared from my view.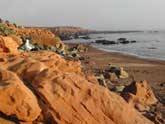 Page 9: FAQS
When will the new BMW 645Ci go on sale, who will buy it, how much will it cost, and who are its competitors? On sale now, the new model comes in two versions--the 645Ci Coupe that starts at $69, 995 and a 645Ci Convertible, priced beginning at $76, 995 (both prices include destination). BMW expects its typical customers to be successful males in their mid-fifties. A Competitors include the Jaguar XK8, Cadillac XLR, Porsche 911, Dodge Viper, and the Mercedes SL500 and CL500. What are its best features? The list is long, but first, and most impressive and head-turning is the exterior styling of both models. Each model has its own unique look, and yet, they are clearly fraternal twins. Glass and light play an important part in each, as the coupe has a wonderfully wide, panoramic moonroof with tilting glass, while the drop-top sports a fin-shaped soft top, with an industry-first, electric-opening glass rear window, that operates as a wind blocker when the top is retracted. Interior styling is also up to par with BMW luxury and impressive is the list of state-of-the-art driving technologies that help to make your drive spirited, but far safer than ever. What are its state-of-the-art technologies? Start its award-winning 4.4-liter aluminum engine, that gets 325 hp. and 330 lb.-ft. of torque, and has "stepless variability" in timing, which improves fuel economy. It is matched to a standard 6-speed manual; optional is a 6-speed automatic with STEPTRONIC and a 6-speed manual SMG. While primarily an automatic, the STEPTRONIC unit allows for some manual control, as well. The SMG, however, is a clutchless manual that shifts according to paddles behind the steering wheel. It also includes an automated mode. Standard are 4-wheel disc brakes, with ABS and Dynamic Brake Control. Dynamic Stability Control, and traction control, with optional Active Roll Stabilization and Active Steering. The interior is laden with safety technology, such as two-stage Smart airbags, door-mounted side-impact airbags, an Impact Sensor that unlocks the doors, turns on the hazard lights, and illuminates the interior in the event of a collision and an Intelligent Safety and Information System that coordinates the activation of all safety features. How does it handle? We drove each of the new models out of the Beverly Hills city traffic to the hills and dales of Malibu Canyon and the Ojai backcountry, on a course of more than 200 miles, where there was ample opportunity to dart in and out of congestion, apply power, scrub the velocity of forward momentum, steer along zig-zagging pavement, and cruise the freeway. It handles just the way you'd expect a luxury sportscar to handle. It moves quickly when power is needed, stops in a graduated and effortless way, takes corners with ease (we'd like a little more off-center feel to the steering) and a minimal amount of body roll, and sounds grrreat, with just the right amount of throaty throttle. Any complaints? We are still not sold on BMW's iDrive system, even though we have tried it out in the 7-Series and 5-Series models. Even with practice, we were not able to operate it with ease and, until this system is integrated into the driver's knowledge base, for us, is perceived as a driver distraction to engage it while driving. Bring a passenger and your manual along!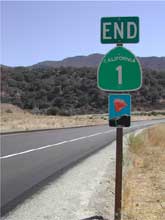 Page 10: BMW Notes
Base price: $69,995 (Coupe), $76,995 (Convertible) ($695 destination charges included) Engine: 4.4-liter V8 (325 hp @6,100 rpm, 330 lb.-ft. @3,600 rpm) Transmission: 6-speed manual; 6-speed manual SMG; 6-speed automatic with STEPTRONIC Wheelbase: 109.4 in. Length: 190.2 in. Width: 73 in. Height: 54.1 in. Curb weight, lbs.: 3,781 (Coupe), 4,178 (Convertible) Fuel economy: 15-18 city/22-26 highway mpg Safety equipment: four-wheel disc brakes with ABS and Dynamic Brake Control; Dynamic Stability Control; Dynamic Traction Control; Two-stage dual frontal airbags; side-impact airbags (door-mounted); Head Protection System; Intelligent Safety and Information System; Adaptive Brake Lights