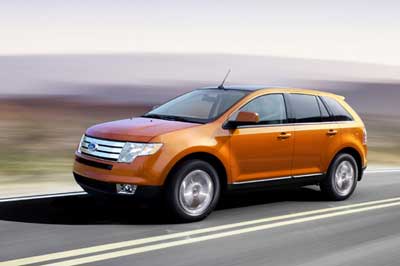 Ford Edge: Prices Set – Ford has released prices for the all-new Edge crossover vehicle. Starting at $25,995 for the SE model, the Edge goes on sale in November -- along with its brother, Lincoln's new MKX crossover. That has a starting price of $34,795. All prices include a $675 destination charge: Prices: 2007 Ford Edge SE base sticker price: $25,995 2007 Ford Edge SE AWD base sticker price: $27,645 2007 Ford Edge SEL base sticker price: $27,990 2007 Ford Edge SEL AWD base sticker price: $29,640
Why it Matters
The 2007 Ford Edge is competitively priced, to be sure. Indeed, it will have the "edge" on most of its competition when it comes to value. Just one thing: it's hard to understand just what Ford plans to do with all the other SUVs and crossover vehicles currently rusting on lots across America. The entry-level Escape, the Explorer and the Freestyle are close or virtually identical in pricing. In this age of high gas prices and emissions concerns, who's gonna buy a five-passenger Explorer or a Freestyle over the more car-like, better styled and more modern Edge?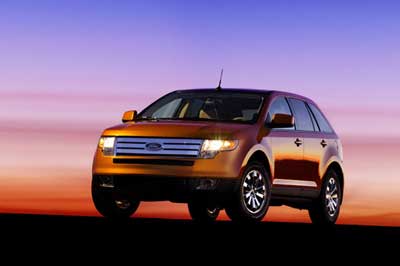 Crossover vs. SUV
If you're wondering what a crossover is, think of it this way: it's the shell of an SUV bolted onto the chassis of a car or, in some cases, a minivan. In the case of the 2007 Ford Edge, it's all car underneath, thanks to its Ford Fusion/Mazda 6 architecture. Introduced at the 2006 North American International Auto Show, the Edge takes those mechanicals and adds a stylish body and a robust powertrain to a fully independent suspension. The Edge promises to seat five comfortably and handle a multitude of cargo-hauling tasks, thanks to its flexible-use interior. Other similar crossovers include the Lincoln MKX (the luxury equivalent of the Edge) and the Mazda CX-7.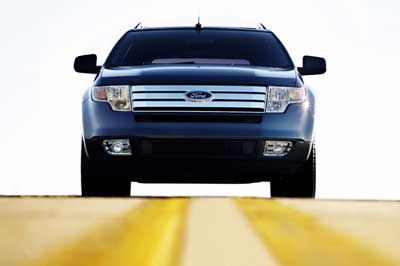 Powertrain Details
Ford gives the 2007 Edge plenty of power – 265 horsepower, 265 lb. ft of torque – from a new, 3.5-liter V6 engine that's got a horsepower rating of 250 at 6,250 rpm, and a torque reading of 240 lb.-ft. at 4,500 rpm. Front-wheel-drive or all-wheel-drive power is managed by a six-speed automatic transmission, with highway fuel economy expected to be in the mid-20s. Ford says the transmission is a close-ratio unit that should improve fuel economy and boost performance off the line. Braking is handled by four-wheel disc brakes with ABS. The ride should also be smooth and quiet, as the Edge sits atop an independent suspension.
Interior Details
Yep, the 2007 Ford Edge looks comfortable, with nice wide seats and plenty of legroom front and back. Car shoppers may well be impressed with the amount of cargo room, as well as the command bucket seating up front. There's a huge center console, big enough for just about anything you'd want put in there, along with 12-volt connections and MP3 hookups. The rear seats recline, and Ford says that the Edge will provide a number of seating/cargo configurations, including 60/40 back seats that fold flat to in order to increase cargo room.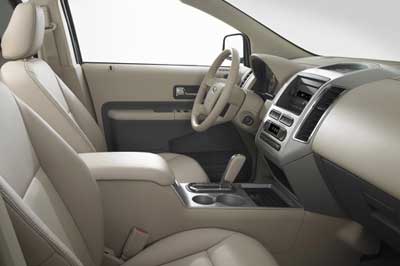 Exterior Styling
The 2007 Ford Edge's design is stylish enough to play in Peoria as well as Southern California. Lines are smooth and conservative with what looks to be plenty of visibility out the side and rear of the vehicle. Due to go on sale at the end of 2006, the Edge has a sporty style that brings forward design cues from the new Ford Fusion, such as the solid three-bar grille and headlights. The grille gives the Ford Edge a more assertive look up front, while the rest of the vehicle offers a smooth, contemporary style.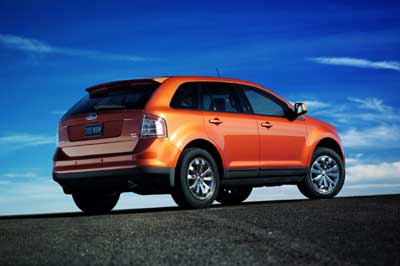 Based on Mazda6, Ford Fusion platform
The Edge is the latest vehicle to be based on the same architecture as the Mazda 6 and Ford Fusion. After looking at a version just prior to the 2006 Detroit Auto Show, we can say that the Edge promises to put style, convenience and much-needed power into Ford's crossover lineup. Most critically, it gives Ford a crossover SUV that can compete horsepower to horsepower: while some rivals will offer more, the Edge has a competitive powerplant for this segment. Ultimately, how it matches up in a very competitive segment of vehicles will be measured by black and white sales, and what you can get for your hard-earned cash. So far, however, we think the Edge more than measures up to some pretty high expectations.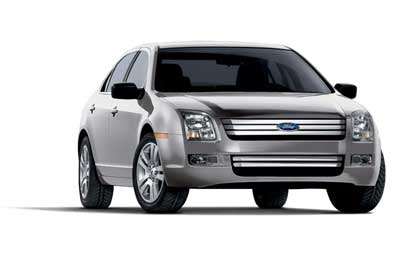 Key Specifications
Base Price $25,000 - $32,000 Engine Size and Type: 3.5-liter V6 Engine Horsepower: 250 at 6,250 rpm Engine Torque: 240 lb.-ft. at 4,500 rpm Transmission: Six-speed automatic Curb weight, lbs.: 4,086 Length: 193.4 inches Width: 73.5 inches Wheelbase: 111.2 inches Height: 67.0 inches Max. Seating Capacity: Five Max. Cargo Volume: 68.7 cubic feet
Photos courtesy of Ron Perry, and the automakers