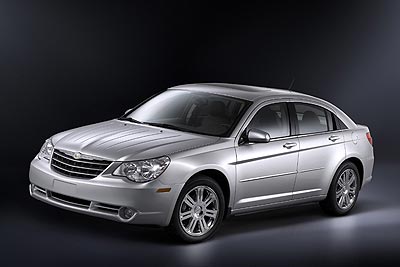 Chrysler Sebring: Preview – Not long ago, Chrysler shocked the automotive world with the 300 sedan. Its bold, standout styling not only left the previous 300M but also the competition in the dust and with a rear- or all-wheel-drive platform and available Hemi power, Chrysler effectively planted a stake deep into large sedan territory. While it continues to enjoy the 300's success, Chrysler is about to launch an assault on the mid-size market with a thoroughly revamped Sebring sedan. The nondescript styling of the 2006 model is replaced by a unique design that carries cues from both the 300 and the Crossfire roadster, the interior has been overhauled and can be fitted with luxurious features such as touch-screen navigation and rear DVD entertainment, and power choices range from an economical 172-horsepower four-cylinder to a 235-horsepower 3.5-liter V6 joined to a new six-speed transmission. As a package, it would appear that the new Sebring is poised to make a lasting impression on mid-size sedan shoppers. Production of the 2007 Chrysler Sebring is currently under way, so look for the first examples to hit your town before year's end. Base, Touring, and Limited trim levels will be available.
Why it matters
Everyone likes to read about and see pictures of the newest sports cars, funkiest SUVs, and segment-busting creations rolling off the world's assembly lines, but take a look at what's moving many Americans to work everyday and you'll see plenty of mid-size family sedans. Regardless of whether it's because of finances, practicality, efficiency, comfort, or everyday usability, the tried-and-true four-door continues to win its way into millions of owners' hands. And with models like the Honda Accord, Toyota Camry, and Nissan Altima dominating the arena, competition is fierce. Such a blood-thirsty climate has largely relegated the Chrysler Sebring to rental fleets, where it served the masses with its inoffensive but forgettable styling and fine if not thrilling demeanor. Though it will likely continue as an ever-present fixture of the airport scene, the redesigned 2007 Chrysler Sebring Sedan (the Sebring convertible is coming a bit later, and is rumored to have a retractable hardtop) bucks the round bubble styling trend, looking to attract buyers who desire unique style as well as substance, much like the larger 300 sedan did when it was launched. To that end, a bold Crossfire-ish front end has been added along with desirable features such as a rear DVD system and a touch-screen navigation system. Taken as a whole, it's possible that the 2007 Chrysler Sebring could become a part of the family and not just an appliance enjoyed during Florida vacations.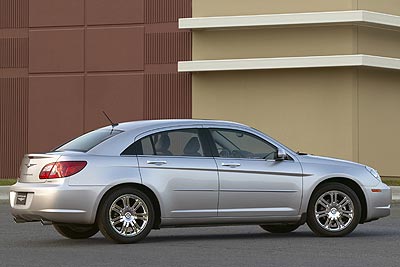 What's under the hood
Three engines will be available in the redesigned 2007 Chrysler Sebring sedan: a 2.4-liter four-cylinder, a 2.7-liter V6, and a 3.5-liter V6. The smallest of the three, the so-called World Engine, features variable valve timing, 172 horsepower, and an expected four-percent gain in fuel economy with a four-speed automatic transmission directing power to the front wheels. One notch up is the 2.7-liter V6, offering 190 horsepower and 190 lb.-ft. of torque, again mated to a four-speed automatic. At the top of the food chain is the 3.5-liter V6, boasting 235 horsepower and 232 lb.-ft. of torque, bolted to a new six-speed automatic transmission with Chrysler's AutoStick manual-mode feature. Available only in Limited trim, the 2007 Sebring's biggest six-cylinder is expected to produce 0-60 mph times that are among the best in the mid-size sedan class. All engines will be built in either Kenosha, Wisc., or Dundee, Mich., while the Sebring will be assembled in Sterling Heights, Mich.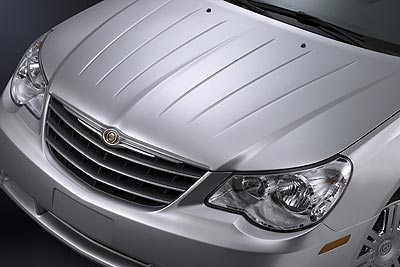 What's inside
A simple answer to the question of what's inside the 2007 Chrysler Sebring is this: A lot. In terms of the creature comforts that all drivers enjoy, there are standard and optional features such as a Harmon/Kardon stereo; a navigation system with a 6.5-inch touch-screen display that plays movies when the Sebring is parked, offers voice-activated controls, and includes a 20 gigabyte hard drive; Sirius satellite radio; Bluetooth connectivity; and a standard iPod/MP3 jack on all models. By itself, that list should satisfy a wide range of family sedan shoppers, so it may come as a surprise to hear that the Sebring can also be loaded up with a rear DVD entertainment system, heated and cooled front cupholders, heated cloth or leather seats, and a folding front passenger's seat that extends the cargo space availed by the rear split-folding 60/40 bench. Regardless of which items the Sebring buyer chooses to select, this new ride will be delivered with a two-tone interior colored in Pastel Slate Gray or Pastel Pebble Beige. Specific to Limited models is a leather Cream and Pebble Beige color scheme with optional Tortoise Shell, Satin Silver, Alloy Silver, or Chrome accents. Adding comfort and safety is a driver's seat situated more than two inches higher than the 2006 Sebring for a better view of the road, standard side-curtain airbags, front-side airbags, electronic stability control with traction control and brake assist, and a tire pressure monitor.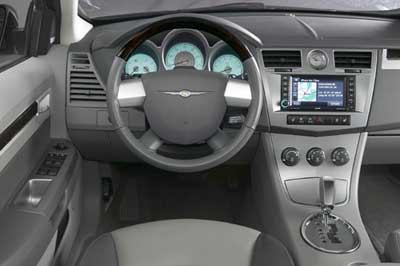 What we think
Mid-size sedan design is probably harder than it looks. It's not uncommon to hear complaints about generic styling, a mediocre driving demeanor, or a lack of the right features. But considering the wide swath of buyers these family and commuter vehicles must satisfy, a middle-of-the-road approach is understandable. Consider that whatever the designers or engineers do, the result needs to be spacious, relatively efficient, and simultaneously affordable to buyers and profitable to manufacturers. Those are some serious restraints, but we give two thumbs up to Chrysler for creating a vehicle that combines attractive and unique styling, a variety of powertrain options, and consumer-friendly features like heated/cooled cupholders and a rear DVD system, all in what we expect will be a competitively priced package. That being said, we're looking forward to a test drive to determine if the 2007 Sebring is as good in person as it is on paper.
Photos courtesy of DaimlerChrysler