The LS7 concept is a tribute to those who historically saw one holy purpose in the Camaro: Drag racing. Appropriately, the LS7 refers to presence of the 550-horsepower engine also found in the wicked-fast Chevy Corvette Z06. Racing tires (launch traction at traffic lights) and Brembo brakes (slowing down for inevitable traffic stops) round out this concept.
Photo Credit: MyRide Staff
Page 2
We like the LS7 concept because most of the components will be available from GM Performance Parts at the time of launch (including the engine), which means if you know what you're doing, or have a mechanic friend you can bribe with empty promises of, "I'll totally let you drive it on the weekends," this show car can be turned from concept to reality.
Photo Credit: MyRide Staff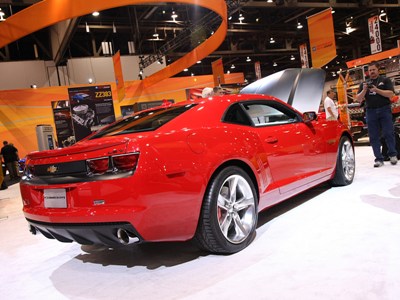 Page 3
Dale Earnhardt Jr. fell asleep one afternoon on his couch and had a dream about the new Chevy Camaro SS. When he woke up, he grabbed a napkin and sketched his own version of the Camaro complete with 21-inch rims, a custom Earnhardt-special paint job, and ground effects. He faxed it over to Ed Welburn, GM design chief, and Ed said, "I don't know how Earnhardt faxes a napkin, but let's build this SOB!"
Photo Credit: MyRide Staff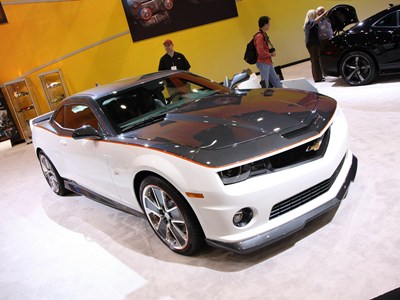 Page 4
Even if you're not a NASCAR-edition type, it's easy to envision this thing flying off the shelf in North Carolina. We also like how this particular vehicle has been calibrated to run on Iowa-corn sourced E85, very patriotic. Expect Chrysler to come back with a special-edition NASCAR Dodge Challenger. 
Photo Credit: MyRide Staff
Page 5
If the stock Chevy Camaro is an all-American brawler in jeans and those fingerless-hobo gloves, the Camaro Black Concept is a stealth-suit wearing ninja. With a matte black-finish hood, tail lamps with dark-tinted lenses, and 21-inch wheels with a dark finish, this Camaro is so blacked-out, its own shadow has trouble following it.
Photo Credit: MyRide Staff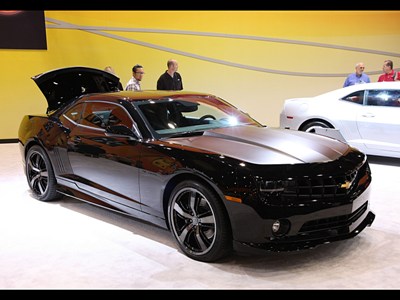 Page 6
The Black Concept is probably our favorite of the Chevy Camaro SEMA concepts, and we especially like the red-glowing headlamp halo rings which give it a possessed-by-Satan look. Don't get too excited though, most states ban any type of colored lights up front for non-emergency vehicles, which means Chevy won't likely bring them to market (but you can expect some kid on the internet to post do-it-yourself instructions).
Photo Credit: MyRide Staff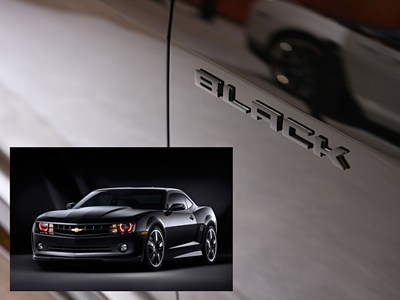 Page 8
Sure it's called a concept, but you can fully expect something just like this out on the track for the Grand Am Koni Challenge racing series. The GS stands for GS racing class, where the Camaro will be chasing down cars like the Porsche 997, BMW M3, and the Ford Mustang GT. The GS Racecar goes for light (carbon fiber hood, trunk lid, doors and fenders) and powerful (small block LS3 V-8 engine).
Photo Credit: MyRide Staff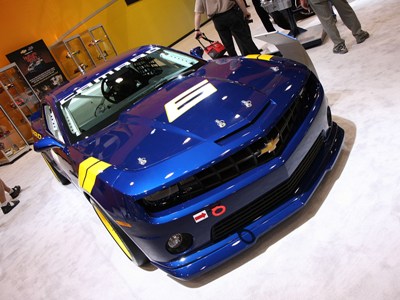 Page 8
Most concepts are babied, wrapped in velvet before transportation, and handled by white-gloved eunuchs. Not this one. You can tell the Camaro GS Racecar has been doing hundreds of laps, caked with brake dust and track grime. We really dig the deep blue paint scheme on yellow racing wheels, but we think a lot of other racecar drivers will get sick of seeing this Camaro's rear end accelerating away from them.
Photo Credit: MyRide Staff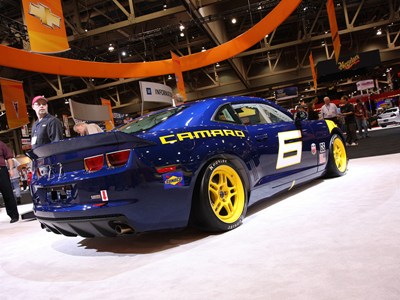 Page 10
Chevy recognizes that the Camaro is going to be a vehicle people will want to personalize, and it will have an arsenal of accessories and performance components ready at launch. Some of these will be the mundane, think deluxe carpeted floor mats, cargo nets, and smoker's packages, but others will be more tempting such as racing-inspired 21-inch wheels, exhaust kits upgrades, and interior mood lighting packages.
Photo Credit: MyRide Staff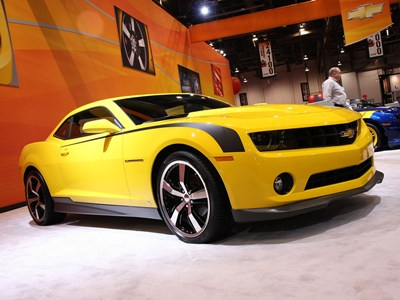 Page 11
This particular Chevy Camaro RS is outfitted with a ground effect package, black hockey stripes, a painted engine cover, air intake, exhaust, 21-wheels, and yellow interior trim, all available through a Chevy dealer. The great thing about going through a dealer is that you can include the accessories in your vehicle financing (assuming you can get vehicle financing).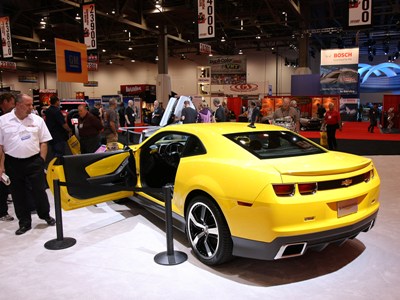 Page 12
Check out the best accessories, wheels, audio systems, custom cars and even green technology at the 2008 SEMA show!
Photo Credit: MyRide Staff