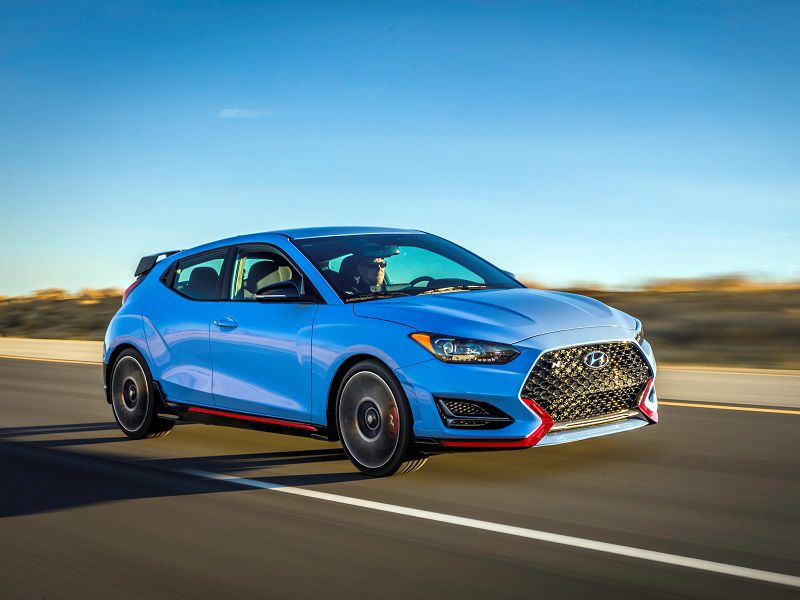 2019 Hyundai Veloster N Blue Driving ・ Photo by Hyundai
Lots of folks who love automobiles have a favorite sports car — a gorgeous Ferrari or ferocious Lamborghini that can reach triple-digit speeds in a heartbeat. These are exquisite machines built to exacting standards for exhilarating performance. But they also cost more than many people's houses.
The good news is that you don't need a lot of money to have a lot of fun behind the wheel of a sports car. We've rounded up 10 cheap sports cars for 2020, nearly all of which cost thousands less than today's average new car (which costs around $37,000). For this list, we're describing a sports car as a vehicle designed primarily to provide driving pleasure — and a wide variety of affordable vehicles do exactly that. Let's see which of these cheap sports cars should be in your driveway.
1. 2020 Volkswagen Jetta GLI
One of the world's best-known cheap sports cars is the Volkswagen Golf GTI, the higher-performance version of the Golf hatchback. The GTI invented the "hot hatch" segment nearly 50 years ago, as a small, light car with great handling and more power than a mere economy vehicle. Today, it adds polished refinement to that formula and starts at $28,595.
But you'll notice we don't have the GTI on this list. Rather, we went for a VW that has most of the same ingredients at an even lower price: the 2020 Volkswagen Jetta GLI. This four-door compact sedan has the same bones as the GTI hatchback — the same front-wheel-drive platform, the same 2.0-liter turbocharged four-cylinder engine with 228 horsepower and 258 lb-ft of torque, and the same six-speed manual or seven-speed dual-clutch automatic transmission. But it starts at just $26,245, with its price advantage over the GTI growing as you add features. The GTI's interior is fancier, but for a cheap sports car, the GLI's superior value is hard to ignore.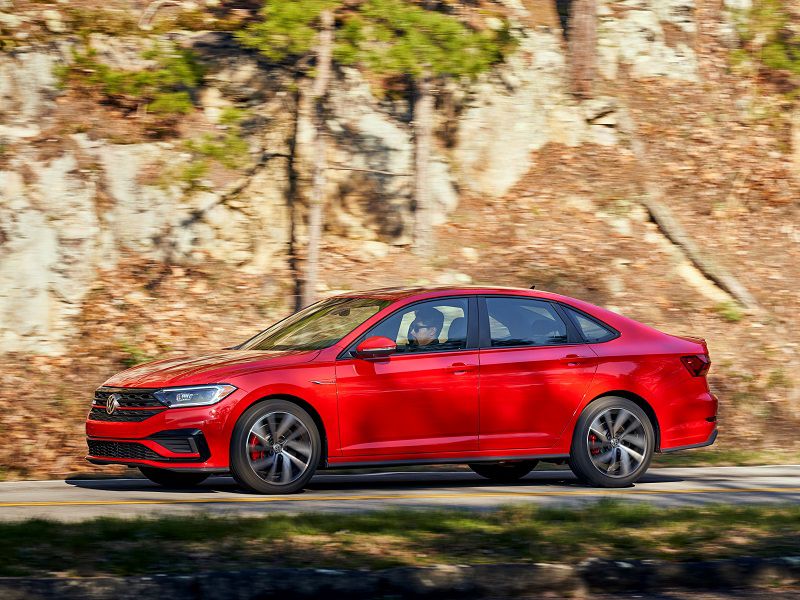 Photo by Volkswagen
2. 2020 Hyundai Veloster
The 2020 Hyundai Veloster is the second generation of the Korean carmaker's first hot hatch, and it exhibits greatly improved mechanical sophistication over its predecessor. In its redesign last year, the Veloster abandoned the suspension of Hyundai's basic subcompact Accent and upgraded to the underpinnings of its next-up Elantra.
But it kept the old Veloster's expressive styling and fun demeanor, along with its relatively roomy interior for a small sporty car. The base model (priced from $18,800) is already decent fun, with sprightly handling and decent punch from its 147-horsepower four-cylinder engine. But enthusiasts will pick one of the two turbocharged engines. The performance bargain is the Turbo R-Spec, which brings a 201-horsepower turbocharged engine and a stiffer suspension for $23,150. And even the all-out 250-hp Veloster N is relatively affordable at $27,400, though you can only get it with a manual transmission. It's not the fanciest-feeling car you can find, and this front-wheel-drive hatchback approaches the price of rear-wheel-drive sports coupes, but lots of horsepower in a light vehicle is a recipe for fun.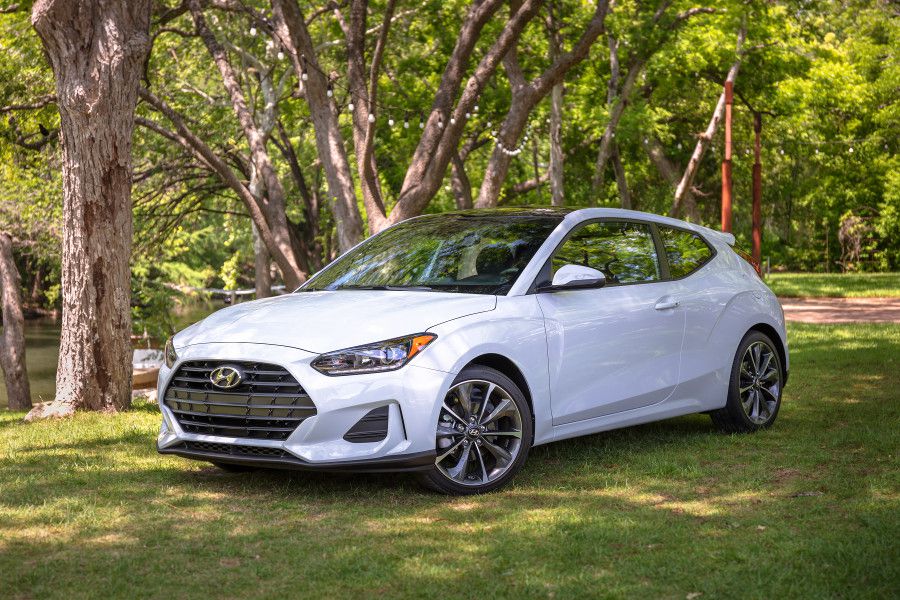 Photo by Hyundai
3. 2020 Honda Civic Si
The 2020 Honda Civic is one of the more fun-to-drive economy cars you can buy. But the Si performance version kicks things up a notch. Available as a two-door coupe or four-door sedan — both with the same aggressive styling cues as the rest of the Civic line — the Si features an upgraded suspension and a more powerful engine than humbler trim levels.
The Civic Si's turbocharged four-cylinder offers 205 horsepower through a six-speed manual transmission. That doesn't sound amazing, especially when paired only to front-wheel-drive, but the Si is a historically rev-happy little car that's great fun to drive hard. The latest version isn't the sharpest-ever Si, but especially if you pick the sedan, it's impressively spacious for a cheap sports car. It costs $25,200, though you can't get an automatic transmission or luxury features like leather upholstery. If you want the most fun Civic with an automatic and a swankier cabin, you'll have to settle for a 180-horsepower five-door hatchback.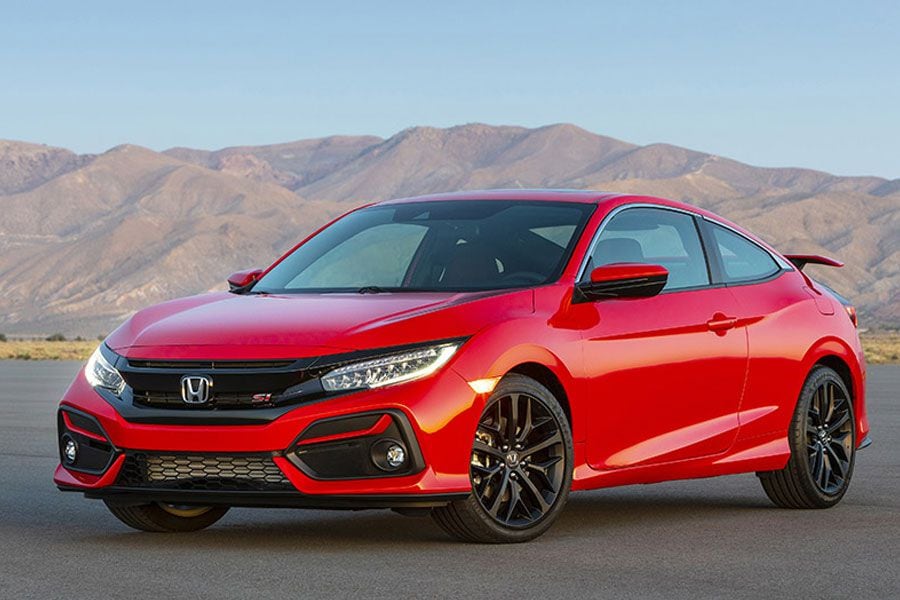 Photo by Honda
4. 2020 Mini Cooper S
The MINI Cooper has been known as a zippy, fun little car since its first retro-styled generation appeared as a 2002 model. But the British-based, BMW-owned brand has steadily moved upscale over the past two decades, and the 2020 Mini Cooper combines sprightly performance and now-iconic styling with a more solid feel. Originally sold only as a three-door subcompact hatchback, the Cooper is now available also as a soft-top convertible or a five-door hatchback, though they too have only tiny rear seats.
The Cooper two-door hardtop starts at $23,400 with its base 134-hp three-cylinder engine, but for a sports car, we'd pay an extra $4,000 for the Cooper S performance model with a 2.0-liter 189-hp four-cylinder. Just be careful with the options, because a $27,400 Mini is a much better cheap sports car than a $40,000 Mini.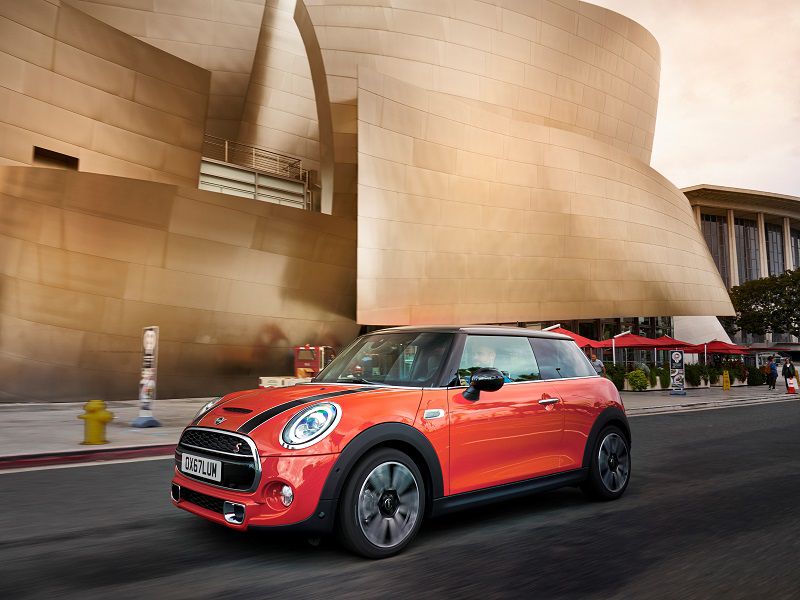 Photo by MINI
5. 2020 Subaru BRZ
Moving beyond front-wheel-drive economy cars — fun to drive or otherwise — we come to the 2020 Subaru BRZ. It's a low, lithe, rear-wheel-drive sports coupe with incredible handling prowess and a base price of $28,445.
The BRZ (and its near twin, the Toyota 86) uses a 205-hp four-cylinder engine with a six-speed manual or six-speed automatic transmission. That's a healthy output for a low, light car, though it still means there are some cheaper vehicles that will beat it in a straight line. And the BRZ doesn't offer much luxury in its small, noisy, and simply decorated interior. But few cars handle this well at any price.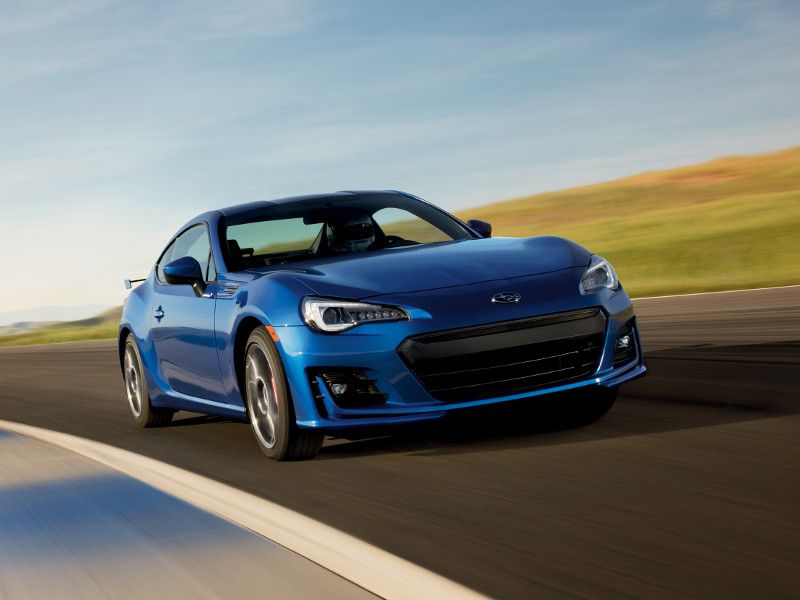 Photo by Subaru
6. 2020 Mazda MX-5 Miata
One car that does handle as well as the BRZ and 86 is the 2020 Mazda MX-5 Miata, a tiny two-seat rear-drive roadster that's purpose-built to delight. It has even less power than the Subaru and Toyota (181 horsepower) and even less interior space (not even a pretense of a rear seat), but it also avoids feeling cheap — just simple driving pleasure executed to near perfection.
Its excellent connection to the road makes the Miata feel faster than it is, and it's light enough that 181 hp is already more generous than you might think. And the car tackles a winding road with pure joy. Prices start at $26,580. Buyers could also consider the Italian-styled Fiat 124 Spider, which has the same suspension, body, and interior as the Miata and is built on the same assembly line. But its turbocharged engine hasn't lived up to the Mazda's naturally aspirated one.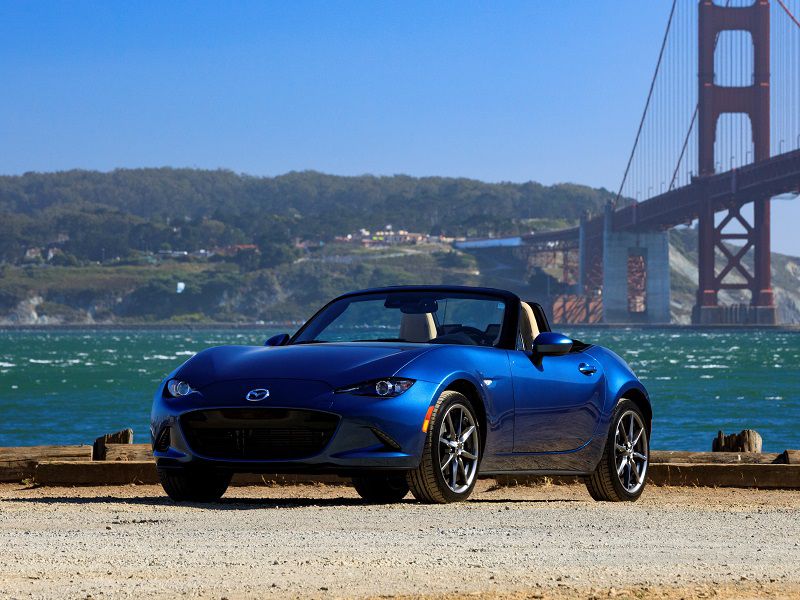 7. 2020 Dodge Challenger R/T
The 2020 Dodge Challenger is the opposite of the Miata. It's big, brash, and fast to the Mazda's light, nimble touch and intimate cabin. It's an all-American performance car, while the MX-5 is the Japanese take on a vintage British roadster. But both are cheap sports cars, even if they'll appeal to different types of enthusiasts.
The Challenger starts at $27,995, but its standard 305-hp 3.6-liter V6 — while hardly weak — isn't what gets it onto our list of 10 cheap sports cars. Instead, we're looking at the R/T model, which brings a 375-hp "Hemi" V8 for a $34,595. Buyers can choose between a six-speed manual or eight-speed automatic transmission, and either will help this big rear-drive coupe reach 60 mph in as little as 5 seconds. If your budget allows, you can get increasingly quicker Challengers all the way up to the $70,000-plus 797-hp Hellcat Redeye. But among cheap sports cars, the Challenger R/T offers an appealing combination of mighty power, the style to match, and a usefully spacious interior.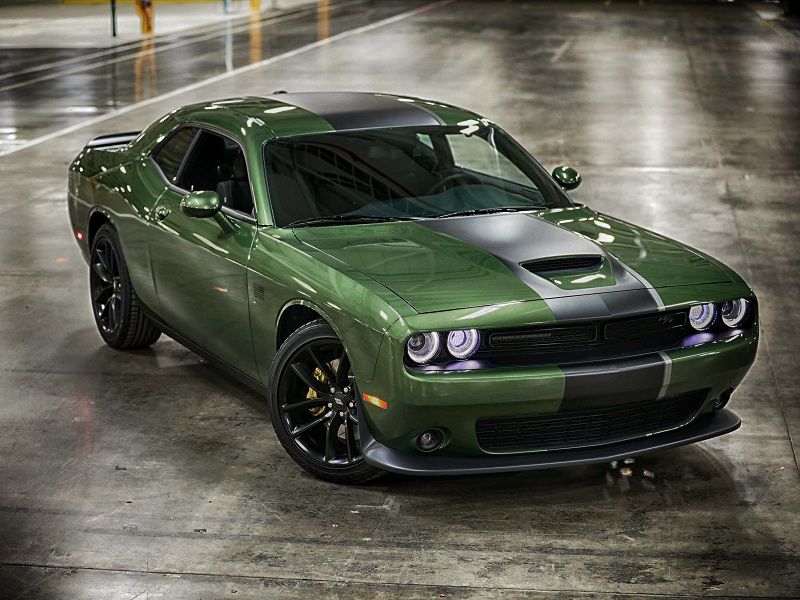 Photo by Dodge
8. 2020 Chevrolet Camaro
While the Challenger sticks to traditionally American virtues of strong straight-line performance, the 2020 Chevrolet Camaro provides a more international flavor.
Here too, you can get a big-displacement V8 engine. But you also get a lithe, light rear-wheel-drive platform shared with Cadillac's world-class sports sedans — for a more refined, sophisticated feel than the Challenger or the competing Ford Mustang. Because so much of the Camaro's driving pleasure comes from the handling, we don't mind picking the four-cylinder or V6 engines over a V8. Prices start at $25,000 for the four-cylinder (a 2.0-liter turbo with 275 hp), while the 3.6-liter 355-hp V6 starts at $27,095. Many buyers will pay $34,000 and up for a 455-hp V8 and still get a performance bargain, but especially for a list of cheap sports cars, we like the affordable, fun-to-drive four- and six-cylinder models. Just be warned that the Camaro's interior is more cramped than the Challenger's, or even the Mustang's.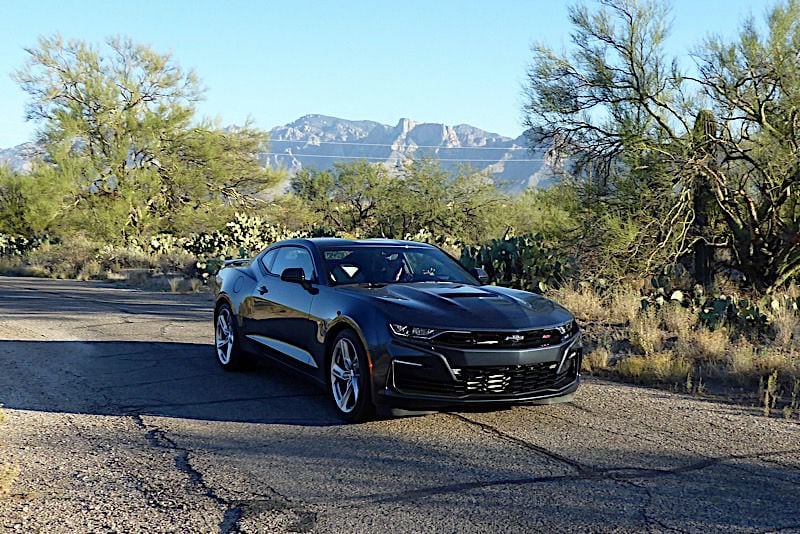 Photo by Ron Sessions
9. 2020 Nissan 370Z
The Nissan 370Z has gone more than a decade since its last redesign — but as most cars' prices have soared, the Z is still a cheap sports car for 2020. Its current base price of $30,090 has barely budged from the 2009 model's $29,930.
That money buys you a two-seat rear-drive sports coupe with a hearty 332-hp 3.7-liter V6 and either a seven-speed automatic transmission or a six-speed manual. Compared to most 2020 cars, you must accept a less-sophisticated infotainment system and a less stylish interior. But you also get uncommonly direct road feel and ample horsepower at affordable prices.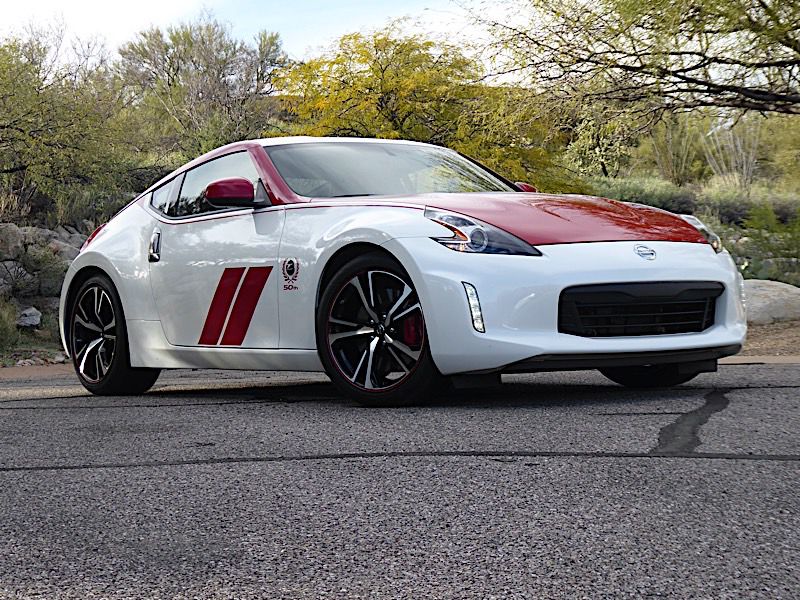 Photo by Ron Sessions
10. 2021 Toyota Supra
Our final cheap sports car is cheap only in a relative sense — or, rather, two senses. The 2021 Toyota Supra rear-wheel-drive two-seat coupe, now entering its second model year after being reintroduced, is less expensive than its platform-mate. And it's less expensive than last year's Supra.
The Supra was co-developed with BMW, and although its styling is pure Toyota, its engines and other mechanical components come from the BMW Z4 roadster. That's good news: BMW bones at Toyota prices. Still, the 2020 Supra had a base price of $49,900 — slightly more expensive than the base Z4, since the BMW had a smaller standard engine. For 2021, Toyota now shares the Z4's base four-cylinder engine (a 255-horsepower turbo), while also adding power to the carryover six-cylinder (jumping from 335 hp to 382). Prices aren't yet available, but one thing is clear: The Supra's exceptional driving experience is now a better deal than last year.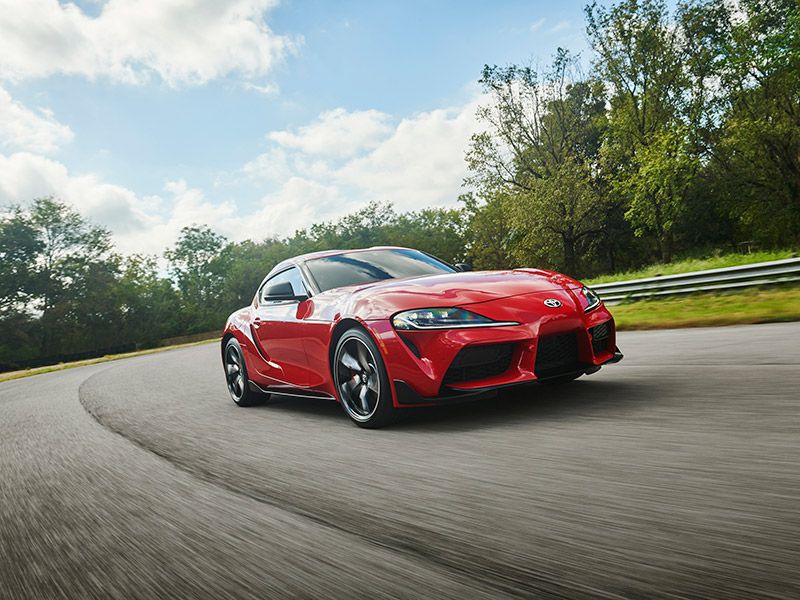 Photo by Toyota