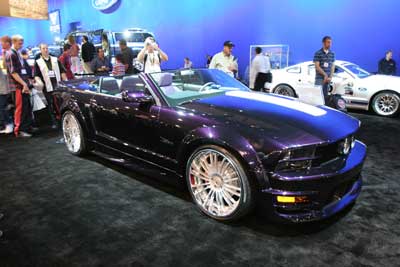 LAS VEGAS – Luckily, not everything in Vegas STAYS in Vegas. Otherwise, no one would get to see, touch, appreciate and drive beauties like the Baldwin-Motion 1969 Camaro SuperCoupe. It's a Chevy, kinda, though everything underneath is completely new. A new car with old style, now that's SEMA, just as the annual festival of auto freaks and fans would be lacking if the one and only Jay Leno failed to make an appearance. The comic's well-known preference for motor oil is a given, but with the addition of a specially-built '32 Roadster, his is a garage that must be bursting at the seams with dream cars from virtually every generation. And it's not just a looker: the roadster creates 508-horsepower out of the Chevrolet Corvette's LS7 V8 engine. Celebrities – humph. Take the good students at Washentaw College in Michigan, certifiedMidwestern gearheads who spent their summer overhauling a breathtakingly beautiful 1970 Chevelle. Thanks to the "Oh So Orange" paint, the 620-horsepower V8 engine and an interior that takes you back in time, the real point of the all this Vegas madness comes shining through: kids building a car, making it beautiful, for really no other reason than to celebrate the romance between Americans and their cars.
Checker Cab
Moroso Performance Products presented this ever-so-slightly-modified Checker Cab at the 2005 SEMA show in Las Vegas. The rear license plate reads "NO FARE." Clever. Though New York City streets would run havoc with this cab's lowered stance, passengers would surely arrive at the airport with time to spare.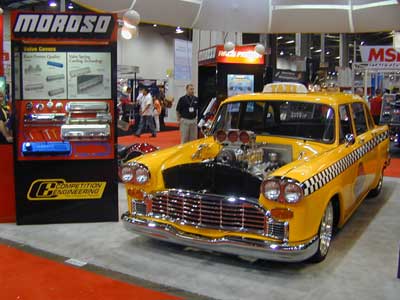 1932 Chevy Roadster
What's an auto show without some sort of connection to Jay Leno, comedian and talk show host to some and a true car guy to others. At the 2005 SEMA show, Leno and GM Performance Division presented this '32 Roadster. Unlike your average 1930's-era car, this ride comes with a LS7 V8 engine that powers the new Chevrolet Z06 Corvette, a 505-horsepower vehicle that reaches 60 mph in less than four seconds. Now consider that for this application that LS7 has been pumped to about 580 horsepower, all of which is directed to the rear wheels via a six-speed manual transmission.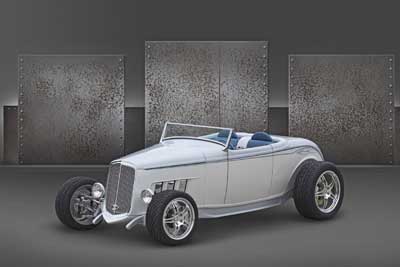 1948 Chevy Pickup
"Wow." That's the typical response to the Project Impression, a 1948 Chevy built by Pacific Coast Customs and displayed by Dupont at the 2005 SEMA show in Las Vegas. Once a worn-out panel truck, Project Impression now exists as a custom pickup that rides on a highly-modified 2003 Chevy S10 chassis and derives power from a 2001 Camaro LS1 V8 with a Magna Charger blower mated to an automatic transmission.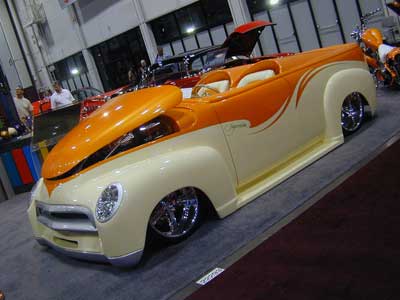 1957 Chevy Two Door
Everyone loves the 1957 Chevy, and this example built by Street & Performance is no exception. Displayed by Dupont at the 2005 SEMA show in Las Vegas, S&P's '57 features a narrowed and chromed C-4 suspension, Coddington wheels, and a GM LS-6 motor pushing 465 horsepower.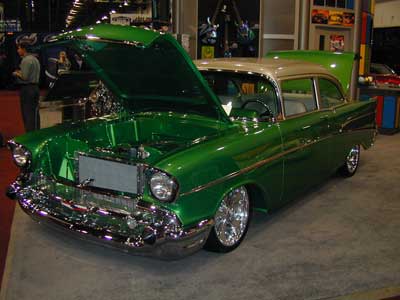 1959 Chevy Impala
Love it or hate it, there's no denying that this 1959 Chevrolet Impala two-door has style, a fact demonstrated by the vehicle's split rear tail fins, delicate pillars, bubbled windshield, and generous use of chrome. Discovered parked at the Dupont booth at the 2005 SEMA show, this '59 was built by Bobby Alloway and has won many awards since its completion. Power comes from a 502 cubic-inch big-block Chevy engine and rolls on 20-inch rear and 17-inch front Boyd Coddington wheels. Inside are 1965 Chevy Impala bucket seats cloaked in red leather, and a Sony audio system has been added, though it's hard to imagine anything sounds better than that thumping big block.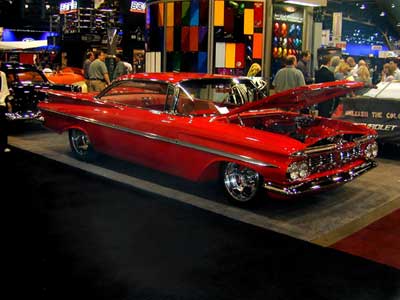 1959 Chevy Wagon
Not far from the Dupont booth where the '59 two-door sat was this 1959 Chevrolet Biscayne wagon posing for the Stainless Steel Brakes Corporation. The 2005 SEMA show had lots of typical customs, tuned imports, and modern muscle on display, but this hot-rodded 1950's grocery-getter was one-of-a-kind.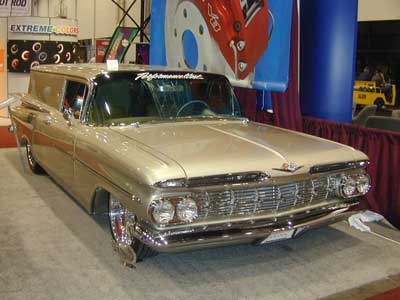 1959 Chevy Wagon
Rear view of the 1959 Chevrolet Biscayne displayed by the Stainless Steel Brakes Corporation at the 2005 SEMA show in Las Vegas. Who says wagons aren't cool?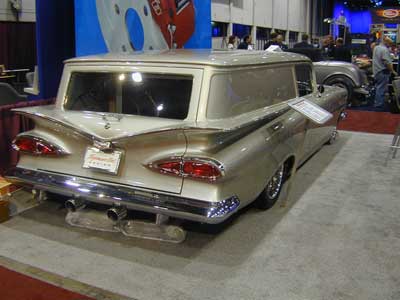 1967 Chevy II
MOTHERS, well-known hawker of car polishes and waxes, filled part of its 2005 SEMA display with the 1967 Chevrolet II coupe. The 2005 SEMA show consumed acres upon acres of space within and outside of the Las Vegas Convention Center. Despite that fact, this was the only '67 Chevy II we encountered.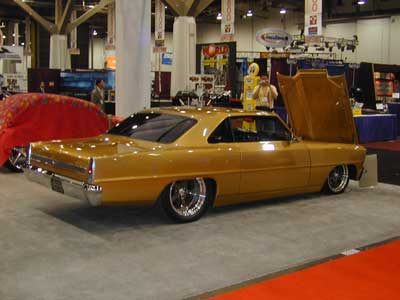 1969 Camaro
Chip Foose is a busy guy. He's becoming a big television star but still finds time for his favorite hobbies, one of which is designing some of the sickest and sleekest rides on the road. This 1969 Chevrolet Camaro, doused in orange paint and rolling on upsized chrome rims, is one such example.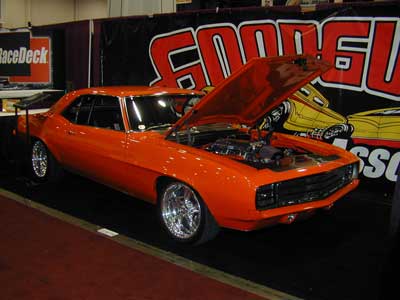 B&M 1969 Camaro
Modern German engineering and old-school American muscle share the carpet within the B&M confines at the 2005 SEMA show in Las Vegas. Also flexing patriotic pectorals and triceps in the background are Ford GT models and the 2007 Ford SportTrac Adrenalin.