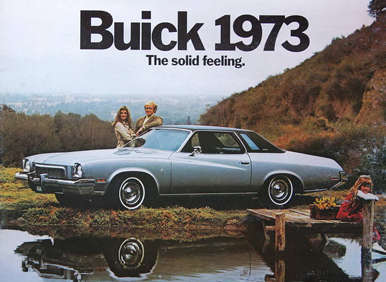 For many, the Buick nameplate is associated with — well — old age. While it is true the traditional Buick demographic ranks right up there with Lincoln in terms of the advanced average age of its owner base, the fact of the matter is there is an aspect of Buick's lineage with a decidedly youthful flair.
More than just purveyors of quiet, soft riding cars, there are some true performance standouts in Buick's past.
Back in the 1960's muscle car era Buick had the Gran Sport models, versions of which continue to this day. And while performance is universally associated with youthful exuberance, there is more to a youthful image than just out and out speed.
There is also a personal luxury aspect to the youthful demographic. With the launch of the mid-size personal luxury coupe in the 1970's, younger buyers had a new way to express their upward mobility. The success of Pontiac's Grand Prix, Chevrolet's Monte Carlo, Oldsmobile's Cutlass Supreme, and yes, the Buick Regal underscored this point.
The first Buick Regal came to market in 1973, as the ultimate trim level of Buick's Century model—until it became a freestanding model unto itself in 1975. It featured a more upscale interior than could be found in the base Century with woodgrain trim on the dashboard and door panels, along with door-pull straps and notchback bench seats, which featured center armrests upholstered in either cloth, vinyl or (the ultimate in luxury for the time) velour. That first generation Regal ran from 1973 to 1977.
In 1978, the model was downsized as part of GM's attempt to hold off the emerging onslaught of smaller, more efficient imported cars. The 1979 Regal was the only turbocharged American car of its period. The Regal's 3.8-liter forced induction V6 ultimately led to the creation of the legendary 1987 Buick GNX. The ultimate iteration of the performance oriented Regal; the engine in the GNX was quoted as producing 276 horsepower and some 360 ft.-lbs. of torque. Regal GNX ran to 60 in 4.7 seconds and did the quarter in 13.5.
To date, there have been five generations of the Buick Regal. This retrospective picks up with the fourth generation of the model, introduced in 1997.
Used Buick Regal: 1997 – 2004
By the end of the 1990's, the success of Japanese models like Honda Accord, Toyota Camry and Nissan Maxima in the U.S. had become painfully obvious. Being something of a zero sum game, the more the imports sold, the fewer copies of the domestic models sold. With the introduction of the 1997 Buick Regal, Buick was trying to stem the outflow of its buyers.
With the all-new 1997 Regal, for the first time in the history of the model, there was no coupe in the lineup. Regal went to a sedan-only strategy and was simultaneously made more spacious in an attempt to appeal to growing families. The good news is the styling of that sedan was delightfully curvaceous, even evoking comparisons to Jaguar models of the period.
Buick's product planners also loaded the Regal with all the tech the times would allow; including heated leather seats, a Monsoon eight-speaker surround sound audio system and dual-zone climate control. A supercharged iteration, the Buick Regal GS, boasted 240 horsepower and 280 ft.-lbs. of torque.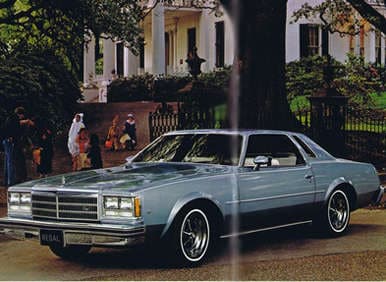 Used Buick Regal: 1997
Launched in two trim levels, Regal LS and GS, the 1997 Buick Regal used a 195-hiorsepower, 3.8-liter V6 as its base engine, which developed 220 ft.-lbs. of torque. The "big" engine was a 240-horsepower supercharged version of the 3.8-liter V6, which made 280 ft.-lbs. of torque. Both were paired with four-speed automatic transmissions, which fed their power to the front wheels.
As standard equipment, LS models featured chrome grilles, fifteen-inch steel wheels, bucket seats, fog lights, power operated and heated exterior mirrors, and a lighted as well as a keyless entry system. The leather wrapped tilt steering wheel controlled a power steering rack. Air conditioning and cruise control complemented power windows, power door locks, intermittent windshield wipers, and an AM/FM/cassette-based audio system.
Options for the 1997 Buick Regal LS included a choice of chrome or alloy wheels, a pair of heated leather power operated bucket seats up front, a moonroof, an AM/FM/cassette/CD-based audio system, audio controls on the steering wheel, an auto-dimming inside rear view mirror, a child seat, and a driver information center.
The GS Regal, with its blacked-out grille, more powerful engine, and sport suspension system made most of the LS options standard—except the heated power seats, steering wheel audio controls, AM/FM/cassette/CD-based audio system, auto-dimming rear view mirror, child seat, and chrome wheels. Those items were GS options as well.
The only option available exclusively to Regal GS buyers was an automatic dual-zone climate control system.
During your used car search, you may run across a Regal GSX. This was a higher performance GS model incorporating an optional dealer-installed performance package. The GSX modifications were comprised of a dual-exhaust system, an upgraded cold-air intake, a smaller supercharger pulley, and a higher performance-oriented powertrain control module (PCM). With this gear bolted onto it, the supercharged V6 put out 270 horsepower and 312 ft-lbs. of torque. The car also used a wider set of wheels and tires. The GSX Regal is rare bird, but a very nice find.
On the safety front, daytime running lights, power brakes, traction control, ABS and an anti-theft alarm system were also included in the base price.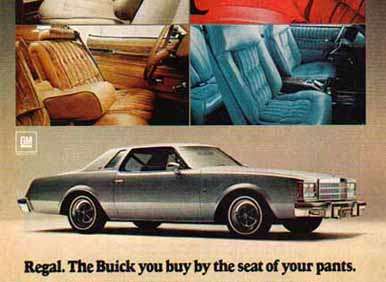 Used Buick Regal: 1998
OnStar was offered as an option for the first time, a special 25th Anniversary Regal was offered with an optional CD changer and configured largely like the GS—but without the supercharged engine. A new transmission was fitted to '98 Regals, though it was still a four-speed automatic.
Used Buick Regal: 1999
Engine modifications upped the output of the normally aspirated 3.8-liter V6 to 200 horsepower. It was done the old-fashioned way, through improved breathing via a larger induction system and a freer-flowing air filtration strategy. Tire pressure monitoring made its Regal debut, along with perimeter lighting.
Appearing on the Regal's options list for the first time were self-dimming outside mirrors, a 220-watt Monsoon audio system with eight speakers and a redesigned set of fifteen-inch alloy wheels. The CD changer from the 1998 25th Anniversary Regal found its way onto the options list for the 1999 Regal LS.
Used Buick Regal: 2000
A split, folding rear seat was installed to improve cargo capacity, and the grille of the GS was rendered in body color (rather than black — unless of course the body was black too). For models with leather interiors, a side airbag for the driver was offered as an option.
Used Buick Regal: 2001
OnStar was decreed standard equipment for Regal GS, more insulation was added to make Regal quieter, and a release was added to the interior of the trunk in case someone was locked in it accidentally.
Used Buick Regal: 2002
The LATCH child seat system was added to the Regal and a special Joseph Abboud appearance treatment was offered as an option. While many of the original features of the 1997 Buick Regal still remained, the times had brought about a few changes in the makeup of the trim levels of the front-drive mid-size sedan.
For 2002, the Buick Regal was configured as follows; the base LS Regal feature-set included dual zone climate control, keyless entry, a six-speaker stereo system, and a six-way power adjustable seat for the driver. A selection of the optional equipment gear for the LS included a leather-trimmed interior, a driver information center, a side airbag for the driver, a Monsoon audio system, and OnStar.
Regal GS packaged all the above as standard equipment, before adding automatic climate control, leather seats, Buick's Gran Touring suspension package, and an upgraded traction control system.
The Joseph Abboud version of both the Regal LS and GS models offered chestnut leather seating and two-tone interior trim. A premium audio system, a sunroof, and steering wheel controls for the audio and cruise control systems completed the Abboud Regal kit.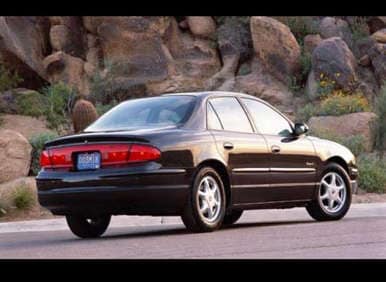 Used Buick Regal: 2003
In an effort to make at least the pricing seem competitive; the aged Regal model was subjected to a round of de-contenting in an effort to attract buyers. Not a strategy we would have employed, but one Buick's product planners pursued nonetheless. As a result formerly standard features like heated outside rearview mirrors, side impact airbags, and the split-folding rear seat were shifted to the options list. The LS also saw ABS and traction control shifted to the options list.
However, two new options packages put those items back—sort of. The Luxury Package made getting dual-zone climate control, illuminated vanity mirrors, auto-dimming inside and outside rearview mirrors, and an AM/FM stereo with cassette and CD players and steering wheel-mounted audio controls as simple as checking one box on the Regal's order form. For those who only wanted leather, aluminum wheels and the folding rear seat, Buick's product people offered the Leather and Wheel Package.
Used Buick Regal: 2004
The last year of the fourth generation Regal saw yet another indignity heaped upon the storied model. Its floor mats were relegated to the options list. However, a new wood interior trim was offered, along with a new audio system featuring speed sensitive volume adjustment and a CD player.
Used Buick Regal: 2005 – 2010
Regal was not produced during this period.
The 2011 Buick Regal was introduced in November of 2009 at the Los Angeles International Auto Show. The car went on sale in February of the following year as a 2011 model. Based on the Opel Insignia from Germany, the 2011 Buick Regal was more of a driver's oriented car than even the previous generation's Regal GS had been.
Two trim levels were offered, Regal CXL and Regal CXL Turbo.
As their designations implied, the 2011 Regal was offered with two different engines. The base powerplant was a 182-horsepower, 2.4-liter inline four-cylinder engine, which produced 172 ft.-lbs. of torque and was fitted to the Regal CXL. The 220-horsepower. 2.0-liter turbocharged inline four-cylinder engine mounted in CXL Turbo models made 258 ft.-lbs. of torque. Both engines were offered with six-speed automatic transmissions as standard equipment. A six-speed manual transmission was also mated with the turbocharged engine, as an option.
Comfort and convenience gear for the 2011 Buick Regal models was distributed as follows; standard equipment included eighteen-inch alloy wheels, a set of foglamps, a pair of heated side-view mirrors, keyless entry, a dual-zone automatic climate control system, cruise control, a full complement of power accessories, and OnStar.
Additionally, every 2011 Buick Regal came equipped with leather upholstery, a power-actuated driver's seat, heat for both of the front seats, an auto-dimming inside rearview mirror, and a tilt-and-telescoping steering column.
But wait, there was even more; 2011 Regal buyers also got a trip computer, a 60/40-split rear seatback and a seven-speaker stereo audio system fed by a CD/MP3 player with satellite radio and iPod/auxiliary audio input jacks. The system featured steering-wheel-mounted controls as well as Bluetooth audio streaming.
To all of that gear, Regal CXL Turbo added rear parking sensors and a twelve-way power-adjustable front passenger seat. However, both of those features could also be had on the standard Regal CXL as part of its optional Comfort and Convenience package.
As comprehensive as all of that sounds, there were still more options for the CXL Turbo Regal buyer to aspire to; these included nineteen-inch wheels, Xenon headlights and an Interactive Drive Control system with Sport, Tour and Standard modes. The former offering changed the compliance of the Regal Turbo's suspension and steering systems.
Options available for either Regal CXL or CXL Turbo included a sunroof, a hard-drive-based navigation system with digital music storage, and a nine-speaker Harman Kardon premium audio system.
Standard safety features included antilock brakes, traction control, stability control, OnStar, front seat side-impact airbags, and a set of two full-length side curtain airbags. Rear-seat thorax airbags were available as an option on all 2011 Regals, but brake assist was included only on the CXL Turbo.
Buick Regal: 2012 (Current Model)
For 2012, Buick's product team reshuffled the features of the Regal into a broader array of options packages labeled Premiums 1 through 3 for both normally aspirated and turbocharged models. The CXL designation was dropped altogether.
A hybrid version of the Regal (the first in the model's history) also debuted.
Additionally, the legendary GS designation was revived for the 270-horsepower iteration of the turbocharged engine, along with a more firmly tuned suspension system, a standard manual transmission, Brembo brakes, and a set of summer performance tires (available as an option).
On the telematics front, Buick's IntelliLink system was fitted, which pairs with smart phones to allow for Internet streaming audio features like Pandora, as well as access to applications like Open Table.
Used Buick Regal: Summary
The evolution of the Regal has taken it from a rear drive coupe to a front-drive sedan. While the rear-drive models are too far in the past for us to comfortably recommend them as reliable pre-owned daily transportation solutions, well-sorted models from the fourth generation should still be capable of dependable service.
Given the proven nature of the engine and the fact most Regals were owned by more mature drivers, finding a good clean used example should be a relatively easy task. In some urban areas, the Regal has developed a following among younger people who like to modify the cars with huge wheels and flamboyant paint jobs—but of course, those cars will be immediately recognizable.
There were recalls over the course of the GEN4 Regal's lifetime, so an Internet search to determine which would apply to the model year of your interest would be a sound exercise. Similarly, a thorough pre-purchase inspection by a well-qualified professional Buick specialist is also highly recommended.